10 Places You Must Visit in Malacca Aside From Jonker Street: Based On Real User Reviews
Weekend getaway to unwind from work and escape from the hustle and bustle of the city? Sounds like a great idea.  
Most of you guys may have heard or visited Malacca before (at least once?). For those who have set foot in this UNESCO World Heritage Site, the iconic Malacca Jonker Street and St Paul's Church are the top two places you would most probably visit and spend most of your time at.
A question was posted on the ShopBack Smarter Way Page about what to do and eat in Malacca outside of Jonker Street, and our very smart and knowledgeable community members have recommended aplenty. There's so much more Malacca has to offer apart from all the tourist spots. Here's a compiled list of the mass of recommendations by members on our Facebook Community Page. (PS: 80% things of this list will satisfy your taste buds!)
1. Pin Pin Hiong 
Photo Credits: Travel Hunt And Eat
Are you craving for some home-cooked delicacies? Yep, you've come to the right place! This shop is very popular for its Mee Sua, pork chop, and oyster omelette. One visitor said that they cook bowl by bowl and that's the reason it takes longer time for them to prepare. This place also has open- concept, with the aunty and uncle cooking their specials. Be careful, the food comes out piping hot and this will certainly remind you of mum's home-cooked meals made with meticulous care.
If you fancy to try this out, best recommended to get there early as this kopitiam tends to draw a huge crowd. Prices range from RM7 – RM24 (S/M/L)
Address: T-786 Lorong Hang Jebat | Near Cheng ho Museum, Melaka 75200, Malaysia
Opening Hours: Monday to Saturday, 8am – 2pm (closed on Sunday)
2. Nyonya Makko Restaurant
If you're up for spicy Peranakan food, Ngo Hiang – also known as 'loh-bak' or five-spice pork rolls wrapped with tofu skin, Rendang, and Ayam Buah Keluak, this is a must-visit restaurant. Best recommended to go there with at least 3 people so you can share and order more varieties. This place can be quite crowded during lunch and dinner hours, which is a testimony of its qualities! Prices range from RM25 – RM40/ pax, depending on your orders.
Address: No. 123, Melaka 75000, Malaysia
Opening Hours: Everyday, 11.30am – 2.30pm and 6pm – 9.15pm (closed on Tuesday)
3. Bunga Raya or 'Fat Man' Popiah
Photo Credits: Rebecca Saw
This place is a roadside stall, which sells scrumptious and finger-licking good popiah at RM5 each. For your information, there's no chair available and only does take-aways. The uncle also offers generous amount of crispy pork lard on top of other common ingredients such as chopped egg and beansprouts. Woah, you would probably travel hours to get your popiah-craving satisfied next time! Don't forget to come early before he runs out.
Address: 78 Jalan Bunga Raya, Melaka, Malaysia
Opening Hours: Everyday, 1pm – 6pm
4. The Huskitory
Photo Credits: Wander & Blossom
Aww, aren't dogs just cute and loveable? If you are one of those dog lovers but couldn't own one, this should be on top of your must-visit places in Malacca. Entrance fee is RM20/ pax for 90 minutes and it's limited to 20 people at one time, so it's recommended to do prior booking before visiting. There will be about 12 – 13 older huskies wondering around the cafe as you can play and interact with these furry babies.
PS: Kibble for RM2/ packet for feeding
Address: 7 Jalan Taman Asean, Melaka 75250, Malaysia
Contact: +60 6-334 2602
Opening Hours: 12.30pm – 10.30pm
5. Aun Soon Confectionary
Photo Credit: Ohfishiee
Looking to satisfy your sweet-tooth or plan to bring back some goods for your relatives, friends, or colleagues in Singapore? This is the one. The best-sellers are Mah Ti Su (Horseshoe Biscuit), Dou Sha Piah (Green Bean Biscuit or known as Tambun Biscuit). One customer added that the green bean paste is overstuffed, with a great balance of sweetness and savoury. Those biscuits do not contain any preservatives, so better to serve them fresh and consume ASAP!
Address: 24, Jalan Sri Rama 3, Taman Muzaffar Shah, 75450 Ayer Keroh, Melaka.
Opening Hours: Everyday, 8am – 4pm
6. Baba Charlie Nyonya Cakes
Photo Credits: Babania
After devouring the delicious Peranakan food on the list no.2, it's time for desserts! This little outlet sells Peranakan sweet cakes and pastries. Popular items are Nyonya Kueh, rice dumpling, and Onde-onde, and coconut sago. It's definitely worth every single calorie! (Remember, don't count calories on vacation, count happiness!)
Address: 72 Lorong Tengkera Pantai 2c, Melaka 75200, Malaysia
Opening Hours: Everyday, 10.00am to 4.00pm (closed on Thursday)
7. Klebang Coconut Shake
Photo Credit: Viet Viet Tourism
There are plenty coconut shake stalls in Malacca, but this one is clearly the winner. They serve two types – original and special with vanilla ice-cream on top! One customer describe it as nice and creamy with enough coconut flavour to qualify as a coconut shake. Also, the small coconut bits in the drink give more texture to the shake. The normal coconut shake is RM2.70 whereas special shake is RM3.20.
I personally visited this place before. At first, I was wondering why we needed to drive for miles just to get a coconut shake that is basically sold everywhere? But, yeah. It is worth the queue, and definitely the best coconut shake I've tasted so far.
Address: Taman Setia, Klebang Kechil, Malaysia
Opening Hours: Monday to Sunday, 11am – 6.30pm. Friday, 2.30pm – 6.30pm.
8. Putu Piring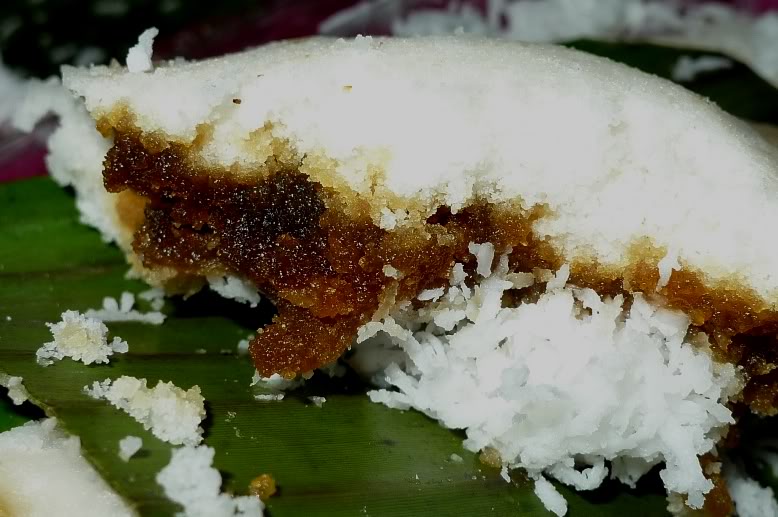 Photo Credit: Foongpc
Yum, another sweet treat! The Putu Piring here is freshly prepared and steamed. At the price of RM1.2/ piece, the size is considered big with generous amount of sweet Gula Melaka and salty grated coconut (which btw is a great combo of sweet and savoury). One customer wrote that the Gula Melaka used is of excellent quality, not too sweet, which indicates there is no added white sugar.
Address: 252 Jalan Tengkera, Melaka, Malaysia
Opening Hours: Monday to Saturday, 6pm – 10pm (closed on Sunday)
9. Catching Sunset @ Melaka Straits Mosque
Photo Credit: Geissler Travel & Tours
If you are sunset-catcher, this mosque is another-not-to-miss spot in Malacca. The mosque is floating on top of sea water and has a magnificent sunset view. There are several benches for those who want to sit and feel the breeze. If you're into photography, this place has plenty of objects for you to shoot – mosque, sea view, and tower.
Located around 4km from the town, it's best recommended to get there by driving (or Grab) as it's usually pitch dark at night. 
Address: Jalan Merdeka | Garden City 8-Storey Apartment, Melaka 75000, Malaysia
10. White Sand Dunes @ Pantai Klebang Malacca
Wish to transport yourself to a desert far far away from the fast-paced civilisation? Go to Pantai Klebang in Malacca.
This is absolutely an Insta-worthy spot that every photographers must visit. In reality, the hills of sands which was a result of a land reclamation project in the Klebang area was a perfect mimic of the desert. Reminder: be prepared to walk several kilometres for about 20 minutes on sandy terrain to reach the sand dunes. Also, you may need to navigate your way through as it was one of those off-the-beaten path attractions.
About Cindy Junovica
Live and breathe social media. Oh yeah, she's into fashion, travel, and photography!
You can contribute your thoughts like Cindy Junovica
here.