We all know that being frugal and saving money is a virtue as it can prevent us from getting into financial trouble.
But too much of a good thing can be bad too.
In this case, being too stoic with your money can make you miserable.
This is why I have allocated some of my monthly budget to 'treat yoself': money that I can use for anything.
But I try and optimise this money as well, doing the research on threads like this on Reddit to make my money go further.
As such, I have put together this list of 10 things under S$20 that will improve your quality life.
I'm not telling you to buy everything.
What I'm asking is that you consider two, or three of these things on this list and see if they will help improve your life.
Do note that information is accurate as of 24 January 2021. Prices are subject to change without prior notice.
---
TL;DR: 10 Things Under S$20 That Will Improve Your Quality of Life
| Item | Price | Purpose |
| --- | --- | --- |
| Butter Dish | S$14.19 | Keep butter at room temperature |
| Collapsible Cup | S$17.50 | Keep your drinks and save the earth |
| Cup Warmer And Cooler | S$19.80 | Keeps your drinks warm or cold |
| Foldable Laptop Stand | S$14.19 | Prevents neck strain from having to look down at laptop screen |
| Long Phone Cable | S$9.59 | Conveniently charge your phone or devices |
| Waterfall Showerhead | S$15 | Gives a spa like experience while showering |
| Shower Chair | S$18.50 | Lets you shower in comfort |
| Wake up Light Alarm Clock | S$18.99 | A more pleasant way to wake up |
| Small Talk Book | S$16 | Teach you how to make better small talk and connect with people |
---
1. Butter Dish
I would admit, this is a first-world problem.
But, handling butter that it is just taken out of the fridge can get quite difficult as the butter is cold and hard.
For example, if you want to spread it on bread it will take quite a bit of time and effort.
Also, when it comes to baking most cakes and some cookies where lightness is key, starting with room temperature butter is important.
Enter the butter dish or butter tray.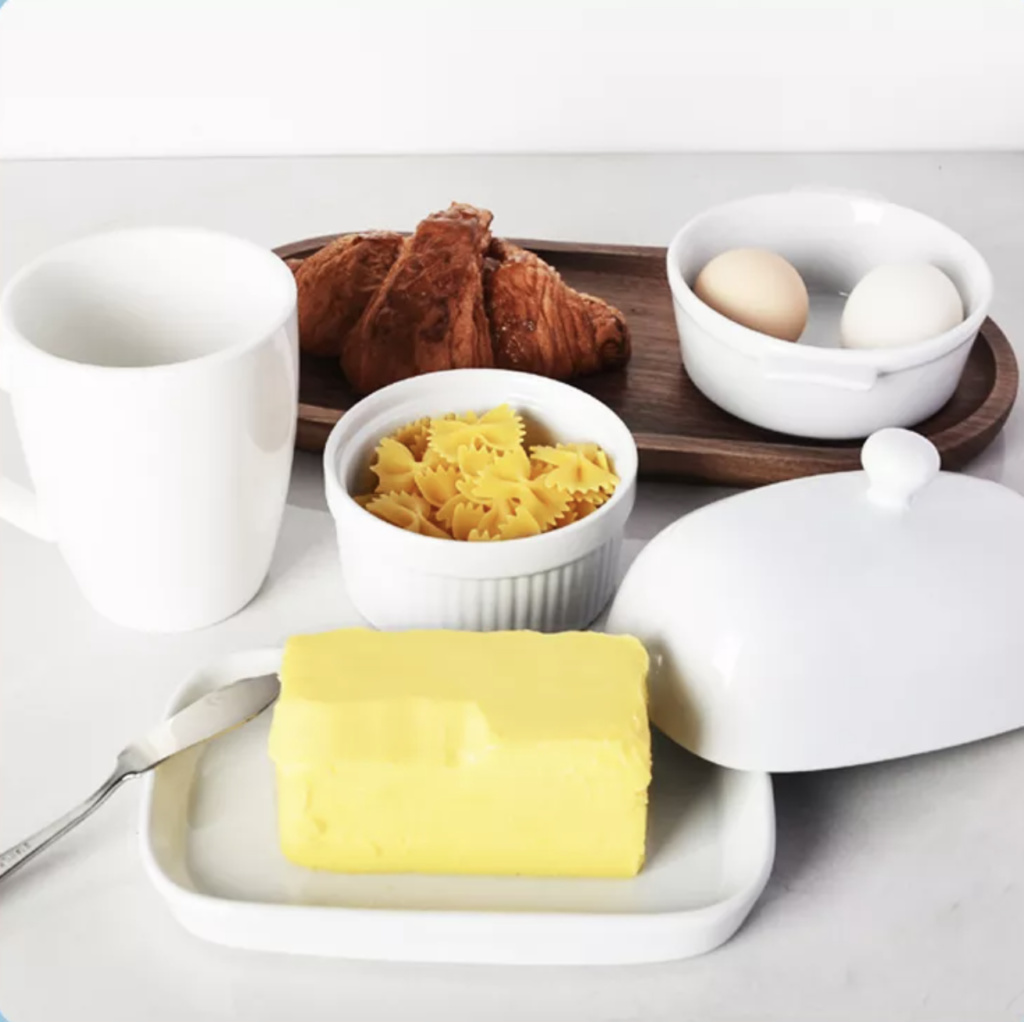 With this product, there is no more fiddling around with cold butter as you get instant room temperature butter for your breakfast, baking and cooking.
Simply store the butter inside the butter dish and place it in a cool dry place to ensure it does not melt!
Butter Dish Price And Where to Buy
S$14.19 on Lazada
2. Collapsible Cups
Next up we have the collapsable cup, a compact and portable invention that is great for holding your morning coffee or hot beverage of your choice.
This wonderful cup will keep your drink warm or cold for a while, is microwave safe and collapse into a portable leak-proof disk.
Not to mention that buying and using this sustainable product will be better on the environment as you will be using less plastic or paper cups.
The aunty might even give you slightly more coffee or tea when you ask them to use this cup.
Also, for the uninitiated, global climate change is one of the most significant and pressing ecological challenges we face as humans today.
According to Dr Philip Cafaro whose scholarly work revolves around environmental ethics and virtue ethics, global climate change could result in 'a quarter of the world's plant and animal species to go extinct, and result in trillions of dollars in economic costs.'
I don't know about you, but this is a good enough reason for me to change my lifestyle to be more environmentally friendly.
Price And Where to Buy
S$17.50 on Selfridges & Co.
3. Cup Warmer And Cooler (USB)
I would think that most of us would not want hot drinks that become lukewarm or cold drinks that become room temperature.
But unfortunately, when things get busy in the morning, your steaming hot coffee will often become cold.
If you prefer cold drinks, your ice coffee will become a room temperature drink after leaving it for a while.
Enter this Cup Warmer and Cooler.
This tool will fix all these problems and keep your cup a perfect temperature all day.
Simply plug it into a laptop, desktop or even a powerbank with a USB A port and you are good to go!
S$19.80 on Qoo10
4. Foldable Laptop Stand
Next up we have a foldable laptop stand.
If you use your laptop for an extended period of time, you might find that you have some stiffness or even pain in your neck.
This is mainly due to the laptop screen being too low which forces you to stare down and strain your neck and back.
But, a simple laptop stand fixes this as it brings your laptop to eye level and forces your upper body into a more ergonomic position. Your neck is also straightened which will put less stress and strain on it.
Pro-tip: You will need to adjust your laptop or monitor so that the top part of your screen is at eye level.
In addition, a laptop stand is better for your laptop as it can prevent overheating.
Overheating is bad because it will slow your laptop down, cause the battery to drain faster and possibly even damage the hardware
Also, a laptop stand is important as laptops tend to overheat more easily compared to desktops. A laptop stand can help with this overheating as it provides more air circulation to cool the laptop.
Not bad for something that costs just $14.19.
Laptop Stand Price And Where to Buy
S$14.19 on Lazada
5. Long Phone Cable
Unless you have power points all over your house, chances are you might need a longer cable to charge your phone or devices
Having a long cable (~2m) is just that more convenient as you can use your phone on your bed or sofa that is further away.
You can also put your phone or device in more comfortable places and prevent tripping hazards as short cables tend to be stretched more.
Pro-tip: You should also get braided cables as they are more durable. Also, get a cable with a 90° connecter so that the cable does not bend or break when you use your phone on the bed.
Price And Where to Buy
S$9.59 on Shopee
6. Waterfall Showerhead: Rain Shower Set
Taking a good shower can really relax you and help you start the day right.
Thankfully, this waterfall showerhead can turn your regular shower hose into a rain shower set and give you the spa-like experience you've always wanted.
I have this at home and I can attest that rain showers are really shiok.
Not too bad for $15!
Price And Where to Buy
$15 on Lazada
7. Rubber Bristle Broom
If you have dogs around the house that shed fur their fur or live with people with long hair, getting a rubber bristle broom is a no brainer.
Unfortunately, a normal broom will just send the fur and hair flying everywhere giving you more work to do.
Whereas this rubber broom with its tight bristles will sweep everything up nice and tidy, making floor cleaning easier. It even works to pick up hair and fur from carpets as well.
Not to mention that you can use it to clean your car windows.
Price And Where to Buy
$15.07 on Lazada
8. Shower Chair
As I get older, I discover pains and aches in my body that I have never experienced before.
I find that often times, sitting can make a huge difference to my comfort levels.
This works for the shower as well.
Having a chair in the shower is good for your back and makes it easier for you to shave your legs if you need to.
You can also wash your feet easier and don't slip as much.
Also, sitting in the shower can be very relaxing as you can have a shower beer, wine or orange that can help you relax even more.
Also, you don't need anything fancy.
Just this simple foldable plastic chair will do the trick.
Price And Where to Buy
S$18.50 on Shopee
9. Wake up Light Alarm Clock
If you find that you wake up each morning a bit confused and anxious at the sound of your obnoxious alarm clock beeping in the dark, you are not alone.
What if I told you there was a better and more pleasant way to wake up.
Enter the wake-up light alarm clock.
Instead of a blaring tone, this alarm clock wakes you up naturally and gradually with a light that turns on slowly.
This type of alarm clock can also display a more soothing warm light as well as play gentle wake up sounds.
Also, this alarm clock can double up as a bedside lamp as well.
Here's a gif showing how this works:
Convinced? Here's the link to buy it.
Price And Where to Buy
S$18.99 on Shopee
10.
Small Talk: How to Talk to People, Improve Your Charisma, Social Skills, Conversation Starters & Lessen Social Anxiety
Like it or not we all have to make small talk with people as we go about our daily lives.
If done well, small can break the ice and help you form deeper connections with other people.
If you ever:
Felt like an awkward turtle when meeting new people
Are a bit more introverted,
Tend to run out of things to say
Are not sure how to be interesting
Suffer from social anxiety.
This small talk guide will help.
And don't take it from me.
Melissa who rated the book five stars on Goodreads had this to say:
"I am an introvert and dread social occasions where I know there will be strangers. I am not a people person – which is why I was interested in listening to this book – and I 100% identified with the points made about feeling your heart beating faster, your palms sweating, stomach churning. That's me! But by listening to this book I definitely learned of some tricks to try and lessen those reactions, as well as how to develop a plan for handling small talk.

Approaching a stranger is not high on my list of things to do, but sometimes you can't avoid it. The next time I am put into this situation I know how to broaden topics of conversation so as to avoid one word responses for all parties involved. I also learned how to engage myself better while listening to the other person talk, because I am the person who is thinking of a good response to your story, as opposed to actually listening to you speak.

Since the audio was only an hour long and I enjoyed the narrators voice, I will be listening to this over and over. The tips and tricks contained in this short self-help book are good in my opinion. Sure the tips and tricks are things you have probably heard before, but maybe not. Or maybe they haven't been explained to you in a way that you can put into practice. Regardless, as an introvert and social setting avoider, I liked this. I especially appreciated the tips on dating. First dates are killer, even if you know the person. I would really like a book dedicated to dating.

I was provided a complimentary copy of this audio book in exchange for an honest review. And honestly, I recommend this for those who are looking for helpful advice, but don't want a long novel telling you what and how to do it. This book was just the right length – quick and to the point, but the chapters didn't feel rushed or glossed over. I give this 5 stars all round."
Price And Where to Buy
S$16 on Amazon SG
About Joel Koh
History student turned
writer
at Seedly. Before you ask, not a teacher. My time as a history student has equipped me with the skills to evaluate the impact societal development has on financial and nonfinancial events.
You can contribute your thoughts like Joel Koh
here.