50% of Singaporeans Don't Know About These 7 Money Hacks
Singapore is expensive
Let's face it, the cost of living here has been going up and income levels are stagnating. In the past few months as personal finance writers, we have been fortunate to be exposed to the different financial hacks that you might probably be missing out on.
Community: Over 100 ways to save
In fact, we asked a simple question recently in our community which brought in a huge array of ideas to make smarter financial decisions in our lives. Here are the TOP 7 ideas which we compiled and it's definitely worth a share! #dontsaybojio.
1) Choosing the right Savings Bank account and Card
Why:

This is a big one. Many people enter the working world using the typical POSB savings… However, you probably really need to know that there are accounts like OCBC360, UOBONE and BOC SmartSaver that actually are designed for you. Most would recommend this combination

: BOC SmartSaver and Family Card or OCBC360 combination for fresh graduates and you get to earn over $600 a year on interest and cashback alone (for accounts around $10k balance)
How: Simply head over to this article to figure out which account is best for you If you are working or if you want something simple with no conditions.
2) Segregating your accounts to prevent overspending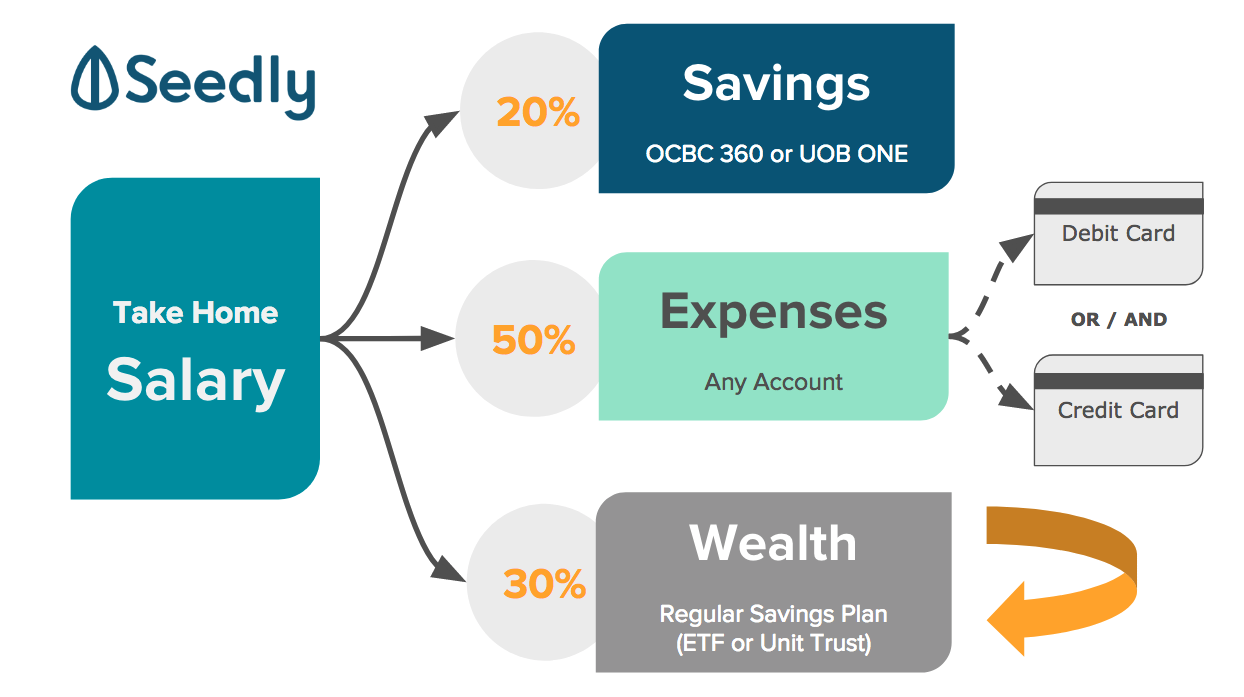 Why

: A classic savvy move, where you limit your spending into two buckets. And always credit to your savings account and pay yourself outside of that amount into your spending account and spend from that account. Again, this is in addition to the above method but in this combination: OCBC360 (savings) + DBS Debit Account/Card (spending) for fresh graduates. If you can put aside at least 30% of your take-home pay to savings, it can grow on its own over time to over $20k in 2 years.

How: Simply head over to this article where we detail this method is called 'pay yourself first' concept
3) Switching SIM ONLY plans
Why:

This is a trend that is happening with the #telcowars. One of the biggest discussion topics in our community, many savvy Singaporeans are all switching over to SIM ONLY to save over $30 to $40 month which also allows the flexibility a shorter or no contract. The only downside is that you do not get any subsidies on new phone sets. For a typical user who needs around 5GB, check out the Singtel SIM ONLY or if you are looking at 28GB, you can consider the Circles.Life plan.

How: Simply head online the moment your current 2-year contract end, and you can simply switch over and keep your existing number while at it (find out more about all the various plans)
4) Topping up your SA CPF (Special Account)
Why:

This is something that many Singaporean working people discuss over lunch. Should you actually top it up? There is a big positive to this, that you are guaranteed 4-5% p.a that will compound all the way till 55 years old and beyond. However, you can only withdraw that sum only then. If you decide to top up using cash, you can actually get tax deducted up to $7k worth of contributions as well. Highly recommended If you have excess cash or OA (ordinary account) and are not looking to invest it on your own, this is a viable option for you to place in and let it compound.

How: You can head over again to our article on this the Pros and Cons of OA to SA topic to find out more on these in detail
5) Using Cashback sites when online shopping
Why

: This is a classic example of a smarter savvy way to make purchases. By stacking not only cashback credit cards, but also using sites like ShopBack to get that additional 1 to 5% cashback on every single transaction you make.

How: Shopback, is only the tip of the iceberg, you can actually consider reading this whole list of tools that Singaporeans have voted as the best tools to save online.
6) Buying Term Life instead of Whole Life insurance
Why: Another heavily debated concept but better appreciated amongst the savvier community. Simply by buying term life, it frees up cash flow especially for the younger crowd and not have to pay huge premium sums. By investing or using the amount saved to do other things to value add.
How: insurance essentials hereThere is a common strategy called "Buy Term and Invest the Rest (BTIR)" that many financial bloggers advocate, a basic level of coverage and investing the rest. You can actually read more about these.
7) Joining a savvy online community of savers
Why: To be honest, where else in Singapore can you find a genuine community helping each other make smarter financial decisions and discover the best products? We designed the community to be a ground-up initiative of knowledge sharing and helping each other get better not only for saving but also investing your spare capital.
How:

Join the group today, it's been growing to around 5,000 members in just under 3 months and there are often special deals, giveaways, interactive polls and discussions to join in.
---
Conclusion – Get smarter as a community 
If you liked the above 7 sharing points, simply head over to our group and say hi! We would not have been able to have uncovered the volume of good ideas and feedback if it were not for them. We have bi-monthly meetups and FB LIVE on ways to help you think about your money and get better at your basic financial knowledge.
We promise you that within a month, you will be on the right side of the 50% 🙂