8 Highlights At The Seedly Personal Finance SG Meetup
Last week, we had our first Seedly meetup at the Shopback office. We invited SGBudgetBabe together with myself Kenneth, co-founder of Seedly to share the basics of Personal Finance 101 for working adults.
Towards the end, we had a panel discussion with Tai Zhi from AutoWealth and Rachel from StashAway who shared more on their take on Robo Advisors in Singapore.
Here is a wrap up on the top 8 highlights the speakers shared during the event, be sure to attend the next one and stay informed in our Seedly Personal Finance Community!
8 Meetup Highlights
1) Your Personal Finance as a football team lineup
The concept is simple to understand and is advocated by not only many financial advisors, but also many blogs globally.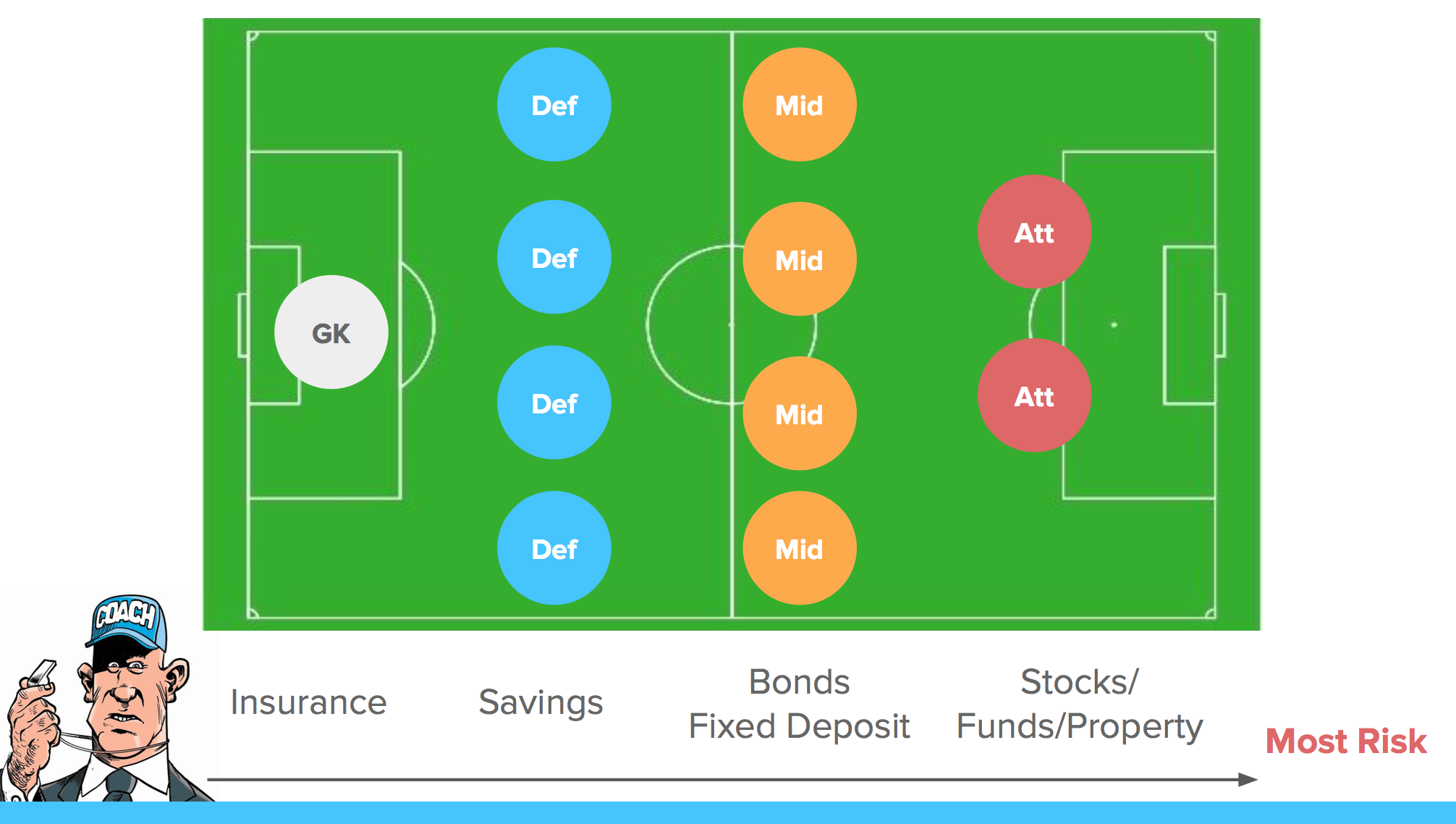 Goalkeeper: Insurance (Your last safety net)
Defenders: Cash (Emergency funds and opportunity funds)
Midfielders: Bonds, Fixed Deposits (Can cash out on shorter notice, but also can give reasonable returns)
Strikers: ETF, Stocks, Funds (Riskier in nature but potentially more returns)
2) Always pay yourself first
Before you spend, look to save by opening up 2 main accounts to segment them. Here are some useful hacks:
Set up a standing instruction for your bank account to automatically transfer to various accounts
Use a method called the rollover expense budgets, when you have excess budget from one month, it goes to the next
Adopt free and easy to use budgeting apps, like Seedly, which automates cash flow management for you
3) Insurance as the goalkeeper
Insurance can actually be simplified to three main aspects:
Sufficient coverage: This varies heavily accordingly to age, family household and existing liabilities. Read this to find out more about benchmarks
Right reasons: Again it's closely tied to the coverage above. For example, a fresh graduate with no loans should have less coverage than a father with a huge home loan and family
Lowest costs: Look out for the best cost after deciding the right coverage for you to avoid overpaying
A typical working adult insurance strategy would be to focus more on coverage and keep savings and investments separate (refer below).
4) Best savings accounts for working adults
These 4 seem to be the best accounts in the market to consider now, there is a more detailed comparison here as well specific to working adults.
5) Try to stay out of debt
Budgetbabe shared an example of a Credit Card debt of $1k which charged 24% p.a of interest. In fact, in just one year, the fees you would have to payback is NOT just $1,240 but instead a total of more than $2,000 (youtube link) due to late fees and interest on late fees etc. Here are the key tips.
Never get into Credit Card debt (spend within your means)
If you have tuition fee loan, look to clear it asap 
You can also look to borrow from your parents or relatives to pay off the loan before paying them back over time
If you are taking on a home loan, carefully decide between HDB loan vs Bank loans
6) A bond as a midfield player
Midfield players in football both defend and attack. Essentially, they have both purposes and a Bond, which is a type of debt instrument where an investor loans money to an entity behaves in such a manner. Generally, the returns on bonds are not amazing but are usually more stable over economic cycles.
Defend: If you redeem your bond earlier, you get an interest rate around 1.15% p.a
Attack: Towards a later date, your interest rate is around 2 – 3% p.a
7) A typical working adult investment strategy
Given the time-starved adult, he would take on a more passive approach to his investment beliefs.
Lump-sum investment vs Dollar Cost Averaging: DCA wins with regular monthly contributions as it's better than trying to time the market
Active Funds (Mutual funds) vs Exchange Traded Funds: ETFs wins because you would rather match the index returns rather than invest in managed funds with higher costs and may not beat the market benchmark
One simple way to start on this track would be to jump on the STI ETF bandwagon with one of your online bank accounts which you can easily setup in just under 10 minutes.
8) Robo-Advisors seem a pretty viable solution
Robo-Advisors essentially offer the promise of Low-cost Diversified Passive Investing and it was heavily discussed in the sharing session. Essentially they are for the time-starved working adults who do not want to pay high fees to fund managers from banks etc. You can refer more on an in-depth comparison of robo advisors like StashAway, AutoWealth and Smartly.
Low Cost: Usually 0.5% to 1% fees are charged for total amount managed (because they are run by models and algorithms behind instead of fund managers, hence the word 'Robo')
Diversified: Usually put into a basket of Global Exchange Traded Funds (ETFs) which exposes the fund to the global economy in different sectors in some form of a mix of equities and bonds. Some of these ETFs are not available to retail investors
Passive Investing: A longer-term approach to growing wealth rather than high-frequency trading and taking short-term positions
Conclusion: Great content, Great food, Great community!
In all, I think the response was really well received and many attendees actually shared with us on their feedback from the event. We look forward to the next one where we aim to further help more people make smarter financial decisions in their daily lives.
If you have not already done so, please do these 2 steps: