3 Things to Know About ARA US Hospitality Trust (SGX: XZL) Before Investing
ARA US Hospitality Trust (SGX: XZL) was listed in Singapore on 9 May 2019 as the first pure-play US hospitality trust.
The trust is a hospitality stapled group comprising ARA US Hospitality Property Trust (ARA H-REIT) and ARA US Hospitality Management Trust (ARA H-BT).
A "stapled group" means that if an investor buys units in ARA US Hospitality Trust, the investor would own both ARA H-REIT — a real estate investment trust (REIT) — and ARA H-BT — a business trust.
ARA H-REIT was set up to hold the hospitality trust's underlying hotels while ARA H-BT is an active business trust that owns the operational assets of the hotels.
ARA US Hospitality Trust's sponsor is ARA Real Estate Investors 23 Pte Ltd, an indirect wholly-owned subsidiary of ARA Asset Management Limited.
Currently, ARA US Hospitality Trust's portfolio contains 41 select-service hotels with a total of over 5,000 rooms across 22 states in the United States.
Right here, let's dig deeper into ARA US Hospitality Trust to understand if it's a good investment.
US Hospitality Market and Where ARA US Hospitality Trust Stands 
The United States is home to the world's largest hospitality market with more than 5.3 million rooms valued at US$183.4 billion.
Of the total room supply, most of them are affiliated with a brand while the rest are independent.
Those branded hotels can be further divided into full-service, select-service or limited-service.
ARA US Hospitality Trust has a focus on premium, upscale select-service hotels.
Its 41 hotels are branded under the two largest global hotel brands — Marriott and Hyatt — and are managed by established hotel operators, Aimbridge and Concord.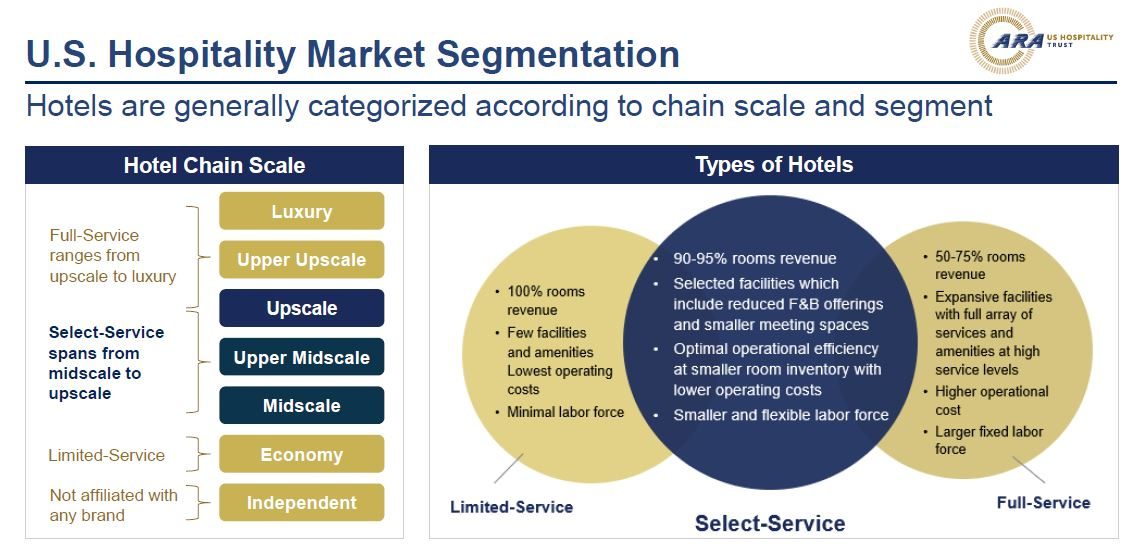 Source: ARA US Hospitality Trust investor presentation
Select-service hotels are a hybrid between limited- and full-service hotels, and offer services at a lower price point than full-service hotels.
Select-service hotels, as the name might suggest, have selected facilities such as reduced food and beverage offerings and smaller meeting rooms.
According to ARA US Hospitality Trust, select-service hotels are less expensive to operate than full-service hotels and they enjoy better operating margins.
Those hotels offer strong growth potential as well.
ARA US Hospitality Trust's 2020 First-Quarter Business Update
Earlier last month, ARA US Hospitality Trust announced its financial performance for the first quarter of 2020 (1Q2020), which was from 1 January to 31 March 2020.
ARA US Hospitality Trust's 1Q2020 gross revenue came in at US$31.7 million, down 24.5% from its IPO forecast of US$42.0 million.
Net property income didn't perform up to expectation too; it was 68.2% below forecast to US$3.6 million.
Gross revenue comprises room revenue and other operating revenue while net property income is gross revenue less property expenses such as hotel management fee and property taxes.
ARA US Hospitality Trust had a healthy portfolio performance in January and February 2020.
However, the COVID-19 pandemic took a huge toll on the US hotel industry since the middle of March, and this consequently affected ARA US Hospitality Trust's first-quarter performance.
ARA US Hospitality Trust's overall portfolio dropped to 54.8% in the latest quarter, down from 77% at the end of 2019.
Next, let's look at ARA US Hospitality Trust's balance sheet.
As of 31 March 2020, the trust had an aggregate leverage ratio of 41%, well below the revised regulatory limit of 50% for REITs.
However, ARA US Hospitality Trust's latest gearing ratio is above the threshold of 40% I look at when investing in Singapore REITs.
Furthermore, ARA US Hospitality Trust's interest coverage ratio is low in my opinion, at 3.4x.
Looking Ahead: COVID-19 Update
ARA Hospitality Trust updated the market that it is uncertain how long the COVID-19 crisis will last or how fast or slow the recovery will be, but it is certain of a recovery.
Since bottoming out around the middle of April, the weekly occupancy rates for US hotels are beginning to look up. This is likely to be due to the gradual loosening of lockdown measures in the country.
Despite the optimism, potential investors should note that it is likely to be a long road of recovery for ARA Hospitality Trust.
At ARA Hospitality Trust's unit price of US$0.46, it has a price-to-book ratio of 0.58x.
What Are Your Thoughts on ARA Hospitality Trust?
Check out the Seedly Community and participate in the discussion surrounding REITs like ARA US Hospitality Trust (SGX: XZL) and many more!
Disclaimer: The information provided by Seedly serves as an educational piece and is not intended to be personalised investment advice. ​Readers should always do their own due diligence and consider their financial goals before investing in any stock. 
About Sudhan P
It isn't fair competition when only one company in the world makes Monopoly. But I love investing in monopolies. Before joining the Seedly hood, I had the chance to co-author a Singapore-themed investment book – "Invest Lah! The Average Joe's Guide To Investing" – and work at The Motley Fool Singapore as an
analyst
.
You can contribute your thoughts like Sudhan P
here.