Artbox 2019 Pricelist: Goodburger, Beef Bro, Golden Moment, Gryphon Tea, etc.
Artbox Singapore
Outdoor market Artbox Singapore is back for the third time. Started in Bangkok, Artbox Singapore is an outdoor night bazaar concept which reminds us of our local Pasar Malam. The only difference is that Artbox is way bigger in terms of scale.
Artbox Singapore – When? Where?
For those who are late to the game, here are more details about Artbox Singapore.
When Is Artbox Singapore?
The dates for Artbox Singapore 2019 are as such:
15 – 17 November 2019
22 – 24 November 2019
It will take place from 3pm – 11pm daily.
Artbox Singapore, How To Go?
Artbox will be held at Singapore Turf Club (The [email protected]).
Here's the exact address: 1 Turf Club Ave, Singapore 738078
---
With close to 300 booths to visit, we streamline down to some of Singaporean's favourite food stalls that you should visit!
Seedly's Ultimate Price List Of Food And Drink Stalls At Artbox Singapore 2019
Just a quick warning, there are too many stalls for you to choose from over at Artbox.
To help you better plan your budget, here's a list of food and stalls we visited at Artbox and their price!
Name Of Stall
What They Sell?
Price

Gryphon Tea

Cold Brewed Sparkling Tea Cocktails
$10
(with LED cups)
Botanically Cold Brewed Sparkling Tea
$6

Komma

Cold Brew Soft Serve
$5.50
Coffee/ Tea
( Americano, Latte, etc.)
$3 - $5.50
Alcohol
$10 - $12

Somersby

Somersby Cider
$6 per bottle
$10 for 2 bottles

Teabrary

Signature Milk tea with
(Custard Pudding/ Pearls)
$7
Cold Brew Premium
(Rose Oolong, Taiwan Jin Xuan, Lemongrass)
$6.90

Goodburger

One Night In Bangkok
$20
The Classic
$16
The Black Tie
$18

Beef Bro

Beef Cubes
$12.90
Mentaiko Beef Cubes
$14.90
Cheesy Mentaiko Beef Cubes
$16.90
Truffle Beef Cubes
$16.90
Wagyu Beef Cubes
$20
Baked Garlic Butter Lobster
$20

Golden Moment

24K Premium Mao Shan Wang Ice Cream
$21
Dark Chocolate Mao Shan Wang Macron
$21
Mao Shan Wang Durian Puree
$28

Kazo

Cheese Tart
$3.50
Kazu Kazu
$4
(Available in Hokkaido and Chocolate cream)
Crispy Cream Puffs
$2
Polo Bun
$3

(Original, Hokkaido, Chocolate)

What's Squeezing

Original Blend
$4
Yuzu Orling
$6.50
The Little Black Dot
$6.50
Lembei Teh
$5.50

Golden Bee Street Food

Japanese Pizza
$6.50
(Prawn, Chicken, Salmon, Crabmeat)
Tako Yaki
$6

Oddball

Ice Cream
$5.50 - $6.60
(Single Scoop)

Tie Fun Wan

Braised Pork Rice
$6

The Skewer Bar

Chicken and Pork Ball
$3.50
Chawanmushi
$4.50

Thai Boat Noodle

Thai Boat Noodles
$7

The Lobster Bay

Classic Lobster Roll
$14 - $20
(40g/90g of Premium Boston)
Tom Yum Lobster Roll
$16 - $22
(40g/90g of Premium Boston)

Tiger Dot

Brown Sugar Fresh Milk
$3.90 - $4.90

Twist Potato

Twist Potato
$4
Fried Oreo
$4 - $4.50

(6 Pieces)

Carrot Cubes

Traditional White Carrot Cake
$5
Hottie Carrot Cake
$6
Bacon And Cubes
$7

Easy Eggs

Mentaiko Egg
$5.90
Wanton Quail Egg
$5.90
Crispy Chips
$5.90
Chicken On Stick
$6.90

555 Thai Tea

Thai Milk Tea
$2 - $3
(500ml/ 700ml)

Sinful

Cold Soba With Grilled Beef
$10
Cold Soba With Mentaiko Chicken Karaage
$8
A LA Carte Mentaiko Chicken Karaage
$8
A LA Carte Sriracha Soft Shell Crab
$10

Yummy Asia

Fire Beef Cubes
$6.50 - $12
(Small/ Large)
Rainbow Potato Ball
$2.50

Gastronomic Kitchen

Just Macroni
$7 - $9

Alley

Lobster Picolo Tacos
$16
Chilli Crabla Tacos
$12
Garlic Aioli Crab
$10

Jolly Kitchen

Pork Noodle Soup
$8
Seafood Tom Yum Fried Rice
$8

The Mantou

Mantou
$5 - $6

(Choice of condense milk, chocolate, salted egg sauce, Nacho Cheese, etc.)

Chick-It

XL Chicken Chop
$5
Cheesy Chicken Chop
$5
Honey Chicken Chop
$5

Loco Loco

Takoyaki
$5 - $7
(Original, Wasabi, Mentaiko, Chilli Crab, Salted Egg)
Churros
$5
(Classic, Ondeh Ondeh, Oreo, Salted Egg, Chilli Crab, Assorted)
If you have the tendency of overspending on food, we strongly advise you to stay away from Artbox!
---
Artbox Singapore: Food To Eat!
There are way too many stalls to visit at Artbox. While we went around taking note of all the prices, we did take some photos of the more interesting stalls which we stopped to eat and drink at.
Here are some photos! Also, we are not paid to write this article. These stalls are purely based on what we ate over at Artbox.
Gryphon Tea
In all honesty, the disco light placed at the bottom of the cup got my attention first. Having recently returned from Thailand, maybe quenching my thirst with anything that is Thai milk tea was the way to go.
If you are looking for something different, do check out their Botanically Cold Brewed Sparkling Tea.
Check out their menu here:
Loco Loco
If Churro is life, Loco Loco is where you need to head to.
Check out Loco Loco's menu:
Loco Loco
Price (S$)
Takoyaki
Original Takoyaki
$5.00
Wasabi Takoyaki
Cheese Takoyaki
$6.00
Mentaiko Takoyaki
$7.00
Chilli Crab Takoyaki
Salted Egg Takoyaki
Churros
Flavours: Classic, Ondeh Ondeh, Oreo, Salted Egg, Chilli Crab, Assorted
$5
Drinks
Sakura Milk Tea
1 for $4,
Any 3 for $10
Okinawa Milk Tea
Thai Red Milk Tea
Thai Green Milk Tea
Lemon Soda
Strawberry Soda
Blue Ocean Soda
Thai Iced Lemon Tea
Lychee Soda
Passion Fruit Soda
Taro Milk Tea
Earl Grey Milk Tea
The Lobster Bay
If you are a big fan of seafood and lobster, check out The Lobster Bay for their Classic Lobster roll and Tom Yum Lobster roll.
The Goodburger
IMPOSSIBLE Burger anyone? The Goodburger serves the impossible burger while pushing the mission of a kinder and better world.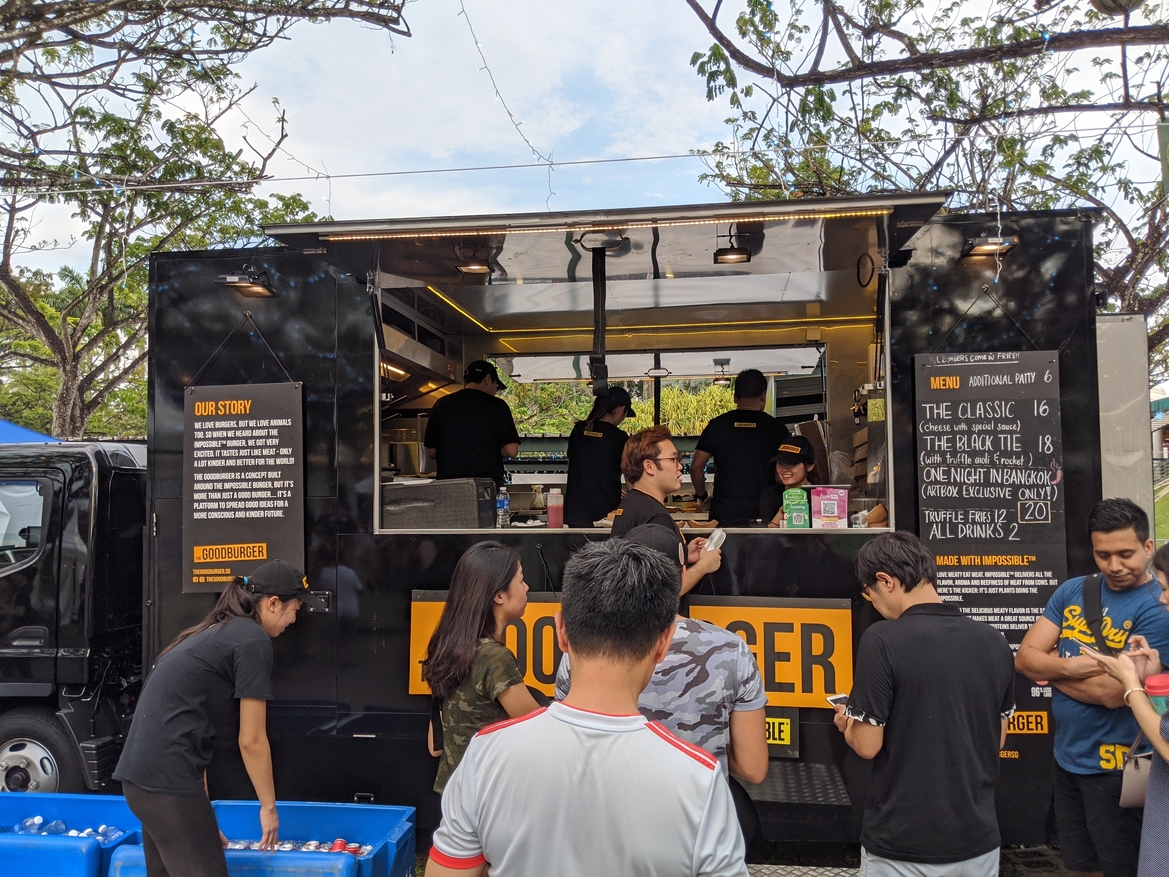 Chick-It
What is ArtBox without fried chicken?
---
Check it out this weekend. Also, do bring an umbrella along, looking at how unpredictable the weather is these days.
About Ming Feng
A stint in
Bloomberg
gifted me with a beer belly, which only grew larger when I moved on to become a Professional Trader. Now I turn caffeine into digestible finance-related content.
You can contribute your thoughts like Ming Feng
here.