Singapore is small, but it's full of exciting bazaars and flea markets!
Avid art, food, and music goers, Artbox Singapore is back for the fourth time!
Started in Bangkok, Artbox Singapore is a night bazaar that reminds us of our local Pasar Malam. The only difference is that Artbox is way bigger in terms of scale.
Here's an event and price guide for those who're planning to drop by!
---
TL;DR: Ultimate Guide to Artbox Singapore 2023
For $7 per person, you get to eat, play, shop, and watch performances all at Artbox 2023!
Click here to jump:
Note: All food and item prices listed below were obtained directly at the event as of 25 February 2023 and may be subject to change without prior notice.
---
Artbox Singapore 2023
When is Artbox Singapore?
The dates for Artbox Singapore 2023 are as such:
24 – 26 February 2023
3 – 5 March 2023
It will take place from 12pm – 11pm daily.
Artbox Singapore 2023 Ticket Price
Tickets are currently priced at $6 per person.
Ticket Type
Price
Booking Fee
Single Admission

Includes timed entry to the experience

24 Feb & 3 Mar: $6

25 Feb, 26 Feb, 4 Mar, 5 Mar: $7

$1
Multi Admission

Includes priority entry to the experience plus full-day access across all 6 days (once per day, no re-entry)

$33
$3
Do note that you can get your tickets off at 25% with the promo code "SUNDAY25OFF" when you check out on Sundays!
Artbox Singapore 2023 Location
Artbox will be held at Singapore Expo Hall 6!
Thankfully, this is right beside the Expo MRT station and this means you can take public transport there!
Besides taking the train, you can either take the bus or carpool with your friends.
Location: Singapore Expo Hall 6, 1 Expo Dr, Singapore 486150
Time: 12pm – 11pm
---
Navigating through Artbox 2023
As you can see, the event space is huge.
Do note that no re-entry is allowed!
Even though the tickets have stipulated hours for visiting, it seemed like it was more of a crowd control method and not exactly enforced.
To top it off, it wasn't difficult to navigate from one zone to the other because it was well organised as it was divided into three sections:
Top (Food)
Middle (Art installations, main stage with performances, SGAG stage with challenges to win $888)
Bottom/entrance (Lifestyle)
You might think that with food and crowd, ventilation could be an issue, but most areas were spacious and you won't feel suffocated (at least for me).
Besides a well-planned layout, the ambiance was great!
There were fairy lights all around to mimic the authentic night market, slides, and an arcade section that can make you stay throughout.
Art installations were concentrated in the middle of the event hall, and there were plenty of photo opportunities as the crowds were either at the lifestyle or food sections.
Event Pro-tips:
Go in at 12pm as the crowd started streaming in around 1.30pm
Cashless options are available including Paylah!, PayNow & GrabPay
Don't go with a full stomach as there are many food booths around
Sit near the main stage so that you can eat and watch performances at the same time
Purchase your event ticket on Shopback
---
Ultimate Artbox Singapore 2023 Food Guide
To help you better plan your budget, here's a list of stalls we visited at Artbox and their price!
Food at Artbox Singapore 2023
An event without food? That's preposterous!
Of course, that's not what's happening at Artbox.
Prices ranged from $4 to $29 and cuisines were aplenty!
On the left-most column of Burpple Food Street, you will be able to find local food gourmets right next to the Burpple booths Just to name a few:
Just to name some:
The Feather Blade & Rappu
Mahmud's Tandoor award-wining halal burger
Burnt Cones
Hook Coffee
Ima Sushi
Tipsy Tavern
The Acai Collective
HomelyPot's hotpot in a cup
Kakigori shaved ice
Big Big Fries
Ramen Shiba
From Booths 216 to 318, you would come across mouthwatering items including pasta, pizza, burgers, fried chicken, and fries!
Concentrated in the middle of the food booths, those with a sweet tooth should find bubble tea, churros, and durian puffs at affordable pricing!
There was, however, a lack of drinks stalls in my opinion.
Check out the price and some of the food stalls you can visit:
Vendors
Food
Price Range
Potato Lab
Shaker Fries
$6 - $16
Big Big Fries
Assorted fried food & mentaiko sauce
$9.90 - $16
OOTB
Burgers sliders
$11.90 - $24.90
Man Tou Da Han
Ice cream Man Tou
$2 - $10
Stinky Bomb
Durian puffs
$2.50
Loco Loco
Thai milktea & churros
$4 - $8
Foreword Coffee Roasters
Chunky Cookies
$3.20 - $7.80
Whiskdom
Cookies, Cookiewich, brownies, ice cream, bagels
$6.50 - $38
Chang Beer
(Booth 209, 210, 211, 281)
Beer
$6 - $30
Prime Liquor
Wine, Rose, Beer, Cocktails, Fizz, RTDs, Soda & Mineral water
$2 - $12
Balijacksingapore
Soft rum
~$20
Note: This price list is non-exhaustive.
You can eat to your heart's content at the Foodpanda pink outdoor-sheltered dining zone!
Can't go Bangkok's Chatuchak anytime soon? Head over to the booths in the right-most section (227 – 242) for some authentic Padthai!
💸Total damage on food: $19.30 per pax💸
---
Fashion & Lifestyle Gizmos at Artbox Singapore 2023
Besides food, shopaholics can sift through fashion, artisan crafts, homewares, films, and jewelry in the lifestyle section when you first walk in.
After speaking to booth owners and walking through the booths a few times, safe to say I have not spotted anything sold above $32 (the most expensive being $31.80 for a pair of flats).
Most of the clothes, pouches, and bags sold are quite affordable, at around $25 to $29!
In line with this year's theme of Vision, the event invites visitors to stick around with fun-filled activities and booths.
At the Fortune Town, you will encounter booths such as mystical future-seeking activities including aura reading, henna and jagua body art, and crystal shopping.
Similarly, you'll be able to spin the Wheel of Fortune to win Foodpanda prizes.
Have your aura read by a professional crystal reader who'll be able to share what might happen to you in the next three to six months at $18!
These are some of the lifestyle vendors that are worth dropping by when you're there:
| Vendor | Items Sold | Price Range |
| --- | --- | --- |
| @bigyoyo.store | Clothing | $10 |
| @loma.whale | Clothing | $10 - $25 |
| @avoidofficialsg | Clothing & accessories | $29 - $52 |
| @vana.sleepwear.official | Sleepwear | $29 |
| @twenty.two.april | Clay earrings | $8 - $25.80 |
| @dokmei.flowerpower | Punch needle & handmade turfing | $6 - $12 |
| @Thanom Bags | Handmade woven pouch and bags | $7 - $25 |
| @moonset_official | Bags | $7 - $28 |
| @backban | Men's clothes | $7 - $12 |
| @keptheom.official | Body oil, cleanser & gel | $25 - $64 |
Note: This list is non-exhaustive.
---
Ultimate Artbox Singapore 2023 Event Guide
Luxe Pasar Malam With Art Installations
You can't spell 'Artbox' without the 'art'.
Be ready to be dazzled by art installations and projections spread throughout the event hall!
It should not be difficult to spot a 3-level high Hero Structure, comprising octagon-shaped containers stacked vertically at the heart of the festival grounds.
If you've been an avid art collector, you would've heard of JELILO by artiste Lester Lim.
Featured at this event is a large illuminated inflatable and you can also shop for specially curated merchandise.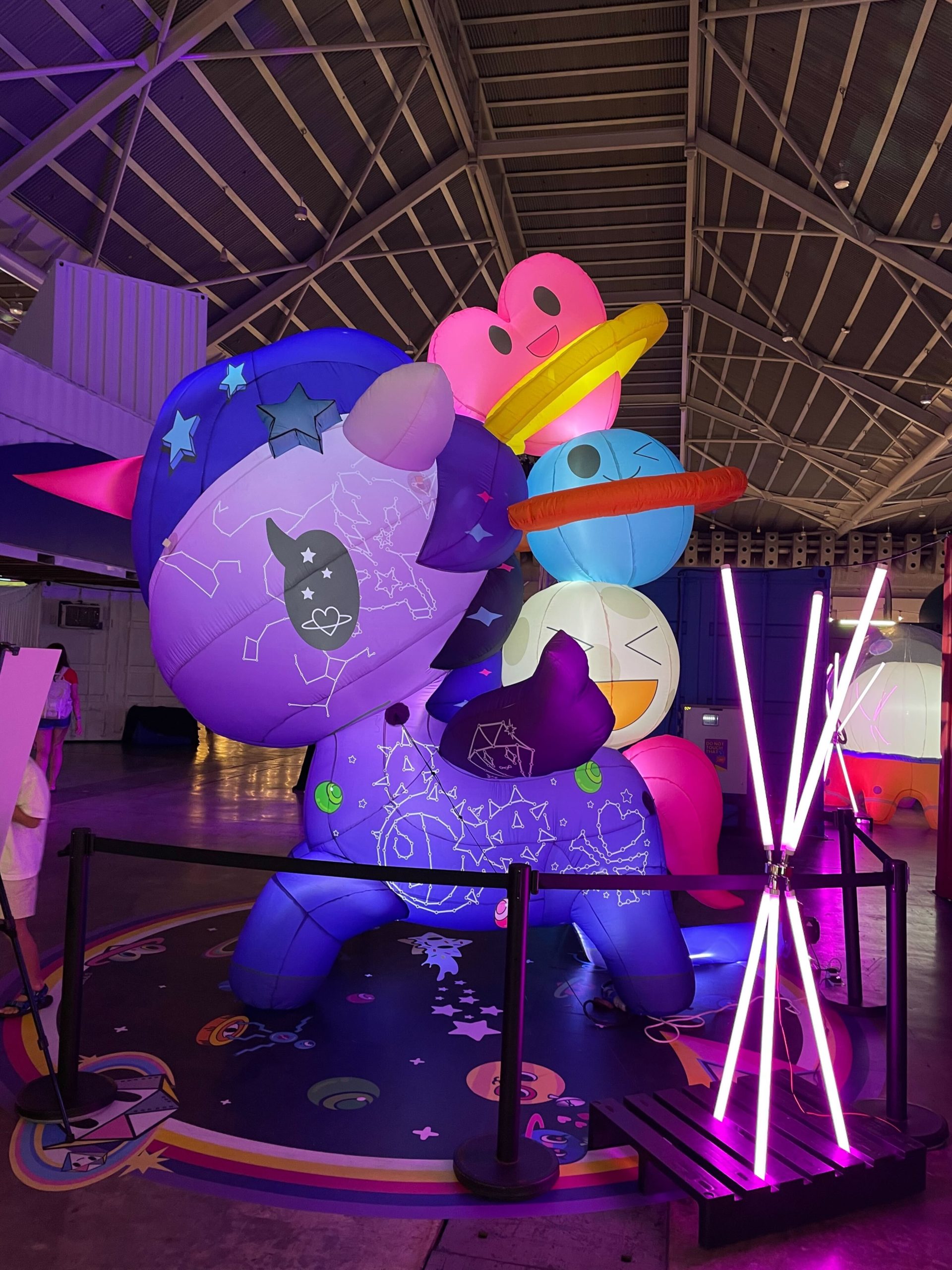 Artbox x SGAG Challenges
If you're a fan of the local media company, SGAG, you will be pleased to know that they are part of the event this year.
To spice things up, you can get to participate in a variety of zany challenges hosted by SGAG and you can win $888 if you win these challenges!
Good at shaking leg?
You can participate in the National Shake Leg Championship!
Or, if shaking your legs is not your thing, how about paper tossing? Been there and done that?
You get to join the National Paper Toss Championship too!
And the highlight of all is a 15-meter obstacle course titled the Beam of Pain, which is a beam walk lined with acupuncture mats – healthy but ouch.
Artbox Singapore 2023 Arcade
Featuring popular games such as Bishi Bashi, claw machines, basketball, air hockey, and driving machines, you will also be able to enjoy a full suite of arcade games when you're there!
The arcade tokens though, are considered pretty pricey if you ask me.
Artbox 2023 Musicians
Get into the groove with some live music!
This year, Artbox is bringing in local talents such as Tay Kewei, Derrick Hoh, Alfred Sim, Akeem Jahat, and Calvert Tay to perform on the main stage.
You don't get to see all these artists come together to create a mini-concert often…
This will be an all-in-one experience that'll keep you excited and entertained throughout!
---
Artbox Singapore 2023 & ShopBack
Do you think you will just spend and not save at all?
Not this time.
As of the time of writing, you can purchase Artbox tickets from Shopback at discounted rates.
There are also attractive prizes to be won when you snap a photo and post on Instagram:
Take a photo at ArtBox 2023
Post it on your Instagram Story/ Post!
Tag @shopbacksg & @artbox_singapore with the hashtags #shopbackatartbox
Follow both IG accounts to stand a chance to win $100 UNIQLO Vouchers!
Further to that, drop by the ShopBack booth next to the Arcade to see what other offers they have!
---
Get Your Tickets & Use Your Credit Cards at Booths
Singaporeans love events and it's no wonder Artbox is such a popular one.
Returning this year is also the Geylang Serai Bazaar, which will see the largest and longest-running edition in history, starting on 17 March and lasting for a whopping 36 days!
And before you purchase anything, remember to go cashless so that you can clock any cashback, miles, or rewards.
Related Articles:
About Ming Feng
A stint in
Bloomberg
gifted me with a beer belly, which only grew larger when I moved on to become a Professional Trader. Now I turn caffeine into digestible finance-related content.
You can contribute your thoughts like Ming Feng
here.