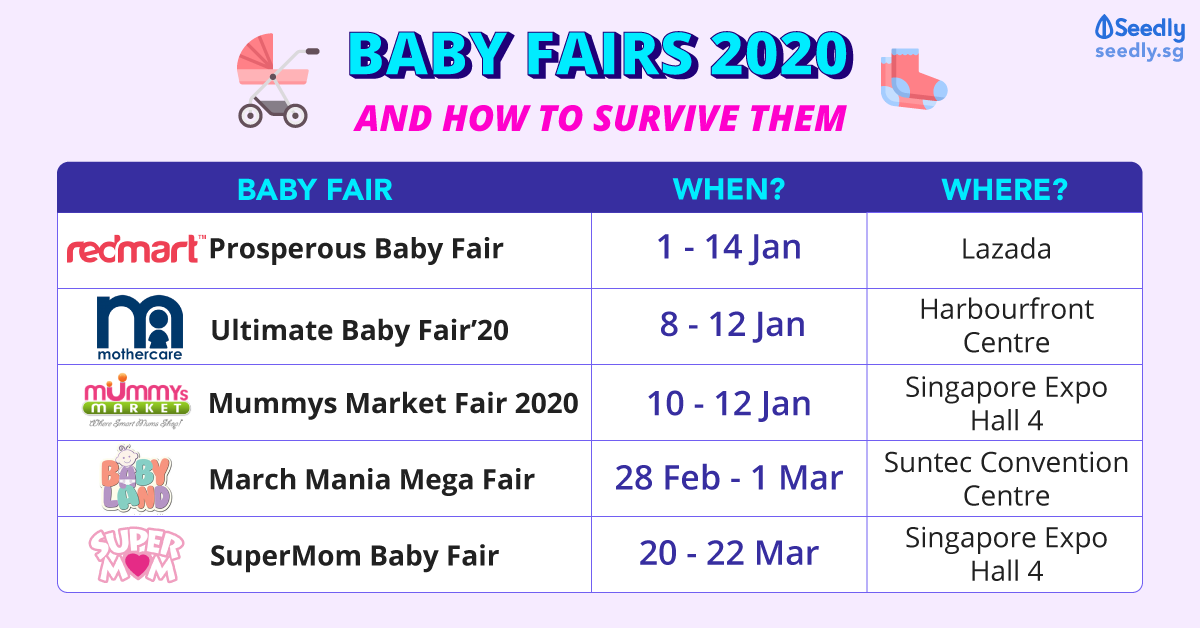 Baby Fairs in Singapore 2020 and How to Survive Them
So… you've got a kid on the way and have worked out — or rather, found out from us — that you need $285,468 just to raise it.
"Siao liao," you wonder, "how sia…"
Thankfully, there are these things called baby fairs where you can get a pretty good deal on baby essentials.
If you're a mother or father-to-be…
Or if you know a friend who's looking to stock up on supplies before their bundle of joy arrives.
Then you'll want to find out which are the best baby fairs in 2020!
And most importantly, how to survive them.
Because according to my friends who've been, it's like a competitive sport on its own.
---
TL;DR: Baby Fairs 2020 to Buy Baby Essentials in Singapore
Raising a baby can be expensive.
Make full use of these baby fair promos and discounts to stock up on baby essentials and save that money for their college tuition.
Baby Fair
Organised By
Date
Time
Where
What To Expect?
Prosperous Baby Fair
Lazada RedMart
1 to 14 Jan
-
Lazada
Up to 50% off
Buy 2 add 1 free
Multibuy deals
mothercare Ultimate Baby Fair'20
mothercare
8 Jan (VIP)
9 to 12 Jan (Public)
11am to 9pm (Daily)
mothercare Experience Store (Harbourfront Centre)
Up to 90% off
Mummys Market Fair 2020
Mummys Market
10 to 11 Jan

12 Jan
11am to 9pm

11am to 8pm

Singapore Expo Hall 4
Early bird specials
Goodie bags
Milk samples
Seminar
Baby Land: March Mania Mega Fair
Baby Land
28 to 29 Feb

1 Mar
11am to 9pm

11am to 8pm
Suntec Convention Centre
Cash giveaway
Goodie bag
Price Match Guarantee
Shop & Win

SuperMom Baby Fair
SuperMom
20 to 22 Mar
11am to 7pm
Singapore Expo Hall 4
$888 lucky draw
$50 cash vouchers
Free delivery
Goodie bags
Shop & Redeem
---
Lazada Redmart Prosperous Baby Fair
What Kind of Lazada Redmart Prosperous Baby Fair Deals Can I Expect?
This is technically not a baby fair if we're defining it as cavernous halls where people snap up baby essentials faster and battle it out for the best deals — or so I'm told by my friends who've visited.
But the beauty of online shopping is that you can do so from the comfort of your home.
This is extremely important especially if you're heavily pregnant or loathe fighting the crowds at baby fairs.
At the Prosperous Baby Fair, you can get up to 50% off all baby-related products like diapers, milk formula, food, and essentials.
On top of that, there're also:
Buy-2-add-1 free deals for baby personal care, food, clothing & accessories, and toys
Brand days for discounts off brands like Friso baby formula and Merries diapers
Multibuy deals where for example, you can get three tins of Friso Gold Stage 3 Growing-Up Baby Formula and save $20
(Side note: baby formulas are RIDICULOUSLY expensive, so any deal is a good deal.)
It's pretty much like the 11.11 Sales, but for baby stuff.
Where and When Is Lazada Redmart Prosperous Baby Fair Happening?
Date: 1 to 14 January 2020
Where: Erm… online on Lazada Redmart?
mothercare Ultimate Baby Fair 2020
What Kind of mothercare Ultimate Baby Fair'20 Deals Can I Expect?
The mothercare Baby Fair is held once a year at their flagship store at Harbourfront.
Sadly, this year will be their last year holding this annual event.
This is probably why they're offering up to 90% off during their sale on over 60,000 items and more than 400 brands like: BabyBjorn, Cybex, Ergobaby, ELC, Medela, Philips Avent, and many more.
You can also find bundle deals, and star buys like:
like strollers for as low as $90
up to 75% off feeding products, and
60% off car seats
If you're a mothercare VIP member, you'll get first dibs as the VIP sale starts on 8 January 2020. Whereas the public sale starts only on 9 to 12 January 2020.
To save time, there's even an SMS 'Q' system which will let you know — 10 minutes before — when it's your turn to enter the store
Where and When Is mothercare Ultimate Baby Fair'20 Happening?
Date: 8 January 2020 (VIP only) and 9 to 12 January 2020 (Open to Public)
Time: 11am to 9pm (daily)
Where: mothercare Experience Store (Harbourfront Centre)
Mummys Market Fair 2020
What Kind of Mummys Market Fair Deals Can I Expect?
Mummys Market Fair is probably the largest baby and children fair in Singapore and Southeast Asia.
The event takes up an entire hall at Singapore Expo, where you'll find more than 200,000 brands and products on sale, including Philips Avent, Tommee Tippee, MamyPoko, and more.
If you're an expectant mother or are a mum-to-be you can redeem a free Pregnancy Goodie Bag by presenting your Gynae Appointment Card and Goody Bag voucher (obtained when you subscribe to their newsletter).
Note: This perk is only limited to 500 mothers each day.
Pregnant mums can also get free Enfamama A+ milk supplement samples!
In terms of savings at the fair, you can expect:
deals up to 90% off
discount coupons ($20,000 worth of savings)
early bird specials (daily from 11am to 1pm)
vouchers and gifts
If you're interested in learning more about childbirth, baby care, breastfeeding basics and more.
Then you might want to attend the Pregnancy to Parenthood Seminar at the Singapore Expo Max Atria, Garnet Room on Level 2 (11 January 2020, 2pm to 6pm).
What Kind of Mummys Market Fair Deals Can I Expect?
I'm no baby expert, but my friends who have kids shared that it's a pretty good seminar as Dr Wong Boh Boi (aka "The Baby Whisperer") will be speaking as well.
If that's not good enough an incentive, seminar attendees will also receive a goodie bag worth $100 as well.
Tickets are $15 at the door, but if you get them online, they're currently going for $8.
Where and When Is Mummys Market Fair Happening?
Date: 10 to 12 January 2020
Time: 11am to 9pm (10 to 11 Jan) | 11am to 8pm (12 Jan)
Where: Singapore Expo Hall 4
Baby Land: March Mania Mega Fair
What Kind of Baby Land: March Mania Mega Fair Deals Can I Expect?
The Baby Land Fair is usually held twice a year at the Singapore Expo.
But this 2020, they'll be moving to Suntec City instead (read: more accessible for parents who live in the West or Central).
The Feb/Mar 2020 Pregnancy and Baby Food edition will see up to 90% discount on over 1,500 baby and maternity products from premium and trusted brands.
The details of the fair aren't confirmed yet but you can expect:
Discounts of up to 90% off brands like Babylove, Doona, ErgoBaby, Philip Avent, NUK
Free Pregnancy Goodie Bags for expectant mothers
Pregnancy Cash giveaway where they sponsor your purchase (Aside: I'm not sure how this works but it sounds like a great deal!)
A chance to win Shop & Win prizes (like sterilisers or a stroller) with a minimum of $200 spent
Afraid that you might find the same item for a much lower price elsewhere?
Baby Land is so confident that their sellers' prices are the lowest (or at least the same as their competitors) that they offer a Price Match Guarantee.
Yep.
If you can find a cheaper deal elsewhere, they will refund the balance.
Where and When Is Baby Land: March Mania Mega Fair Happening?
Date: 28 February to 1 March 2020
Time: 11am to 9pm (28 to 29 Feb) | 11am to 8pm (1 Mar)
Where: Suntec Convention Centre
SuperMom Baby Fair
What Kind of SuperMom Baby Fair Deals Can I Expect?
SuperMom Baby Fair is Asia's largest premium baby fair and is held once a year by SuperMom, an online community for mothers built by a group of mothers.
Besides the usual plethora of name brands and products to choose from, some shopping perks include:
3,000 Jumbo Goodie Bags (worth $188 each) up for grabs with a minimum spend of $50
1,000 Jumbo Diaper Packs will be given out for free to pregnant moms
Accumulate Baby Fair points to redeem for products (worth over $100,000) at the Spend & Redeem counter
Free $50 cash vouchers for pregnant mothers
Free delivery with a minimum spend of $800
Win up to $888 in a lucky Ang Pao draw
SuperMom Baby Fair will also be the first-ever cashless baby fair, so you don't have to worry about running out to the nearest ATM in midst of your shopping.
Protip: SuperMom Baby Fair Pre-Orders start from 31 January 2020 and you'll get to enjoy 15% cashback. All you have to do then is to collect your order at the fair.
Where and When Is SuperMom Baby Fair Happening?
Date: 20 to 22 March 2020
Time: 11am to 7pm (daily)
Where: Singapore Expo Hall 4
---
How to Survive a Baby Fair?
Although I haven't been to one personally, I have peeked into a couple just out of curiosity and it's… MAYHEM.
Okay, there won't be people attempting to crowd surf.
But you get my point.
If you're a first-time parent attending your first baby fair, here are some tips which I got from my friends who have survived them:
Leave Your Pram and Baby at Home
Your pram (or stroller) is probably too big to comfortably manoeuvre around and down the aisles.
No matter how huge the convention hall might be.
Also, no one will give way to you and you'll probably be worried about your baby getting hit in the face by the deluge of shoppers with their shopping bags and boxes.
It'll also probably suck extra hard when you have to pacify a screaming baby while waiting in line for an hour to pay for your purchases.
Protip: take down your child's clothes size and other relevant measurements before heading down.
Strategise Your Purchase
Download the official baby fair brochure or magazine as they usually come with vouchers and a map to help you identify which booths to visit and which deals to get first!
If you find yourself buying the entire booth, always ask if they provide delivery service.
This is usually provided for free with a minimum purchase and is particularly useful for transporting bulky items like diapers and tins of baby formula.
The last thing you want to do is lug around 10 tins of formula after getting them for a steal.
Oh, when buying diapers in bulk, buy them in multiple sizes as babies will outgrow them really quickly.
Go On The Last Day
Many baby fairs dangle goodie bags and early-bird promos, which encourage mothers to hit the fairs early.
This is also when the location will reach critical mass.
To avoid sweaty shoppers and the chaos of everyone clamouring for the best deals, why not try going on the last day?
Especially when it's about two to three hours to closing time.
The crowds should be lesser.
And this is when booths (not all of them though) will start hourly sales and massive reductions to clear stock.
If you're afraid that the bigger brands might be sold out, don't worry as they'll regularly replenish finished stocks.
Unless it's a once-in-a-lifetime deal like 90% off a $2,000 Cybex Priam Frame with Lux Seat — then it might be worth braving the crowds on the first day for it.
Whether you hate or love our investment content, give us your feedback!
About Kenneth Fong
Editor of Seedly's blog. Owner of a 4-room HDB BTO and married to a financial clutz. Probably the closest to an adult you can find on the Seedly team.
You can contribute your thoughts like Kenneth Fong
here.