Beginner Film Photographer's Guide: Here's How to Get Into This Hobby for Under S$100
Joel Koh
●
I have a confession to make.
.
.
.
I am a huge photography geek. 
The first time I picked up a camera was back in 2014, and I have never looked back.
For the longest time, I was shooting only on digital cameras, until a friend of mine introduced me to the world of film photography.
There's just something about film photography that is so enjoyable.
The feeling of loading film into the camera, adjusting the settings with dials and taking photos with the faintest idea of what it will look like is just indescribable.
But I digress. At first, I was very hesitant to buy a film camera as I had the misconception that film photography was expensive. Well, that is not entirely wrong as some vintage film cameras price tag is in the thousands.
But, you can actually pick up this hobby on a budget of S$100 or less.
---
TL;DR: Beginner Film Photographer's Guide: How to Get Into Film Photography on a Budget
Here is our budget-friendly beginner's guide to film photography!
| Category (Film) | Cost (SGD) |
| --- | --- |
| Disposable Camera | From $15.90 |
| Point & Shoot Camera | From $80 |
| SLR Camera | From $150 |
| Film Roll | From $4.50 |
| Develop & Scan | From $9.50 |
To start this hobby you will only need to spend about S$80 for a point-and-shoot film camera, S$5 for a roll of colour film and develop and scan it for S$9.50!
All in all, you will only be paying about S$95 in total!
Preface: When it comes to film cameras, they are categorised by their different sensor sizes: 35mm, medium format, large format and more. But, large and medium format cameras tend to be more expensive across the board and are a bit more advanced, For the sake of this budget-friendly beginner's guide, all the cameras mentioned here are 35mm cameras.
---
Film Cameras Photos
Before we begin there is one big mistake that I made as a beginner film photographer that I hope you avoid.
I accidentally opened up my camera's back and exposed the film to sunlight, which resulted in this picture: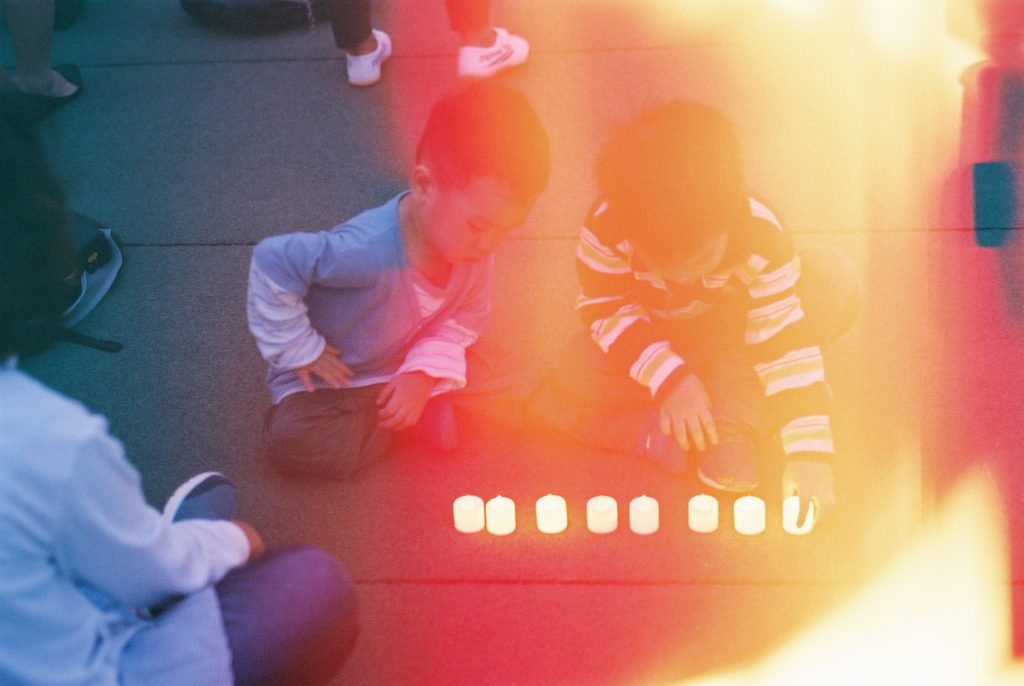 So be sure to not open the back until you have rewound your film.
Buying Film Cameras for Beginners
First up, the camera.
Film cameras are essentially antiques if you think about it. But like with antiques, there are some that are worth a lot and some that are worth very little.
For example, the vintage Null-Serie Leica camera sold for US$2.78 million (S$3.81 million) in 2012.
On the other hand, you can pick up a film camera for less than S$80 in Singapore.
For film cameras. there are three main types of cameras: the disposable camera; the point-and-shoot camera and the Single Lens Reflex (SLR) camera.
Let's dive into which one is best for you.
1. Disposable Cameras
If you are new to film photography, I would recommend that you dip your toes with a disposable film camera as it is a cheap, beginner-friendly and fun way to try out film photography.
Once you've tried it out and gotten the feel of it, you can then decide if you want to take the hobby further and invest more into it.
Disposable Camera Price
There are quite a few options that you can get from just $15.90.
These disposable cameras are quite sturdy, and some are even waterproof and can be brought to a pool or waterpark.
Using the camera is really simple as well as you just turn on the camera and shoot, no adjusting required.
But, for this price, most of these disposable cameras have plastic lenses with visual imperfections. I don't see this as a deal-breaking flaw, as there are many mobile apps that let you add these visual imperfections to your photos.
However, at this price, you can expect the photos to turn out a bit inconsistent.
Some popular disposable cameras include:
Fujifilm Super Ace
Kodak FunSaver
Ilford XP2 Super.
2. Point-and-Shoot Film Camera 
Next up we have point-and-shoot film cameras/compact film cameras. These cameras are slightly more expensive than their disposable counterparts. But unlike disposable cameras, they can be reused.
Like the name suggests, point and shoot cameras are devastatingly simple to use. You just point the camera at the subject and click the shutter as the camera will automatically decide what settings to use.
As such point-and-shoot cameras are quite a good and beginner-friendly option to reap the benefits of film photography in a fuss-free manner.
The cameras are also generally smaller and easier to handle.
Point-and-Shoot Camera Price
For point-and-shoot cameras, you can get decent budget options from S$80. 
Some popular point and shoot camera brands you can consider include cameras from the big six brands from back in the seventies: Canon, Kodak, Minolta, Nikon, Olympus or Pentax.
However, the price for the really good ones can be really expensive.
3. Single-Lens Reflex (SLR) Camera
For something more advanced, you can opt for an SLR camera, the predecessor to the Digital Single-Lens Reflect (DSLR) cameras you see today.
In the past when the police still wore shorts, SLRs were what professional photographers used.
As such, SLRs are less beginner-friendly and are more suited to more experienced photographers or those who want to seriously get into film photography. Be warned that the learning curve is quite steep.
With SLRs, you can change the lenses of the camera, letting you pick the right lens for the type of photo you want — think the multiple cameras with different zoom lengths on your phones.
You also get full control of the settings, granting more control over how you want the photo to look like.
For example, you could adjust the exposure/brightness of the photo or how much background you want to blur out in the photo – think your phone's portrait mode but better.
Also, some SLRs do not have autofocus. This means that it is up to you to capture a sharp image or a blur out of focus photo.
Some popular SLR brands you can consider, include cameras from the big six brands from back in the seventies: Canon, Kodak, Minolta, Nikon, Olympus or Pentax. They're all basic, sturdy, top quality and shouldn't come at too much cost.
Also, get any camera with a program mode for beginners. Program is an exposure function that does all the hard work for you until you feel ready to manually alter your shots.
SLR Camera Price
For SLR cameras, you can get decent budget options from under S$150 for the camera and lens.
I personally own a Nikon F601 and a Nikkor 50mm F1.8D lens which I bought, as the 35mm camera closely replicates the perspective of a human eye.
Where to Buy Film Cameras in Singapore?
Sadly, most of the camera manufacturers have stopped manufacturing film cameras so the only way to purchase a film camera that is not disposable is to acquire second-hand ones.
Fim Camera Shops in Singapore
If you are just starting off, I would recommend that you head to the physical shops in Singapore that sell film cameras as these shops will do thorough cleanups of these cameras and test their functionality before re-selling them.
But naturally, you will pay a bit of a premium.
Some of the more popular shops include:
Black Market Camera
Thirtysix (retail store by 8 Storey Tree)
P&G Photographic Centre
Riceball Photography.
Online
Otherwise, you can look for a film camera in Singapore online on online marketplaces like Carousell and eBay or forums like ClubSnap.
Be sure to do research about the prices of the cameras you are eyeing and read up on how reviews of these film cameras which would mention the quirks of these functional antiques.
When purchasing these cameras, be sure to check thoroughly using this checklist.
Types of Film For Cameras
Aside from disposable cameras, you will need to buy film for point and shoot cameras and SLRs.
You will want to look for 35mm film to match your film camera. They look a little something like this:
typically, each roll of film will have 36 shots. But do try to avoid those film rolls with only 24 shots, as although the film might be cheaper, you are paying the same amount to develop them.
There are two main types of film to choose from Color and Black and White.
But ee it Color or Black and White film, each roll of film will have an ISO rating.
Film ISO Rating
In very basic terms, ISO is the level of sensitivity of your camera to available light. Unlike DSLRs, film cameras cannot adjust their ISO digitally and the only way you can change the ISO is by changing the film.
The lower the ISO number, the less sensitive it is to the light, while a higher ISO number increases the sensitivity of your camera to light.
But the higher the ISO, the grainier the photo so do take note of this.
Here is a general guideline for what type of ISO film to use in these standard lighting conditions:
Black and White Film
When it comes to shooting Black and White, it can be simple but also complicated. Without colour, you will not have to think so much about the colour factor when shooting your photo. Instead, you can focus mainly on lighting which requires you to ask questions like:
How much light is there?
Is there a strong contrast/difference between lights?
Some popular Black and White film rolls include Kodak's Tmax 400, Fujifilm's Acros 100, and Ilford Photo's Kentmere 400.
Colour Film
As for colour film, what you get is an ability to set the mood using colours.
I still prefer colour photography as it is more realistic which is something I look for in my photos.
As renowned American photographer William Eggleston summarised:
"The world is in color. And there's nothing we can do about it."
Some popular Colour film rolls include Kodak's Portra 400, and Kodak's Ektar 100.
But at the end of the day, it is up to your personal preference. The beauty of film photography is that you can easily switch up the film if you don't like it.
But one thing to consider ins the price as most film labs in Singapore charge more for processing Black and White Film and process it less regularly than colour film.
If you are a beginner, I would recommend that you use colour film as it costs less. It is also harder to shoot Black and White well, as you have to have a good 'eye' to see light.
Where to Buy Film in Singapore
Physical Stores
You can always buy film at physical stores like:
Ruby Photo
Triple D at Burlington Square
Shalom Colorlab
Whampoa Colour Centre.
Online
Otherwise, you can search for deals online on online marketplaces like Carousell, Clubsnap or eBay.
Also, online retailers like American chain B&H Photo Video have an unrivalled catalogue for all your film and photography needs. Film rolls are also generally cheaper there as compared to what they retail for in Singapore.
However, you do have to take note of the shipping fees, so do buy film together with your friends to save on shipping.
Alternatively, e-commerce platforms like Lazada and Shopee deliver film right to your doorstep. However. they do not have as wide a catalogue
Price of Film in Singapore
The price of film in Singapore varies greatly but prices start around S$5 for a 24 exposures roll.
Best Places To Develop and Scan Film In Singapore
Here are some of the popular photo developing labs to visit in Singapore and the costs of developing your film there:
Lab
Service
Price (Colour)
Price (Black & White)
Express Service (Additional Charge)
Same Day Collection?
Analog Film Lab
Develop
Scan
Print
$10
$10
-
No (1 to 2 weeks)
Konota Digital Services
Develop
Scan
Print
$12.50
$15.50
$3 (1 hour turnaround)
No (4 days for Colour 1 week for B&W)
Shalom Colorlab
Develop
Scan
Print
$11
$17
-
No (3 days for Colour 1 week for B&W)
Triple D Minilab Centre
Develop
Scan
Print
$9.50
$12
$2.50 (1 hour turnaround)
Yes (Submit before 2pm)
Whampoa Color Centre
Develop
Scan
Print
$10
$15
$2 (1 hour turnaround)
Yes (~5 hour turnaround)
As you can see, prices may vary quite a bit from lab to lab, but not all photo developing labs offer same-day developing services.
---
What Other Hobbies do You Have?
Share them with our friendly SeedlyCommunity!
About Joel Koh
History student turned
writer
at Seedly. Before you ask, not a teacher. I hope to help people make better financial decisions and not let money control them.
You can contribute your thoughts like Joel Koh
here.