The Ultimate Guide to Credit Cards in Singapore
Looking for the best credit card in Singapore?
Us too!
But with so many credit cards out there, it's tough to figure out the best credit card in Singapore for your lifestyle.
Especially when you are bombarded with credit card sign-up promotions, different types of credit cards, annual fees, various clauses and T&Cs you'll need to note, and more.
Worst of all, you don't want to fall into credit card debt.
So, if you're a credit card newbie, fret not, for we are going to explain everything you need to know about credit cards so you can choose the best credit card for you!
---
TL;DR: Best Credit Card Singapore – The Ultimate Guide
Credit cards are great financial products that help you maximise your spending.
However, remember that "With great power comes great responsibility".
If you want to make the most out of credit cards, be sure to have your personal finances in check and avoid credit card debt!
Jump to:
---
Is a Credit Card Worth It in Singapore?
Before we start, let's determine if a credit card is even worth it in the first place.
For the uninitiated, credit cards give you access to a line of credit issued by the bank.
In other words, when you make a payment with a credit card, you are paying with borrowed money, which needs to be returned later through your credit card bill.
Here are the pros and cons of owning a credit card:
| Pros | Cons |
| --- | --- |
| Access to credit line for better cash flow | Need to keep track of credit card bills to avoid late payment fees and high interest debt |
| Rewards for spending via cashback, cash rebates, rewards or miles | Annual Fees (Can be waived if eligible) |
| Exclusive credit card promotions, 1-for-1 deals, etc | Annual income requirement for most cards |
| Better consumer protections against fraud compared with debit cards | Most cards have minimum monthly spending to enjoy rewards |
| Helps to build your credit score (easier to apply for loans with banks) | |
| Generous sign-up promotions and gifts | |
In general, credit cards are worth it IF you are meticulous in keeping track of your spending to avoid getting into credit card debt.
Moreover, those who tend to spend more will benefit even more from credit cards.
How Much Do I Need to Earn to Get a Credit Card?
For entry-level credit cards, you'll need to earn at least $30,000 annually to qualify.
Other 'luxury' credit cards such as the new DBS Vantage credit card require annual incomes of $120,000 or more.
Typically, you will need to provide three months' worth of pay slips for verification, unless you apply for a student credit card.
Cashback vs Cash Rebates vs Miles vs Rewards
When it comes to choosing a credit card, you'll typically see one of these four reward types.
Choosing one or mixing a few types ultimately boils down to your lifestyle preferences and how much you spend.
For a more in-depth guide to the different reward types, check out:
How Do I Choose a Credit Card That Is Best for Me?
Once you know what kind of reward type you prefer, it is time to do some research on which credit cards are best suited for you.
Most cards have a minimum spend requirement to enjoy rewards. Thus, it would be wise to concentrate your spending on one or two credit cards.
Also, be sure to check out SeedlyReviews where you can get real user reviews and filter all the credit cards in Singapore based on type, how you spend and rewards!
We have detailed some of the best cashback and miles credit cards below and most of these articles also include relevant links to the review pages of these credit cards.
Best Cashback Credit Cards
If you believe that "cash is king", or don't like the idea of having minimum spending, here is an article to help you decide which cashback credit cards are right for you: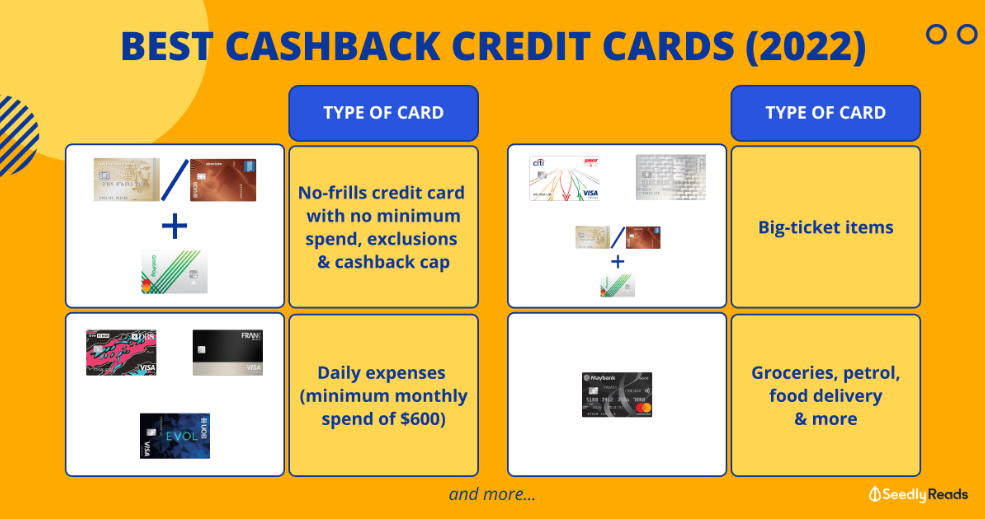 For the savvier credit card users, you might also know of the GrabPay cashback stacking trick where you can use either the AMEX True Cashback Credit card or UOB Absolute Cashback Credit Card to get up to 3.7 per cent unlimited cash back with no minimum spend.
Do note that while banks often refer to these credit cards as cash back cards, there are differences when it comes to giving you your cash back.
Best Miles Credit Cards
For those of us with high expenditure and are frequent flyers, here are the best miles credit cards in Singapore:
Also, do check out these travel credit cards that come with amazing perks:
Read more:
How Do I Apply for Credit Cards?
Once you have decided on a credit card, it is time to apply for one.
BUT WAIT!
You'll have to be aware of a few things.
Credit Card Requirements
Minimum annual income
Minimum age (typically 21 and over)
Annual Fees
Late Fees and Interest Charges
As each credit card has different requirements, it's best to go to the specific review page of a credit card at SeedlyReviews for a glance at the requirements.
I'll also advise that you read the full Terms & Conditions of the credit card that you are signing up for.
Before you sign up, remember to look out for any sign-up promotions (which will be detailed in the next section) to further maximise your spending.
Here is a step-by-step guide on how to apply for a credit card:
Tips and Tricks to Maximise Credit Card Rewards
Before you sign up for a credit card, be sure to check out sites such as Singsaver that offer generous sign-up gifts like Dyson Hairdryers, Samsung Tablets, Apple Airpods and more.
These change monthly and may vary in value as well. You can check out the latest rewards for July 2022 here: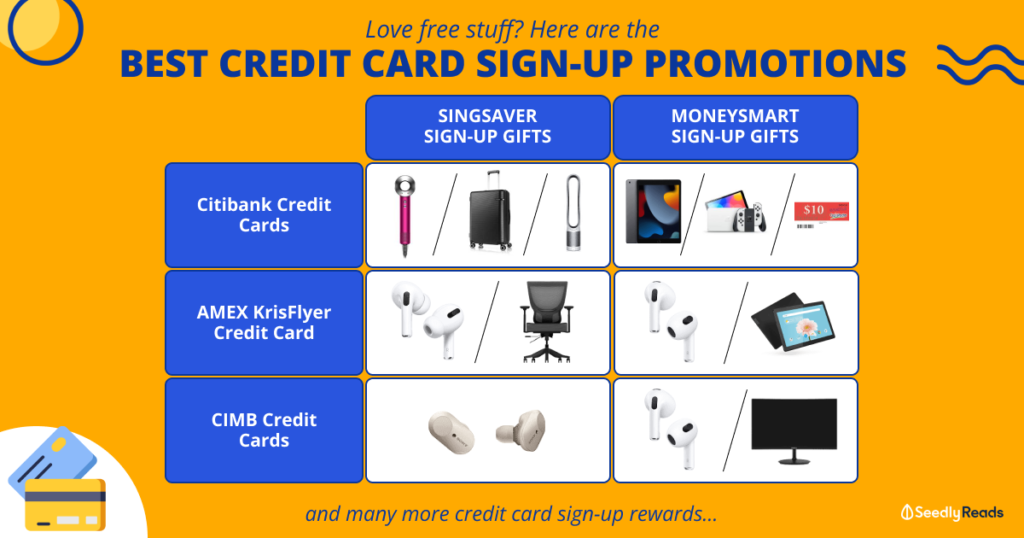 Apart from sign-up promotions, here's how you can maximise your credit card spending:
Remember to also look out for credit card promotions and 1-for-1 deals to make the most bang out of your dollar:
You can find these in your credit card app or bank's website. Or if you don't mind having another app, consider the CardsPal app that consolidates all your credit card deals in one place.
Waiving Annual Fees
After owning a credit card for a year, most of us will face the annoyance of credit card annual fees.
Unless of course, you applied for a no annual fee credit card, i.e. CIMB credit cards that have no annual fees for life!
For the rest of us, you can try to waive your annual fees! Waiving of annual fees depends on the card provider and the credit card you applied for.
For a more in-depth guide to waiving credit card fees, check out this article:
---
Conclusion
And that's all you need to know about credit cards!
Don't qualify for credit cards? You can look out for other ways to maximise your spending too with the likes of debit cards such as the GrabPay MasterCard with no minimum annual income requirement or consider multi-currency cards that offer some perks when you spend with them.
About Justin Oh
Your average Zillennial who is obsessed with anime, games, movies and of course, personal finance. Join me as I break down personal finance into easily digestible and fun bits!
You can contribute your thoughts like Justin Oh
here.