Best Digital Locks in Singapore And Their Pros & Cons
Raise your hand if you've ever been locked outside your house 🙋‍♀️
This is not something to be proud of, but yes, I've been locked out of my house a couple of times this year…
Sometimes our minds are just so preoccupied or distracted that we forgot our keys, and this prompted me to start looking at digital locks because…
I will not need to bring the keys around!
---
TL;DR: How Digital Locks Work & Where to Buy Them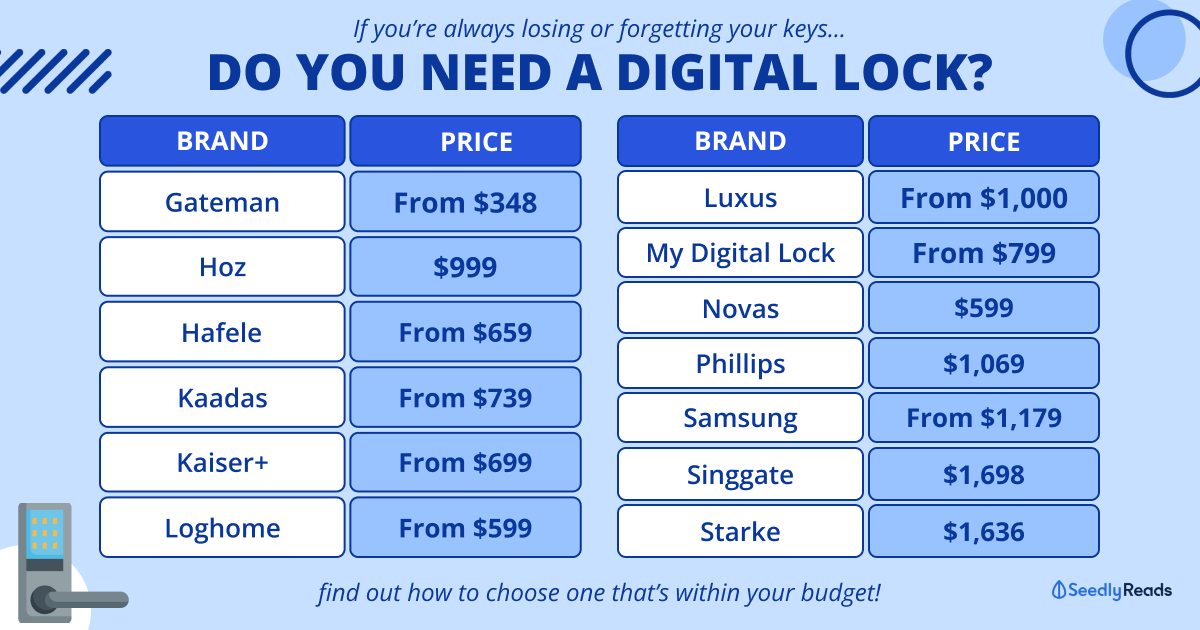 Jump here:
Disclaimer: This list is non-exhaustive and all prices reflected are obtained from the various brands, Eazea, AnDigitalLock, Fullsmart and GoDigitalLock as of 19 October 2022, and can be subject to change and discounts without prior notice. The information provided by Seedly serves as an educational piece and is not intended to be personalised advice. Readers should always do their own due diligence and consider their financial goals before committing to any product before making any decisions.
---
Types of Digital Lock
Well, I do wish I could say 'Open Sesame' so I don't have to whip out my phone to open the door…
Nonetheless, these are the types of keyless digital locks in Singapore:
Keypad electronic locks: Require your access code to be entered into a keypad or touchscreen
Biometric locks: These locks are among the most dependable and secure since they identify and recognize your fingerprint or retina before unlocking the door
Wireless locks: With this kind of lock, you may use Bluetooth or Wi-Fi to manage your security system. You have to be close enough to your door to use Bluetooth to open it. However, Wi-Fi allows you to unlock your door from any location in the world
For the uninitiated, digital locks are also differentiated by their locking mechanism and these are the common types of locks:
| Types of Digital Lock | What It Is |
| --- | --- |
| Mortise Lever Handle Digital Lock | A mortise lever handle lock works the same as a traditional lever handle, but it has an inbuilt lever handle that allows you to turn the lever to open and close the door |
| Push-Pull Digital Lock | The door is unlocked using a push or pull motion, and the system uses a touchpad and smart door lever to secure your home. Once you close the door, the deadbolt will pop out |
| Deadbolt Digital Locks | A deadbolt lock is usually a separate piece from the handle. Due to the thick and hefty material, it is more durable than a mortise. To increase security, the bolt is less flexible and reaches farther into the door frame. The deadbolt locks can be combined with a latch or knob |
| Rim Digital Locks | This lock is locked into the bracket that is attached to the door frame rather than the door frame itself. It is comparable to a deadbolt lock since, unlike a mortise lock, it does not come with a handle; as a result, the handle must be installed at the same time as the lock. |
| Glass Digital Lock | Glass digital locks are attached only to glass doors providing excellent security |
Are Digital Locks Always Better?
While digital locks offer a higher level of security in general, there are also drawbacks such as its steeper price.
Moreover, if your household has someone who is not tech-savvy, you may need to take some time to help him or her to open and close the door, and scan their fingerprints properly.
Here are some pros and cons of having a digital lock:
| Pros | Cons |
| --- | --- |
| The convenience of not bringing a key or card | Need to remember password |
| A high level of security offered because of the biometric features | Fingerprints need to be registered beforehand |
| Bluetooth locks require your mobile phone to be within range in order to be connected | Inability to access the lock when your phone is out of battery |
| Customisable to household needs | Glitches can still happen and there are electronic issues that a traditional locksmith might not be able to fix |
Which Digital Lock Is Best for HDB?
There is no 'best lock' per se as it really boils down to personal preference.
But if you intend to upgrade and prefer minimal fuss, you can choose one that matches the lock type that you're already using.
An outer metal gate is a typical Housing Development Board Build-to-Order flat fixture, so don't forget to change your gate too so that it's nicely paired with the main door. Otherwise, you'll still need to rely on padlocks and keys, and you might still go through the same problem if you're only changing one of the two things.
Alternatively, you can choose a digital lock for your gate, instead of the main door.
What's The Difference Between a Digital Lock And a Smart Lock?
Simply put, smart locks are digital door locks that come with additional smart functions.
One-time passcodes for guests can be created, you can remotely operate the lock from your smartphone, and you can monitor the status of door locks using an app. Digital door locks available in Singapore often have at least one smart feature.
Read more:
---
How Do You Choose a Digital Lock?
NGL, Singapore is very safe.
But still, you want to be extra careful.
First and foremost, you should always look at the security features a digital lock offers.
Even in Singapore, the best digital smart door locks are susceptible to hacking because they are WiFi or Bluetooth-enabled technological gadgets.
Retailers of digital door locks have taken notice of these flaws, though. There are several different digital door locks available that offer different authentication methods.
Moreover, some smart door locks have built-in anti-theft alarms that sound in the case of unauthorised entrance.
Pro-tip: Digital door locks should be purchased from respected companies and merchants to increase your protection against hacking attempts. You should also make sure your security software is kept up to date.
How Long Can a Digital Lock Last?
Durability is one of the most important elements to take into account when purchasing any home appliance.
The humidity in Singapore makes it crucial to choose a digital door lock resistant to deterioration and heat damage!
Digital door locks also have an anticipated lifespan of five years before they require maintenance or replacement, similar to most high-tech devices.
The batteries in your smart door lock should ideally be changed every three years, so make sure you invest in one that can last you till you move out.
---
How Much Is a Digital Lock?
Here's the million-dollar question.
A digital door and gate bundle starts from $599:
Brands
Door
Gate/Lock
Gateman Digital Lock
From $348
From $699
Hoz Digital Lock
Bundle: $999
Hafele Digital Lock
From $659
-
Kaadas Digital Lock
Bundle: From $739
Kaiser+ Digital Lock
Bundle: $699
From $299
Loghome Digital Lock
From $599
Luxus Digital Lock + Gate Lock
From $1,000
From $420
My Digital Lock
From $799
From $599
Novas Digital Lock
Bundle: $599
Phillips Digital Lock
Bundle: $1,069
Samsung Digital Door Lock
Bundle: From $1,179
Singgate Digital Lock
Bundle: $1,698
Starke Digital Lock
Bundle: $1,635.90
As you can see from the table above, the price range is quite huge as it varies based on the reputation of the brand.
Like any smart shopper out there, you should always check out reviews before purchasing any.
Pro-tip: Make sure you use a credit card to foot your bill to clock miles and rewards!
---
Are Digital Door Locks Worth It? 
Despite their high price tags, purchasing a digital smart door lock will provide you with unmatched levels of security and convenience.
Digital door locks offer a variety of practical access techniques, from facial recognition to fingerprint scans.
You won't ever have to be concerned about losing your keys again!
Additionally, it has been demonstrated that digital door locks offer more security than conventional door locks. The device is ideal for securing homes and companies because only authorised individuals will be able to pass the door.
I know for sure I will get one for my future home, what about you?
Share your experiences with us in the Seedly Community!
Related Articles:
About Hui Juan Neo
A savvy shopper and foodie at heart, I'm always on a lookout for discounts and deals to snag the best bargains.
You can contribute your thoughts like Hui Juan Neo
here.