The Best Air Miles Credit Cards in Singapore (2023)
So, you've decided to join the miles game and want to know which miles credit cards are the best.
But with a gazillion miles credit cards in Singapore, it's extremely hard to suss out which cards you should sign up for.
Luckily, we've done the heavy lifting and sussed out the best miles credit cards in Singapore based on your spending habits.
Ready to earn miles and redeem some flight tickets? Read on!
Disclaimer: The cards listed in this article exclude corporate, private, premier, and invite-only credit cards. The information provided by Seedly serves as an educational piece and is not intended to be personalised investment advice. ​Readers should always do their own due diligence and consider their financial goals before investing in any investment product.
---
TL;DR: Best Air Miles Credit Cards in Singapore (2023)
If you are completely new to credit cards, do read through the ultimate guide to credit cards before coming back to read this article as there are a few things that you need to take note of such as fees and the danger of credit card debt.
Jump to:
---
Which Card Earns the Most Miles?
If I could recommend just one card that beats every other card, I would. Sad to say, there's no such thing, and maximising your miles earnings highly depends on how you spend.
Thus, I've narrowed it down to the top cards based on the earn rate for each category! You may click on the card's name for more details on the card and read reviews left by the Seedly community.
Jump to:
Best Miles Credit Cards for Local Spend/General Spending
Best Miles Credit Cards for Overseas Spend
When spending overseas with credit cards, do note that there are foreign currency conversion fees (usually 3.25%).
Best Miles Credit Cards for Flight Tickets and Hotel Bookings
Credit Card
Earn Rate
Min. Annual Income
DBS Altitude Card (Visa Signature/AMEX)
10 mpd on hotel transactions at Kaligo

6 mpd on flight and hotel transactions at Expedia

3 mpd on online flights & hotel transactions
(capped at S$5,000 per month)
$30k
Citi PremierMiles Card (Visa/Mastercard)
10 mpd on hotel transactions at Kaligo

7 mpd on hotel transactions at Agoda (till 31 Jan 2023)
$30k
UOB PRVI Miles (Mastercard/Visa Signature/AMEX)
6 mpd on major airlines and hotels worldwide via Agoda, Expedia, and UOB Travel
$30k
DBS Vantage Card
6 mpd on Expedia (till 31 Mar 2023)
$120k
HSBC Revolution
4 mpd on contactless spending and online transactions (limit $1K per month)
$30k
UOB Visa Signature
4 mpd on overseas spend including online. Transaction must be made in foreign currency.
$50k
Best Miles Credit Cards for Online Shopping
Best Miles Credit Cards for Dining
Best Miles Credit Cards for Petrol
Best Miles Credit Cards for Public Transport
Best Miles Credit Cards to Avoid Conversion Fees
Best Credit Cards for Complimentary Airport Lounge Access
Make Use Of SeedlyReviews To Further Narrow Down Your Choices
Alternatively, head over to SeedlyReviews and use the filters to further narrow down your card choices!
You can make use of the filters "card types" to find the best miles credit cards for your spending habits.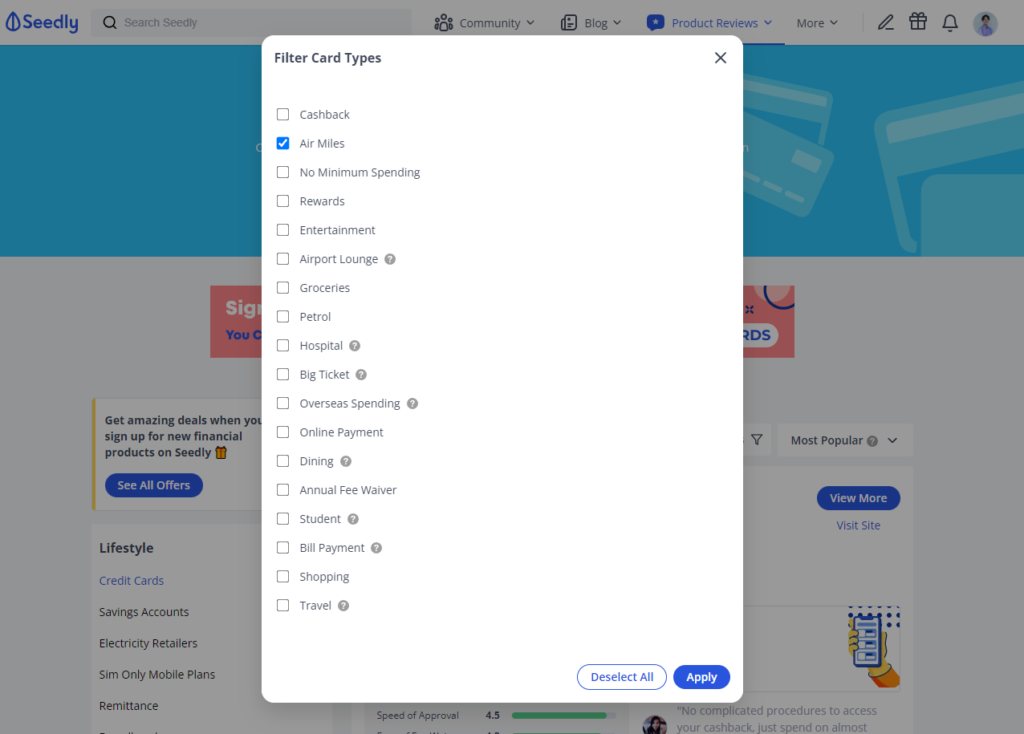 Read More
How to Earn Miles?
Now that you have a rough idea of the best miles cards to use, there are a few things to take note when earning miles.
Firstly, you will need to be aware of what constitutes eligible spending. These can be found under the terms and conditions of your particular card.
Secondly, most cards except for KrisFlyer cards do not earn miles directly. Instead, they earn bank points which you can then convert to miles. Depending on the card and bank, you may also encounter conversion fees which range from $20 to $30 for a one-time conversion or a $40 to $50 a year option.
How Much Is 1 Krisflyer Mile Worth?
The short answer: a mile has an average value of 1.4 cents to 1.8 cents depending on who you ask.
The long answer? It really depends on you!
The value of a mile can vary greatly based on how you acquire your miles (purchasing outright) and what you redeem your miles for. We will use the KrisFlyer programme as it is the most common among Singaporeans.
If you choose to purchase miles, you can get them for about 1 cent per mile (cpm) to 2 cpm on average.
As for redemption, the value of a mile varies greatly depending on what you redeem it for. Here's an example:
| London | Economy | Premium Economy | Business | Suites/First |
| --- | --- | --- | --- | --- |
| Base Fare | $800.30 | $2,211.30 | $6,622.30 | $12,046.30 |
| Miles required to fully redeem flight | 42,000 | 71,000 | 103,500 | 141,000 |
| Value per mile (rounded to 3 d.p.) | 1.905 cents | 3.114 cents | 6.398 cents | 8.543 cents |
Based on a one-way ticket for 18 Oct 2022 and using the cheapest fares available.
As you can see, it becomes much more worth it when you use more miles to redeem upper-class flights.
If you're unable to accumulate as many miles, you can opt to offset your flight ticket cost with miles (1.02 cpm) or redeem them for items (1.02 cpm or worse).
Is It Worth It to Get a Miles Card?
The answer to this question depends as well.
Are you a frequent flyer or a high spender? If so, you should seriously consider getting a miles card to maximise your spending.
But for those of us who don't fly as much and are more value-oriented, a cashback or rewards credit card is a better way to go.
The reason is that accumulating miles is a long and tedious process and if we were to look at the opportunity cost of using a miles card instead of a cashback card, most infrequent flyers would be better off with a cashback card in terms of value and flexibility (you can use cash for anything but only miles for flights/terrible redemption rates for items).
Related Articles
About Justin Oh
Your average Zillennial who is obsessed with anime, games, movies and of course, personal finance. Join me as I break down personal finance into easily digestible and fun bits!
You can contribute your thoughts like Justin Oh
here.