The Complete Guide: Best Children's Savings Account (CDA)
Disclaimer: This post is NOT in any way sponsored. All opinions are solely ours.
---
The trick to acing personal finance is to start early.
How early, you ask? As early as your child is born!
Besides receiving a token sum from the government for contributing to the birthrate, you can also look into depositing their yearly ang bao money to start building their savings while they grow up.
TL;DR: What's the best savings account for your child?
Every Singaporean baby is eligible for the Baby Bonus scheme, which is Singapore's way of saying "Make more babies!"
---
What is the Child Development Co-Savings (Baby Bonus) Scheme?
The baby bonus scheme consists of a two-pronged approach to kick-start your child's long-term financial plans, namely:
Cash Gift
Child Development Account (CDA)
Since the revision of cash gift amounts in 2015, parents will receive an enhanced cash gift(for their children) in 5 instalments, over 18 months.
First and second-born children will first receive an upfront cash gift of $3,000, while third and subsequent births will be entitled to $4,000. This is followed by 4 other pay-outs in installments.
To check that your child is eligible for the CDA, take the questionnaire here.
Child Development Account (CDA)
The CDA is a special savings account for children that can be opened with POSB/DBS, OCBC or UOB, to help build up the savings that can be spent on approved uses. The child will receive CDA benefits:
Child Order
CDA Benefits
Total CDA Benefits
CDA First Step
Dollar-for-dollar Matching
1st & 2nd child
$3,000
Up to $3,000
Up to $6,000
3rd & 4th child
Up to $9,000
Up to $12,000
5th child & subsequent
Up to $15,000
Up to $18,000
Table credit: Baby Bonus Scheme, Ministry of Social and Family Development
CDA First Step
All Singaporean children born from 24th March 2016 onwards will receive an initial $3,000 grant in their CDA.
Government dollar-for-dollar matching contributions
If you deposit $1,000 into the CDA, the government will give you an additional $1,000 the next month. (Up to $15,000)
The CDA account can be kept open until your child is 12 years old, so use those all those years to save up the amount necessary to bag you the entire bonus.
What can the CDA be spent on?
Approved uses of the CDA
The CDA can be used to offset baby expenses including, but are not limited to; Child Care Centres, Kindergartens, Special Education Schools, Providers of Early Intervention Programmes, Providers of Assistive Technological Devices, Medical-related Expenses (eg. Approved Vaccinations at Polyclinics) and MediShield or Medisave-approved Private Integrated Plans.
You can view a full list of approved institutions (AIs) which you can use your CDA here.
Comparison of CDA accounts with POSB, OCBC and UOB
POSB CDA
OCBC CDA
UOB CDA
Interest rate on CDA account
2% p.a. interest, no min. balance
2% (up to $36,000), 0.05% for excess
2% interest, no cap
Promotion Gifts
• 3% Cash Rebate on Medical Spend
• Cash rebate on on-site medical services at hospitals, medical and dental clinics in SG with your PAssion POSB Debit Card.
• exclusive Merchant Deals with Baby Bonus NETS card.
• Sign up for POSB Smiley CDA from 1 Aug 2018 – 31 Jan 2019: free Singapore Airlines infant ticket on economy class to any destination.
• 50% discount at participating merchants
• 3% cashback for over-the-counter medical, dental and cord blood banking transactions with minimum S$600 monthly spend on OCBC 365 card (up to S$80/month)
• S$100 credited into OCBC CDA with purchase of Endowment Plan or Protection Plan
• S$108 credited into your OCBC CDA with purchase of MaxMaternity Care protecting expectant mothers (from 13 weeks) against pregnancy related complications
• Purchase an insurance policy to protect yourself or your child and receive up to S$800 worth of CapitaVouchers
Kids (CASH) savings account
• Earn daily interest with no minimum deposit and fall-below fee until your child turns 21 years old.
• Waiver of coin deposit fee until your child turns 16 years old.
Attractive account opening gifts:
A S$1 gift deposit
Free 6-month POPULAR Bookstore Student Card Membership
• Up to 0.8% per year interest on Mighty Savers® Account opened jointly between parent+child, with S$50 monthly deposits and no withdrawals
31/12/2018
31/12/2018
Comparison of children accounts that offer a better interest rate than the usual 0.05%
For your reference, these are for parents looking beyond the CDA considerations, here is a breakdown of accounts that offer a better interest rate than the usual 0.05%.
Account Type
CIMB Junior Saver
Maybank Youngstarz
Standard Chartered e$aver Kids
Interest Rate
0.80%
0.19%
0.10%
Conditions to satisfy in order to receive interest
-
• First $3,000 - 0.1875%

• Next $47,000 - 0.3125%

• Above $50,000 - 0.3750%
• First $50,000 - 0.10%

• Next $150,000 - 0.15%

• Above $200,000 - 0.25%
Minimum Initial Deposit and Balance
$1,000 minimum deposit, no fall-below fees
$10 minimum deposit
None
Eligibility
12 & Below
16 & below
Below 18
Other Features & Fees
One month's premium reimbursement on child endowment plans
• HFMD and/or Personal Accident (PA) insurance by maintaining deposit of $5,000
• A free Teddy bear at Build-A-Bear workshop with min $2,000
$5 per cash withdrawal for counter transaction

Verdict
UOB's CDA offers up to S$800 worth of CapitaVouchers, but that's pretty much it, thus kicking themselves out of the rink.
POSB Smiley CDA
OCBC Mighty Savers
Deciding Factors
NO CAP, but parents may not want to put
in so much money for limited withdrawal
CAP of $36,000, which is a sufficient amount for most parents
Daily interest with no min. deposit and fall-below fee
until your child turns 21 years old.
Base Interest: 0.05%

Bonus Interest: 0.35%
(deposit min. $50/mth with no withdrawals)

CDA Bonus Interest: 0.4%

Total Interest: 0.8%

Sign up for POSB Smiley CDA from 1 Aug 2018 – 31 Jan 2019:
free Singapore Airlines infant ticket (0-2 years old only)
on economy class to any destination.
POSB and OCBC's CDA brings a contentious fight to the table, with the former offering a limited-time FREE Singapore Airlines flight to any destination, and the latter promising an up-to-0.8% interest rate for your child's savings.
From what we have gathered, POSB' free infant flight ticket might not be the most tantalizing offer considering that parents are usually iffy about bringing their newborns overseas while they are still susceptible to viruses, but can still be a golden ticket to a relaxing family holiday.
On the other hand, it is not difficult to hit the criteria for obtaining the 0.8% p.a interest rate for the OCBC Might Savers' account. 0.8% interest p.a is higher than the usual interest rate of 0.5% and if you consider the long-term benefits of growing your child's savings while knowing that you will not be needing to withdraw from this account, then this interest rate should interest you way more than a flight ticket (no pun intended).
In addition to your considerations when choosing the right savings account, one major factor would be where and how the money would go, and at what age would this account have to be terminated.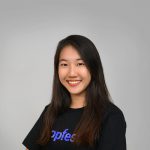 About Ruth Lum
Breaking down 'chim' finance knowledge into manageable pieces so you don't have to.
You can contribute your thoughts like Ruth Lum
here.