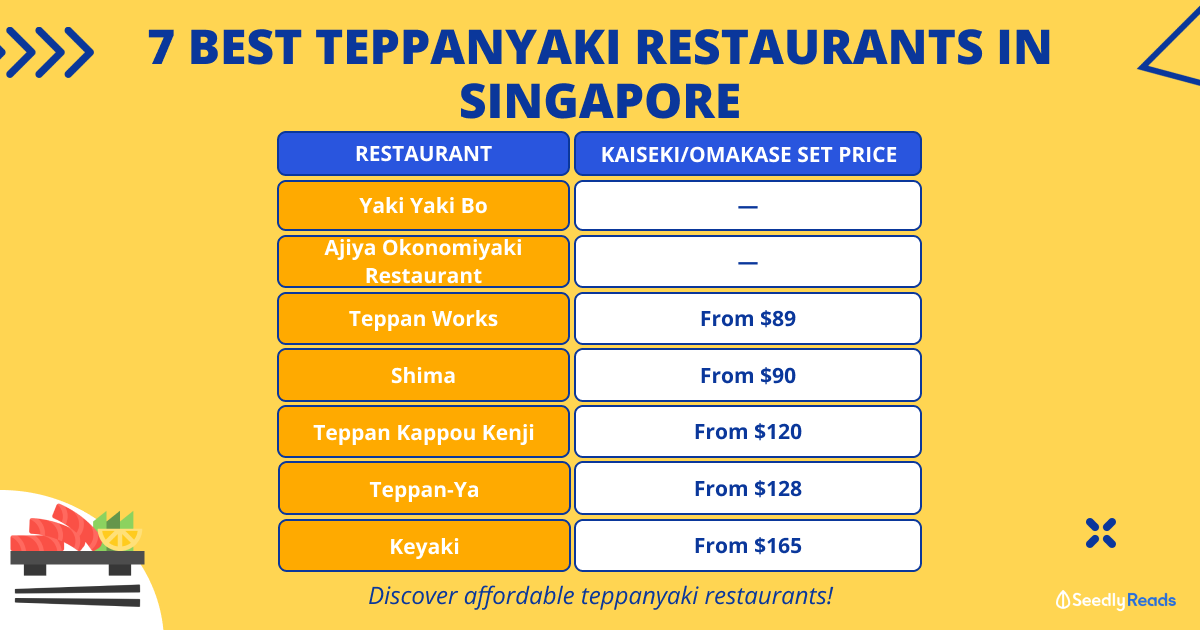 Want to enjoy a visual culinary experience that gets your mouth watering?
Enter Teppanyaki restaurants where you can watch the chefs themselves cook up sizzling Japanese cuisine right in front of you!
Plus, Teppanyaki meals can cost as low as $10 – $20 per person, unlike the typically more expensive Omakase experiences.
Intrigued?
Here are the best Teppanyaki restaurants in Singapore!
---
TL;DR: 7 Best Teppanyaki Restaurants in Singapore
At Teppanyaki restaurants, you can opt to order à la carte or enjoy a Kaiseki (multi-course) set meal. Some restaurants also offer an Omakase-style Teppanyaki experience.
Thus, we have listed these Teppanyaki restaurants according to their Teppanyaki Kaiseki or Omakase set meal prices (where available).
Click on the restaurant names to teleport:
---
Yaki Yaki Bo
Although Yaki Yaki Bo does not offer Kaiseki meals, this humble restaurant does not pull any punches when it comes to providing a great teppanyaki dining experience.
Value set meals such as the Salmon Yanagawa Set and Daikon Oroshi Beef Set cost only $19.90, and they serve delicious Garlic Fried Rice at just under $4 a bowl!
Regular meat with rice sets comes in at about $10, and with the RE&S rewards system, this restaurant has become a go-to for the budget-conscious Japanese food lover (aka me).
Location(s)
NEX #B1-79, 23 Serangoon Central, Singapore 556083
Contact
6634 0015
Ajiya Okonomiyaki Restaurant
As its name suggests, Ajiya Okonomiyaki Restaurant is well-known for its Japanese pancakes. Prices for okonomiyaki are $14 – $17 while other standouts such as Kurobuta Pork and Yaki Soba cost $24 and $13 respectively.
Here, you can choose from four types of okonomiyaki (Seafood Deluxe, Meat Lovers, Ajiya's Combo, and Veggie Delight) and customise your own okonomiyaki ingredients as well!
Location(s)
104 Jalan Jurong Kechil, Singapore 598603
Contact
6463 3461
Teppan Works
Ready for multi-course teppanyaki meals?
At Teppan Works, you'll be treated to teppanyaki kaisekis by their expert Japanese chefs hailing from the Kanto and Kansai regions.
They offer A4 Wagyu beef steaks ($79 – $89), Osaka okonomiyaki ($14 – $25), Yakisoba fried noodles ($15 – $18), seafood ($20 – $48), Japanese Izakaya items, and omakase all at reasonable prices.
Plus, this casual restaurant also doubles as a sake bar with rare and premium drinks that are hard to find in Singapore.
Teppanyaki Kaiseki/Omakase Set Price
From $89
Location(s)
42 Tras St, Singapore 078981
Contact
6909 9469
Shima
Nestled in the heart of Goodwood Park Hotel, Shima restaurant is the first-ever teppanyaki restaurant to be established in Singapore!
With decades of experience serving patrons since 1980, expect a warm and cozy dining experience where your food is prepared at the hands of Shima's Teppanyaki chefs, who have been trained under the guidance of Japanese Teppanyaki Master Chefs.
You can choose à la carte options such as Norwegian salmon ($10) and Japanese A5 Wagyu beef ($140) or just go all out for their Shima Premium Teppanyaki Kaiseki Course at $450++ per person.
But for those of us who don't want to splurge so much on a multi-course meal, you can consider their Shima teppanyaki deluxe sets that start at just $90.
Teppanyaki/Kaiseki/Omakase Set Price
From $90
Location(s)
20 Scotts Road, Goodwood Park Hotel, #01-00 228221
Contact
6734 6281
Teppan Kappou Kenji
Located along Tanjong Pagar Road, Teppan Kappou Kenji offers patrons a relaxed teppanyaki dining experience with authentic Japanese fare.
Helmed by Chef Kenji Okumura, you can expect premium dishes such as Grilled Salmon with Garlic Butter ($15), Premium A5 Miyazaki Wagyu ($60 for 60g) and Ebi Tempura ($25).
Teppanyaki Kaiseki/Omakase Set Price
Special Pork Sukiyaki/Shabu-Shabu Kaiseki: From $120
Location(s)
99 Tanjong Pagar Road, #01-01, Singapore 088520
Contact
9152 3118
Teppan-Ya
Looking for an authentic Japanese teppanyaki experience that not only has a great variety of food but a great view of the city?
Enter Teppan-Ya, a teppanyaki restaurant conveniently located at the Mandarin Oriental Hotel that serves up prime US and Japanese beef (from $60), plus sashimi, sushi and tempura.
Deluxe sets start from $64 but if you want a true teppanyaki kaiseki experience, prices range from $128 (for chicken) to $238 (for Japanese Prime Wagyu and Seafood).
Teppanyaki Kaiseki/Omakase Set Price
From $128
Location(s)
5 Raffles Avenue, Marina Square, Singapore 039797
Contact
6885 3595
Teppan-Ya | Lunch Menu | Dinner Menu
Keyaki
If you're a teppanyaki-lover, Keyaki is most probably on your bucket list.
Aside from being touted as one of the best teppanyaki restaurants in Singapore, you'll be transported into a beautiful space that makes you believe that you are in Japan.
If you're here, it's pretty much recommended to go for their Kaiseki Omakase where the chef will take you on a mouth-watering journey with authentic Japanese cuisine.
But if you don't want to splurge so much, you still can satiate your hunger for about $30 – $50 per pax with à la carte options.
Teppanyaki Kaiseki/Omakase Set Price
From $165
Location(s)
7 Raffles Boulevard, Marina Square, Singapore 039595
Contact
6336 8111
Keyaki | Lunch Menu | Dinner Menu
---
Related Articles
About Justin Oh
Your average Zillennial who is obsessed with anime, games, movies and of course, personal finance. Join me as I break down personal finance into easily digestible and fun bits!
You can contribute your thoughts like Justin Oh
here.