Black Monday 2020: What Singaporeans Need To Know About The Stock Market Meltdown?
Stock Markets In Meltdown
Unless you are living under a rock, news of the markets having a meltdown should have hit your social media and news feed.
What on Earth Is Going on in the Stock Markets?
To give a quick summary, the Straits Times Index (STI) lost 178.61 points (down 6 percent) by the end of the day.
On the same day, here's what our stock market looks like for REITs:
It was also the day we saw massive losses of 7% to 10% across some of the stronger tickers.
This will be what "Coffee shop talks" refer to as, "a sea of red".
If this were my examination results, my parents would have whooped my arse.
"Sea of Red, So What?"
To draw a better comparison, we compared this with the past financial crisis for a better indicator of where we stand. This is very much like us comparing our lousy results to the last in class. Have we gotten to a new low?
Here are some of the economic crises we have experienced in the past few years:
January 2016
Also known as the Chinese Crash, China's stock market fell nearly 18% with the Chinese yuan at its lowest since 2011. This sent shock waves across the world, impacting the rest of the world's financial market.
August 2011
Also known as Black Monday 2011, when US and global stock markets crashed, when S&P downgrades US sovereign debt.
2007-2008
Probably one of the more impactful financial crisis due to the scale of it. The 2008 financial crisis which eventually led to the collapse of investment bank Lehman Brothers in September 2008, led to a severe worldwide economic crisis.
While there are definitely a few more financial crisis in between, we focus on the more impactful ones.
Here are some of the results on how the STI performed during these crises:
Data updated as of 9 March 2020
The S&P 500 also clocked the biggest percentage drop ever since the 2008 financial crisis:
Dow Jones Industrial average also declined by 2,014 points (7.8%), the biggest single-day loss since October 2008.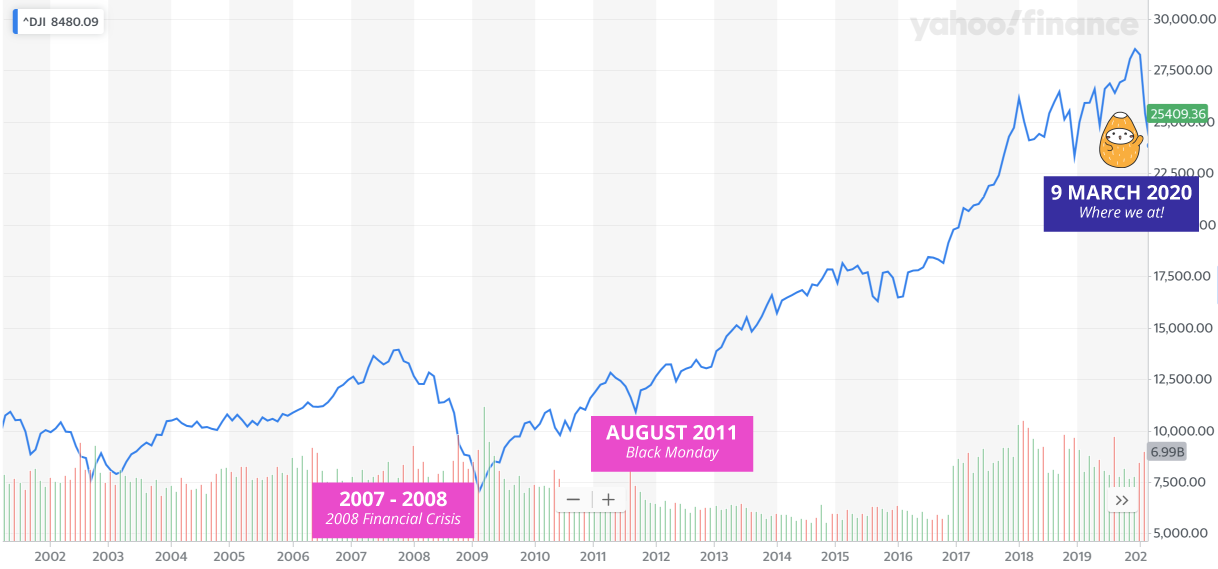 ---
To get a good sense of what is going on with the world's economy, we can break it down into two distinct causes of it.
Nope, we did not suffer a Godzilla attack! Though the implications would be similar.
The state of the current market we are in can be attributed to two major factors:
Humanity's war with COVID-19 Coronavirus
A full-blown price war on oil
Allow us to break down these two events for you.
---
Humanity's War with COVID-19 Coronavirus
The spread of COVID-19 Coronavirus has definitely gone slightly out of control, sending humanity into a state of panic.
The COVID-19 Coronavirus situation crippled China's economy since the very start. This, coupled with the world's inability to effective contain it in time spread of the virus around the globe have its implications.
If you haven't been following the update on COVID-19, here are some quick updates on the world tour of our little friend:
The global number of coronavirus infections has now surpassed 100,000.

South Korea is now the second when it comes to number of infections in Asia.

 

More than 700 people in the United States were tested positive for COVID-19. 26 have died from it.
Italy is now under a nationwide lockdown, due to COVID-19.
COVID-19 Kills Demand for Oil
The world is now seeing demand damage for oil due to COVID-19.
With the consumption for oil severely affected by
Closing and inactive factories in China, due to quarantine.
This comes after Chinese Lunar New Year which is an extended factory closure holiday.
Worldwide cut in travel demands due to fear of the virus, less demand for flight
Restricted road and sea travel
Just China alone, the demand for oil reduced by millions of barrels a day. Chinese energy executives are projective that the country's oil consumption will decrease by 25%.
---
Why Did Oil Price Plunge?
If you see memes like this being shared around, it is technically sort of true.
Oil prices crashed as much as 34% on 9 March 2020, clocking one of the worst loss since the Gulf War in the year 1991.
A Simple Game of Demand and Supply Resulted in a Financial Crisis
The reason for it is a simple theory of demand and supply.
| Demand | Supply | Price |
| --- | --- | --- |
| High | Low | Goes up |
| Low | High | Goes down |
| High | Equally High | No Change |
| Low | Equally Low | No Change |
Now that the demand for oil is now super low, in order to maintain the price of oil, it is up to the producers of oil to control the supply of it.
A natural reaction for oil producers such as the Organization of Petroleum Exporting Countries (OPEC) and non-OPEC oil-producing allies like Russia to reduce the oil production for oil.
If carried out as planned, this will control the supply and control the price of oil.
Russia's Refusal to Cut Oil Production
Russia, however, refused to go along with OPEC's proposal to do so. In fact, Russia even plans to step up her oil production in April given that the existing OPEC+ pact is going to expire. This will have a huge impact on US shale oil producers who are producing oil at a higher cost and require a high oil price to survive.
To react to Russia's move, Saudi Arabia cuts its official selling price for oil by the most in 20 years, kicking start this price war globally in the fight for oil market share.
---
What Should Singaporeans Do?
By now you should have received very mixed signal.
Some investors would have taken the opportunity to grab some quick profits on medical-related stocks when COVID-19 first hit.
On one hand, there is a group of optimists which sees this as a good opportunity to make investments on quality stocks at a cheaper price.
On the other, investors are warned to not take such chances during turbulent times like this
If you are really confused right now, here are a few rules of thumb you should follow:
Be distraction-free and focus only on yourself. If you are reading comments on "Long this stock la!", " Buy this stock!", and feeling all affected, we urge you to stay away from these "noises".
Focus on yourself, identify the type of investor you are and be upfront about your level of knowledge and readiness when it comes to investing.
Only invest when you feel that you are ready.
This means that you got your basics to investing covered and you know exactly what you are investing in and why.
If you can explain to someone the sound fundamental of your investment decisions, you are generally on the right track.
Only invest when you are well-insured.
The recently COVID-19 would have further emphasized the importance of insurance and getting proper coverage.
Getting yourself insured should always come before making that first investment.
Only invest when you have your rainy-day funds.
As we witnessed strong companies implementing pay cuts, no pay leaves and retrenchments, having the ability to survive without a monthly income becomes crucial right now.
The last thing you want is to be faced with a decision of having to survive on your rainy-day fund, but you have them all exposed to the risky market.
Only invest with the money you are ready to lose.
If you are making an investment with a sum of money that is essential for you to get on with your daily necessities, DON'T!
You should only be investing with the sum of money that you are totally cool with losing. Of course, that does not mean you go on and take unnecessary risks.
If you are able to abide by the above four simple rules, we analyse some of the findings.
While history should never be a perfect guide for the future, we bring back the charts we shared above.
To refresh your memory, the Dow Jones Industrial Average in the big picture, it actually recovers from the past few crises in the long-run.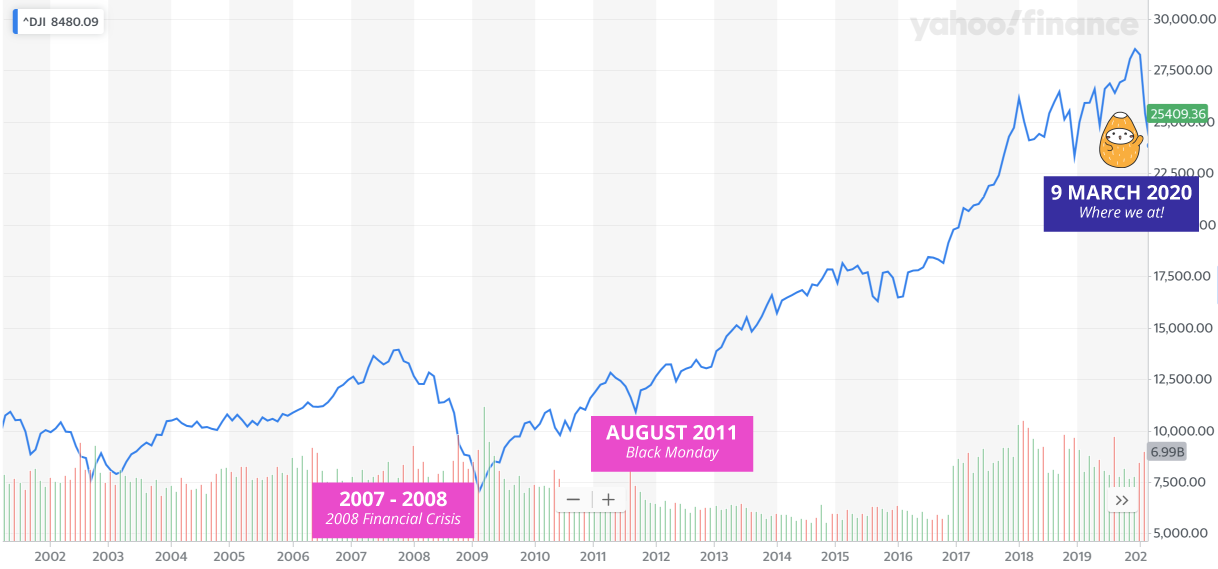 This is the same for both the S&P 500 and Straits Times Index.
This is the Straits Times Index.
This is the S&P 500.
Now that we have a general understanding of the market history, let's focus on the fundamentals and select only correct companies.
This means that we are looking at companies with
A bulletproof business that is currently taking a bit of a hit due to this crisis, but will have no problem recovering due to the fundamentals of its business.
Some things to look out for can be a healthy balance-sheet
Proven track record
Companies with health cashflow
On top of that, be sure to not take bets and diversify your portfolio.
This is so that when we are past this current financial crisis, these companies should still be around to make a profit. Investors can then reap the benefits of their investments.
If you have little idea on how to identify a healthy stock to invest in, you might want to sit this one out until you are read. Take this opportunity to read up more.
Should I Invest With My CPF Money?
In my personal opinion, one gives you a guaranteed interest. The other is undertaking a huge risk (especially in times like this).
Take a step back and think rationally and you will have the answer. Never let your emotions get in the way when investing.
About Ming Feng
A stint in
Bloomberg
gifted me with a beer belly, which only grew larger when I moved on to become a Professional Trader. Now I turn caffeine into digestible finance-related content.
You can contribute your thoughts like Ming Feng
here.