Hate Annoying YouTube Ads? Here's How Much They Cost and How to Stop it For Free
Watched a YouTube video recently?
There's a good chance you might have seen annoying YouTube advertisements (ads) from companies or one of them dodgy wealth coaching gurus asking for 35 seconds of your time.
You might be thinking.
Why am I getting so many of these ads?
Can I remove these ads, save time and improve my YouTube viewing experience for FREE?
We got you!
How Much Do Ads for YouTube Cost?
For the uninitiated, YouTube ads are actually pretty affordable. I would think that this is why we keep seeing so many of them.
Arguably, the most visible YouTube advertisements are the TrueView in-stream ads: video ads that tend to appear right before the YouTube video you want to watch.
There are two main types of TrueView ads: the skippable ones and non-skippable ones.
For the skippable ads, you will have to watch the ad for five seconds before you can click to skip the ad or continue viewing it.
There are also non-skippable video ads that play before videos and/or in the middle of videos that are at least 10 minutes long. Thankfully, the video ad length cannot exceed more than 20 seconds if you are watching YouTube from Singapore.
But, here's the kicker.
Advertisers will only need to pay for the TrueView ads when there is a 'view'.
So what is a 'view'?
According to YouTube, a 'view' is defined as an instance when a viewer chooses to view your TrueView ad for at least 30 seconds or engages with your ad – like clicking on a call-to-action (CTA) overlay, a card or a companion banner.
According to Influencer Marketing Hub, Each 'view' costs the advertiser about US$0.010 – US$0.030 (S$0.013 to S$0.04), with YouTube allowing you to set a daily budget of as low as S$0.10.
This price is determined by a few factors which includes:
Your ad type
Your bid
Your bidding selection
Your targeting options.
This has a few implications.
Firstly, the first five seconds of a skippable TrueView ad can be seen by a wide audience without the advertiser paying anything, as the advertiser is only charged when there is a 'view.'
Secondly, the advertiser will not be bankrupted by a huge group of people clicking the ad's CTA as each view costs very little.
Not to mention that advertiser can set a limit for the marketing campaign to limit the amount they will have to pay daily.
Soo… How do you stop these ads?
Spoiler alert: ad blockers are the way to go.
What is an Ad Blocker?
According to Technopedia, an ad blocker is a:
'program that will remove different kinds of advertising from a Web user's experience online. These programs target certain kinds of ads, such as pop-ups, banner ads and other common forms of online advertisement, allowing a user to surf the Web without annoying distractions or interruptions.'
Ad Blocks also support whitelisting: a feature where you can permit a specific website to display ads.
On top of blocking YouTube advertisements, blockers work for your browser as well.
Strictly speaking, ad blockers do not block ads. Instead, they block requests from websites that want you to download content onto your browser.
This means that with an ad blocker on, websites load faster and offer a generally better browsing experience.
Ad blockers are a boon for security as well as most of them can block trackers; malware; adware; spyware; and potentially unwanted apps on your device.
But, is there all there is to it?
Although advertising has its negative qualities, ad blockers are not perfect.
A powerful ad blocker might cause some websites to break and disrupt your browsing experience. Some websites also can detect that you are using an adblocker and deny you entry to their websites.
Also, another limitation is that ad blockers do not work on social media apps like Facebook, TikTok, Snapchat and more.
Also, before you go crazy with ad blockers, and watch all the YouTube videos without ads, remember that your favourite YouTube creators rely on YouTube ad revenue.
If you are not viewing ads, they are not getting paid. Simple as that.
So if there are YouTubers you would like to support, you can consider turning off your ad blocker temporarily, and 'suffering' through a few ads to support them.
How to Block YouTube Ads
There is one simple trick to blocking YouTube ads.
Earlier this year, Redditor u/unicorn4sale posted on the /r/webdev subreddit about how to bypass YouTube ads.
The trick is very simple and does not require you to download anything or change the code.
All you have to do is to add a full stop to the YouTube Uniform Resource Locator (URL) in front of the .com for this to work.
For example, this version of the YouTube video will have ads from time to time:
https://www.youtube.com/watch?v=0fTjTxn233o
This other version with the full stop in front of the .com will not show ads:
https://www.youtube.com./watch?v=0fTjTxn233o
I have tested this out multiple times and have not seen any YouTube ads so far. But, your mileage may vary.
This minute adding of the full stop to the URL 'breaks' the webpage in a way and removes the majority of (or even all) ads, inclusive of the TrueView video ads.
You can use this trick on desktop or mobile, but for mobile, you will have to request for the desktop version of the page for this trick to work.
However, this may not last for long if YouTube finds out and patches this.
If you find this too troublesome, you might want to download an Ad Blocker.
So What is The Best Ad Blocker in 2020?
Finding the best ad blocker depends on which device you're using to browse the internet. As such we have split the ad blocks into two categories: those for Desktop or Mobile.
Desktop Ad Blockers
Here are some of the Ad Blockers I would recommend and one I would avoid. For desktop, most of the Ad Blockers come in the form of browser extensions which can be easily installed to a browser of your choice.
AdBlock (Chrome, Firefox, Safari, Edge)
For most users, AdBlock (not to be confused with AdBlock Plus) is one of the best solutions to block ads on your browser and by extension, YouTube.
You can download the extension on Chrome, Firefox, Edge, Safari, Android and iOS.
AdBlock is really easy to install and use. For your PC or Mac computers, it comes in the form of a browser extension.
This browser extension blocks most ads throughout the web and has a whole host of customisable features like filters for individual ads, support for whitelisting, ability to permit ads on specific YouTube channels and more.
AdBlock is also part of the Acceptable Ads program which means that ads that are not intrusive are not blocked.
The good thing is that you can easily head over to AdBlock's settings and select the option to block all ads completely.
I personally have been using this ad blocker for the longest time and have not encountered any major issues with it. It simply just works.
How to Download AdBlock
uBlock Origin (Chrome, Firefox)
Alternatively, you can opt for uBlock Origin (not to be confused with uBlock), a resource-light ad blocker with a focus on effective blocking of ads on websites and by extension, YouTube.
Neither does uBlock Origin block so much that it disrupts a site's layout and functionality.
It also has a couple of filter lists that filters out known advertising and malware sources, as well as support to create your own custom filter.
However, uBlock Origin is not as feature-rich and is only available on Chrome, Firefox and Edge.
How to Download Ublock Origin
Ghostery (Chrome, Firefox, Opera, Edge)
Want to browse the web like a ghost? That's the idea behind Ghostery.
Similar to the other ad blockers on this list, Ghostery blocks ads on webpages for a cleaner browsing experience.
But, what sets this ad blocker apart is its added privacy protection features.
For example, Ghostery allows you to view and block trackers from sites that are trying to mine your data.
If you want even more protection, you can enable Ghostery's Enhanced Anti Tracking to further anonymize your data.
How to Download Ghostery
Ghostery operates on a freemium model.
You can download the free version which offers a basic level of web protection.
Ghostery also charges a subscription fee for more protection starting from US$4.99 (S$6.71) a month and US$11.99 (S$16.12) for a higher tier with an additonal Virtual Private Network (VPN) feature.
You can even download Ghostery for Android and iOS devices.
Mobile
Next up we have the mobile category. For mobile, browser extensions are not supported.
But, these ad blockers support ad blocking on the browsers, which means that you will need to watch YouTube on your browser app if you do not want ads.
Best AdBlock For Android in 2020
For Android phones, there are browsers that have built-in ad blockers or installable ad-blockers like:
Alternatively, ad blockers like Ghostery have Android apps too.
Best AdBlock For iOS in 2020]
For iOS, the main one to consider is 1Blocker X which was overhauled for Safari.
Ad Block (iOS)
Like the desktop browser extensions, AdBlock for iOS blocks all the ads you see on websites, including YouTube.com video ads, Facebook, and everywhere else.
There is also
Built-in privacy protection with anti-tracking, custom language setting to block region-specific ads and a free, responsive support team.
How to Download AdBlock For iOS
YouTube Premium
But, if you die die want to watch YouTube on the YouTube iOS app without ads or Android YouTube app; you will have to subscribe to YouTube Premium on the respective platforms.
For just $11.98 a month, you will be able to watch videos uninterrupted by ads. You can also play YouTube videos in the background while using other apps or when the screen is locked.
See a video you like? You can save and download videos when you need them.
P.S. on a side note, did you know that you can save our articles for reading later?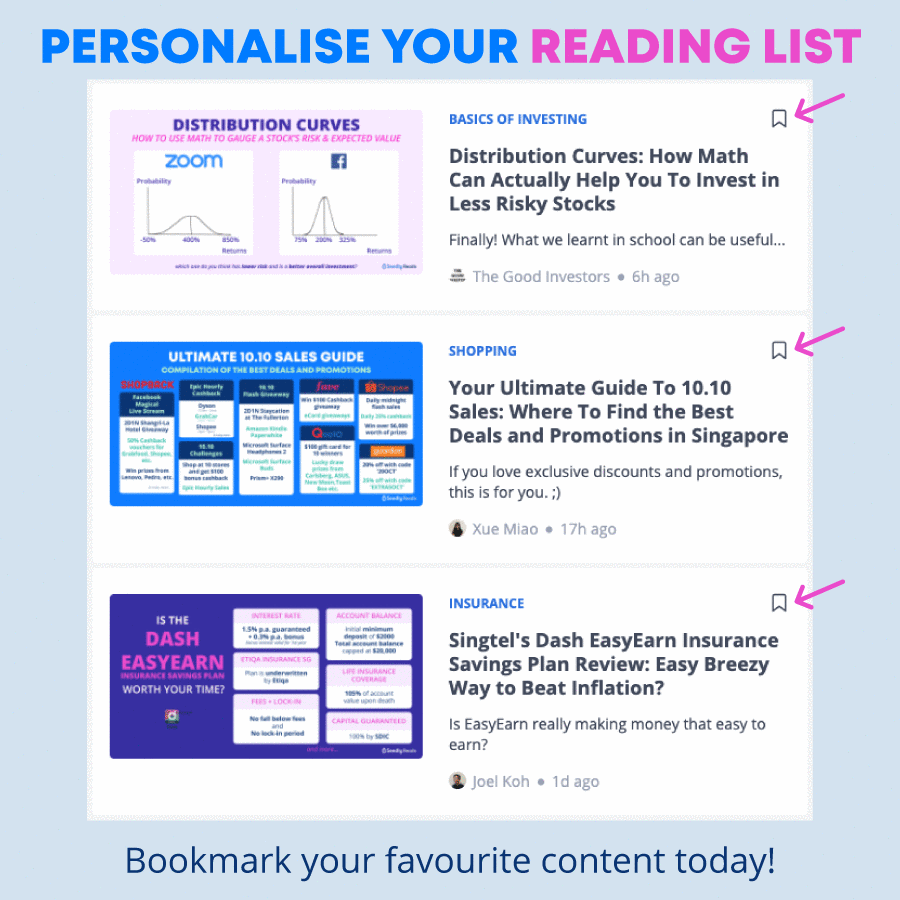 There's even a YouTube Music subscription bundled in where you can download the app and listen without interruptions.
Critics have stated that the YouTube Music service has a vast library and is great for those who enjoy live performances, music videos, and covers. However, audio quality falls short compared to the competition.
If you would like to find out more about YouTube Music, check out our comparison between Spotify, Apple Music and YouTube Music Premium.
As far as deals go, this all in one YouTube Premium subscription is not the worse out there. There's even a one month free trial of YouTube Premium which you can try and cancel anytime.
About Joel Koh
History student turned
writer
at Seedly. Before you ask, not a teacher. My time as a history student has equipped me with the skills to evaluate the impact societal development has on financial and nonfinancial events.
You can contribute your thoughts like Joel Koh
here.