I've been wearing spectacles for as long as I could remember.
I was one of the very few kids in my preschool looking extra studious, and I visited the optician every other month.
I've since gotten to know that 83% of adults in Singapore are myopic. 
(Jialat, we must've all studied too hard.)
While many of my friends have since moved on from their spectacles journey, I'm still sticking to this fashion accessory of mine.
For sentimental reasons? Maybe.
Besides that, spectacles are now offered at pretty affordable prices and can function as a fashion accessory.
As the WFH situation begins to extend endlessly, I decided to start my research on my next pair of spectacles.
There have been so many advertisements on how the blue light radiating from our screens is screwing our eyes up.
"Buy it now!! Say goodbye to tired eyes!!"
Being partly intrigued and also fearful for the fate of my eyes, I dropped by several spectacle shops to check them out.
During my shopping process, I've been pitched by several store assistants that anti-blue light lenses would save my eyes from fatigue.
Some even mentioned that without it, blue light might potentially damage my eyes.
After going through several rounds of sales pitches, I'm almost convinced that my new pair of spectacles MUST have an anti-blue light filter.
Where Is Blue Light Produced?
While we have been conditioned to hear the horrors of blue light from our digital screens, the biggest source of blue light is actually the sun.
In fact, we are exposed to blue light from various sources, which includes indoor lighting too.
Dr. Raymond Najjar, a researcher from the Singapore Eye Research Institute who has been researching the effect of blue light on our eyes.
An experiment he did with Channel News Asia showed the different intensities of blue light produced from different sources.
It is shown that the estimated blue light intensity from the sun is more than 100x greater than the amount we are receiving from our screens.
Price Difference Between Regular Spectacles and Anti-Blue Light Spectacles
Anti-blue light spectacles usually come with a premium, as it is another additional layer of coating that has to be added to the pair of spectacles.
A quick search on different websites showed the price differences between the two types of spectacles:
| Optical Shop | Price of Normal Pair of Spectacles | Price of Pair of Anti-Blue Light Spectacles |
| --- | --- | --- |
| Eyecon Optical | Super High index 1.67: $79.80 | Super High index 1.67: $209.80 |
| foptics | 1.67 Hi Index Lens: $59.90 | 1.67 Hi Index Lens: $79.90 |
| Monocle | 1.67 Hi Index Lens: From $128 | 1.67 Hi Index Lens: From $168 |
| Oblique Eyewear | Super High index 1.67: From $120 | Super High index 1.67: From $150 |
| Owndays | From $98 | From $198 |
| Visual Mass | Super High index 1.67: Additional $50 on chosen frame | Super High index 1.67: Additional $200 on chosen frame |
| Zoff | From $98 | From an additional $38 |
With an additional blue light filter, we would need to top up between $20 to $130 per pair of glasses.
Is Blue Light Causing Eye Fatigue?
It is commonly heard that blue light is the #1 culprit in causing eye fatigue.
However, according to Dr. Sunir J. Garg, a spokesperson of the American Academy of Ophthalmology, this common saying is not data-driven.
He mentions that it is understandable that people would buy into this – since our eyes do get irritated and tired after staring at the computer screen for hours.
But the problem here isn't the blue light – it's the duration we are staring at our screens, which leads to less blinking, which then leads to drier eyes and therefore irritated or tired eyes.
As for scientific studies, the ones that are present now are animal experimental studies (mostly mice), that when they are exposed to very high energy blue light, there is a chance of retinal damage.
This result, however, cannot be directly translated to humans.
The studies done that's closest to human was the placement of human retinal cells onto Petri dishes and shining intense blue light on them.
However, our retinas are protected differently in our eyes as compared to these cells on the dishes.
Therefore, there is currently no evidence on humans that it damages our retina or cause macular degeneration.
Nonetheless, despite the lack of scientific evidence, both Dr. Najjar and Dr. Garg did acknowledge that there were some patients who mentioned that their eyes felt less tired when they started using anti-blue light glasses.
Thus, getting a pair might yield different effects on different individuals.
So What Does Blue Light Affect Then?
According to the American Academy of Ophthalmology, blue light does affect the body's circadian rhythm, which is our natural wake and sleep cycle.
During the day, blue light wakes us up and stimulates us.
When we are exposed to blue light late at night from our screens, it can make it harder to get to sleep.
So if you're one who is worried about having disrupted sleep in the night, you might want to consider getting one of these anti-blue light spectacles.
Otherwise, limiting your phone usage before your sleep time might be sufficient to do the trick.
How Can We Eliminate This Eye Strain We Are Getting Then?
According to experts, one simple way is to simply follow the 20-20-20 rule.
This means to take a 20-second break every 20 minutes, by staring at a point 20 feet away (~ 6m).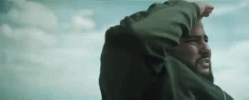 Yep, something like that.
I think the most difficult part for us is to even leave our desks for just a brief moment, with the hope that we could finish our work ASAP.
I guess the tough part is to make it into a habit.
Alright, now I'm ready to make a smarter personal finance decision on my spectacles shopping. 😉
About Xue Miao
A
millennial
who is learning to adult. She doesn't believe in the rat race and hopes to live on a farm someday.
You can contribute your thoughts like Xue Miao
here.