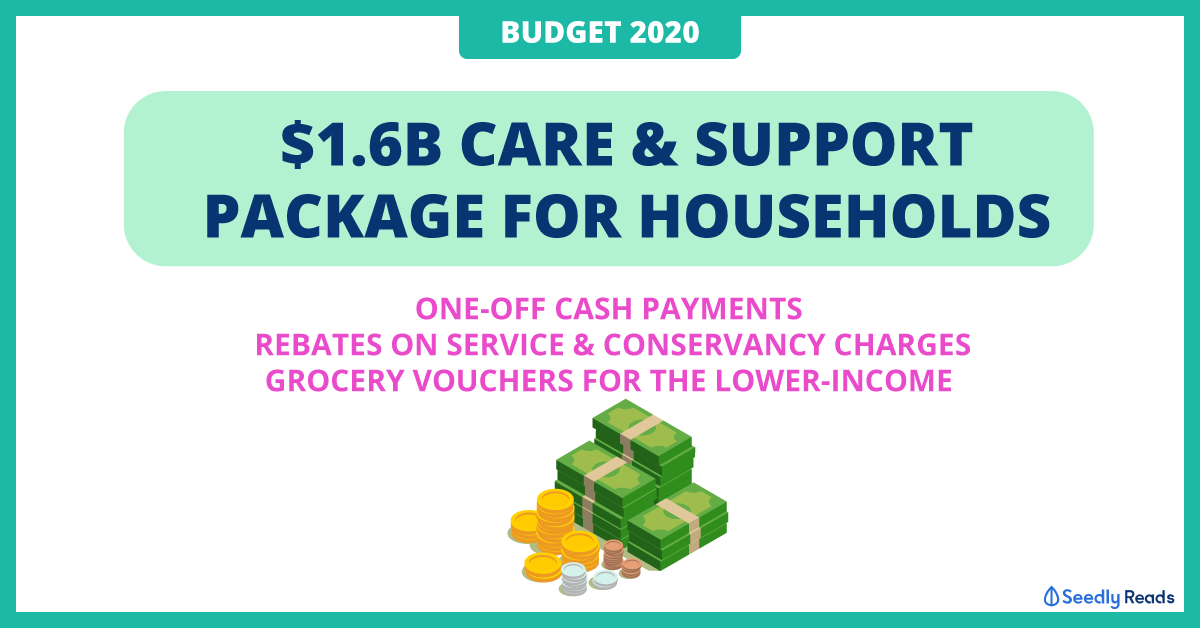 $1.6b Care and Support Package For Singaporean Households
Singaporean households will benefit from a $1.6b Care and Support Package in 2020, announced Finance Minister Heng Swee Keat while delivering the Singapore Budget 2020.
This comes in light of COVID-19, and as more Singaporeans grapple with rising living costs.
In all, a young family living in an eligible HDB household can expect to receive about $1,300 — while a three-generation family will receive up to $1,800.
Cash Payouts, Rebates for U-Save and Service & Conservancy Charges
The $1.6 Care and Support Package will be distributed in the form of:
One-off cash payouts of $100, $200 and $300 for all Singaporeans aged 21 or older, depending on their income
Service & Conservancy Charges rebates of between 1.5 months to 3.5 months for certain HDB households. These will be extended for a year.
A one-off GST voucher (GSTV) — the U-Save Special Payment — for eligible HDB households, in addition to their standard GSTV.
A further $100 cash will be paid out for adult Singaporeans who have at least one Singaporean child aged 20 and below. Meantime, those aged 50 or older will enjoy a $100 PAssion card top-up, so long as they sign up for a (free) card.
Additionally, older Singaporeans on the Workfare scheme will enjoy a 20% increase — or a minimum of $100 — to recognise their efforts in 2019.
Grocery Vouchers, Public Transport Vouchers for Lower Income
Lower-income Singaporeans can also expect to receive grocery vouchers worth $100 a year for 2020 and 2021. These vouchers will be eligible for use in major supermarkets.
Meantime, the Workfare Transport Concession Scheme will help soften the blow of fare increases through public transport vouchers,  as announced last October.
For live updates on Singapore Budget 2020, click here. 
Here's a quick summary of the Care and Support Package:
About Rebecca Liew
Lactose-intolerant, but also BS-intolerant. Having written for the likes of Marina Bay Sands and Time Out, I now spend my days saving up for my stationery shop retirement dream.
You can contribute your thoughts like Rebecca Liew
here.