Is It Possible to Buy an HDB Flat While Owning a Property Overseas?
Housing & Development Board (HDB) flats are subsidised public housing which are carefully regulated in order to keep them affordable and accessible to the masses.
In fact, according to HDB, more than 80 per cent of Singapore's population are housed in more than 1 million flats spread across 24 towns and 3 estates.
So when it comes to purchasing an HDB flat — be it a new Built-To-Order (BTO) or a Resale — you'll notice that there are several eligibility conditions which you have to meet.
These requirements include age, income, and property ownership.
The last requirement, in particular, is interesting because it means that you cannot own other property overseas or locally if you wish to purchase a non-subsidised or resale HDB flat.
This policy was enacted to prevent a potential property bubble back in 2010 when low-interest rates and high liquidity pushed home prices up.
To be clear.
If you're planning to buy a BTO, you have to ensure that all "applicants and occupiers listed in the flat application do not own other property overseas or locally, and have not disposed of any within the last 30 months".
For a resale flat, if you or any person listed in your resale flat application "owns a private property either locally or overseas, you must dispose of all private properties before or within 6 months of the resale flat purchase."
Oh, and FYI, if you own private property, you are NOT eligible for a CPF Housing Grant or an HDB housing loan either.
.
.
.
In response to questions regarding this policy during a Parliament session, dated 14 January 2019.
The Minister for National Development shared that:
"Since the policy was introduced in Aug 2010, slightly over 5,000 households have disposed of their private properties when they purchased flats from the resale market. [From 2016 to 2019] about 1,200 households appealed to retain their private property. Of these, HDB acceded to about 300 appeals after considering the specific facts of each case, taking into account factors such as the owner's share in the private property, and the reasons why the private property cannot be recovered for his or her own use."
So what happens if you or another applicant in your HDB flat application happens to own property overseas?
Can you still purchase an HDB flat?
If so, what's the appeal process like?
---
Buying an HDB Flat While Owning a Property Overseas
The following is an account of Jyn Lee as told to SeedlyReads.
If you ever find yourself in a similar situation, this might help you to understand the appeal process a little better.
Note: the success of your appeal is still up to HDB's discretion
How I Asked HDB for Help to Overcome My Singaporean Nightmare
What is your Singaporean dream? 
For middle-income earners like my fiancé and me.
(He is a Permanent Resident working as a nurse, while I am a Singaporean working as a social worker.)
Our Singaporean dream is to get married, move into an HDB flat that we can call our own, and start a family.
When we tried to do that, we found ourselves in a Singaporean nightmare when we learned that we are not eligible to buy an HDB flat. 
To be eligible for an HDB flat, it is an HDB requirement that "all applicants listed in the flat application do not own other property overseas or locally".
But it so happens that my fiancé owns a house in Malaysia.
Given that his family lives in the house, it is impossible to sell it.
Appealing With HDB
What my fiancé and I decided to try next is to appeal to HDB to waive the private property rule for us. 
Our appeal took us four months and plenty of correspondences with HDB before they granted an exception for my fiancé to retain his overseas property while allowing us to buy an HDB flat.
Here's what we did.
What the HDB Appeal Process Was Like
We started our appeal process by first coming up with a plan with regard to how we want to communicate our basis of appeal.
Essentially, we want to impress upon HDB that we want to start a family in Singapore but we cannot afford private housing here.
Neither could we sell my fiancé's house in Malaysia because his family lives in it.
Explain What Kind of Property Can You Actually Afford
To substantiate the fact that we cannot afford private housing in Singapore.
We showed HDB our monthly salaries and CPF statements indicating the balances in our Ordinary Accounts, as well as the contribution histories for the past 15 months.
We also submitted our results generated by CPF's Our First Home Calculator.
It is an e-service which helped us to estimate the housing loan and price of the property, which we can afford based on our combined income.
For us, the e-service estimated that the property price we can afford ranges between $450,000 to $520,000.
Using this result, we informed HDB that buying an HDB flat is the most pocket-friendly option and the most compatible with our family planning.
---
Editor's Note: what Jyn and her fiancé did here is a financially responsible move.
Even if you do not own overseas property, it's important to understand what type of HDB flat can you really afford.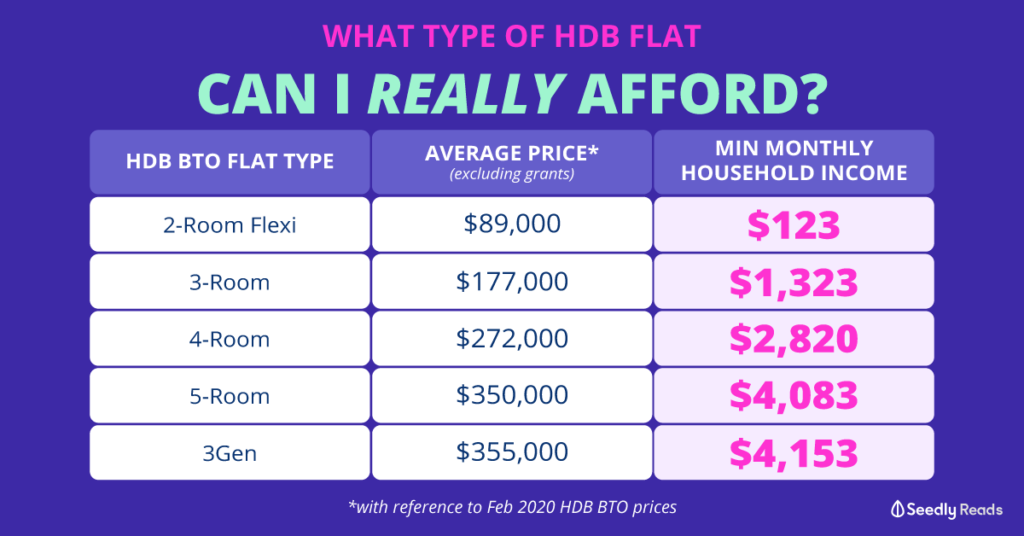 The last thing you would want to do is to buy the largest home on the market.
And have to supplement with additional cash (read: you won't have sufficient liquidity for emergencies) after using your CPF Ordinary Account monies for the monthly mortgage payments.
While they utilised CPF's My First Home Calculator to get a sense of this.
You can also use HDB's Enquiry on Monthly Instalment calculator to work out what is the monthly mortgage — after deducting the downpayment and CPF Housing Grant from the property price.
This way you can avoid making the mistake of buying more house than you can actually afford.
---
Explain Why You Have to Keep Your Overseas Property (With a Legit Reason)
We then helped HDB to understand that we cannot sell the house in Malaysia because there are family members living in it. 
To do so, we submitted the identification documents of my fiancé's family members.
This to prove that their residential address is the same as that of the house my fiancé bought. 
For good measure, we threw in copies of my fiancé's purchase agreement and recent valuation report of his house in Malaysia.
For our appeal to purchase a resale flat, HDB also requested for us to complete the Questionnaire Form On The Particulars of Private Property/ Other Property.
Closing Thoughts
And that was how we appealed successfully to the HDB for a waiver of the disposal of private property rule.
To help HDB help you, you must first be clear of your goals, needs, and wants.
Only then will you be able to know what are the documents to submit to HDB in order to substantiate your appeal. 
We hope that our sharing can help you on your path to your new home.
Good luck! 
---
Seedly Contributor: Jyn Lee
A thrift shop fanatic who enjoys reading and writing about personal finance.