CapitaLand's Proposed Acquisition Of Ascendas-Singbridge, Simplified
If you're an investor or plan to be one after reading our Basics of Investing, then we're pretty sure that you've read or heard about CapitaLand Limited (SGX: C31)'s big announcement today:
Unsure what this means for you as an investor?
Fret not.
We've pored through the real estate giant's announcement, news release, and presentation slides (can be found here) to give you the CliffsNotes of the significance of CapitaLand's proposed acquisition of Ascendas-Singbridge.
---
TL;DR: CapitaLand Limited (SGX: C31) To Buy Ascendas-Singbridge From Temasek
CapitaLand announced on 14 Jan that it has entered into an agreement to buy Temasek unit, Ascendas-Singbridge, in a cash and stock deal worth S$6 billion
Should the acquisition go through, the new entity would become Asia's largest diversified real estate group
Its combined assets under management would exceed S$116 billion (US$85.79 billion) and put it in the top 10 real estate investment managers globally
The deal is expected to be completed by the third quarter of 2019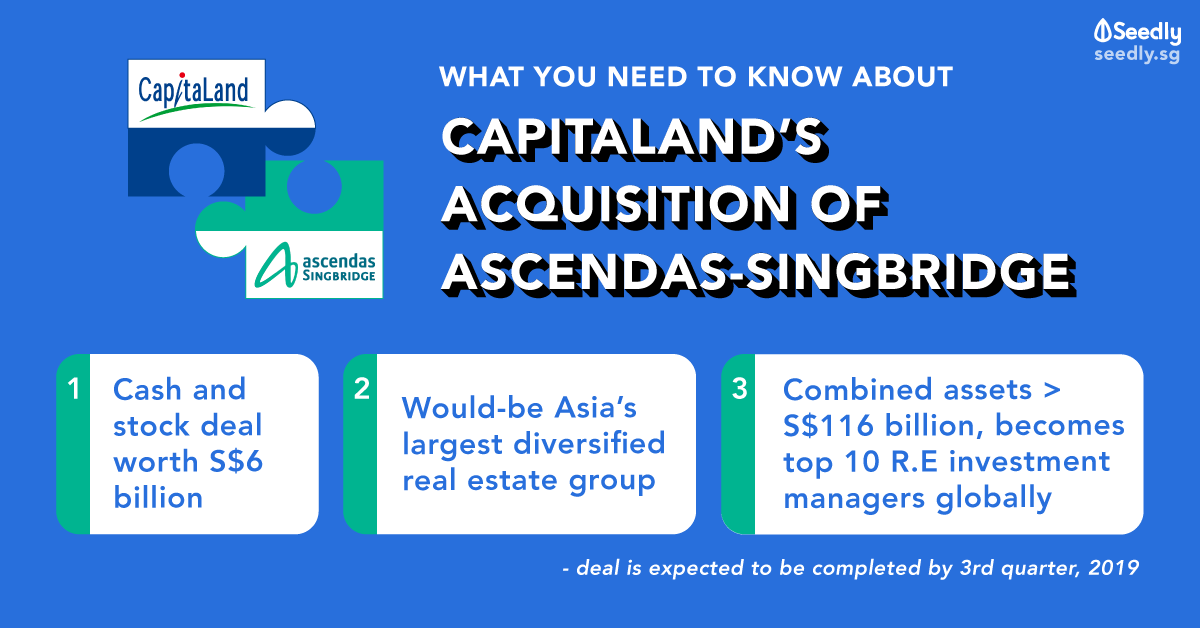 ---
The Significance Of CapitaLand's Proposed Acquisition
CapitaLand Limited (CapitaLand) announced today, that it plans to acquire all shares in Ascendas Pte Ltd and Singbridge Pte Ltd, collectively known as Ascendas-SingBridge (ASB).
The proposed acquisition of ASB – a subsidiary of Temasek Holdings Pte Ltd (Temasek) – is valued at S$10.9 billion. This enterprise value comprises S$6 billion of equity value and S$4.9 billion of net debt and minority interest.
Once the proposal is approved by CapitaLand's independent shareholders at an extraordinary general meeting (EGM), expected to be convened within the first half of 2019, this will effectively create Asia's largest diversified real estate group.
What Does Temasek Holdings Get Out Of This?
Temasek will receive S$6 billion, which will be paid in S$3 billion in cash and another S$3 billion in new CapitaLand shares. The latter will also boost Temasek's ownership of CapitaLand from around 40.8 per cent to about 51 per cent.
If ASB Is Valued At S$10.9 Bn, Why Is Temasek Only Receiving S$6 Bn From CapitaLand?
Remember how we said that ASB is valued at S$10.9 Bn? S$4.9 Bn of that value is debt and minority interest which CapitaLand will assume when it acquires ASB. That's why they only need to cough up S$6 Bn (which is no small change by the way).
FYI: CapitaLand has highlighted that this transaction might result in a slight dilution to Net Asset Value per share.
The new shares will be priced at S$3.50 apiece, at a premium of 11.3 per cent (or about S$0.36) over CapitaLand's one-month volume-weighted average price (VWAP) of S$3.1447. For comparison, CapitaLand's shares last traded on 11 Jan, down S$0.01 at S$3.27.
What Is VWAP?
Volume-Weighted Average Price (VWAP) is exactly what it sounds like: the average price weighted by volume. VWAP equals the dollar value of all trading periods divided by the total trading volume for the current day. Or in this case for CapitaLand, for one month.
According to CapitaLand, the price was decided after taking into account the adjusted net asset value of ASB, which includes the value of its fund management platform as well as the trading value of its three sponsored listed trusts. ASB has interests in, and manages:
A-HTRUST, Ascendas Hospitality Trust
a-iTrust, Ascendas India Trust
Ascendas REIT, Ascendas Real Estate Investment Trust
CapitaLand: An Asian And Global Real Estate Giant In The Making
The transaction will also bring the group's combined total assets under management (AUM) to S$116.5 billion, with an expanded portfolio that covers 6 asset classes such as residential, retail, commercial, lodging, logistics/business parks, and industrial, in more than 30 countries.
Naturally, this will allow CapitaLand to further expand its presence in core markets like China and Singapore. While adding the possibility to scale meaningfully in India, the United States, and Europe.
What Is AUM?
Assets Under Management (AUM) is the total market value of assets that an investment company or financial institution manages on behalf of its investors. 
The cherry on top when the deal goes through? This new entity will also surpass CapitaLand's 2020 AUM target of S$100 billion, and puts CapitaLand amongst the top ten real estate investment managers globally.
---
(NEW IN) Some Q&A On CapitaLand's Proposed Acquisition Of ASB
Here are some pertinent Q&As contributed by members from our Seedly Personal Finance Community:
Question 1 – What's the difference between Ascendas REIT and Ascendas-Singbridge?
Ascendas-Singbridge is the sponsor of Ascendas REIT. Think of it as a "parent company" which has interests in and manages the REIT. (Answer contributed by Jonathan Chia Guangrong)
Question 2 – What does this proposed acquisition mean for someone planning to buy CapitaLand Limited (SGX: C31)? Does this mean that after the merger, the share price will be S$3.50? Why is there a share dilution and how will it affect existing shareholders?
The listed S$3.50 is the new share price issued to acquire the asset, Ascendas-Singbridge. However, CapitaLand's market share price is determined by market forces and may or may not be S$3.50 once it acquires ASB.
With regard to share dilution, let's assume you own 1 share in XYZ company. The company has 30 shares in total, meaning you own 3.33% of the company. But if XYZ company decides to issue 20 more shares, making it a total of 50 shares. Then with your 1 share (1/50), you now effectively own 2% (or lesser) of the company. (Answer contributed by Alex HS)
(Writer's note: A temporary share dilution may be worth it if it ultimately makes the company more profitable. This is largely dependent on whether CapitaLand can successfully integrate ASB and make good on the operational synergies it has identified. However, if a company issued those new shares as part of an overly generous fund-raising program for a project or M&A (merger and acquisition) that fails to contribute profit, then the dilution may affect the market share price.)
---
So… What Now?
Now that you've a better understanding of what this proposed acquisition means, what's next?
All we can say is: CapitaLand Limited (SGX: C31) is definitely a stock to watch in the months to come.
About Kenneth Fong
I threw all of my money into the longkang once... because I wanted to see my
cash flow
.
You can contribute your thoughts like Kenneth Fong
here.