Feeling Stuck? A Millennial's Guide to Getting Out of a Career Rut
Money's a touchy subject, no two ways about it. 
At 24, I — a fresh-faced, naive fresh grad — accepted a sad starting salary of $2,400.
Among my many reasons for not negotiating higher pay? I hadn't done my research into market rates, and was simply a poor negotiator (but also actually poor, lmao).

Now, if that isn't depressing, then I don't know what is.

But I've long since moved on…only to realise the uncharted waters ahead are far scarier.

Among the many struggles I face, a recurrent theme is this one: where on Planet Earth (!!) am I going in my career?

Yep, touchy topic — just like money.



A 2019 survey of 500 Singapore workers by data platform Qualtrics revealed job satisfaction rates here are far lower than in other countries. 
If career growth and job satisfaction are intrinsically linked — and, based on my experiences, they very much are — then where do you sit on the hypothetical scale?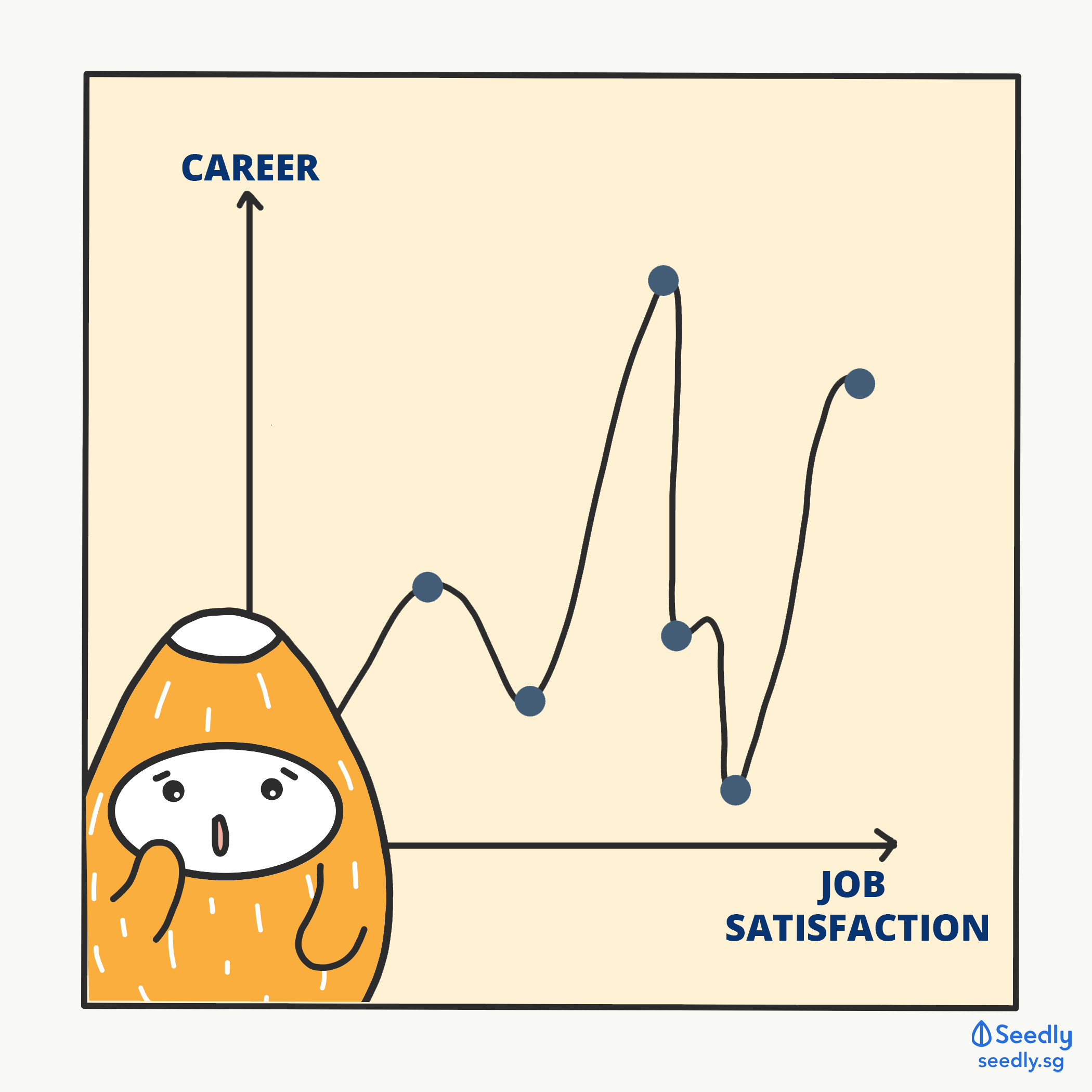 It can be hard to pinpoint the exact causes behind how you're feeling — but rather than discount or push aside that sense of discomfort ("It's normal!"), identifying these reasons head-on would likely give you a clearer idea of what you actually want.

Growing Pains: The Monthly Check-In
Growth (obviously) isn't a linear path. 
You'll hit new highs — whether organising a successful community meet-up, or getting a promotion — but also suffer blows. 
Really sh*tty ones, too, like questioning your purpose in life. 
You might liken it to an existential crisis. The term in itself isn't an excuse or answer to your invisible struggles, but a means of finding small fixes for the stuff that's been bugging you.

Which brings me to this: the importance of doing a monthly check-in with yourself. 
It's not downtime per se, but a chance to be with your thoughts and list out what you're happy or unhappy with, whether at work or in your personal life.

Just like the 1-1 sessions you might've had (or still have) with your manager, go into this with an open mind and be brutally honest with yourself… but don't forget to do it with a bit of kindness. 

Here's an idea of what your list may look like:



From here, you might then want to figure out what your short- and long-term goals are, whether it's to earn $100k before the age of 30, or be promoted to a directorial level role before you turn 40. What skills are you missing that could help you along this trajectory?

These goals could be mapped across three-, five- and ten-year goals, although you should recognise your plans will change — and that multiple curve balls might set your life on a different course. 
Once you've mapped these out, your regular check-ins will allow you to pick out patterns and tweak your goals if things have changed in the past month.

Stagnation: Your Nemesis
Around the time I was six, I set my mind on being a writer — something that's endured 'till today, and which I'm lucky enough to have seen through. 
Heck, I entertained grand visions of gracing book signings as a successful author, then sashaying off midway in a nonchalant, too-cool-4-u manner. Not the best light to paint myself in, I know. 
Knowing what you want to make of your career early on is great and everything, but the biggest mistake I made in doing that was becoming almost resistant to anything outside of writing or editing.

Much as you might enjoy something — performing an audit (oooh, fun!), chasing a lead for an investigative piece, uncovering findings in your COVID-19-related research — it's essential to keep on keepin' on. 
That means moving with the times, figuring out where your knowledge gaps lie, and learning the necessary skills to stay relevant. 

Embracing change is harder than sticking to your old ways, but the first step's really to challenge your mindset — because that could ultimately free you up for bigger, better things.

About Rebecca Liew
Lactose-intolerant, but also BS-intolerant. Having written for the likes of Marina Bay Sands and Time Out, I now spend my days saving up for my stationery shop retirement dream.
You can contribute your thoughts like Rebecca Liew
here.