Char Kway Teow Is Dead. A Reflection On How Our Mindset Might Be Killing Traditional Businesses.
Char Kway Teow is DEAD!
source: sbf Guide
If not now, in 20 years time.
The same can be said for many other careers.
My favourite chef left his job for Certis CISCO
" I really needed the money, and I cannot do so with cooking."
This article started with my favourite chef decides to quit his job for Certis CISCO.
The knowledge that I will no longer be able to taste my favourite Smoked Duck with Aglio Olio tossed in White Wine Reduction pisses me off. But as we researched even deeper, we realised how deep a crisis Singapore might be in.
As much as how Char Kway Teow will cease to exist, many of our favourite local delicacies and traditional business will suffer the same fate.
We take a swipe at some of the issues facing our fast-paced economy.
An Ageing Population
A quick insight into Singapore's population:
Singapore has the oldest society among all the countries in Asean.
The median age of Singapore's population is at 40.5 years old.
By the year 2030, Singapore's demographic will resemble that of Japan.
Japan is the oldest society in the world with 26.6% of its population above 65 years old.
This means that whatever skills the older generation of Singapore possessed, they have a smaller population to pass on that unique set of skills to.
Passion is never a good reason here to make something your career – Salary is
There might be an over glorifying of owners in the F&B sector where young hawkers and hawkers making decent salary every month gets a lot of attention on the news and social media.
A quick research indicates that the salary in the F&B sector might not be as great as it sounds.
| Role | Average Salary |
| --- | --- |
| Service Attendants (Waiters) | S$1,800 - S$2,200 |
| Sous Chef | S$2,500 - S$3,200 |
| Chef of Section | S$1,900 - S$2,400 |
| Demi Chef | S$1,400 - S$1,800 |
| Line Cook | S$1,200 - S$1,400 |
source: ladyironchef
source: SGAG
Many times we allow salary to lead us blindly in terms of career choices. Ultimately, it is the passion that keeps one going and motivates one to strive harder for their job.
Passion is not taught in school
Skill gap is now one of the biggest problems for fresh graduates when it comes to looking for a job.
source: vulcanpost 
Our over-reliant on a less flexible education system might have resulted in such discrepancy, and we only have ourselves to blame.
Here are some characteristics of the education system:
Its main job is to act as a blanket solution for the society, equipping graduates with skills that the economy "might" need.
Given that the organization is huge, making changes to the syllabus means going through a lot of approval and processing. All these take a long time, risking the relevance of skills involved.
Ultimately, it is up to an individual to do their due diligence on the skill set that is required by the market and pick it up on their own free time.
If you believe that there will be a shortage of good Char Kway Teow in years down the road and you have always wanted to have your own Char Kway Teow stall, do it!
Our mindset
Most of us believe that studying is the only way to realise our potential.
In the process, we end up being judgemental and subconsciously put people's job into " social classes" based on the academic requirement of their jobs.
Little did we realised that each job has a part to play in the entire economy.
Assuming a country filled with lawyers and doctors but only 1 guy that can cook Char Kway Teow really well, chances are, the Char Kway Teow chef earns more.
source: Mr Brown
Further reading: Ikigai – A Japanese concept meaning "a reason for being"
To end off this discussion, we would like to discuss a concept about Ikigal.
Ikigal is an idea that helps individual choose their job.
Seedly Personal Finance Community members share their experiences:
Kenneth Lee shares his valuable experience:
Here's what I've understood, after learning and hearing from my peers (25 – 33 years of age now):
Plenty feels trapped doing what they don't enjoy, for money. Leaving might also expose them to some form of social judgement, from family and friends alike.
Plenty doesn't wish to make a change, for security for their family and themselves.
Those that attempt to do what they love, sacrifice money and time. They are few.
It is DIFFICULT, to find something you love, and make a great living out of it. After all, everything intersects, and everyone has different parts of their lives that will push back on their dreams.
So, There are some things that I'd like to share: If you're young, then really throw out expectations that others put on you. In exchange, ask what and how you really wish to grow.
If you're working: Learn to love what you do, instead of doing what you love. But if you end up not loving it, you're NOT WRONG. You're learning something, and you're in the process of figuring it out.
Finally, always be in the process of crystallizing your larger purpose. Something bigger than yourself and the company you work for. Know that it is not fixed and that this purpose can grow and change.
DREAM, but remember TO DO, and don't forget to ask for help.
Benjamin Chua:
Lots of young graduates talk about doing something they love or things they have a passion about. Another perspective will be working on something/a job till you are so good you become passionate about.
Fiona Liew:
I think the trickiest part of this is "what you're good at". It takes a lot for a person to recognize what he/she is good at.
Ikigai is where you find a thing that fits all 4 criteria, it doesn't necessarily have to be something that you're best at / get paid most/ world needs most/ you love most… it is a so-so middle ground. Gotta know how to appreciate things and be content with the job we are doing.
Matthias Richter:
I'm a big fan of the Ikigai concept.
The first time I stumbled across this idea through a happiness/ longevity study that focussed on the so-called "bluezones". In the blue zones, life expectancy is usually 10-20% higher than in other areas of the same country. On planet earth, there are five blue zones!
Japan – already having THE highest living expectancy overall – also has a blue zone! It's on the sub-tropical island of Okinawa. In Okinawa, when you introduce yourself to one another, you don't ask "what are you doing for a living" but rather, what's your "Ikigai". By doing so, your self-worth and "reason for being" will not extinguish once you've retired. You'll also not have a "meaningless life" once you "lost your job". You're not "just a retiree waiting for the end of your days". However, you're still a "value adding" part of society since you can keep pursuing your Ikigai even without a job. Your Ikigai could be "to take care of your family", "to make others smile", "to keep the garden blossoming" or anything… it is not reduced to "what" you do or "how" you achieve your target – it's a wholesome idea about purpose/ meaning in life. The best part: you create it yourself and nobody can take it away from you. How you think about your life will ultimately determine your happiness and fulfilment.
In the Japanese culture, they say as long as you have your "Ikigai", you do have a vision/ target to go after (intrinsic motivation), if you don't, the only thing left to do is waiting to die. Hence, in order to live a longer, happier and more fulfilled life, pursue your Ikigai and you'll most likely live longer and happier! I've been writing on a blog-post on how this topic relates to financial independence/ optional or early retirement (FIRE/ FIRO) since like forever and seeing this pic on Seedly today motivates me to speed up working and finishing it soon… Thanks for sharing and keep pursuing your Ikigais!
Have a Question? Not sure who to go to?
We have an open Community to help answer all your doubts and queries. Don't worry about us, we just want to help! Ask away here!
Check out our blog for unbiased opinions while you are embarking on your journey to financial independence or you can start here.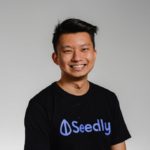 About Ming Feng
A stint in
Bloomberg
gifted me with a beer belly, which only grew larger when I moved on to become a Professional Trader. Now I turn caffeine into digestible finance-related content.
You can contribute your thoughts like Ming Feng
here.