$100 CDC Vouchers for Each Household: Best Ways You Can Utilise It
If you're a newly minted adult like me, there's a high chance you were following the previous Budget 2021 speech closely.
And probably looking out for new initiatives and schemes that might affect you directly…
Like how much GST vouchers we might be getting this year.
You might have also noticed that besides the usual yearly GST vouchers and special cash payments, there is a little something extra in store for us.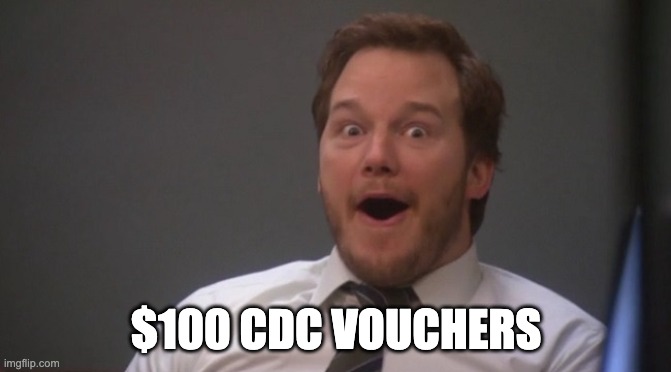 Under the $900 million Household Support Package, each Singapore household will be getting $100 worth of Community Development Council (CDC) vouchers.
If you're unfamiliar with what you can spend these vouchers on, this article will break it down for you!
---
TL;DR: What Can I Spend My $100 Community Development Council (CDC) Vouchers On?
What Are CDC Vouchers for?
The CDC Vouchers Scheme was first launched in June last year, where vouchers were distributed to households to be redeemed at participating local merchants and hawkers in the heartlands islandwide.
This was an initiative in a bid to help residents with daily expenses and also to boost local businesses which have been impacted by COVID-19.
This scheme was catered to lower-income households.
However, this current tranche of CDC vouchers will be distributed to all Singaporean households.
On 18 October, it was announced that the CDC vouchers will be received in the upcoming months and will be distributed as digital vouchers (e-vouchers).
An estimated 1.3 million households will benefit from this initiative.
Where Can I Use CDC Vouchers At?
There are currently over 3,000 participating merchants islandwide that accept physical vouchers.
With the new e-voucher scheme, merchants have to sign up online to be able to accept this new form of vouchers.
A RedeemSG Merchant app will be used to accept the e-vouchers.
Here are some of the types of stores you can expect to utilise your vouchers at:
Types of Merchants
Hawker Centres
Wet Markets
Bakeries
Hardware / Repair Stores
Provision Shops
Minimarts
Pet Shops
Hair Salons
Optical Shops
Fashion Retail Stores
Other heartland shops (e.g. locksmiths, dry cleaning, medical halls etc.)
This means that you could probably do a #nospendweek challenge with these vouchers, where you could get your haircut, buy groceries from the wet markets and meals from your favourite hawker centres all covered.
All participating heartland merchant shops and hawker stalls will also have CDC voucher decal displayed at their shops.
Ways You Can Spend Your CDC Vouchers
While the exact details of these vouchers are not released yet, we are already very excited to find out the best ways to spend it.
As you guys know, Seedly's a huge advocate of stretching and maximising any dollar we have.
So what are some of the best ways to stretch these $100?
Well… if you're not in dire need of these vouchers…
Why not consider paying it forward instead? 😊
Well, this is one great way to give back to the community without forking out our own cash!
If you are not too keen on spending all $100 on someone…
These vouchers usually come in small denominations (usually $2), so you will definitely still have some to spare for your own basic necessities AFTER paying it forward.
Here are some ways you can do so!
Editor's Note: With the new e-voucher initiative, merchants have to be onboard this program to be able to accept these digital vouchers. The merchants listed below are those that previously accepted physical vouchers, and it is unconfirmed whether they will be joining the e-voucher scheme.
1) Purchase Meals at Stalls With Pay-It-Forward Campaigns
Pay-it-forward campaigns like these allow you to pay for a meal in advance for someone in need.
You can usually choose the number of meals you would like to purchase, where you can purchase more if you have the means to do so.
These meals can then be redeemed by relevant beneficiaries, and you'll be able to fill someone's tummy through this simple act of kindness.
There are a few popular coffeeshops that offer such pay-it-forward campaigns.
We've cross-referenced some of these stalls alongside merchants that eligible for CDC vouchers!
One popular campaign is Belanja Eat which was started by a group of friends.
One of the coffeeshops to explore would be Tiong Bahru Market, which is one of the markets eligible for CDC vouchers.
There is a huge variety of food over there which you can explore, and one of the stores that offer this pay-it-forward service is Ali Corner.
Ali Corner
Ali Corner is best known for its nasi ayam penyet, so why not grab a plate and purchase another for the next person to enjoy?
Address: #02-17 Tiong Bahru Market, 30 Seng Poh Road S168898
Coffeeshops along Ang Mo Kio Ave 10
Residents staying in the North region can explore coffee shops along Ang Mo Kio Ave 10, where there are a couple of them where you can utilise your CDC vouchers.
There are also a number of coffee shops which are under the Belanja Eat campaign.
| | | |
| --- | --- | --- |
| Food Stall | Food Type | Location |
| Hup Seng Huat Cooked Food | Wanton Mee | 409 Ang Mo Kio Ave 10 #01-22 |
| Soon Huat Coffee Shop | Kopi | 409 Ang Mo Kio Ave 10 #01-27 |
| Tian Tian Lai Cooked Food | Fried Kway Teow | 453A Ang Mo Kio Ave 10 |
| Xin Zai Fa Handmade Noodle | Ban Mian | 409A Ang Mo Kio Ave 10, #01-36 |
2) Buy a Meal for the Elderly or People in Need
There are a few locations in Singapore where seniors make up most of the residents in the area.
Another way to pay it forward is to purchase food from these areas and donate it to the elderly or people in need.
One such location would be Chinatown.
Chinatown Complex Food Centre
If you've been there before, you would know that the Chinatown Complex Food Centre is huge.
Which means you'd be spoilt for choices, as there are about 200 stalls offering dishes that are redeemable by CDC vouchers!
Here are some popular stalls for you to consider:
Lian He Claypot Rice
Lian He Claypot Rice always has snaking queues, and one of the reasons is that it does not compromise on its food quality.
Each claypot is lovingly cooked from scratch which explains its long waiting time.
Address: 335 Smith St, #02-198/199, Singapore 050335
Tel: 6227 2470
Opening Hours: 4:30pm – 11:00pm (Fri – Wed), Closed on Thurs
Zhong Guo La Mian Xiao Long Bao 中国拉面小笼包
If you're looking for legit dumplings, noodles and xiao long baos, this is a stall that is almost always highly recommended.
This stall is opened by a China couple, where these dishes are freshly made and sold at affordable prices.
Address: 335 Smith St, #02-135, Singapore 050335
Tel: 9743 5287
Opening Hours: 11:30am – 3pm, 5pm – 8:30pm (Wed-Sun), Closed on Mon, Tues
There is also a wet market downstairs where you can grab some groceries from merchants that are CDC voucher-approved too!
Beser Food Centre (Jalan Besar)
Another location in Singapore with more elderly and vulnerable groups would be Jalan Besar.
Good news – Jalan Beser Food Centre is another place where you can purchase food with CDC vouchers!
One thing to note is that we probably will not be able to approach the elderly by ourselves.
Therefore, do look for a volunteer organisation that can assist you in starting such initiatives.
You can look into organisations such as Happy People Helping People.
3) Maximising CDC Vouchers by Supporting Good Eats
If you're looking to #supportlocal, why not look at supporting budding hawkers?
Especially those who took a leap of faith to walk down this difficult journey.
Under the National Environment Agency's (NEA) Incubation Stall Programme, aspiring hawkers get to start their hawker businesses through incubation stalls.
One of such stalls is Chun Seng Noodle House which is located at Queenstown.
Chun Seng Noodle House
Located at ABC Brickworks Food Centre, this stall is helmed by a young couple selling minced pork noodles and braised pork.
The braised pork recipe is also based on an old family recipe which has been passed down for generations.
According to the couple, business was competitive as they are situated at a hawker centre which had other well-established stalls.
Which is why their food promises the freshest quality and has been getting raving reviews so far.
Address: 6 Bukit Merah Lane 1, ABC Brickworks Market #01-113 S150006
Opening hours: Sat-Thurs, 5:30am to 2pm
Tanjong Pagar Plaza Market & Food Centre
If you're someone working at Tanjong Pagar, you might be happy to know that CDC vouchers can be used for several stalls at the Tanjong Pagar Plaza Market!
If you're planning to spend all your vouchers on your meals…
You can expect to get about 25 lunches for free. 😉
Here are some stalls with great reviews and can be redeemed with CDC vouchers!
Rolina Traditional Hainanese Curry Puff
Address: 6 Tanjong Pagar Plaza Market and Food Centre, #02-15 S081006
Opening Hours: Mon-Sun, 6:00am to 1:00pm
Soon Heng Food Delights
Address: 6 Tanjong Pagar Plaza Market and Food Centre, #02-19 S081006
Opening Hours: 9:00am to 3:00pm, closed on Sat
---
How Are You Planning To Spend Your CDC Vouchers?
With so many ways to spend your CDC vouchers, have you decided how you would like to spend yours?
Share it with others at Seedly!
About Xue Miao
A
millennial
who is learning to adult. She doesn't believe in the rat race and hopes to live on a farm someday.
You can contribute your thoughts like Xue Miao
here.