Community Giveaway: Learn About Passive Incomes And The Power Of It
Is investing really better than saving?
Before diving straight into the importance of investing (which many financial blogs have already written about), Seedly would like to take a step back and provide our opinion on which is more important.
If we were to be politically correct, BOTH are as important. But to ensure that you are on the right track, we would like to request that you spend some time understanding your current situation in life.
Here are the pros and cons of both savings and investing:
Savings
Investing
Goals
Short Term

Long Term
Cash funds for unplanned
or planned expenses
Beat inflation and
grow your passive income
Pros
Liquidity for
urgent uses
Beat 2-3% per year
inflation rate
Freedom of choice
to spend
Can be easy if you do
passive investing
Cons
Lose out to
inflation 2-3%
More returns most likely
comes with more risk

Savings account
will not grow
Best for long term
-
Less liquidity for
urgent uses in short term
Types
Savings account
with any local bank
Passive investing tools

Under your pillow
(in your Safe etc.)
Exchange Traded Funds
(ETFs)
-
Blue chip stocks,
Funds, Unit Trusts
Investing is the idea of deploying your capital into the market and letting your money work for you. One should only start their investing journey when they have met these criteria:
Debt-free
Saved up enough rainy-day fund
Have enough investing knowledge to know what they are investing
Why is investing important?
A simple illustration will be the power of compounding interest.
Investor A invests at age 30 and Investor B at age 40 respectively.
They both invest S$100 from their monthly salary
They both hope to withdraw everything at age 50.
Assume a 6% annualised return on their portfolio, inclusive of dividends.
That being said, this compounding effect can erode your savings should your interest rate is unable to beat inflation.
Who should attend:
Fresh graduates who wish to learn the ropes of investing
Working adults who have saved up their rainy day fund and are now looking to kick-start their investing journey.
Season investors who are keen to explore more on investment opportunities in the Asian equities market.
"Risk comes from not knowing what you are doing" – Warren Buffett
The topics and line up:
Event Keynote:
Attendees will start off with these 2 keynote speeches before heading for their respective "Novice" or "Investor" talks.
2018: The Outlook of Asian Equities
(by Phillip Yeo, International Head of Product Development and Management, Nikko Asset Management)
Ways to Generate Returns from the Stock Market through Booms and Bust, Good Economies and Bad
(by Teh Hooi Ling, Portfolio Manager, Inclusif Value Fund)
Novice
Understanding CFDs, leverage and risk management
(by Margaret Yang, Market Analyst, CMC Markets)
Investor
How asset allocation can help you meet your investment goals?
(by Frank Troise, Head of Consumer Investment Solutions & Business Development, Asia, Aviva)
Stock Picks for 2018 using Top 30 volumes
(by Ronald K, SMMG Pte Ltd)
All attendees will then end off with a Market Outlook 2018 Panel Discussion: Uncovering Opportunities Amidst Uncertainties
27 January 2018 (Saturday) – 9.30am to 5.45pm
NTUC Auditorium, Level 7
Regular price: S$88 (early bird price at S$48 till 19th December 2017)
*Or try to win tickets below!
Seedly Community Special: Win tickets to the conference
To help Singaporeans make better financial decisions, we have decided to work with ShareInvestor as an event partner to let 10 lucky winners go for free!
Simply follow the steps below to win:
Winner to be announced on 13 December 2017. Cheers!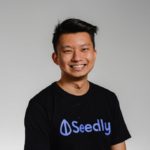 About Ming Feng
A stint in
Bloomberg
gifted me with a beer belly, which only grew larger when I moved on to become a Professional Trader. Now I turn caffeine into digestible finance-related content.
You can contribute your thoughts like Ming Feng
here.