A while back, we listed things that people were consciously spending on that could have been added to their savings instead.
Yet, we're all also guilty of paying for hidden charges just because we don't analyse our receipts enough.
Instead of getting a rude shock the next time you scrutinize your bank statements, this compilation should better inform you of platforms that are sneakily charging you extra for transactions.
Type
Specifics
Percentage
Average cost (SGD)
Airbnb conversion fee
1 night in Johor Bahru
2.8%
$1.63
Credit Card foreign currency charges
Shopping off Taobao, shipping to SG (¥120)
3%+2%
$1.64
Credit card annual fees
OCBC 365 Card
Fixed
$192.60
PayPal hidden charges
ASOS purchase using PayPal ($236.39 in value)
2.8%
$6.62
'Free' delivery absorbed charges
Buying an item off Courts Megastore
15% (absorbed into cost of item hence 'free' delivery'
$30
GST charge on imported purchases ≥ $400
Taobao dining table purchase ($500 in value)
7%
$35
Overdraft/Fall-below service fee
DBS overdraft fee
Fixed
$20
Grab Ride-hailing
ERP charges added onto 'fixed' fare
Fixed
$3
Renting a condo in SG
Agent fee for rent ≤ $3,500, 2 year lease

Condo expenses - new entry passes
1 month's rent

Fixed
$3,530
ETFs trading fee
Investing in STI ETF ($10,750 in value)
Sales Charge 0.3%
Redemption Charge 0.3%
Management Fee 0.5% p.a.
$118.25
Hospital disposables fee
Items used without full disclosure to patient:
- hospital disinfectant
- hospital gown
- nursing and facility fees
- items in operating ward
Fixed
$500
Hiring a maid
Indonesian 'performance guarantee' for maids
Fixed
$6,070
Work permit application fee
Fixed
$30
Work permit fee
Fixed
$30
Settling-in programme(SIP)
Fixed
$75

Optional/good-will wage-raise every 2 years (based on $600 salary)
10%
$60
Medical Examination
Fixed
$80
Airlines
Jetstar Flight
Fixed
$53.92
'Free' paid apps
Ads / IAP, app sells your data
-
-
TOTAL
$10,837.66
I know what you're thinking:
"$10,837.66?! REALLY MEH?!"
Yes, really.
TL;DR: Hidden fees are everywhere!
Online Shopping & Payments
Airbnb Conversion Fee
Here's the receipt when we booked a place in JB: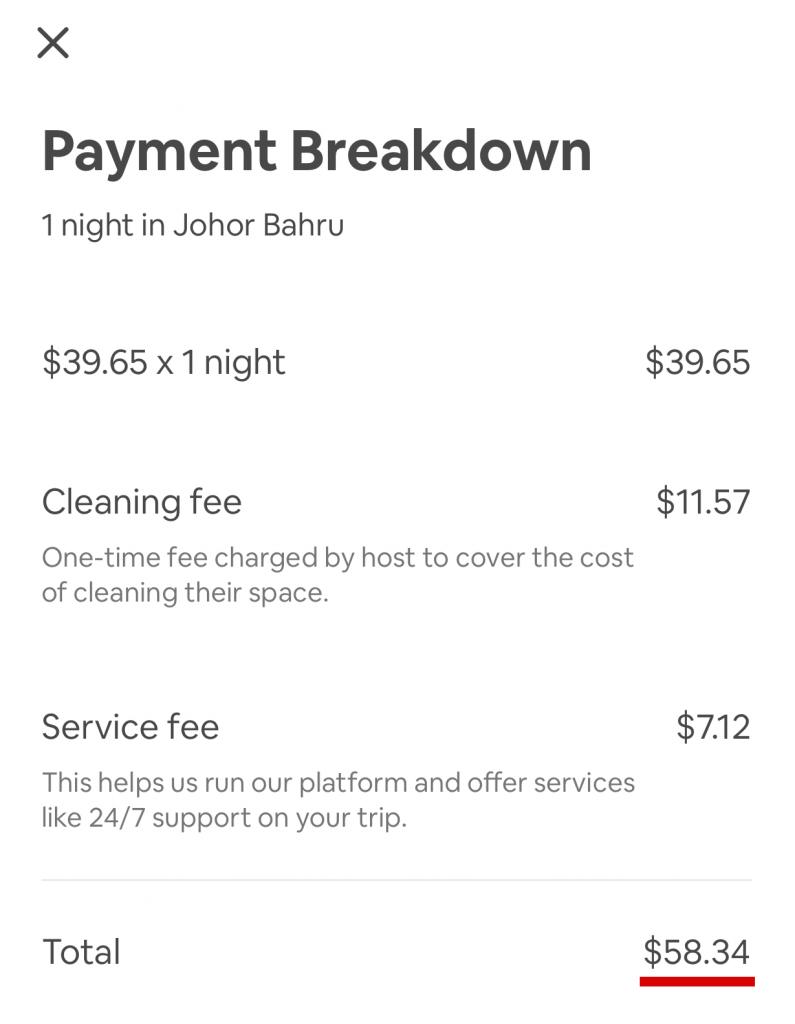 Final price paid was $59.97, almost 3% up from the Airbnb listing price of $58.34.
Another example of a price jump even before getting to the payments page –
Without logging in, the prices for a place in Euros:
Converted to GBP:
The moment you log in and your card details are registered to your account, the price increases from £74 to £77:
Images credit: Shona Ghosh, Business Insider
As shown, Airbnb suddenly jacked up the price to £77, £3 more expensive than what you might expect from the exchange rate.
It isn't particularly clear how Airbnb's math works here but based on its help page, it's a combination of an exchange rate from a fixed service that Airbnb uses plus the 3% conversion fee, and the fact that it converts its own €11 service fee to £11.
We're guessing Airbnb takes the 3% fee to account for its foreign exchange risks.
Credit cards
Overseas transaction fees:
Take note of the fees involved in making online purchases, namely the
Dynamic currency conversion fee (bank-dependent, 1-5%)
When purchasing online (from a seller based overseas outside of the US), the foreign currency will first be converted to US dollar then to Singapore dollar at the point of sale, thus incurring an administrative fee.
Foreign transaction fee (2-3%)
This will incur a 1% charge by the card association and a bank administrative fee of around 1.5 to 2% of the foreign transaction amount.
While some cards like the BOC Visa Infinite or CIMB Platinum Mastercard have no foreign currency fees, other cards offer other perks for overseas use.
| Credit Card | Benefits | Minimum Spending |
| --- | --- | --- |
| American Express Platinum | Lounge access, Free rental car upgrades | NIL |
| BOC Visa Infinite | No foreign currency fees | NIL |
| CIMB Visa Infitnite | 2% cashback | NIL |
| CIMB Platinum Mastercard | 10% cashback + No foreign currency admin fees | $500, with 8 txns of $30 or more |
| Citibank PremierMiles | Airport lounge access twice a year | NIL |
| DBS Altitude Visa Signature | $1=2 Miles (Overseas transaction) | NIL |
| Maybank Horizon Platinum Visa | $1=2 Miles | $400 on air tickets or travel packages |
| UOB Visa Signature | 5% cashback | $1,000 |
Annual fees for Credit Cards:
$128.40 – $192.60 annually
| Card Name | Annual Fee (SGD) | No. of years waived |
| --- | --- | --- |
| OCBC 365 Card | $192.60 (inclusive of GST) | First two years |
| Citi Cash Back Card | $192.60 (inclusive of GST) | First year only |
| HSBC Visa Platinum | $192.60 (inclusive of GST) | First two years |
| Standard Chartered MANHATTAN World MasterCard | $192.60 (inclusive of GST) | First year only |
| Standard Chartered Unlimited Cashback Card | $192.60 (inclusive of GST) | First two years |
| AmericaAmerican Express KrisFlyer | $176.55 (inclusive of GST) | First year only |
| American Express True Cashback Card | $171.20 (inclusive of GST) | First year only |
| HSBC Revolution | $160.50 (inclusive of GST) | First two years |
| DBS Live Fresh Card | $128.40 (inclusive of GST) | First year only |
Many people forget that their 1 or 2 year waiver for the credit card annual fee is over, and pay for these charges without considering if it is indeed time to switch cards or banks.
Some banks incentivise you to pay your credit card annual fee. The Citi PremierMiles Visa Card and the DBS Altitude Visa Signature Card earns you 10,000 air miles every time you pay your annual fee.
Also, missing the payment deadline would mean you end up getting charged a late fee.
PayPal hidden charge
Similar to a conversion fee, Paypal charges a fee to convert currencies for your purchases WITHOUT reflecting it in the receipt breakdown.
Paypal receipt: $236.39
Bank transaction receipt: $243.01
This means that I just paid $6.62 for a 'service fee' NOTHING. And I've been using PayPal for all my ASOS purchases for the past few years…… ):
Pay with a no-foreign-currency fee card instead to save on this!
'Free' delivery on bulky items (e.g furniture)
Absorbed delivery charge (5-10%)
It is already too good to be true: free delivery on your new Sofa set that can barely fit through your door? The truth is, you are paying for delivery, but that delivery cost has long been added into the retail price of the item without you realising.
So the next time a salesperson tries to convince you with "free delivery", don't fall for it, but bargain for more perks like extended warranty instead!
GST charge on purchases
7% GST applies to CIF(cost, insurance and freight) value of ≥$400
GST need not be paid for goods with CIF(cost, insurance and freight) value of ≤$400.
For example, if you purchase an item worth $450 online and ship it into Singapore:
GST payable = $450 X 7% = $31.50
Overdraft or fall-below service fee
You are automatically charged a fee (reflected as 'SC' in bank statements) if your bank account balance falls below the minimum average daily balance.
This is DBS's list of fall-below fees, ranging between $2 – $50 monthly, depending on the account type.
Ride-hailing ERP charge
ERP charges added on top of 'fixed' fare ($1-$5)
For now, let's use Grab as an example. ERP toll is added after ending your trip, and often times drivers do not first notify passengers.
Not all of us are familiar with the roads or ERP operating times and charges.
ERP (not applicable for GrabHitch): ERP is in operation from Monday to Saturday and charges vary according to time and location
Waiting time (5 minutes grace period): Additional waiting time is charged in 5 minutes blocks
Change or addition of drop-off points: Additional distance travelled are charged in 5 km blocks
One way to curb the ERP charge is to provide an alternative no-toll route for the driver, but the decision is ultimately the driver's.
Renting a condo in SG
Condo expenses
Agent expenses (1-month's worth of rent)
Agent fees are paid by the landlord unless there is a tenant's agent as well.
Even then, the tenant pays half the fees only in cases where the rent is above SGD3,500 and there is a 1-year lease. In cases of rent below SGD 3,500 and a 2-year lease, the tenant's agent, if any, collects one month's rental from the tenant. When the rent is below SGD 3,500 for a 1-year lease, the tenant's agent, if any, collects half a month's rental from the tenant.
Living in a condo grants you some fancy amenities that has unprecendented costs charged to tenants.
Condo entry passes, for example, for each resident(when required) can cost between S$10-50, with S$100 or more as security for each pass.
Investments
Exchange Traded Funds (ETF) Investing:
ETFs are popular among new investors as it requires a very basic level of knowledge, and the investor also gains immediate diversification into the stock market at low cost, compared to active funds like unit trusts, mutual funds or hedge funds.
However, it is NOT FREE. You'll actually be paying a few fees, which are deducted off the net asset value (NAV) of the ETF.
Here's the breakdown of approximate fees:
| Investment | Sales Charge | Redemption Charge | Management Fee |
| --- | --- | --- | --- |
| ETFs | 0.3% | 0.3% | 0.5% p.a. |
| Unit Trusts / Mutual Funds | 4% | 4% | 2.0% p.a. |
| Robo-advisory | - | - | 1% p.a. |
Take investing in STI ETF as an example:
| Investment | Gross Returns p.a. | Sales Charge | Redemption Charge | Management Fee | Value of Investments | Amt. Lost to Fees |
| --- | --- | --- | --- | --- | --- | --- |
| STI ETF - $10,000 | 7.5% | 0.3% | 0.3% | 0.5% | $10,750 | $118.25 |
Note that this is a rather imaginary case as people usually don't withdraw their investments after just one year.
Yup, $118.25 lost to fees alone, and this is just a yearly figure.
Hospitals
According to the Health Insurance Task Force, the average bill size at private hospitals has spiralled to almost three times that in the public sector.
What's even more worrying is how difficult it is to obtain a price list of procedures and disposable fees from hospitals.
Disposables fee:
(based on a real receipt from Gleneagles Hospital)
paper panties and hospital gown patient did not ask for ($30)
using items in the operating theatre or ward without informing patient ($30)
nursing and facility fees for dialysis/chemotherapy ($440)
Hiring a Maid
Hiring from an agency
Indonesian maids guarantee (new!):
$6000 performance guarantee + one-time $70 payment
Filipino maids guarantee:
$2000 performance guarantee + one-time payment of $40
Other additional costs:
Work permit application fee ($30)
Work permit fee ($30)
Settling-in programme(SIP) ($75)
Medical Examination ($80)
Optional/good-will wage-raise every 2 years (10%)
Based on real numbers we obtained from a maid agency, here's a breakdown of fees involved:
| One-time fees | Cost (SGD) |
| --- | --- |
| Agency Fee | $800 |
| MOM Work Pass Application | $30 |
| MOM Work Pass Issuance | $30 |
| Transportation fees | $50 |
| Food & Lodging | $80 |
| Medical check up and airport pick-up | $80 |
| 2 years' insurance | $400 |
These costs are usually laid out up front when you go to a maid agency, but are costs that you may not have been aware about.
Airlines
Processing fees and extras:
We all begrudgingly pay for this. Upon checkout, a host of processing fees will be added to the total cost including advanced processing fees.
| Airline | Premium Seating / Seat Selection | Arrival/Departure Fees | Passenger Security Fees | Aviation Levy | Airport Development Levy | TOTAL |
| --- | --- | --- | --- | --- | --- | --- |
| Jetstar | $6 | $0.62 | $30.40 | $6.10 | $10.80 | $53.92 |
| Airasia | $6 | $0.60 | $30.40 | $6.10 | $10.80 | $53.90 |
| Scoot | $7 | $0.62 | $8.00 | $6.10 | $19.90 | $41.62 |
*all prices listed in SGD
"Free" paid apps and software
"Freemium" in exchange for your identity
If you're not paying for it, then you're the product. Termed "freemium", free apps suck your data and sells advertising and insights to people trying to sell you things. So even if you are on an app that you paid absolutely nothing for, you just sold your identity to the internet.
---
Let us know if you have encountered other unusual or often-overlooked hidden charges.
Spread the word and help save everyone some money!
About Ruth Lum
Breaking down 'chim' finance knowledge into manageable pieces so you don't have to.
You can contribute your thoughts like Ruth Lum
here.