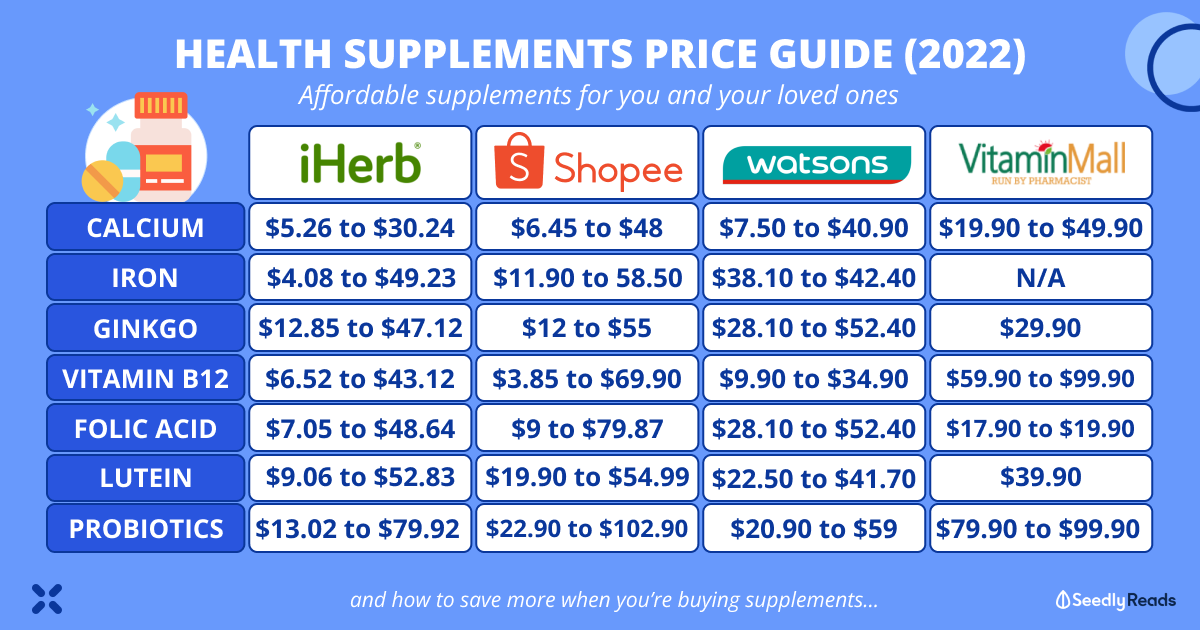 How to Get Health Supplements For Cheap: iHerb, Watsons Vitamin Mall & Shopee Compared
Does this look familiar to you?
Many of us here would've taken this when we were young because our parents forced us to. Thankfully the taste wasn't too bad.
Scott's cod liver is one of the most popular supplements advertised and is said to enhance the immunity of children.
Unlike health insurance which only comes into use when something happens, the consumption of health supplements can be considered a preventive measure to maintain our health.
In Singapore,  taking health supplements is serious business as a 2021 report by Euromonitor predicted that the Vitamin and Dietary Supplements industry in Singapore will grow from S$581.3 million in 2019 to  S$737.3 million in 2024.
Indeed, taking health supplements seems to be a common thing among my social circle just because…we're ageing.
If you're someone who takes your supplements seriously, you should always remember that health supplements are NOT medicine.
Note that the Health Sciences Authority (HSA) does not regulate health supplement imports or assess their effectiveness before they're sold in Singapore.
That said, if you're looking for affordable health supplements, we've prepared a guide for you!
---
TL;DR: iHerb & Platforms To Get Supplements At Discounted Prices, Types of Supplements and Their Average Cost
Supplements (60 tablets/capsules)
iHerb
Shopee
Watsons
VitaminMall
Blue-Green Algae
$47.13 to 71.48
$43.15 to $58.50
$20.44
N/A
Calcium
$5.26 to $30.24
$6.45 to $48
$7.50 to $40.90
$19.90 to $49.90
Collagen
$17.12 to $33.12
$10.50 to $75
$69
$39.90 to $59.90
Evening Primrose
$7.45 to $44.13
$13.80 to $57.72
$26.50 to $35.75
N/A
Folic acid
$7.05 to $48.64
$9 to $79.87
$34.90 to $42.40
$17.90 to $19.90
Iron
$4.08 to $49.23
$11.90 to 58.50
$38.10 to $42.40
N/A
Iodine
$8.57 to $50.21
$19.26 to $71.90
N/A
N/A
Ginkgo
$12.85 to $47.12
$12 to $55
$28.10 to $52.40
$29.90
Ginseng
$7.45 to $43.12
$8.99 to $45.50
N/A
$49.90
Lutein
$9.06 to $52.83
$19.90 to $54.99
$22.50 to $41.70
$39.90
Magnesium
$11.43 to $49.04
$13.99 to $59.90
$23.90 to $72.40
N/A
Omega-3 Fish Oil
$15.64 to $81.96
$22.90 to $48.50
$22.70 to $38.50
N/A
Probiotics
$13.02 to $79.92
$22.90 to $102.90
$20.90 to $59
$79.90 to $99.90
Vitamin B12
$6.52 to $43.12
$3.85 to $69.90
$9.90 to $34.90
$59.90 to $99.90
Vitamin C
$7.14 to $49.97
$10 to $79.90
$22.60 to $69.90
$59.90 to $129
Vitamin D
$7.14 to $64.55
$10 to $39.90
$18.90 to $40.90
$69.90 to $99.90
Zinc
$7.23 to $42.83
$10.50 to $36.76
$24.60 to $44.25
N/A
Shipping Fee
Orders $60 and above: Free shipping, not including duties and taxes
Varies
Orders $40 and above: Free shipping

Note: There is a promotion of free delivery now
Free Shipping on all orders in Singapore and Malaysia
Disclaimer: This list is non-exhaustive. The information provided by Seedly serves as an educational piece and is not intended to be personalised health advice. ​Readers should always do their own due diligence and consider their health and financial circumstances before purchasing any products. If required, speak to a health professional to identify products that are suitable for you. 
---
Click here to Teleport:
---
Common Health Supplements and Their Purposes
There is a huge variety of health supplements, some are good for your general health while some are target specific ailments.
For example, health supplements that are good for our eye health are generally more expensive.
These are the common supplements and why people consume them.
Supplement
Purpose
Blue-Green Algae
Good for people with high blood pressure. Can also be taken as a protein supplement.
Calcium
Calcium is a mineral well-known for its role in bone health. It is good for preventing osteoporosis. It has other functions such as maintaining heart rhythm, muscle function etc.
Collagen
Collagen is a protein in our bodies and provides our skin with structure. It is also said to strengthen our joints, prevent bone loss and improve overall skin health.
Evening Primrose
Promoted for atopic dermatitis (a type of eczema), rheumatoid arthritis, premenstrual syndrome (PMS), breast pain, menopause symptoms, and other conditions. Evening primrose oil may also be included in products that are applied to the skin.
Folic acid
Folate (vitamin B-9) is important in red blood cell formation and for healthy cell growth and function.
The nutrient is crucial during early pregnancy to reduce the risk of birth defects in the brain and spine.
Iron
Iron supplements are most often used for Anaemia and other situations where one is prone to iron deficiency e.g., heavy menstrual periods and pregnancy
Iodine
Iodine supplements are taken to ensure proper thyroid function, preventing goitre and some thyroid disorders. Iodine is also used for pink eye, gum infections and wound healing.
Gingko
Ginkgo has been used in Chinese medicine for centuries. It is used for treating brain and circulatory problems and respiratory conditions. It's now sold mostly as a supplement for memory support or brain health.
Ginseng
Ginseng is touted for its antioxidant and anti-inflammatory effects. People who require regulation of blood sugar levels may be suitable for it. Ginseng may also strengthen the immune system, enhance brain function, fight fatigue and improve symptoms of erectile dysfunction.
Lutein
Lutein is a powerful antioxidant for eye health. It is said to suppress inflammation, enhance the sharpness of vision, improve visual contrast and reduce glare impairment.
Magnesium
Magnesium is used to improve blood pressure, mood, and blood sugar management, as well as a lower risk of developing health conditions such as heart disease.
Omega-3 Fish Oil
Omega-3 fatty acids are said to help lower blood pressure, reduce triglycerides, slow the development of plaque in arteries, and reduce the chance and likelihood of abnormal heart rhythm and heart attack.
Probiotics
Probiotics are taken to help the body digest food, create vitamins, break down and absorb medications and help support the cells that line our guts to prevent bad bacteria we may consume, from entering our blood.
Vitamin B12
Vitamin B-12 is an essential vitamin for our overall health. It helps with red blood cell formation, prevents major birth defects, supports bone health, reduces the risk of muscular degeneration et.
Vitamin C
Just like Vitamin B-12, this is an essential vitamin. It helps reduce the risk of chronic disease, manage high blood pressure and lower the risk of heart diseases. It could boost overall immunity.
Vitamin D
Just like Vitamin B-12 and C, this is essential. Vitamin D supplements are used to treat adults with severe vitamin D deficiency, resulting in loss of bone mineral content, bone pain, muscle weakness and soft bones
Zinc
Zinc may reduce the duration of cold symptoms, support blood sugar management, improve severe and inflammatory acne, decrease heart disease risk, and slow the progression of macular degeneration.
---
Cost Saving Tips For Buying Supplements
There is no definite go-to approach to how you should select health supplements, but one way is to assess your diet based on HealthHub's nutritional and dietary guidance.
Similarly, if you have a family history of certain ailments (e.g., osteoporosis), you may consider taking calcium or joint supplements.
Personally, I hop around international brands such as Blackmores and 21st Century, simply because these are the more reputable brands.
That said, there are other popular brands such as Centrum Advance, AFC, Kordel, Nature's Way, Red Sun and Ocean Health.
If you still can't decide where and when to get your supplements, the tips below should help you make an informed decision based on price.
1. Compare Prices Across iHerb, Shopee, Watsons and Vitamin Mall
Always, always compare prices across multiple platforms.
iHerb, a US company serving customers worldwide since 1996 and shipping to over 185 different countries, is no doubt the most popular and cheapest online platform.
It offers a wide variety of supplements from herbal to standard and specific ones such as lutein for the eyes.
There is FREE shipping for orders over S$60, if not there is a S$6 shipping fee (without duties & taxes).
Aside from iHerb, there are other online platforms that offer standard supplements such as Shopee, Watsons and VitaminMall from the following brands.
Brands
iHerb
Watsons
Shopee
Vitamin Mall
21st Century
Yes
Yes
Yes
Only has these brands: Earth's Creation®, EC Sports, Nutra Botanics®, Nutri Botanics and Organika
Blackmores
Yes
Yes
Yes
Kordel
No
Yes
Yes
Nature's Way
Yes
Yes
Yes
Ocean Health
No
Yes
Yes
Redsun
No
Yes
Yes
Swisse
Yes
Yes
Yes
2. Buy Multivitamins and/or Multi-Minerals Instead
Instead of getting different bottles of vitamins and minerals, I choose multivitamins/multi-minerals because I can achieve a few things by purchasing and eating one tablet/capsule.
Note that this is just a cost-effective way of determining if you should get the supplement or not.
Companies manufacture their supplements differently and there are various compositions that go into one pill.
If you're unsure, consult a pharmacist or health professional before you purchase.
On a separate note, I also purchase my supplements in bundles as it is usually cheaper that way.
3. Pay Attention To Sales Days
You should also pay attention to public holiday dates because this is when prices and vouchers are dropped!
Supplements are bonuses to have, so if you don't need them urgently, be patient and wait till sales day to purchase them at a cheaper price.
Pro-tip: If you're travelling to Australia, I'd suggest that you head to Chemist Warehouse.
Their prices are usually 20-40% cheaper than supplements found in Singapore.
---
Considerations Before You Purchase
1. They are Expensive
Based on the cost guide above, you should've noticed that health supplements can be really expensive.
A typical bottle of Blackmores 60 Lutein eye supplements would easily cost you S$52. One bottle can last you about 2 months, and that is S$312 over a year.
If you're still in your 20s or early 30s, just by exercising and eating healthy, you would've gained enough nutrients and energy to carry through daily tasks.
2. Misleading Ads for Health Supplements
For your information, advertisements for health or dietary supplements do not need to be screened by the HSA before publication.
Despite some claims, results from health or dietary supplements are slow and usually not obvious.
Besides, natural ingredients do not mean that there are no risks.
Overdosing, combining supplements or taking them with some medicines may cause harm.
---
Closing Thoughts
Good health is not something we can buy. However, it can be an extremely valuable savings account.

– Anne Wilson Schaef
Preparing and taking care of our bodies is one way to protect ourselves.
If you're unsure, speak with health care providers about any complementary health approaches you use.
Together, you can make shared, well-informed decisions.
Lastly, make sure you use a credit card when you cart out your health products online to accumulate rewards, cashback or miles.
If you're in doubt on which credit card to use, hop over to our product review page or start a discussion with our friendly Seedly Community!
About Hui Juan Neo
The typical friend you have when it comes to breaking down complex info, comparing prices of things and doing reviews.
You can contribute your thoughts like Hui Juan Neo
here.