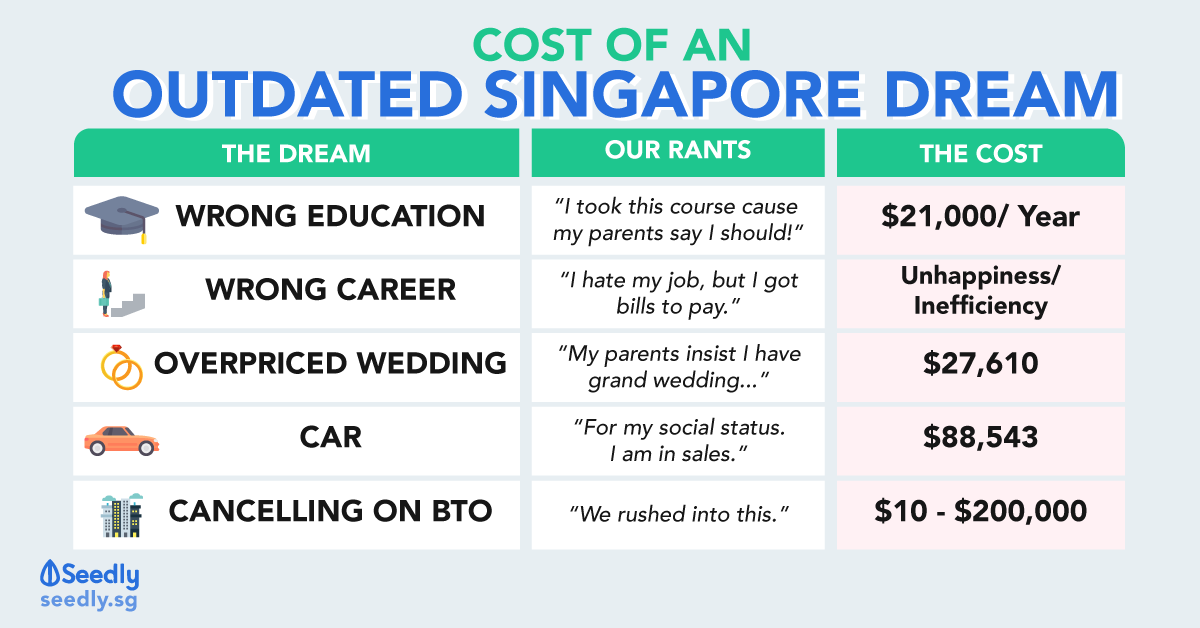 The Singapore Dream
Not so long ago, the ultimate Singaporean dream (at least the one I was well-acquainted with), revolved around the Five Cs: Cash, Car, Credit Card, Condominium and Country club membership.
That was back in the days when my father was still rocking his perms, bell-bottomed trousers and buttoned-down denim top.
Like most good things when intervened by the power of time, that fashion statement got obsoleted alongside with the magic of Madam Wong and Sparks Disco. Yet, one thing got left behind. An outdated Singapore dream.
---
The Cost Of An Outdated Singapore Dream
With the advancement in technology, changing demand for more relevant skill sets, coupled with a lagging education system, we pay a price for this outdated dream.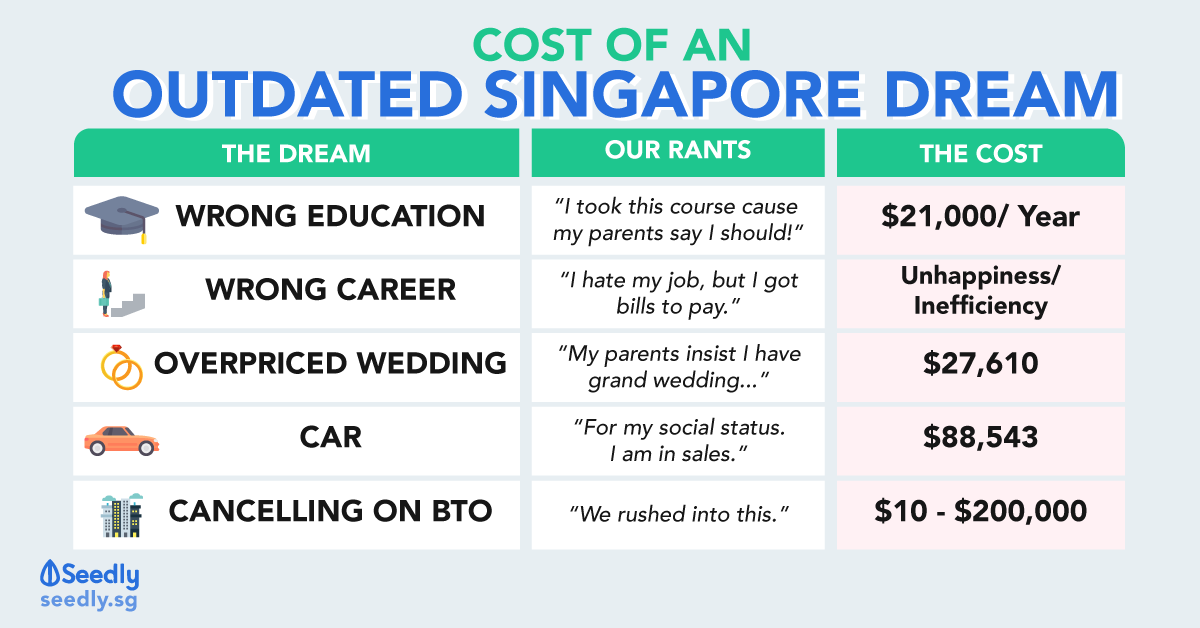 ---
Is This Your Singapore Dream?
Most of us grew up on the Singapore Dream.
Study hard, do well for examinations, get good grades, enrol into a good school, get a good degree, strive to be a doctor, lawyer, engineer, banker and get a good salary. This formula of success was bestowed to us, but who's Singapore Dream was it anyway?
You see, if I were to announce to my parents 8 years ago, that I will not be pursuing a degree in Economics but go for coding courses instead, they would have called me "SIAO" (Hokkien word for crazy).
Fast forward today, a software engineer makes about $88,000 a year while a market risk analyst makes do with $60,000. Whatever happened to our dream?
Most importantly, is this your Singapore Dream?
---
The Singapore Dream, Dead.
Singapore today is an interesting one, where we have various generations of Singaporeans with various definition of success.
Here's an example:
Generations Of Singaporeans
Age In The Year 2019
What Does Those Days Look Like?
What Does Success Look Like?
Traditionalists
Above 74
Surrounded by Kampung houses, cooking with firewood. Night-soil workers were a thing.
Success would mean being able to survive comfortably.
Baby Boomers
Age 55 - 73
Saw how Singapore transformed into one of the world's most prosperous nations.
Having a stable paying job.
The all famous 5Cs (Cash, Car, Credit Card, Condominium and Country club membership)
Generation X
Age 39 - 54
Millennials
(Generation Y)
Age 22 - 38
Sandwiched Generation
Success is now a conflict between what their parents expect of them and what they really want.
The Singapore dream originated sometime during the Baby Boomers and Generation X period and is now becoming seemingly less relevant in Singapore's context today.
This difference can be better demonstrated in the way each generation invests $10,000.
What do they invest in?
Millennials
(18 - 34 Years Old)
Generation X
(35 - 54 Years Old)
Baby Boomers
(More than 55 Years Old)
Real Estate
15.1%
14.6%
11.2%
Pay Down Debt
22.4%
25.3%
33.1%
Education
9.9%
1.1%
0.3%
Children's Education
6.3%
11.3%
2.8%
Stocks
6.6%
8.1%
6.7%
High-Yielding Saving Account
7.7%
10.8%
17.1%
Virtual Currency
9.2%
4.0%
3.1%
401K
(CPF for Singaporeans)
8.5%
9.4%
11.5%
Own Business
6.3%
6.7%
5.6%
Others
( Not sure what to do with it)
8.1%
8.6%
8.7%
Don't get us wrong, doctors and lawyers are still getting paid pretty well. But if each generation has different ideas on where they invest their money, why are we all agreeing to a Singapore Dream formulated long ago?
---
With millennials being the new sandwiched generation, we look at how some of these ideologies that were passed down can be an expensive lesson in today's context.
Cost Of Following An Outdated Singapore Dream That Is Not Yours
This article is borne out of frustration of hearing too many "I don't want to do this, but people say I should…" 
Are millennials today being conditioned to think a certain way which may not be relevant?
Are millennials leading their lives based on induced need from previous generations? With these questions in mind, we look at some of the cost we can possibly save on if we were to live life the way some of us wanted.
Editor's Note: Do note that these are the general consensus we observed. It may not be a good reflection of the majority's point of view.
Education
Who else here went to a Junior College simply because it used to "promise" a higher chance of university, despite being more interested in other courses?
There are a few reasons for some of us taking a certain degree:
I went into a course because that's where my grades can take me
I went into a course because my parents think that a certain industry is stable
Singaporeans spend an average of $21,000 per year on university education. That is the cost incurred if someone takes a degree to learn knowledge which he will never use upon graduation.
A common bad habit amongst Singaporeans will be to take a degree to appease the social pressure of having a recognised degree before they pursue what they really want to do.
This lesson can be costly. On top of the time wasted, an additional course fee incurred will simply add on to the pre-existing student loan. To give a rough idea, a software engineering immersive programme with General Assembly costs $4,550 (after TIPP subsidy).
Career
" I hate my job, but I got bills to pay."
" My degree only allows me to do this job."
Almost one in two Singaporeans are unhappy at work, and salary is not the main factor affecting satisfaction at work.
Wedding
" My parents insist I have a grand wedding when all I wanted was just to ROM and save money on having a banquet."
How do we balance our parents' wedding expectations for us and having our wedding budget?
Social pressure to hold an expensive wedding banquet, where half the attendees are relatives whom you hardly recognise can cost you $27,610 on average.
The median cost of holding a wedding is way higher at $39,500.
Couples then complete the perfect wedding with a luxurious honeymoon destination before coming back to a whole lot of debt and maggie mee diet.
Car
Car as a status symbol is still happening in our society today. Car owners perceive themselves on a higher social status than someone that does not.
With Singapore being one of the most expensive cities to own a car, this social status comes with a price of at least $60,000 to more than $100,000 depending on the car you are getting.
BTO
The pressure to purchase public housing can lead to many wrong decisions that lead to our rash decision to settle down. In recent times, couples breaking up is actually one of the main reasons Singaporeans are giving up on their BTO purchase before the collection of their keys.
Defaulting on your BTO can result in monetary loss ranging from $10 to as high as $200,000, depending on the stage of application which you are at.
---
How To Make Your Dream Yours?
There is a disconnection between what Singaporeans want and what they can attain. On top of that social pressure and stereotypes make settling for something less really difficult. Changes to this outdated Singapore dream may take time, but we hope you keep in mind the cost of it.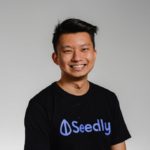 About Ming Feng
A stint in
Bloomberg
gifted me with a beer belly, which only grew larger when I moved on to become a Professional Trader. Now I turn caffeine into digestible finance-related content.
You can contribute your thoughts like Ming Feng
here.