The Best, Worst, & Most Ridiculous Things To Buy At Daiso Singapore
At the risk of sounding like an aunty at the age of 23, I'm unashamed to say that I LOVE Daiso. With its cheery exterior, innovative finds and cheap thrills, what's there to dislike?
So imagine my delight when I was given some time off work to go shopping at one of my favourite places on earth! (Thank you, Kenneth and Ming Feng.)
Armed with my phone camera, I made my way to Plaza Singapura's Daiso outlet. I needed to remain undistracted from the aisles of goodies, so I set out to find some of the best, worst, and most ridiculous things you can get at Daiso Singapore. Here's a list of it!
Best Things To Buy At Daiso: The Most Value For Money Items
Beauty Blender / Makeup Sponge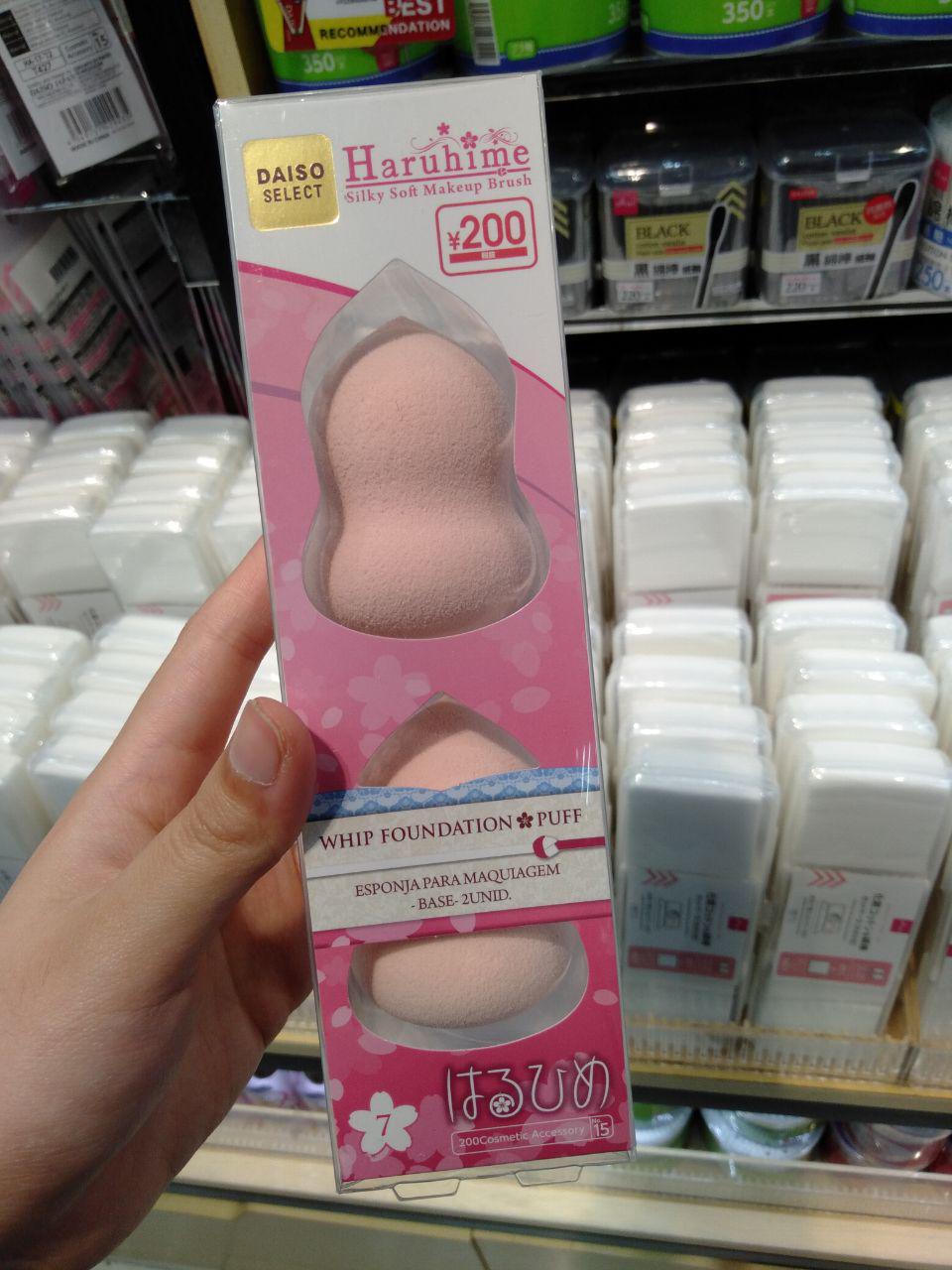 I never understood how girls spend $32 on a piece of sponge. Some may contend that makeup sponges like the original Beauty Blender will give you an 'airbrush finishing' to your make-up, but to me, it feels the same as long as you'd spread your foundation evenly enough.
Then again, I don't put make-up on that often. So, ladies, it's up to you to decide.
What I know, though, is that there are many beauty experts that advocate the use of a makeup sponge. Using your hands may result in a cakey foundation base, especially if the foundation isn't distributed evenly. If you're using foundation or BB/CC cream daily, this is certainly a recommended item.
At $2 per pack ($1 for 1), Daiso's beauty blender is definitely worth a try. You will enjoy great savings (~$30) too if you are happy with the quality of the sponge.
Here are the prices of other make-up sponges across stores:
| | Price | Remark |
| --- | --- | --- |
| Daiso | $2 | Triangle Makeup Sponge/ Powder Puff (10 pcs) |
| Miniso | $3.9 | Triangle Makeup Sponge/ Powder Puff (15pcs) |
| Redmart | $4.9 | Cala Non-Latex Cosmetic Wedges (16 pcs) |
V60 and coffee filter
Drinking coffee is a rather expensive habit, especially if you're into specialty coffee. If you are into making your own coffee, an introductory set-up would be getting a V60 and a filter. If you intend to get those at cafes, here's how much it will cost for a relatively 'standard' set-up:
For beginners looking to brew their own coffee, what if I told you that you can get almost the exact same thing at a quarter of its price?
| | Daiso | Hario |
| --- | --- | --- |
| V60 Dripper (Plastic) | $2 | $8 |
| Filter Paper | $2 (Qty: 90 pieces) | $8 (Qty: 60 pieces) |
| Total | $4 | $16 |
#shoookt. Daiso's filter coffee set saves you a whopping $12! While this may be slightly different from an original V60 drip coffee maker, it works rather similarly. I was so amazed that I bought a set for myself!
Compressed Face Mask (50 pcs)
Ladies, I dare say that this is one of the most underrated things sold in Daiso. Compression masks are both convenient and fun to use.
To use it, all you have to do is soak it in your toner, and it will expand till it is a full-sized face mask. This face mask works exactly the same as a mask you'll get outside, at say, $2 apiece.
Here's how much you can save if you decide to switch to DIY masks:
DIY Mask: Compressed mask pack ($2) + Innisfree Green Tea Toner (rtp $19.25 per 200ml)
Store-bought mask: Innisfree My Real Squeeze Mask- Green Tea ($2/sheet)
Assuming that you use a mask 5 times a week (3 over the weekdays and 2 over the weekends), here's how much you will be spending on masks in a month using either a store-bought mask or a DIY mask:
| | Innisfree My Real Squeeze Mask- Green Tea | D-I-Y Mask From Daiso |
| --- | --- | --- |
| Cost | $2 per sheet | $21.25 |
| Quantity | 20 (5 masks/ week) | 20 (1 mask= 10-15 ml toner) |
| Total Cost Per Month | $40 | $21.25 |
| Excess | Nil | 30 compressed mask tablets. |
Making your own masks by using the compression sheets can save you up to $20 every month on facial care. What's more, this method isn't only cost-saving, it is also more environmentally friendly as you get to save on the extra plastic packaging that's used to pack individual mask sheets!
Is Daiso the cheapest place to get these compressed face mask? Here's a price comparison across other stalls:

| Store | Item (Qty) | Price |
| --- | --- | --- |
| Daiso | 50 pieces | $2 |
| Miniso | 30 pieces | ~$7.60 |
| EZBuy | 50 pieces | $4.10 -$5.70 |
| Lazada | 50 pieces | $5.51 |
Crayons
I deal with kids on a weekly basis, and what I've realised is that kids LOVE variety. For $2 a pop, you can get 48 colorful crayons here at Daiso. If they are of a decent quality, this would be quite a steal, especially when a pack of Crayola crayons costs $10.22 a pack.
Japanese Snacks
Everyone's favourite item at Daiso is arguably the addictive Tohato Caramel Corn. Packaged in a bright, cheery red bag, this plump, cocoon-like crackers packs a delightful punch of caramel. With its light, airy interior, the snack is not cloyingly sweet, making it an addictive snack that's perfect for any occasion.
There are a few places where you can get Tohato's Caramel Corn, though getting it at Daiso will be the most worth it.
| | Price | Remark |
| --- | --- | --- |
| Daiso | $2 | Tohato Caramel Corn (80g) |
| Redmart | $2.5 | Tohato Caramel Corn (80g) |
| Shopee | $3.15 | Tohato Caramel Corn (80g) |
Heat resistant glass lunch box
I pack lunches to work occasionally in a Lock and Lock plastic container. Every time I do so, my mother would shake her head disapprovingly and lament about how the heat from the microwave and the plastic lunchbox is bad for my health. (Disclaimer: This is an opinion from the writer's mother, and not a fact.)
When I found a heat resistant glass lunch box from Daiso, I was rather excited. For $2, it's quite a steal, especially when the cost of glass lunchboxes look something like this:
My biggest qualm about this would be that Daiso's lunchbox is a little smaller than your usual lunchbox. Given that size was a consideration for me, I did not get the lunchbox in the end.
Backrest
This back support mesh was gifted to me by Xin Yi (Ruth) a few weeks ago. For working adults, it is meant to keep your back upright while you work long hours on your office chair.
Perhaps the quality may be different, but for $2 vs $66 for a similar-looking backrest, I'll take the cheaper alternative any day. (Unless Fellowes Black Mesh Back Support would like to sponsor me, haha.)
Box Organisers
Ok. I know that there are cheaper box organizers out there. But WILL YOU LOOK AT THIS GORGEOUS PIECE :"") Great material, great matte finishing, and a nice size. If you choose carefully, Daiso boasts some great quality box organizers that will really give you the bang for your buck.
Worst Things To Buy At Daiso: For $2, These Are Hella' Ex
Hairband
$2 for 2 pieces of hair ties?! I get mine at $4.10 for a pack of 60. For something of similar quality, here's how much you'd save if you buy it online.
| | Daiso Hair Ties | Hair ties from EZ Buy |
| --- | --- | --- |
| Qty | 2 | 60 |
| Cost | $2 | $4.10 + $2.15 (shipping) = $6.25 |
| Cost per piece | $1 | $0.10 |
It costs $0.90 more per hair tie. So for girls who're prone to losing your hair ties every now and then, it will be much cheaper if you purchase in bulk online.
Mats
These thin, low-quality mats are going at $2 apiece. If you're looking to buy mats like these for exercise purposes or for your child's entertainment, you will need quite a few of them, and these may rack up to quite an expensive purchase in the end.
If your intention is to get more than a piece, you may consider buying in bulk at a much more affordable rate.
'Atas' PURE Glucose
Plastering words like "Pure Glucose" and "100% Sugar" on a bright blue packaging doesn't take away the fact that Daiso is charging $2 for a handful of sugar.
Don't be fooled by the nice packaging! Why would I buy a handful of sugar for $2 when I can get a kg of it for $1.50?
Thread
It hardly makes sense to buy 100m of thread for $2. Here's an alternative at $0.38 instead.
Decorative Nail Parts
HAHAHAHAHHAHAHA. I saw this and burst out laughing in the middle of the store. The sample pictures look atas AF but in real life, it really looks like you'd pluck at the remnants of a corkboard and add the small wooden bits into the container.
If you're looking for something to jazz up your nails, here are some alternatives that you can get for less than $2:
| Shop | Price Range |
| --- | --- |
| Qoo10 | $0.85-$1.90 |
| Shopee | $0.74-$1.94 |
Most Ridiculous Items At Daiso: Here Are Some Fun And Interesting Finds
Instant Boobs
Want to have huge boobs and haven't had the chance to experience it? Fear not, Daiso's instant boobs are available for both men and women! Instant Boobs (or as they like to call it in Spanish, Sorpresa! Bomba Sexy), is a toy sold along the children's toy aisle in Daiso.
I don't exactly understand the instructions that are written in Japanese for this, but I reckon it's a little like inflatable balls of ballons that can be stuffed into your shirt. Interesting.
Baby Shitting Squirt Gun
Now, this is something interesting. The "Surprise Toy Toilet" looks as innocent as a baby figurine taking a dump in a toilet. Take the baby out and you will get a rude, squirt in the face with some 'urinal' water. I don't really know what to make of this, but for those who have this, do show us how it works!
Egg Timer
I find this ridiculous, but also really incredibly useful for those who don't know how to cook eggs. If you're not a pro chef, this cute and unique egg time will help you in cooking a soft/medium/hard-boiled egg.
The egg timer indicates the hardness of the boiled egg by having a colour that corresponds to the done-ness of an egg. It works like a little like a thermometer and there are 3 stages – soft, medium, and hard.
How does this work?
Put the egg-timer inside the boiling water, together with the eggs. The pink hue will turn to white when it reaches a stage (as pictured).
Does this really work?
One of the community members from 'We Love Daiso' FB group shared her experience. From the photos, it seems like the egg timer works!
If you don't have the egg timer, fret not. Here are some methods I've tried that work for me- for molten and soft boiled eggs:
| Type | Method |
| --- | --- |
| Soft Boiled Eggs (Yakun/ Toast Box Style) | Boil water, leave it to cool to about 70 degree celsius, put eggs into water and leave it for 15 minutes |
| Hard Boiled Eggs with Molten Center | Put eggs in boiling water, boil for 6.5-7 minutes. |
'Socks' For Your Chair
As cute as these socks are, I really don't see the point in it. A few months ago, my mother bought these to put on the legs of the dining room chairs. It was funny and a little ridiculous at first, but after a while, it got annoying as the socks kept slipping off the chair legs. We spent lots of time fixing the socks back onto the chair.
On hindsight, it would've been much better if we didn't have it.
Jumbo Playing Cards
If you're looking to be real extra, why not get this pack of jumbo playing cards? I personally think that these cards are perfect for large groups, as players no longer need to squint and hover to look at the cards in play. However, it also means that it's much easier for players beside you to take a peek at your cards ;).
Shopping At Daiso In Singapore
I'm not sure about you, but shopping at Daiso is one of my many guilty pleasures. While $2 an item may seem real cheap at first, do keep in mind that not every item will give you the bang for your buck. So remember to shop smartly, and have fun while you're at it!
Love Daiso? Here Are Some Great Communities You Can Join.
Daiso is also a great place to be if you're into Do-It-Yourself items. If you're an avid Daiso shopper, or if you love finding innovative ways to create DIY items using Daiso products, here are a few communities that you can join to meet like-minded people!
Are there any interesting things from Daiso you'd like to share with me? Let me know in the comments below! You can also ask any shopping-related questions on this Seedly QnA Page!
Seedly QnA: You Can Discuss Shopping Related Questions Here!
About Rachel Yeo
Breaking down complicated financial pieces into idiot-proof articles.
You can contribute your thoughts like Rachel Yeo
here.