The Damage When Purchasing The Products Your Favourite Influencers Promote
We all have at least one influencer that we follow on social media, I personally adore Sonia Chew and there is any way I can meet her and hang with her, I SURE WOULD!
I personally take the opinions of influencers' on products with a pinch of salt, especially if they are sponsored. You don't want to believe everything that they vouch for! Remember when influencers were promoting dubious investments?
Who Are Influencers?
Influencers are people who usually have a large amount of following that is believed to have the power to influence many people through social or even traditional media.
What is Influencer Marketing?
The sponsored posts that are done by influencers that you see. That is an example of influencer marketing. These sponsored posts usually consist of testimonial advertising where they share their own experience.
Disclaimer: This post is not sponsored. Links linked here are not affiliated links.?
---
What Do They Promote and Their Alternatives?
Just because they have shared their testimonies with you and it is A GREAT PRODUCT doesn't mean you got to have it.
Some of these products that I am about to mention are REALLY EXPENSIVE and they are commonly promoted.
There are dupes that work as alternatives which help you to save a couple of bucks!
TL;DR, Total Damage = S$1,196.60
Dyson Supersonic Hair Dryer – S$599
SK-II Facial Treatment Essence – S$191
Daniel Wellington Watches – S$179
FOREO Luna Mini 2 – S$225
Total Damage on Your Wallet:  S$1,196.60
---
1. Dyson Supersonic Hair Dryer
5-9-9. FIVE. HUNDRED. AND. NINETY. NINE. DOLLARS.
What you are paying for is a motor that looks after your hair that isn't just an ordinary hair dryer but it produces a high-speed jet focus air for fast drying and precision styling. Dyson's engineering is just superb.
And that's a whole lot of technology to dry your hair under 5 minutes.
Dyson Supersonic Alternatives
An in this example, a simple alternative would help you save a couple of HUNDRED bucks. Some examples to name a few:
Dyson Supersonic Alternatives
Price
(S$)
Philips HP8233 ThermoProtect Ionic Hair Dryer
59.90
Tefal HV1342 1400W Hair Dryer
20.90
REMINGTON D3010 Power Dry 2000W Hair Dryer Ceramic Ionic Grille
31.90
*Prices are found on Lazada and are subjected to change.
The one I am currently using is
 Philips Essentialcare Compact Hair Dryer that cost me S$20.90 from Shopee.
It does take me years to dry my ridiculously-long hair but it is super small and I can bring it everywhere I go. I can afford years but I can't spare S$599 for the Dyson Supersonic Hair Dryer for now.
2. SK-II Facial Treatment Essence
According to their website, SK-II Facial Treatment Essence has over 90% PITERA to transform all five dimensions of your skin to crystal clear.
What is an Essence?
Basically, a liquid moisturiser. Essences are applied after using your toner.
SK-II Facial Treatment Essence Alternatives
Alternative 1: Missha Time Revolution First Treatment Essence Intensive Moist (150 ml)
Just google "SK-II Facial Treatment alternatives" and you will see tons of comparisons with Missha Time Revolution!
Price: S$23 on Shopee
YOU SAVE S$168
You can use 8.3 bottles of Missha for the price of 1 SK-II Facial Treatment Essence)
Alternative 2: INNISFREE Soybean Energy Essence
Slightly expensive, but this is another not so popular alternative to the SK-II Facial Treatment Essence. What it claims to do: provides a healthy balance of radiance, cleanliness, elasticity and moisture.
Price: S$34 on Lazada
Price Difference: S$157
Turnover Ratio: 5.6 times (You can use 5.6 bottles of INNISFREE Soybean Energy Essence for the price of 1 SK-II Facial Treatment Essence)
3. Daniel Wellington Watches
The Classic Petite, Cornwall in 28mm is priced at S$179 on their website. (It's the cheapest one!)
A whopping S$179! With that money, I could be able to get a smartwatch like a Fitbit Alta HR!
If I am not wrong, you are able to get it cheaper on Lazada, Shopee, Qoo10 etc., however, I am not sure of the authenticity.
With over 4 million followers and growing on Instagram, Daniel Wellington practically had almost every influencer available promote their watches, but that was their marketing strategy and it worked!
I dare say you must have seen an influencer you follow promote a Daniel Wellington watch (next time it might be me, *wink)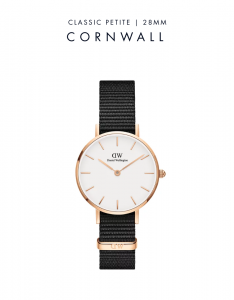 Daniel Wellington Watches Alternatives
You may place huge importance on the watch you wear, maybe because it shows you want to flaunt your social status or if your job requires you to face clients or for investment purposes. And if flaunting your social status or for investment is what you want, Daniel Wellington watches should not be what you look for.
There was a discussion on Quora that I really like, and I quote,
Daniel Wellington is selling quartz watches ranging from $135 to $229 with a basic Chinese quartz movement. For less than that, you could have a nice little automatic watch like a Seiko5 for example. If you add a little more money, you could even find a Swiss mechanical watch with a vintage Omega for example. I enjoy having a "real" watch with a little mechanical heart beating, Daniel Wellington watches simply don't have any soul.
I love omega watches but it's going to be a long journey before I can afford one without disrupting my journey to financial independence. Well, to each her own.
4. FOREO Luna Mini 2
I don't understand the hype behind using an automatic face brush and massager. Do let me know if you have tried it and if it worked for you! It really piqued my interest!
FOREO Luna Mini 2 Alternatives
I don't know, maybe YOUR HANDS?
Okay, joke aside. If you are really looking for alternatives, I have some but they are manual versus the automatic vibrating silicone.
FOREO Luna Mini 2 Alternatives
Price
(S$)
IUIGA Sonic Silicone Facial Cleansing Device
23.90
Aprilskin All Kill Pore Brush
16
Medicube Pore Brush
19
*Prices are from Guardian.
I am currently trying out the Medicube Pore Brush, it works in removing some dead skins and blackheads. Would having an automated one work better?
The Community has shared with me a popular alternative for that would be the IUIGA Sonic Silicone Facial Cleansing Device! Looks almost identical and on their website, it claims to be from L'Oreal's Manufacturer. HOW COOL IS THAT?
---
Well, not all of the products that Influencers advertise for are expensive! Here is an example that I have found:
MARIGOLD Peel Fresh Juice Drink
Easily available at any supermarket here in Singapore or also online platforms to get your groceries.
As we can see, a lot of brands and business are venturing into influencer marketing for a bigger reach. So we have to do our own due diligence to see if the products they vouch for is worth your money!
How much would you have spent if you live like them?
A total of S$1,196.60!
If you can afford to live lavishly like that, go ahead. I wouldn't! If you really want to get them, remember to use the right credit card for your miles or rebates, you can get cashback too by shopping through Shopback!
But if you can't, be mindful of what you are spending your money on. Please don't make your future-you regret your current decision.
If you have more questions, we have an open community for you to get your questions answered and to hear from different perspectives. Check out our blog for more unbiased opinions on your personal finance journey.
Share with me 'what products are you constantly being bombarded by your favourite influencers?' by commenting below!
I'll see you in the next one, and until then, may the Personal Finance force be with you!
About Cherie Tan
Turning finance into boba-sized pieces. One iced milk boba tea, please!
You can contribute your thoughts like Cherie Tan
here.