I recently had the chance to speak to a celebrity (well… kind of) who shared about her proposal AND wedding on a remote island of Fiji.
While that would immediately tick the box of "top-notch romantic (and VERY expensive) wedding locations", a more realistic and plausible dream destination wedding for Singaporeans would usually be more along the lines of Bali or Phuket given the cost considerations and what-nots.
While an "average" wedding in Singapore would set you back by a whopping $27,610.
The cost of holding a "budget" wedding in Bali might actually be more affordable than having a lavish banquet here!
But the cost of a Bali wedding has definitely gone up over the years… So how much would it cost now? And just for the fun of it, how much would a more luxurious one cost?
Let's find out!
TL;DR: Would You Pay $28,895 For A Wedding In Bali?
Hosting an 'average' wedding in Singapore costs about $27,610
Hosting a wedding (for 30 people including immediate family) in Bali could cost between $5,000 to $20,000 inclusive of

Flights
Accommodation
Wedding Bands
Wedding Package
Pre-Wedding and Actual Day Photography
DJ Services
Budget Wedding
Cost (SGD)
Lavish Wedding
Cost (SGD)
Flights
10 Pax (Immediate Family)
$1,750
30 Pax (All guests)
$5,250
Accommodation
Intercontinental Bali Jimbaran Deluxe (3 pax/room)
$2,320
The Ritz Carlton Junior Suite (2 pax/room)
$5,085
Wedding Bands
Basic wedding bands
$800
Poh Heng Diamond Wedding Bands
$1,290
Wedding Planner
The Seven Agency
$3,557
Ritz Carlton In-Villa Wedding
$10,970
Dinner Reception
Buffet Catering
$1,020
Sit-down Dinner
$5,700
DJ services
3-hour set
$600
3-hour set
$600
TOTAL
$10,047
$28,895
Note: All prices are in SGD unless otherwise stated.
---
Flights
Assuming you are hosting a weekend wedding so that your guests are able to attend it without having to use their annual leave, a return flight to and from Denpasar, Bali on the 18th to 20th of October would cost $175.
This rate will fluctuate between $175 to $290 during peak periods.
In order to keep within budget, couples will often pay for their immediate family members' flights.
For their other guests, you can choose to pay for their accommodations so that they would only need to pay for their own flights. Or vice versa – depending on which makes sense.
Assuming you have to pay for 10 immediate family members' flights via a budget airline.
Budget Wedding: $1,750
On the other hand, couples who are more generous and wish to throw a bigger party by flying in 30 guests (including their immediate family members)…
Luxury Wedding: $5,250
---
Accommodation
If you seek to exchange your vows and toast to your newly wedded life at some ulu scenic cliff north of Bali, then expect accommodation prices to be a cut above what you'd usually pay for as compared to areas in southern Bali like Jimbaran Bay and Seminyak.
For example, Intercontinental Bali's Jimbaran Deluxe Room (3 pax/room) goes for $232 per night.
Because you're paying for 10 immediate family members' accommodation…
Budget Wedding: $2,320
If you're considering something a little ritzier, The Ritz Carlton's Junior Suite (2 people to a room) goes for $339 per night.
Luxury Wedding: $5,085
---
Wedding Package
When it comes to budgeting for a wedding, there are several all-inclusive wedding packages available that takes care of decor, make-up, photo & videography and even legal wedding arrangements (a.k.a signing of papers).
People usually opt for wedding packages just to minimise the stress of tying together all the different components of a wedding – that's what wedding planners are for.
Based on a preliminary quote by The Seven Agency, their Lake Wedding Package costs USD$2,590 ($3,557), while The Ritz Carlton Bali's In-Villa Wedding costs $10,970++.
Curious? Here's what each package includes:
Wedding venue:
Pre-Wedding:
Special Inclusions:
Actual Day:
Wedding Decor:
Est. Costs
Luxury lake-view villa
• Personalised consulting by your wedding planner
• Pre-wedding meeting-presentation
• Bridal preparation room
• Romantic night in luxury lake-view villa
• Candlelight dinner
• Premium photographer with assistant (3 hrs)
• Professional make-up artist
• Team of highly experienced organizers
• Return transfer
• English speaking celebrant
• Personal wedding butler
• Special welcome drink
• Decorated fruits basket
• Customised background music
• Cake top flowers of roses and delicate leaves
• Bottle white wine
• Commemorative certificate
• Vintage charm decorations 
• Altar table
• Rustic bridal bouquet and boutonniere
• 2 aisle markers to match vintage door-arch
• Petal path of white flowers petals
• Flower shower & pillow for rings
• Decorated glasses
• Welcome board
• Props for photosession
SGD 3557
The Ritz Carlton In-Villa Wedding
-
• Two night stay at Ritz-Carlton, Cliff Villa
• Usage of two preparation room for the bride & the groom
• Ritz-Carlton Signature Cocktail Welcome drink for up 30 person
• Scented Oshibori for 30 persons
• Christian blessing or commitment wedding ceremony
• Marriage priest or celebrant
• Duet with Violin & Cello
• Wedding certificate in Ritz-Carlton Bali special designed folder
• Wedding toast with champagne for the wedding couple
• Ritz-Carlton Signature Wedding Cake
• Dedicated Wedding buggy for the bride & the groom
• Ritz-Carlton, Bali Wedding Sign Board & Registration Book
• Ritz-Carlton, Bali Signature Bouquet & Boutonniere for wedding couple
• The Ritz-Carlton flower girls and umbrella boys
• Special Ritz-Carlton Flower Arrangement with decorated chairs for 30 person for the wedding ceremony
• Fresh Flower Walkway and Shower
SGD 10,970++
Budget Wedding: $3,557
Luxury Wedding: $10,970++
---
Dinner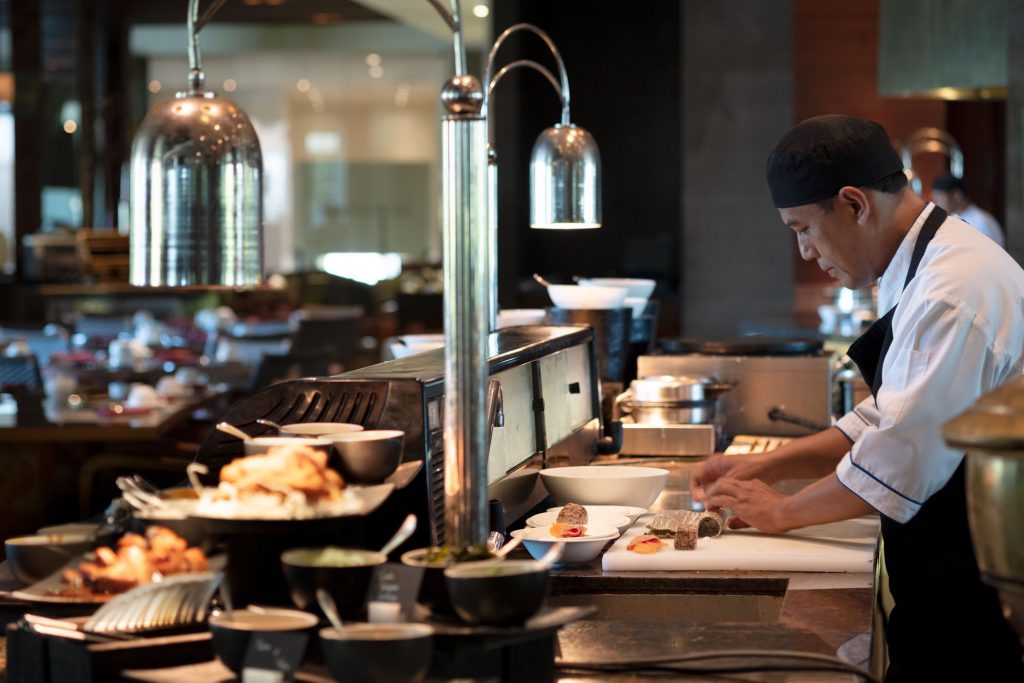 Getting a whole team of banquet staff to bring out dishes with dry-ice smoke billowing everywhere – like they do during hotel banquets in Singapore – is probably a little expensive overseas.
Considering that your wedding is being held on an island known for its beach resorts, a buffet catering spread – which goes upwards of $34 per pax – would be a good relaxed option for your celebration.
Budget Wedding: $1,020
Another option would be to have a proper sit-down, 8 to 10-course dinner.
This could cost up to $190 per head at The Ritz Carlton Bali.
Luxury Wedding: $5,700
---
DJ Services
This one's not a must, but what are weddings without good music?
A quick check online reveals that DJs usually charge an average of $200 per hour.
Budget/ Luxury Wedding: $600 (for a 3-hour set)
---
So How Much Does a Dreamy Bali Wedding Cost?
After totalling the costs, you can expect to spend between $10,047 to $28,895 in total for your big day.
Should You Host A Local  Or Destination Wedding?
While it is almost every Asian parents' dream to invite their friends and extended family whom you've probably never met before in your life, having your wedding in Bali could also help to keep things intimate and cozy for you and your partner on this special day.
About Ruth Lum
Breaking down 'chim' finance knowledge into manageable pieces so you don't have to.
You can contribute your thoughts like Ruth Lum
here.