Singapore's $1.23B Drug Crime Industry Isn't Talked About Enough
In Singapore, many things are taboo: the birds and the bees, same-sex marriages and relationships (though that's slowly changing), euthanasia, and strong opinions on religion or politics. Up until recently, mental health fell in this category, too.
Then there're drug crimes, which were valued at some $1.23 billion in a 2015 NTU study.
The sum factored in the salaries that convicted abusers could've earned during the length of their imprisonment, as well operating costs at key anti-drug agencies including the Central Narcotics Bureau (CNB), Drug Rehabilitation Centre (under Singapore Prison Service) and Singapore Narcotics Association (SANA).
This estimate, however, notably excluded the intangible costs pegged to drug crimes — such as the emotional trauma inflicted on an abuser or trafficker's family, debt, lost lives or loss of productivity to society.
What Defines Drug Crimes?
To be clear, drug crimes refer to the consumption, possession, sale, trafficking or manufacturing of illicit substances.
The local media covers the scene with fair regularity — from reports on local or regional drug haul seizures to motivational stories of former addicts, and the resources in place for those in recovery.
These, helped along by a multitude of anti-drug movements such as the National Anti-Drug Abuse Campaign, aim to discourage deviation through public education.
Except measuring the efficacy of such efforts remains in question.
In 2019, the CNB seized an estimated $6.3 billion worth of drugs across close to 1,500 raids. Some 3,524 users were also arrested — of which 63% comprised meth users, with the majority under the age of 30.
It marked a new high (ha, ha) over a six-year period, showing off the changing profile of drug users in Singapore; specifically, students and young professionals who possessed more lax attitudes towards casual drug use.
Such were the results of a 2016 survey by the National Council Against Drug Abuse (NCADA), although it isn't exactly news.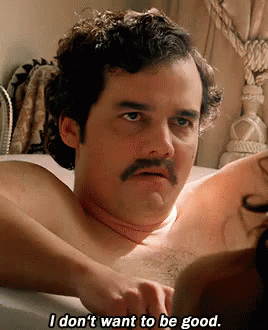 If anything, the statistics are only proof that anti-drug campaigns with tired, fear-mongering messages about the consequences of drug abuse no longer carry the same effect.
But let's first put aside the drug abusers and return to the crux of things: what draws suppliers and drug traffickers to risk foot and limb for lucrative streams of income?
The whole thing smacks of greed, though you'd hardly blame them.
Like Colombian drug baron-turned-narcoterrorist Pablo Escobar — whose story spawned Netflix's Narcos, a crime-drama series I religiously devoured for all of two weeks — the promise of money blinds and binds all involved parties.
Despite the questionable (or limited) efficacy of anti-drug campaigns, it can't be denied that public education has its merits, except these only work under the right circumstances.
But I'm not about to rehash the same old argument.
In further out regions like the Caribbean, where overfishing has caused a strain on fishermen's pockets, more are turning to smuggling illicit drugs to fill the gaps.
The repercussions of cross-border organised crime are great, yet the allure of money is greater.
Death, A Heavy Price
Singapore's drug penalties have often been called draconian; in November 2019, a Malaysian drug trafficker was meted the death sentence for attempting to bring 16.56 grams of pure heroin into the city-state.
The decision incited Malaysia's Law Minister Datuk Liew Vui Keong to comment – in the most politically correct way he could manage, of course — on how low-level drug mules ought to be given clemency.
But before we even begin contending whether capital punishments are an effective deterrent, here's a look at Section 17 of the Misuse of Drugs Act (MDA), and the corresponding death penalties for certain drugs.
Drug Type
Presumed Trafficking (until proven innocent)
Death Penalty
Methamphetamine (Meth)
25g
250g
Cocaine
(Coke)
3g
30g
Cannabis
15g
500g
Cannabis Mixture
30g
500g
Cannabis Resin
15g
100g
As death sentences are slowly being weeded out the world over, Singapore dealt 13 executions by hanging in 2018, of which 11 were for drug-related offences.
It's true that dealing the death penalty to drug mules wont eradicate the root cause — specifically, drug lords sitting on billions of dollars in unpaid tax money.
Rather, Singapore's heavy-handed laws appear a benevolent means of discouraging drug-related offences and recidivism (read: repeat offenders).
Elementary, My Dear Watson?
Whether you consider the death penalty archaic or not, though, a more pressing discourse lies in anti-drug laws – and if they inevitably serve to benefit suppliers and pushers, who enjoy hefty profits at the expense of reliant drug users.
In fact, the Asia-Pacific region is the hotbed of the world's largest meth market, which the United Nations Office of Drugs and Crime (UNODC) values at up to $84.5 billion (US$61.4 billion).
These numbers only form part of the staggering underground economy, whose sole purpose is to churn supernormal profits.
Just think: transnational crime syndicates are intertwined in the business of prostitution, supersized gambling rings and mass drug production, to name a few — all to feed a growing market's insatiable addiction to their deviant indulgences.
The resulting impact on the world economy — through billions of dollars funnelled into rehabilitation, policies and research, psychological and investigative units and raids — are scarily innumerable, and an unsolvable narrative that fascinates me.
Through the sum of these parts, the multibillion-dollar drug crime industry will only continue to flourish, no thanks to the gradual but steadily growing taste for illicit substances.
About Rebecca Liew
Lactose-intolerant, but also BS-intolerant. Having written for the likes of Marina Bay Sands and Time Out, I now spend my days saving up for my stationery shop retirement dream.
You can contribute your thoughts like Rebecca Liew
here.