3 Things About Elite Commercial REIT (SGX: MXNU) That Investors Should Know Right Now
Elite Commercial REIT (SGX: MXNU), which was listed on 6 February 2020, is the first and only UK-focused listed real estate investment trust (REIT) in Singapore.
Let's look at three things that investors should know about the REIT right now.
These will include updates on Elite Commercial REIT's portfolio, its latest earnings, and its valuation.
Elite Commercial REIT Has a Resilient Portfolio
Elite Commercial REIT's portfolio consists of 97 largely freehold commercial properties located across the UK.
Of the 97 buildings, 96 of them are freehold in nature while the remaining is on a long leasehold tenure expiring on 19 May 2255.
More than 99% of Elite Commercial REIT's portfolio is leased out to the UK government via The Secretary of State for Housing, Communities and Local Government.
Those properties are largely occupied by the Department of Work and Pensions (DWP), which is the UK government's largest public service department, responsible for crucial welfare, pensions and child maintenance services.
The way the leases are structured benefit Elite Commercial REIT.
The REIT's tenant, which is the UK government, is responsible for the full maintenance and repair of external, internal and structural format of the properties while the landlord, which is Elite Commercial REIT, has no repairing or insuring liability.
The leases also have built-in rental upside due to inflation-linked rental uplifts.
The leases to the UK government come with rent reviews in the fifth year based on the UK consumer price index, which is a measure of inflation.
The reviews, with the first being in 2023, is subject to an annual minimum increase of 1% and a maximum of 5%.
Elite Commercial REIT's portfolio is 100% occupied, as of 31 December 2020.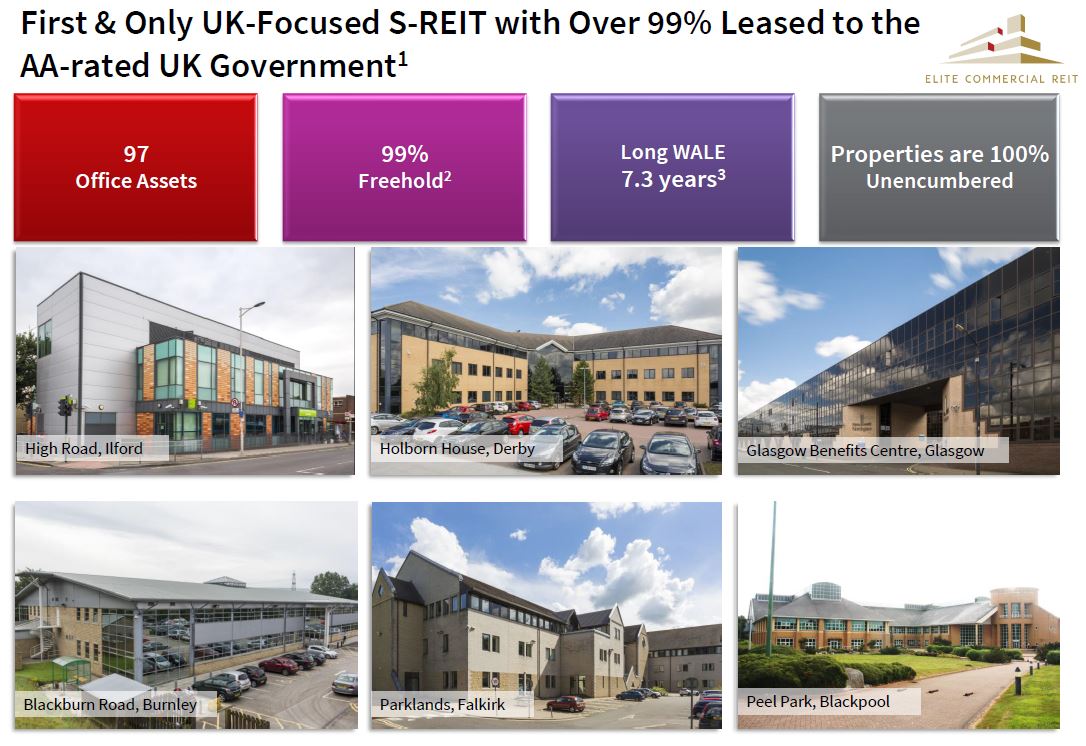 Elite Commercial REIT's portfolio is set to expand going forward.
The REIT's manager will acquire 58 UK commercial properties for £212.5 million, its first acquisition since its listing.
The acquisition is expected to increase the REIT's distribution per unit (DPU) yield by 3.2%, with a 67% expansion in portfolio size, and a 57% growth in market capitalisation.
Overall, the REIT will maintain its 99% exposure to the UK government while diversifying its occupier mix to government agencies in addition to the DWP.
Elite Commercial REIT's DPU Better Than Expected
Elite Commercial REIT recently announced its financial results for the reporting period from listing date to 31 December 2020.
As compared to its initial public offering (IPO) forecast, revenue for the period was lower by 0.1% to £21.0 million.
However, income available for distribution to unitholders and DPU increased.
DPU for the reporting period was 4.44 pence, up 2.3% from the IPO forecast of 4.34 pence.
Despite the UK lockdowns arising from COVID-19 and Brexit, the REIT collected almost 100% of rents in advance for the period from January to March 2021.
DWP's resilient operations lend stability to the REIT as well.
Shaldine Wang, chief executive of the REIT's manager, explained:
"Our uniquely counter-cyclical occupier, the Department for Work and Pensions ("DWP"), which provides essential social welfare services and infrastructure, has seen its claimant count more than double to 2.7 million in November 2020 and increased utilisation of its services. 82.5% of the assets in the REIT's portfolio are used by the DWP to provide key front-of-house services, primarily Jobcentre Plus unemployment services which have increased in importance given the economic impact of COVID-19. We remain positive about the REIT's ability to continue to generate attractive and recession-proof cashflows, backed by UK Government tenants with high credit quality."
As of 31 December 2020, Elite Commercial REIT had a gearing ratio of 31%, below the 50% regulatory limit and the 40%-mark I look out for in REITs.
Elite Commercial REIT's interest coverage ratio remained healthy at 7.7x as well. I like interest coverage ratio to be above 5x for REITs.
In addition, Elite Commercial REIT has no refinancing requirements till 2024.
Elite Commercial REIT Doesn't Look Overvalued
Elite Commercial REIT ended off 2020 with a net asset value of £0.65 per unit.
Therefore, at a unit price of £0.67 at the time of writing, the REIT is trading at a price-to-book ratio of 1.0x and an annualised distribution yield of around 7%.
With stable long-term leases backed ultimately by the UK government, decent growth prospects, and attractive valuation, Elite Commercial REIT could be a strong addition to an income investor's portfolio.
Want to Discuss Further?
Why not check out our community at Seedly and participate in the discussion surrounding REITs like Elite Commercial REIT and many more!
Stock Discussion on Elite Commercial REIT
Disclaimer: The information provided by Seedly serves as an educational piece and is not intended to be personalised investment advice. ​Readers should always do their own due diligence and consider their financial goals before investing in any stock. The writer may have a vested interest in the companies mentioned.
About Sudhan P
It isn't fair competition when only one company in the world makes Monopoly. But I love investing in monopolies. Before joining the Seedly hood, I had the chance to co-author a Singapore-themed investment book – "Invest Lah! The Average Joe's Guide To Investing" – and work at The Motley Fool Singapore as an
analyst
.
You can contribute your thoughts like Sudhan P
here.