8 Things I Learned From the 2020 Wilmar International (SGX:F34) AGM
Wilmar International (SGX: F34) is an integrated agribusiness company with business activities in oil palm cultivation, oilseed crushing, edible oils refining, sugar milling, manufacturing of consumer products, as well as flour and rice milling.
Wilmar's integrated agribusiness model encompasses the entire value chain of the agricultural commodity business including cultivating, processing, merchandising, and manufacturing a wide range of branded agricultural products.
Since a fall in Wilmar's share price due to the COVID crisis, it has rebounded by more than 30% from its March low to $3.82 today (as at 19 June 2020).
I was curious whether COVID-19 had an impact on Wilmar's business since it operates in the essential agri-business industry.
Hence, I tuned in to Wilmar's virtual AGM to find out more and how the company performed in FY2019.
So here are 8 things I learned from Wilmar's 2020 AGM:
1. Wilmar's Decrease in Revenue
Wilmar's revenue decreased by 4.2% to US$42.6 billion.
Although Wilmar's sales volume increased by 3.8% in FY2019, its total revenue was hampered by lower commodity prices in FY2019.
On the other hand, despite a drop in revenue, net profit increased by 15.0% to US$1.3 billion in FY2019.
The increase in net profit was led by the Tropical Oils segment which reported a 54.1% increase in profit. This was due to strong performances in the segment's merchandising activities and downstream processing margins.
Wilmar's Oilseeds & Grains segment was affected by the African swine fever outbreak in China, partially causing the segment to record a 27.2% decrease in profit in FY2019. This explains the drastic shift in the respective segments' share of profit in FY2019.
2. Wilmar's New Revenue Segment Classification
From Q1 2020, Wilmar will report a new revenue segment classification to better reflect Wilmar's core businesses.
Prior to this, Wilmar reported five business segments mainly based around different agricultural commodities: Tropical Oils, Oilseeds and Grains, Sugar, Others, and Associates and Joint Ventures.
From Q1 2020 onwards, Wilmar's four reporting segments will now be based on the types of products: Food Products, Feed and Industrial Products, Plantation, and Others.
3. Wilmar's Resilience Amidst COVID-19
Wilmar was not and is not expected to be significantly affected by COVID-19.
As the company operates mainly in the food products industry — which is an essential service — the restrictions and lockdowns caused by the pandemic are not expected to have a major impact on its business. Household consumption for Wilmar's products increased with movement restriction measures globally — demand for Wilmar's consumer products (e.g. rice, flour, and cooking oil) increased by 35% Year over Year (YoY) in Q1 2020.
However, the Group saw a 20% reduction in demand for its medium pack and bulk products, which are mainly for Hotel/Restaurant/Catering (HORECA) and food processing industries, as fewer people dined out.
Nevertheless, COVID-19 has led to increased volatility in the commodities markets and has made Wilmar's operating environment more challenging, especially in China, where Wilmar derived 55% of its revenue from in FY2019. COVID-19's impact on Wilmar's supply chain is not expected to be significant.
4. Wilmar's Business Outlook Amidst These Uncertain Times
CFO Charles Loo gave an outlook on Wilmar's business amidst such uncertain times.
He shared that Wilmar's consumer products business is expected to continue its strong growth in Q2 2020 as households continue to ramp up its demand for consumer products due to movement restrictions.
On Wilmar's HORECA business, he shared that the easing of lockdown measures globally, especially in China, will see its gradual recovery.
Feed demand should also improve with the recovery of economic activities and increase in pig production in China. Though Wilmar's Plantation segment will be affected by lower palm oil prices, downstream operations are expected to continue doing well.
Wilmar is cautiously optimistic that its second-quarter operations will not be significantly impacted if China's economy recovers as expected. However, Beijing recently saw a surge in new COVID-19 cases, prompting authorities to extend lockdowns in the capital.
5. Update on the Public Listing of Wilmar's China Operations
The CFO said that the public listing of its China operations, Yihai Kerry Arawana (YKA) Holdings, is still on track.
Wilmar expects the listing to be approved in the second half of 2020.
The CFO added that 10% of the proceeds from the newly created shares will be used to fund its capital expenditures (CapEx) expansion in China.
Wilmar also has the intention to sell more shares to the public in the future to improve YKA's liquidity.
6. Why Wilmar Owns Stake in Perennial Holdings
A shareholder with a pre-submitted question asked why Wilmar, an agri-business, has a 20% stake in a property company, Perennial Holdings.
The shareholder also asked if Perennial yields positive returns for the company.
Wilmar chairman Kuok Khoon Hong replied that Perennial Holdings is involved in several large-scale transport-oriented projects and mixed-use projects including the building of hospitals and retirement homes in China.
This synergises well with Wilmar's plan to develop plant proteins and ready-to-eat meals in China.
The chairman added that Wilmar knows the value of its projects and is confident that its investment in Perennial will yield a 'good return'.
7. Downstream Food Businesses
A shareholder with a pre-submitted question asked if Wilmar would take advantage of the current COVID-19 pandemic to make acquisitions in downstream food businesses besides sugar, flour, rice and cooking oil.
The chairman replied that the company is not on the hunt for more acquisitions at the moment since it has strong organic growth opportunities.
8. Wilmar Return on Equity (ROE)
A shareholder with a pre-submitted question asked why Wilmar's Return on Equity (ROE) has been consistently below 10% over the past five years.
In fact, Wilmar's ROE has never been above 8.0%.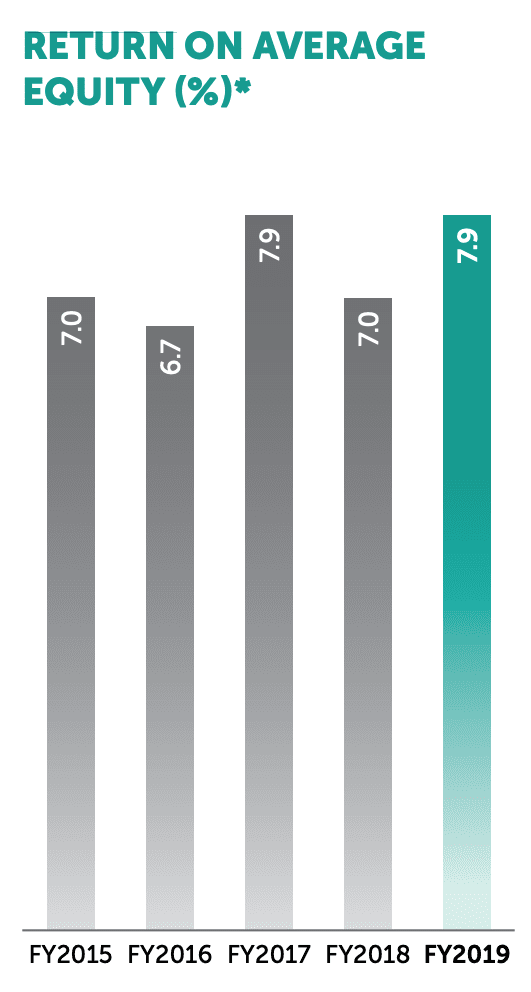 The chairman explained that Wilmar has invested in projects with long gestation periods, hence the less-than-ideal ROE figures. However, Wilmar's projects are beginning to bear fruit as seen from Wilmar's steadily increasing net profits despite the challenging business conditions.
---
This article first appeared on The Fifth Person and is part of a content syndication agreement between The Fifth Person and Seedly.

For our Stocks Investing and Stocks Analysis articles, the Seedly team worked closely with The Fifth Person, who is an expert in the field to curate unbiased, non-sponsored content to add value back to our readers.
The Fifth Person believes in spreading a message – that sound investment knowledge, financial literacy and intelligent money habits can help millions of people around the world achieve financial security, freedom, and lead better lives for themselves and their loved ones.
Have you checked out the various stocks discussions happening in our SeedlyCommunity? Who knows… you might even find your next stock idea there…