The Seedly Circuit Breaker Guide: Your Ultimate Guide to Food & Grocery Delivery in Singapore
Even though we're all cooped up at home because of Phase 2 (Heightened Alert).
And the days are slowly becoming a blur of work (Netflix or study for some of you) and sleep.
Our biggest problem is still this:
"What To Eat?!"
To help you out, we've put together an ever-growing list of food delivery options which span almost everything from hawker food to healthy food.
And since we're all about managing our personal finances and saving money, we've found food delivery promos, discounts, how to get free delivery, and all sorts of food-related lobang that we think you'll appreciate.
Just think of this as your go-to resource whenever someone asks you, "Jiak simi?!" or "Eh! Makan apa?!"
---
TL;DR: Ultimate Guide to Food & Grocery Delivery in Singapore
Ordering food?
Why not make use of food delivery promos, get discounts and free delivery while you're at it?
Prefer to cook your own meals? Find out which are the best places to get groceries and how to get free delivery and promos.
Have a particular craving?
Want to tar pau or da bao (Chinese: takeaway) instead, while you're out on your weekly grocery run?
Bookmark this article as we'll be adding more as we go!
---
Lazy to head out?
Or just want to play safe and stay home?
The best way to get your meals is through food delivery platforms like Deliveroo, foodpanda, GrabFood, AirAsia and WhyQ (hawker food).
If you'd like to treat yourself, fast food giants like McDonald's, KFC and also do deliveries.
Just like online shopping, if you can order your food online, then it means that there're food delivery promo codes which you can use to score free delivery or a sizeable discount off your meal!
Need your nasi lemak or char kway teow? Craving your favourite chicken rice and chilli crabs?
Support your local hawker by ordering hawker food delivery while enjoying Circuit Breaker promos!
Hawkers United – Dabao 2020 is this AMAZING Facebook group that aims to F&B in Singapore.
There are currently encouraging group buys and are looking for community hosts as well.
Do show your support for our local hawkers during this difficult time!
#hawkersunited2020!
Chicken Rice
Fish Soup
Noodles
Thai
Tze Char
Did you know that there are many restaurants offering a variety of food options from around the world that are Halal too?
Yep!
Just take your pick from these Halal food delivery options:
If you're taking the time to keep fit and stay active with online fitness classes and virtual workouts.
Then you'll definitely want to keep your diet clean with healthy food delivery!
Healthy Food That Can Be Kept in Storage
Yummy Bros: From $6.50/meal
Nutrify Meals: From $7.50/meal
Eat Fit Meal Prep: From $10.90/meal
Fresher Singapore: From $10.95/meal
Healthy Food That Has to Be Eaten on the Day of Delivery
AMGD Healthy Poke Bowls: From $6/meal
Grain: From $10.95/meal
AMGD: From $12/meal
Fancy a little fine-dining at home from MICHELIN star restaurants like Odette and Candlenut?
Take your pick from the list of restaurants which provide food delivery:
Prefer to cook your own meals?
Find out which are the best online grocery stores to order from like Sheng Shiong, Redmart, Amazon, and Cold Storage.
And how to qualify for awesome perks like free delivery, find out delivery timings, and online grocery promos to get your groceries for cheap!
Prefer to head out instead to get your groceries?
Why not find out which are the best grocery credit cards to use?
Running low on supplies?
Check out our ultimate compilation of halal supermarkets and butchers which offer grocery delivery:
Need a drink to de-stress?
Take your pick from these cheapest alcohol delivery services.
The enhanced measures for Circuit Breaker have led to bubble tea shops being declared a non-essential business.
But established names like CHICHA San Chen, Gong Cha, KOI, Liho, R&B Tea, Tiger Sugar and Xing Fu Tang have teamed up with food establishments and food delivery platforms to provide bubble tea delivery!
Craving a juicy burger?
Take your pick from burger delivery options which we have sorted into 3 different price points:
Budget-friendly (<$10)
Mid-range ($10 – 20)
High-end (>$20)
Have a birthday to celebrate?
You can get a nice cake delivered without having to head out at all.
Find out where to buy cakes for delivery during Phase 2!
Cakes From Cafes and Restaurants For Delivery
Cakes From Hotels For Delivery
Imported Cakes For Delivery

Need coffee to start your day?
How about getting a fresh cuppa from these places which offer free delivery?
Disclaimer: you have to meet the minimum order to qualify for it though…
Coffee Delivery from Cafes
Coffee Delivery from Online Coffee Speciality Stores
Do you miss bonding with your friends over hotpot at Haidilao or Beauty in The Pot?
Well… did you know that both outlets do hotpot delivery?
If you want more variety, there are plenty of other hotpot options which do free delivery and a variety of promos that you can use to get your hotpot fix!
Takeaway Options
If you have to step out of the house to get essentials like groceries — try to limit it to once a week or lesser if you can! — here are some hacks and resources you can use to help you figure out what to tar pau or dabao.
ShopBack GO
Lost and need help figuring out what to eat?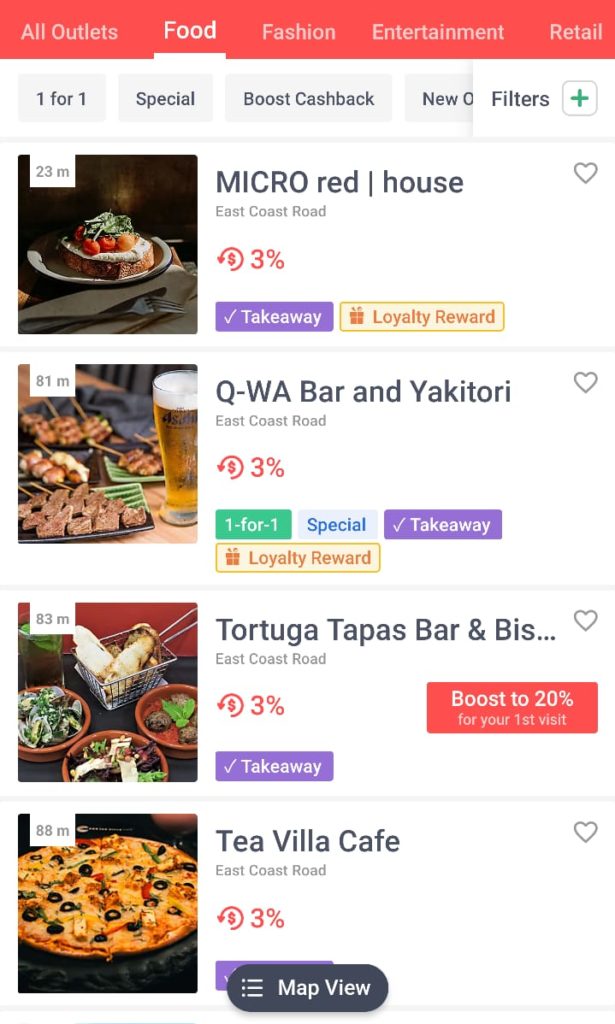 You'll be able to find 1-for-1 deals, 50% cashback, upsized cashback, and even ShopBack GO exclusive vouchers!
Ordering and redemption's pretty easy too.
Either tap to activate an upsized cashback or flash the deal on your smartphone.
Then all you have to do is pay with your ShopBack GO-linked card and you're all set.
About Kenneth Fong
I threw all of my money into the longkang once... because I wanted to see my
cash flow
.
You can contribute your thoughts like Kenneth Fong
here.