I've never truly understood how precious time was until I started my first full-time job. Ever since graduating a few years back, I've joined in the hustle alongside my peers, clocking in my 9-5s and feeling deadbeat afterwards.
After turning into a full-fledged adult, gone are the days when I could head out every day, sleep at 2am and feel recharged the day after. (Where did that energy go? COME BACK PLS.)
While I admire those who are juggling main jobs and side hustles, there are days when I just want to plonk on my bed and decompress.
Now, who here loves earning money effortlessly? I know I do.
As such, I began rummaging through Google to find lobangs (translated: opportunities) where I could earn some extra cash while catching up on my favourite serial killer documentaries.
I filtered through my searches, eliminating websites that seemed a little dodgy, with obnoxious widgets and ads screaming at you to "CLICK ME!".
I narrowed it down to a list of useful free apps that I've personally used and reaped their benefits.
Are you time-starved? Adulting hard and want more money?
I've got you.
---
TL;DR: Free Mobile Apps to Earn Money Easily
| | What you need | Rewards (Estimated) | Minimum Payout |
| --- | --- | --- | --- |
| Google Opinion Rewards | Android App | $0.10 - $0.50/min (Google Play credits) | None |
| Milieu | App | $0.02 - $0.04/min | $10 (10,500 points) |
| Rakuten Insight Surveys | App/Website | $0.04/min | $5 (75 points) |
| Partipost | App, Instagram | $2 - $100 per post | $5 |
---
Google Opinion Rewards
For the absolutely time-starved people out there, Google Opinion Rewards is probably one of the best survey apps out there, with surveys only taking less than a minute to complete with instant credit payouts of $0.10 to as high as $1 (the highest I've gotten is $0.61).
However, the only caveat is that you'll be rewarded with Google Play credits instead of cash (sorry iPhone users).
With Google Play credits, you can purchase apps, books, movies, and everything within the Google Play store.
Genshin Impact player or a mobile gamer in general?
You can use these credits to purchase primogems or in-game items as well!
What's more, you can use these credits to further level up your personal finance game by purchasing premium versions of budget/expense tracking apps.
Money/Time:
$0.10 – $0.50/min (Google Play credits)
Minimum Payout:
None
Payment Method(s):
Google Play Store credits
milieu
milieu is my favourite.
A clean and beautiful interface, with clear and straightforward instructions.
milieu is an opinion-based insights platform that connects communities to organisations. Surveys are frequently launched on the app, with topics ranging from personal attitudes to food preferences.
Upon completion, users will be awarded points, which could be accumulated and exchanged for cash or as donations to charitable organisations.
Otherwise, you can choose to cash out via PayPal or PayNow. $10 can be redeemed with 10,500 points, $20 with 18,500 points, and each 5-minute survey averages between 100 – 200 points.
Money/Time:
$0.02 – $0.04/min
Minimum Payout:
$10 cash (10,500 points)
Payment Method(s):
PayNow/Vouchers
Rakuten Insight Surveys
With so many other survey websites out there being hammered with negative reviews and claims of not receiving surveys or rewards,
Rakuten Insight stands above the crowd for its regular updates and trustworthiness.
With over 20 years of experience as a market research company, Rakuten Insights has a global presence with satisfied users.
Surveys take around three to five minutes to complete, with longer surveys rewarding you with more points.
On the downside, the app feels a bit dated to use, and payouts are only delivered monthly.
Thankfully, it has a low minimum payout of $5 with 75 points via Paypal with the option for vouchers from Grab or DairyFarm too.
Money/Time:
~$0.04/min
Minimum Payout:
$5 cash (75 points)
Payment Method(s):
PayPal/Vouchers
Partipost
Not an influencer with 500,000 followers but still wanna earn money via Instagram?
Don't worry!
Welcome to the world of Partipost.
Partipost is an influencer marketing platform that frequently introduces campaigns on the app for anyone eligible to participate.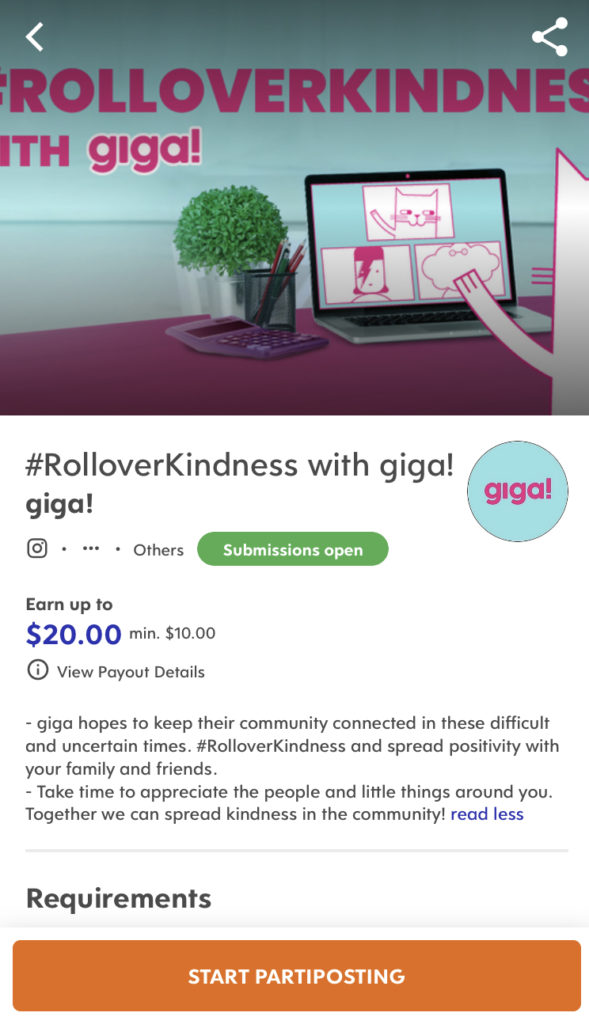 Campaigns of different brands are regularly launched, and users can click into any of these campaigns to participate in them.
Most campaigns require either an Instagram story or post, where the latter fetch a lot more money. Personally, I've joined the ones only requiring Instagram stories, as I'd prefer to keep my profile personal.
Certain campaigns with a higher payout do have certain criteria, like a minimum number of followers. Payouts generally range from $2 to $100.
There is a list of instructions to be followed to qualify for cashout, which are clearly listed in the campaigns.
However, Partipost uses Xfers, with a minimum withdrawal amount of $5 and a 5% transaction fee.
Free Apps to Earn Easy Money
While these apps pay a meagre amount of money, they can still serve as a small income stream for students or busy workers with pockets of spare time.
About Xue Miao
A
millennial
who is learning to adult. She doesn't believe in the rat race and hopes to live on a farm someday.
You can contribute your thoughts like Xue Miao
here.