Free Online Games To Play With Your Friends
Being stuck at home sucks.
Well, we're technically not stuck like how it was back during the Circuit Breaker period, but it has been a long while since could last gather in big groups.
If you miss the company of your friends or colleagues.
Why not take a break from work, jio everyone, and distract yourselves with these free online games which everyone can play?
Just tell your boss that you guys are having an online conference or something (which is TECHNICALLY not wrong…)
And while you're at it… don't forget to use these food delivery promo codes to order in so everyone can have lunch or dinner together as well too!
---
TL;DR: Free Online Games To Play With Your Friends
Thinking of hosting a virtual game night?
Here are some of the best online games you can play with your friends.
Best of all, they're free!
Free Online Game
Type of Game
How Many Players?
AirConsole
Online Console Game
1 to 10
Bunch
Party Game(s)
- FlappyLives
- Mars Dash
2 to 4
Card Against Humanity
Card Game
1 to 50
Krunker.io
First Person Shooter
2 to 10
Psych!
Party Game
Unlimited
Secret Hitler
Social Deduction Game
5 to 10
skribbl.io
Word-Guessing Game
2 to 8
UNO
Card Game
2 to 4
---
AirConsole (1 to 10 Players)
AirConsole is an online video game console where your smartphones are the gamepads.
The thing is… you'll be playing games together on one screen.
So… to get around this.
One person will have to stream the browser game over Zoom so that everyone else can join!
Otherwise, you can also play with your family members instead.
(Okay lah, sometimes your friends might be busy right?)
There are a total of 11 games under the Free Starter Pack which you and your family members can play including:
KartGo! Air!: kind of like Mario Kart
Burnin' Rubber 5: racing game
Smoots Summer Games: a sports game with plenty of track and field events
How to Play
Just open AirConsole on your browser (on your desktop, laptop, or smart TV).
Link up your smartphones and start playing!
Bunch (2 to 4 Players)
Most of you would know and are using Houseparty but did you know that there's a similar app called Bunch which pretty much does the same thing?
I suppose if the party games on Houseparty get boring, you can download Bunch and try other party games like:
FlappyLives: an infuriating game where you try to get past obstacles
Mars Dash: endless runner game where whoever stays alive longest wins
How to Play
You and your friends need to download the Bunch app from the App Store or Google Play.
"Start a Party" by inviting your friends.
The game starts when at least one friend accepts.
Invite your friends, create a room, and start a game.
Cards Against Humanity (1 to 50 Players)
Cards Against Humanity is a popular card game which challenges players to come up with funny (or absurd) answers to questions in order to win.
The key to winning is to amuse each other with ridiculous answers.
Disclaimer: results vary if you play with morally bereft friends
I managed to find two options.
Option 1: All Bad Cards (1 to 50 players)
The All Bad Cards version was created by a member of Bungie, the developers of Halo and Destiny.
The interface is a little nicer and automated — you don't have to drag the cards around yourself.
And it's mobile-optimised.
Expansions are included in the game as they're sourced from r/cardsagainsthumanity (includes all of the cards released in North America from every official set).
Which means you'll be able to find some really funny combinations.
This particular version also has an interesting feature called "My Cards Suck" which is an option that you can play once every 5 rounds.
Once clicked, you'll be given a new set of white cards.
However, the computer will choose a random card from your new hand and play that round.
So… it's a bit of a gamble!
Option 2: Pretend You're Xyzzy (3 to 20 Players)
The Pretend You're Xyzzy version doesn't look the best but it has a LOT of options.
It has all of the current CAH expansions.
And you can do stuff like:
Password-protect games
Create public games and have spectators join
But… it might be a little overwhelming for those who just want something simple.
Krunker.io (2 to 10 Players)
Krunker.io is basically what you'd get if you crossed Minecraft with Counter-Strike.
Yep.
It's a first-person shooter (bless those who're using their laptop touchpads) game that is HIGHLY addictive.
How to Play
Click 'Host Game', select your map and customise the game according to your preference.
Once done, click 'Invite' to get the invite link and share it with your friends.
Psych! (Unlimited Players?)
Psych! is another great party game which you can play without needing to meet face-to-face.
Everyone has to come up with ridiculous answers to trivia questions.
If you can pick the right answer out of all the submitted answers, you get points.
You also get points for every player you manage to psych into choosing yours.
How to Play
Simply download the app on the App Store or Google Play and start outwitting your friends.
Secret Hitler (5 to 10 Players)
Secret Hitler is a social deduction game that's pretty much like Mafia except that it's more complex and requires a little more deception.
How to Play
Everyone is secretly assigned one of three roles: Liberal, Fascist or Hitler.
Players will vote to enact either a Liberal or a Fascist policy.
The Liberals are the majority but they don't know the roles of the other players.
The Fascists know the identities of other Fascists (as well as Hitler) and must work together to accomplish their goals.
Hitler is on the Fascist team but does not know who the other Fascists are and must figure that out.
The Liberals win if they enact 5 Liberal policies or manage to assassinate Hitler.
While the Fascists win if they enact 6 Fascist policies OR 3 Fascist policies and electing Hitler as Chancellor.
Interested?
Then you might want to read the rules to find out more!
skribbl.io (2 to 8 Players)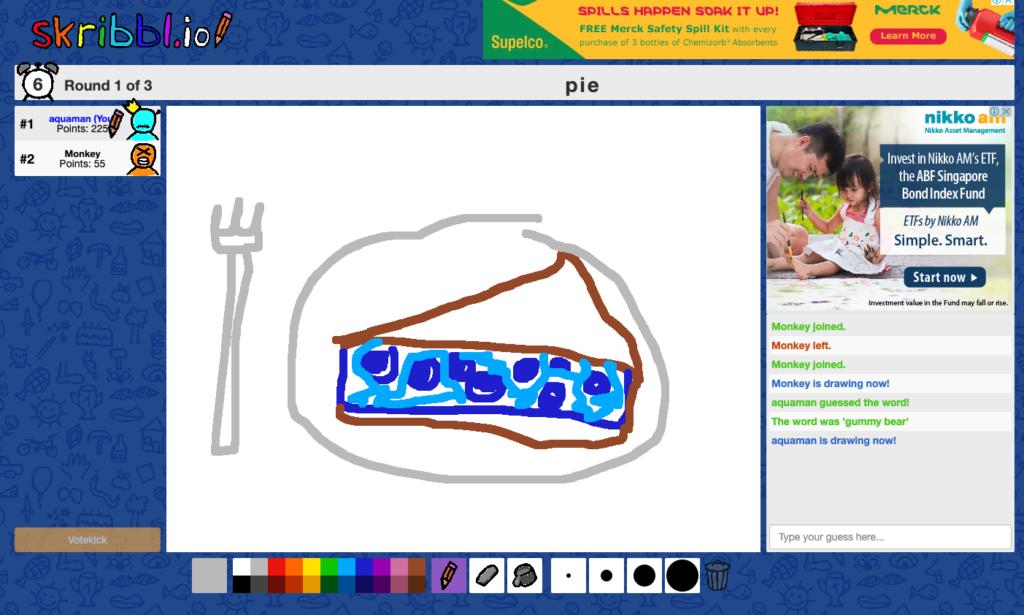 Remember Pictionary?
Or Draw Something?
Yep.
This is basically the online version of the charades-inspired, word-guessing game where you can hang out with your friends (there's a chat option in the game) and see who sucks at drawing.
How to Play
Head over to skribble.io.
After you've entered your username, click on 'Create Private Room'.
This will bring you to a Lobby where you can decide:
How many rounds you wish to play
How much time do you want to allocate for drawing
If you wish to add any custom words (to y'know… localise the game)
Invite your friends by sending them the Invite Link.
Once they've entered their username, select 'Play', and they'll enter the Lobby of the private room which you created
When everyone's onboard, select 'Start Game', and let the hilarity ensue.
UNO
The best games are those with the potential to ruin friendships.
And UNO is one of the best card games for this.
Psst! If you wanna polish your UNO skills in your spare time, you can do so here.
How to Play
Head over to UnoFreak.com and register an account.
Click on 'Join a Game (Play)' to create a new game.
Enter a name for the private room and a password of your choice.
Once your friends register an account, they can head to the Lobby and enter the private room with the password.
Pro tip: Alternatively, you can just forward the Room URL to them and they'll be able to join instantly without having to create an account!
About Kenneth Fong
I threw all of my money into the longkang once... because I wanted to see my
cash flow
.
You can contribute your thoughts like Kenneth Fong
here.