Meaningful Gifts Under $30 You Can Buy To #SupportLocal [Valentine's Day Special]
Valentine's Day is coming, and if you haven't gotten a gift for your partner, we've got some suggestions for you!
Now, we all know that giving a bouquet of flowers can be both a cliche and impractical feat. With that in mind, we've decided to come up with meaningful gift alternatives that you can consider.
From cute local food accessories to handmade earrings and tumblers from local artists, we scoured the internet to find some of the best handcrafted gifts made by Singaporeans, that will make a meaningful gift for your Valentine.
TL;DR: Meaningful Gifts For Valentine's Day Below $30
1. ChirashiBomb- Stickers from $1, Badges from $3.50, Totebags from $22
For the stationery fans, Chirashibomb does local art pop-ups across Singapore, selling cute Japanese inspired stickers, badges, and tote bags. With an online Instagram shop set up, you can browse through the products via Instagram stories, and place your orders on an online form.
Price: $1 per sticker, $3.50 for badges and $22 for Tote Bags. 
2. Fern Atelier- Hand Crafted Clay Earrings From $22
Ferne Atelier is the brainchild of a local artist whose love for nature and everyday local sights was translated to handcrafted clay jewelry.
To create these statement pieces, Ferne Atelier creates intricate designs onto flat layers of clay, which is then rolled out using a pasta machine. These clay pieces are then baked and secured with earring fixures to complete the look.
Price: From $22++ 
3. Foreword Coffee's Valentine's Day Bundle
Those who know me would know that I'm an ardent fan of Foreword Coffee.
A cafe with a social mission to improve the employment opportunities of Persons with Disabilities, Foreword Coffee serves cups after cups of freshly roasted Asian coffee to their customers.
This year, their Valentine's Day Bundle comes with a Huskee Cup, 4 different types of brew bags, and a handmade card- a combination of the works of different social enterprises.
Price: $29
4. Miniature Asian Chef – Local Food Accessories From $14++
Miniature Asian Chef makes cute miniature local food accessories like ice cream earrings, tu tu kueh rings and ang ku kueh necklaces. Charm your Valentine with these cute accessories reminiscent of her favourite old school food.
Price: From $14++ 
5. Our Barehands – Accessories and Necklaces From $16
Our Barehands is built with the mission of nurturing communities to have a sustainable livelihood. Working with communities based in India and Myanmar, Our Barehands sells handmade shoes, batiks, clutches, and bags that are stylish and comfortable.
From their accessories collection, you can find handmade beaded necklaces and unique earrings with prices starting from $14. I love their Sandar Leaf Earrings collection in particular, which boasts beautiful hues ranging from Peacock Blue to Burnt Orange.
Price: From $14++ 
6. Troops On Print – Sling Bags from $25
Troops on Print creates unique bags and pouches centering around the theme of wildlife and animals.
From an Alpaca Tassel Bag to a mustard yellow zipper bag with corgi prints, their designs are sure to leave you swooning. What's more, with prices that start from $25 a bag, these are definitely much more practical than a bouquet of flowers.
Price: From $25++
7. The Sustainability Project – Soaps & Beewax Wraps from $8
I was introduced to The Sustainability Project by Jacqueline, one of our writers at Seedly.
At 9.30 am every morning, she would take out a nicely wrapped piece of bread from her dark blue handbag, and munch happily on her breakfast sandwich. Meanwhile, I'd gingerly take my (squashed) peanut butter and jam sandwich out of a single-use ziplock bag.
Jacq brings her morning sandwiches in a reusable beeswax wrap, and it looks something like this:
The Sustainability Project makes it easy for consumers to make environmentally friendly decisions. With inventions such as beeswax wrap, natural deodorant, and felted soap, these environmentally friendly products make great gifts – both for your Valentine and for the environment.
Price: From $8++ (Beeswax Wrap, Natural Deodorant) | $20 (Felted Soap)
8. The Art Faculty – Bamboo Fibre Tumblers and Handmade Pouches from $18
The Art Faculty boasts unique and artistic gifts that are both pretty and practical. A platform that showcases the talents of people with autism and related challenges, the shop carries a wide range of products that ranges from detailed art pieces to handmade pouches and tumblers.
My personal favourite pieces would be their printed tumblers, where designs created by persons with autism are printed onto a bamboo fiber cup.
Price: From $18++
Finding the Perfect Gift This Valentines Day
Whether it's a customised bag, a handcrafted set of earrings or simply an environmentally friendly bar of soap, it is always the thought behind the gift that counts. So let us focus less on the presents and make this Valentine's Day a meaningful one by giving some love to the people around you, and yourself.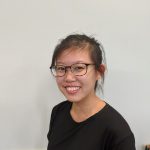 About Rachel Yeo
Breaking down complicated financial pieces into idiot-proof articles.
You can contribute your thoughts like Rachel Yeo
here.