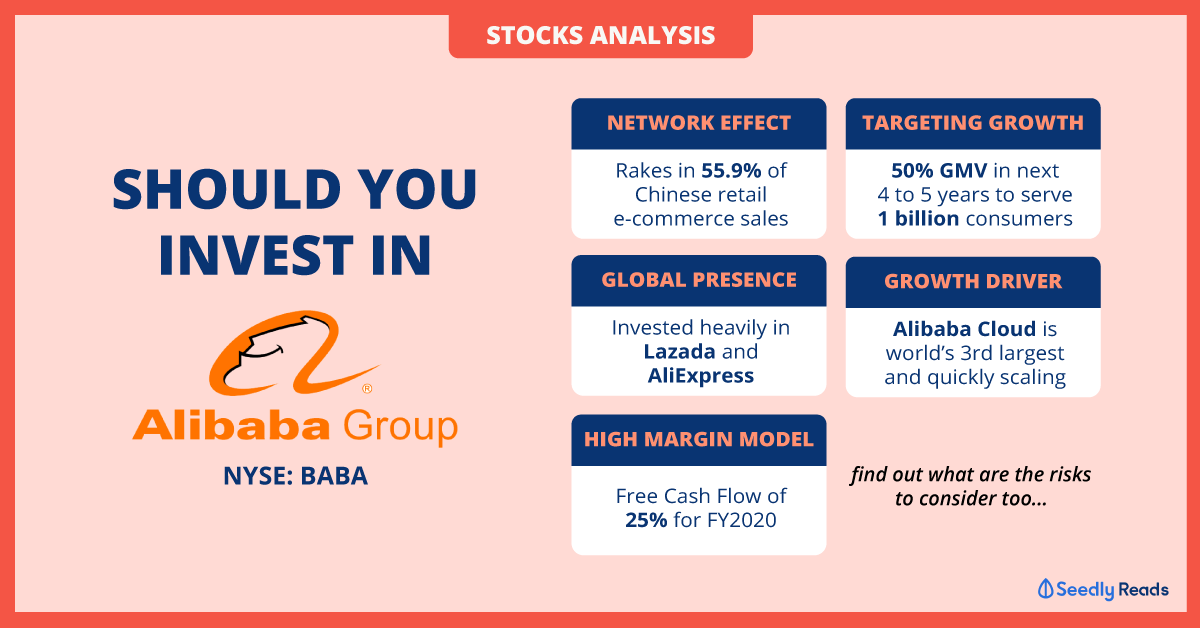 Thinking of Investing in Alibaba Group Holding Limited? Here's What You Need to Know...
China has one of the most advanced e-commerce economies in the world.
In 2019, it boasts the world's largest e-commerce market, with a volume of US$1.94 trillion (S$2.71 trillion).
That's more than thrice that of the United States' e-commerce market — which ranks second in the world.
Much of that volume was fueled through China's largest e-commerce player, Alibaba Group Holding Limited (NYSE: BABA).
The e-commerce giant has already seen the price of its US-listed shares rise close to three times that of its IPO price of US$68 (S$95) back in 2014.
In this article, I'll take a look at some of the major trends fueling Alibaba's growth.
A Powerful Network Effect
Alibaba is the biggest player in China's e-commerce space.
However, that does not mean that it has run out of room to grow.
China's e-commerce market is still expected to grow by double digits well into the mid-2020s.
Alibaba is the undisputed leader in 2019, raking in 55.9 per cent of retail e-commerce sales.
To get an idea of what kind of lead they have, JD.com comes in second with only 16.7 per cent of the market share.
As the market leader, Alibaba's B2C (business-to-consumer) platform, TMall, is well placed to ride on the coattails of the growing e-commerce market.
It is the platform of choice for businesses to launch their new products.
More than 50 million new SKUs were launched in TMall in 2018 alone.
In Alibaba's 2019 Investor Day presentation, the company stated that new products made up 53 per cent of TMall Apparel's total Gross Merchandise Value (GMV) in August 2019.
This demonstrates the power of TMall's network effect.
The large number of annual active accounts on TMall attracts new product launches on the platform, which in turn, creates value for users.
This is a virtuous cycle that can keep on giving for Alibaba.
A Global Presence
Besides Taobao and TMall in China, Alibaba also has a global e-commerce presence.
Alibaba has invested heavily in Lazada and AliExpress.
Lazada is a fast-growing e-commerce platform in Southeast Asia.
While AliExpress is a global retail market place that enables consumers across the globe to buy directly from manufacturers and distributors in China.
Tmall Global is a platform where overseas brands and retailers can reach Chinese consumers.
With e-commerce growing quickly in Southeast Asia and other parts of the world, Alibaba has planted the seeds to take advantage of this secular uptrend.
A High Margin Model
Alibaba's unique business model creates a high margin, cash-generating business.
Instead of holding its own inventory, Alibaba monetises its high user base through auxiliary services.
This includes pay-for-performance marketing services which bump merchants up in the search list.
Or display marketing services where merchants pay for display positions.
In addition, Alibaba also earns commissions on transactions based on a percentage of the transaction value.
In the fiscal year ended 31 March 2020 (FY2020), Alibaba recorded a free cash flow margin (free cash flow as a percentage of revenue) of 25 per cent in US dollar terms.
In fact, this free cash flow margin includes other non-profitable businesses that Alibaba is currently trying to grow (more on this later).
Targeting Growth
Although Alibaba's founder, Jack Ma, has stepped down from the hot seat.
Alibaba has kept its foot on the pedal.
It has set a hard target of serving more than 1 billion Chinese consumers.
And aims to facilitate more than RMB10 trillion (S$1.97 trillion) of consumption on its platforms, by 2024.
This translates to a 50 per cent growth in GMV in the next four to five years.
I think Alibaba can likely achieve its target on both counts.
So far, its 780 million consumers in China account for around 85 per cent and 40 per cent of the Chinese population in developed and less developed areas, respectively.
As internet penetration increases in the less developed regions, I think the gap in user penetration between the developed and less developed regions will narrow.
Alibaba has also set its sights on growing its global e-commerce platforms.
Lazada is Southeast Asia's fastest-growing e-commerce platform with 50 million annual active users.
And though Shopee is a strong competitor to Lazada in the region, I think the market in Southeast Asia is big enough for two large players to coexist.
An Important Growth Driver: Cloud Computing
Besides its core e-commerce segment, Alibaba also has cloud computing, digital media, and innovation initiatives.
The three other segments are relatively small compared to its core e-commerce business but Alibaba Cloud could potentially become an important source of profits and cash flows in the future.
Alibaba Cloud is the world's third-largest, and Asia Pacific's largest, infrastructure-as-a-service and IUS (Infrastructure Utility Service) provider.
Similar to Amazon Web Services, Alibaba Cloud emerged due to Alibaba's need to operate its websites at a massive scale.
Subsequently, Alibaba decided to monetise this technology by providing it to other third party customers.
Cloud computing is Alibaba's fastest-growing segment, with revenue growth of 62 per cent year-on-year in FY2020.
Although this segment is still unprofitable, cloud services could be a hugely profitable and high margin business as demonstrated by Amazon Web Services.
As Alibaba scales its cloud computing business, it can possibly become a profitable high margin business.
Risks
As with any company, there are risks.
Chinese companies have come under scrutiny after the recent high profile case of Luckin Coffee's fraudulent business activities.
The US has also threatened to delist Chinese companies from their stock exchanges.
If you buy into Alibaba's shares on the NYSE (New York Stock Exchange) in the US.
You are only the owner of an ADR (American Depository Receipt), of a variable interest entity (VIE), that in turn has an interest in Alibaba's economics.
This ownership structure may not be as robust as owning a direct interest in a company.
There is also the risk that Alibaba is not able to execute its growth strategy well.
Especially in Southeast Asia where there is stiff competition from numerous players.
Alibaba's shares are also priced at a premium to the broader market.
At its current share price, it trades at around 25 times FY2020's earnings and 29 times free cash flow.
If Alibaba is not able to grow as fast as the market expects, there may be a valuation compression.
---
This article first appeared on The Good Investors and is part of a content syndication agreement between The Good Investors and Seedly.

The Good Investors is the personal investing blog of two simple guys, Chong Ser Jing and Jeremy Chia, who are passionate about educating Singaporeans about stock market investing.
If you have any questions about this stock and other stocks in general, why not head over to the SeedlyCommunity to discuss them with like-minded individuals?