It has been almost a week since the start of the Circuit Breaker period.
While it initially seemed like a good time to rest and recharge, I've pretty much run out of things to do and am getting bored with this routine:
There isn't much to do at home where you're basically confined within four walls. 
With more alone time to myself, I came to realise some of the good and bad habits that I have.
One of the worst habits I have now is sleeping late and having a messed up sleep cycle.
Which got me thinking.
Maybe I should use this Circuit Breaker period to kick some bad habits and form healthy ones instead — something I previously could not due to my excuse of being too busy. 
The Importance of Creating Good Habits
A habit is something we do regularly without consciously thinking about it.
It becomes an automatic activity, which allows us to do things without spending an exorbitant amount of mental effort.
Once we have inculcated the habit of exercising or healthy eating.
It will no longer have to be a forced activity which requires massive amounts of discipline.
It'll simply seem as though it is just like any other day of our lives. 
Forming Habits Using The 21-90 Rule
We've all heard this expression, "The start is always the hardest".
Since all of us are essentially getting "paid" with the Solidarity Payment and GST Vouchers to stay home, why not take this time and money to inculcate some good habits? 
I mean, after a good one week of binge-watching all those Netflix and Korean dramas, most of us really should give our eyes a break.
After doing a little research online, I found out that it takes 21 days to build a habit.
And with about 3 weeks left to the end of the Circuit Breaker period.
We should be able to emerge from this with plenty of good habits!
The key thing about forming healthy habits NOW is that once they're part of our lifestyle, they will help us in the long run.
Just like how good habits have helped many of the highly successful people whom we know.
5 Habits of Highly Successful People
When we look at highly successful people like Oprah Winfrey (American talk show host and philanthropist), Tim Cook (CEO of Apple), Jeff Bezos (CEO of Amazon), Warren Buffett (CEO of Berkshire Hathaway and notable investor), and Kim Beom Su (South Korean billionaire and Chairman of Daum Kakao).
Many people would go, "They are them… how can we ever be them?"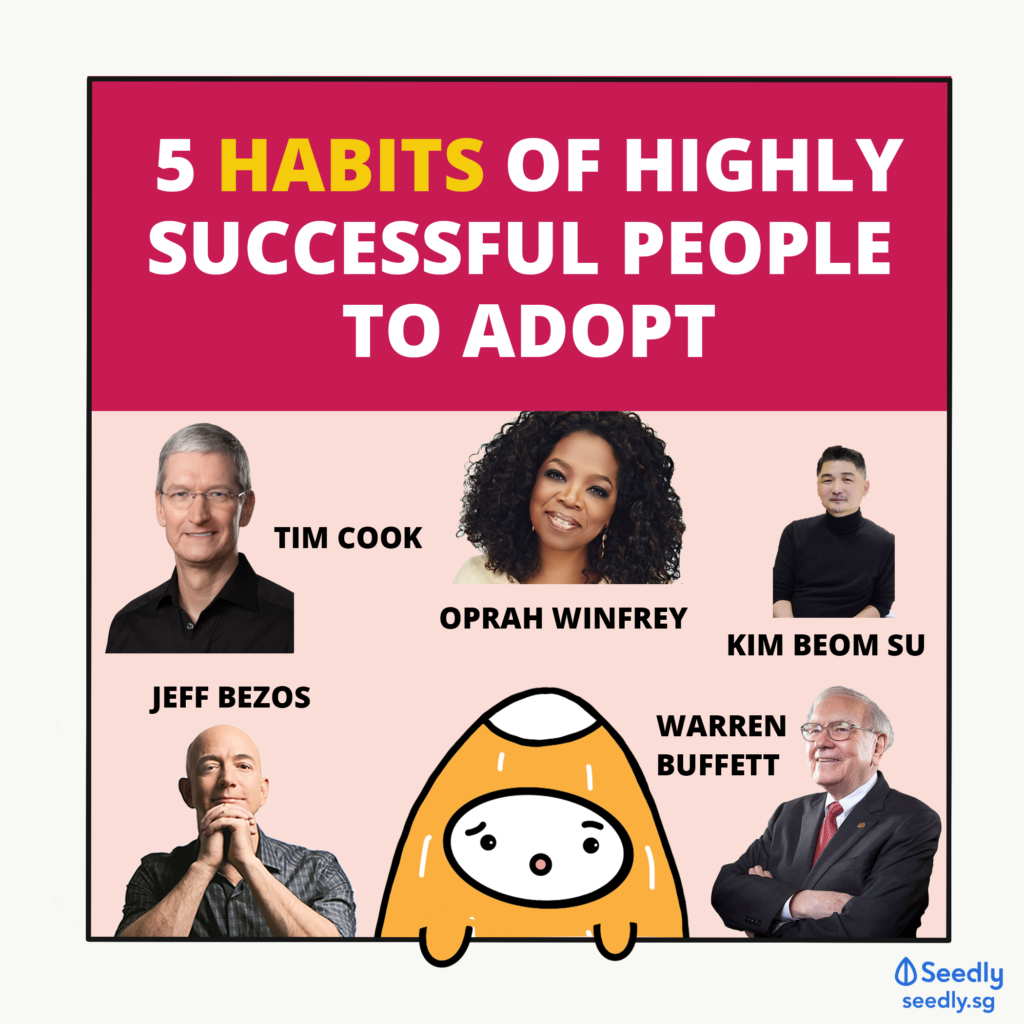 And when we read about their habits, many would say, "These are the lifestyles which billionaires like them adopt only after they became successful."
However, that's not untrue.
In fact, it's largely because of these habits which got them to where they are today.
And while we might not have their genius, their opportunity, or their money.
Here are some of their habits which we can adopt as we work towards the successful lives we dream of.
1. Positivity and Relaxation
Before this Circuit Breaker period, most of us are probably leading really hectic lifestyles (and probably still are for those working from home).
And we're all battling stress and dealing with pressure in our own ways.
But if we can take some time out to incorporate a little positivity and relaxation into our daily lives.
It would help us to see things from another perspective.
And hopefully, help us stay calm while we tackle the problem at hand.
A simple way of relaxation is through meditation — you can try listening to Tim Ferriss' podcasts on how to do this.
If meditation isn't your thing, you can consider doing yoga as well!
2. Exercising
Exercising is essential for keeping the body and mind healthy.
In fact, many studies have shown that exercising regularly can boost:
memory
concentration
mental acuity
All of these are traits which have a HUGE impact on our career and success.
Exercise is also a great stress-reducer as well.
While you can do simple stuff at home now by watching and following workout videos.
Go stair-climbing in your block.
Or start your day by doing some push-ups and bodyweight exercises.
Once this Circuit Breaker period is over, you can also consider signing up for a cheap gym membership or a fitness class near your workplace.
Intimidated?
Just try out some free fitness classes first before signing up for the long-term!
Pro Tip: During this Circuit Breaker period, make it a point to keep active with your family, partners, and friends (via Skype or Zoom, of course!). You can exercise and motivate each other to keep up!
3. Good Sleep Cycle
Did you know that Jeff Bezos gets 6 hours of sleep every day.
While Tim Cook starts his day as early as 3:45am?
Meanwhile, I'm snoozing my alarm every 5 minutes after staying up till 2am watching dramas…
That being said, it's not uncommon to read about successful people who wake up as early as 5am every morning.
In fact, some YouTubers I follow also tried the same routine as well.
Waking up early means you have a couple of extra hours a day to yourself to get a headstart on what you need to do.
Especially since that's when no one else is awake and it's serene and quiet (read: ideal conditions for a super productive work environment).
But it's not just about waking up early.
You'll need to sleep early too so that you can clock sufficient hours and feel more energised and motivated to work through the day.
A good night's rest will also help to enhance our critical thinking and aid in decision making too.
Personally, I've always wanted to adopt this habit.
So with this Circuit Breaker period, this will be my next habit to adopt!
Pro Tip: A regular sleep cycle with ample rest will give you better skin complexion and better weight control (since you wouldn't be eating supper). So if you're looking to stay healthy or lose weight, this is must adopt habit!
4. Organisation
The one thing in common which these highly successful people do is that they are highly organised.
They'll plan out what they want to do ahead of time, which keeps them on track and ensures that they work efficiently.
By keeping things organised — be it our rooms, our lives or even our finances — we can ensure that we are on track towards success.
You can start the day with a simple 5-minute morning stretch or set aside time every month to review your finances.
If you like frameworks, you can try the Eisenhower Matrix, otherwise known as the Four-Quadrant Approach to sort out your priorities.
This way, you'll ensure that you're making efficient use of your time to do the things you need and want.
Pro Tip: Use an expense tracker to help get your finances in order!
 5. Constantly Learning New Skills 
"Not all readers are leaders, but all leaders are readers"
Now that we're all stuck at home.
We have the opportunity to be more flexible with our time and schedules.
So why not use this time to read or learn a new skill which you've always wanted to?
For example, if you are new to investing, you can take this time to read books about investments or get acquainted with investment guides!
Or if you are interested in baking or cooking, you can put aside some time to try out recipes and refine your culinary skills!
Who knows? If you get good at it, it might potentially be your side hustle in the future!
Like how our government is always encouraging us to upgrade and improve ourselves.
It's especially important to do so to keep ourselves relevant and give ourselves options since the possibility of a recession is ever-looming.
Ways to Track and Successfully Adopt These Habits
In order to track our progress and see how successful we are in creating good habits.
We can set mini goals and work towards them.
To make sure that we're on track, we can always make use of apps or go old-school by using pen and paper.
Personally, I prefer to write them down as it feels damn shiok to complete and strike something off my list!
That being said, apps are often more convenient and structured.
Some examples of apps which you can use include: 
Calm (for Meditation)
Runkeeper or Adidas or UnderArmour (for workouts and exercises to do at home)
NLB mobile app (for free access to books)
Notion (for creating To-Do Lists to stay organised)
Thoughts on Adopting Good Habits This Circuit Breaker Period
We all have our own habits.
Some are good, while some aren't.
The good news is that positive habits aren't that hard to adopt.
It could be as simple as setting aside half an hour every day to work on it.
All it takes is consistency.
It takes 21 days to build a habit.
And another 90 days to create a lifestyle.
Take this Circuit Breaker period as an opportunity to create a new you.
Like investing, the best time to start was yesterday.
The next best time to start is NOW.
About Dion Lim
Busy
undergrad
by day, an aspiring entrepreneur by night. Fuelled by floorball and doodling, I chomp on bite-size pieces of finance to prep for an adventure that won't make me yawn.
You can contribute your thoughts like Dion Lim
here.