HDB Resale Transaction Guide: How To Sell Your HDB Resale Flat Without an Agent and Save on Fees
Joel Koh
●
Previously, I wrote this guide on How to Buy an HDB Resale Flat Without an Agent And Save on Fees.
Thanks to your support, the article did decently and I think it's high time for a sequel.
Hopefully, I will be able to pull a Godfather 2 for this article and write an even better guide and deliver more value to you.
For this guide, I will be covering how much you can potentially save from selling your HDB resale flat without an agent; what you need to consider before doing so; and a step-by-step guide to walk you through the whole process.
Here we go!
---
Click to Teleport
---
How Much Can You Save Selling Your HDB Flat Without an Agent
When it comes to commissions for property agents, the Council for Estate Agencies (CEA) Singapore does not really regulate or set guidelines for commission rates. This is done to allow the market to drive competitive pricing in the industry.
The fee that you pay property agents is a percentage of the transaction price of the flat for their services.
For HDB resale flats, the seller usually pays about two per cent in commission to the agent.
When you sell your HDB flat without an agent, you will save on the two per cent commission.
To get an idea of how much you can save, I took the average of the median prices for four-room HDB-flat in all the towns for Q3 2020.
The value I arrived at is about ~$465,600 which means that you will save about $9,312 in property agent commission fees.
Imagine… this money can be used to invest, renovate your home or even build a mini cinema room in your house.
What You Are Losing Out on by Selling an HDB Resale Flat Without a Property Agent
When you decide to forgo a property agent, you will have to do without these services that a great property agent provides.
Comparative Market Analysis (CMA)
Your agent will help you do CMA on your property to ensure that you get the best price for the sale.
Conduct Background Checks on Buyer
Your agent will check to see if there are any red flags with potential buyers.
Price Negotiation 
Your agent will help you negotiate with the buyer or the property agent representing the buyer for a better offer.
Paperwork
The buying process can be quite complex as you have to sort through all the legalese and make sure the paperwork is in place. A great and experienced agent will do the paperwork right for you.
Marketing Limitations
Although you can list your property on online platforms like 99.co, Carousell, Gumtree, property Facebook groups and Ohmyhome, you might have to spend more to boost your listing for higher visibility.
Another thing to take note of is that for 99.co, your owner listing will only be visible to real estate agents and not potential buyers who are looking to buy a flat themselves.
Also, PropertyGuru only accepts listings from licensed property agents with a subscription to PropertyGuru.
These marketing costs are usually borne by an agent. Now you know where part of the commission is going to!
Home Staging 
As a seller, you will need to know how to portray your house in the best light possible.
You will need to learn more about home staging: which is the art and science of preparing your HDB flat for sale in the real estate marketplace.
The endgame for home staging is to make your house as appealing as possible to the maximum number of potential buyers to sell your property faster and for more.
Home staging techniques include adding decorations, rearranging furniture, and expertly dressing up the home to improve a property's appeal to potential buyers by helping them envision living in your HDB flat.
When done right, the darkest, drab space can be made to feel bright, airy, and homey.
If your home is unfurnished, it may be more challenging as well, as unfurnished homes tend to take longer to sell and look less attractive than furnished units.
A great property agent will be able to help with this as most will have basic home staging knowledge or even contacts to help you with an unfurnished house.
As you can tell, selling your home is not easy.
You will need to invest time, effort and money to get things right. You will also have to deal with any expensive potential mistakes that might arise, and spend time to thoroughly research and familiarise yourself with the process.
In my opinion, you can very well conduct the property sale on your own if you are confident enough to deal with the above-mentioned challenges. But, it won't be easy, and you might make mistakes due to inexperience and a lack of specialised knowledge.
Otherwise, you may find that engaging a property agent is better.
If you are not deterred, let's dive into the process of selling your HDB flat without an agent!
Preliminary Check: Check if You Fulfilled Your Flat's Minimum Occupancy Period
Technically, this is not part of the resale process.
But, you will need to ensure that you have fulfilled the Minimum Occupancy Period (MOP) for your flat before you can even sell it.
HDB defines the MOP as the 'period of time that you are required to physically occupy your flat before you can sell it on the open market.'
It is calculated from the day you collect the keys to your flat and excludes any period of time where you are not physically occupying the flat.
The exclusions include:
The time period when the whole flat is rented out.
Instances of when there has been an infringement of the flat lease.
For most HDB BTO flats or HDB resale flats bought on the resale market with CPF housing grants, the MOP duration is about five years.
How to Check MOP
But, as each person's situation might be unique due to varying factors, you might want to head on over to the My HDBPage with your SingPass to check if your flat is eligible for sale.
Here's how to check your flat's MOP:
My Flat > Purchased Flat > Flat Details > Minimum Occupation Period (MOP).
Step 1: Submit Your Intent To Sell via the Hdb Resale Portal
If you are the owner of the flat, the next step will be to log into the HDB Resale Portal and register an intent to sell. If the flat is jointly owned, only one owner will need to register the intent to sell.
Due to the wonders of technology, any forms that need to be filled up manually can be automatically filled up using the SingPass MyInfo service.
Once you have finished registering your intent to sell, you will be provided with information about:
Your eligibility to sell your HDB flat.
The Ethnic Integration Policy/Singapore Permanent Resident (EIP/SPR) Quota for your block.
Updates on your block's upgrading status, cost and billing.

Up to date transacted prices of nearby flats
You will need to pay special attention to the EIP/SPR quota and inform any potential buyer, as this will limit the demographics of any potential buyers you can sell your flat to.
Before selling your house, do ensure that you have enough funds to buy your next property, have somewhere to shift to, and ensure that you have settled any outstanding lease administration issues.
Also, remember to check your if your HDB flat is undergoing any Upgrading/Estate Renewal Programme.
If the upgrading works are complete, you will need the billing dates to see if either you or the buyer is responsible for the upgrading costs.
Step 2: Price and Market Your Flat
The next step will be to price and market your flat.
The only way you can figure out how much to sell a flat would be to use the prices of past resale transactions.
Here are the median resale prices by town and flat type for HDB Resale Flats transaction in Q3 2020.
Taking the median price gives us a better representation of what the resale prices are actually like according to the town and flat type.
You can always use the HDB Map Services if you prefer a more interactive experience.
Or you can use HDB's Resale Flat Prices portal to check the transacted prices for resale flats within the past 2 years.
For more information, you can check out our guide to how to value your HDB flat.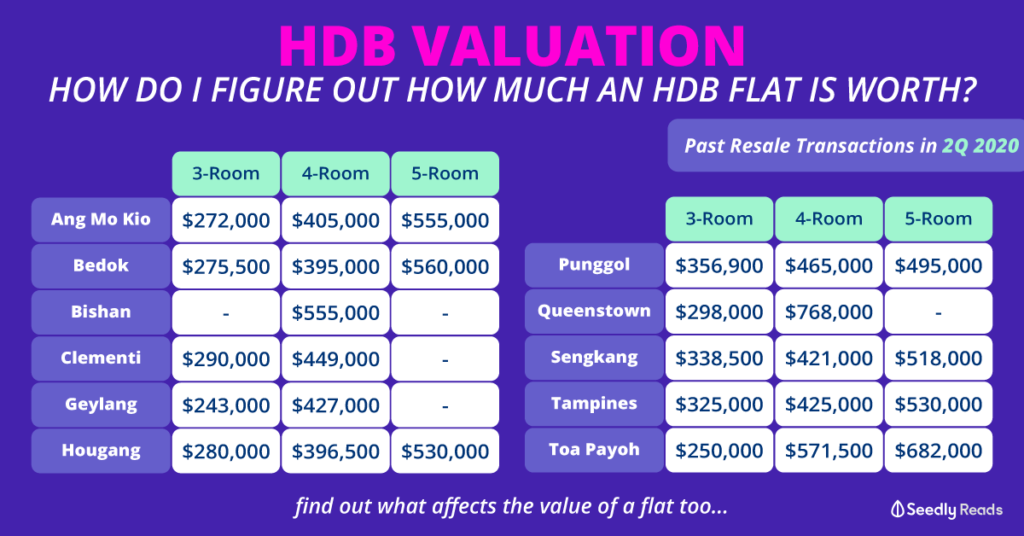 The next step will be to market your house.
If you are photographically challenged, you might want to engage a professional photographer to help you capture your flat in the best light.
Otherwise, you can take your own photos and list your flat on platforms like 99.co, Carousell, Gumtree, property Facebook groups and Ohmyhome.
Step 3: Grant Your Option to Purchase (OTP) to Buyer
After you are done pricing and marketing your flat, the next step will be to prepare your OTP, which can be downloaded here.
Under the Housing and Development Act, the OTP is the only recognised legally binding agreement between you and the buyer to sell your HDB flat at the agreed-upon price.
Do note that you can only grant an OTP seven calendar days after the registration of your intent to sell. Also, you can only grant one OTP at any one time.
Once you have found a potential buyer who has offered you a price that you are happy with, you can grant the OTP to the buyer.
Do note that both you and the buyer must declare the true resale price of the flat (agreed on price) to HDB.
Option Fee Amount
The buyer will have to pay you an option fee to 'book' the flat, with the recommend option fee can range anywhere from $1 to $1,000 (to be negotiated between you and the buyer).
Option Window
Once the buyer has paid you the option fee, you will not be able to sell the flat to anyone else for 21 calendar days (inclusive of public holidays and weekends (Sat/Sun) after the Option Date. Do note that the Option expiry time is fixed at 4pm.
The next step will be to wait for your buyer to exercise the OTP anytime during the 21 calendar day option window.
In the event that the buyer does not exercise the OTP within the option window, you can keep the option fee.
Otherwise, if the buyer wants to proceed with the purchase of the flat, they will have to exercise the OTP and will have to pay you the option exercise fee and complete payment of the deposit.
The deposit consists of both the Option Fee + Option Exercise Fee and can range anywhere from $1 to $5,000 in total (to be negotiated between you and the buyer).
We would recommend that you thoroughly familiarise yourself with these two documents:
This is important as both you and the buyer will need to comply with all the procedures and clauses listed in order for the transaction to go through.
Once everything is swee swee (smooth), both you and the seller can sign the OTP.
On the buyer's side, the bank may send down a professional valuer to value your property if they are taking a bank loan.
If your buyer is taking an HDB loan, HDB may send down an assigned valuer to value your property.
If you need more time to move out, you should arrange with the buyers for a temporary extension of stay in the flat for up to three months after the resale completion.
Step 4: Engage a Solicitor
The next step will be for you to engage a solicitor to oversee the conveyancing process and ensure that the legal documents are in place so that the transfer goes through smoothly.
You can choose to engage an HDB solicitor or a private solicitor if you took up an HDB loan for the HDB flat you are selling.
FYI: You can get an estimation of the HDB solicitor's fees here.
If you took a bank loan for your HDB flat, you will have no choice but to engage a private solicitor.
Step 5: Submit Resale Application to HDB
After the OTP has been exercised, the next step is for both you and the buyer to submit the resale application and accompanying documents.
According to HDB, the resale application consists of a buyer and seller portion with two important datelines for both of you to meet:
(i) Submission by the second party within 7 calendar days
Either you or the buyer can submit your portion of the resale application first. After the first portion is submitted, the second party must submit his portion within 7 calendar days. If this is not done, the application will lapse, and the whole application process will have to be restarted.
(ii) Submission of application to HDB (according to Clause 12 of the OTP)
Under Clause 12 of the OTP, you and the buyer will agree on the timeframe to submit your resale application to HDB. This is a contractual agreement between you and the seller where the timeframe can be extended with mutual consent.
Also, HDB requires that you submit these supporting documents as part of the resale application process:
Details of Option to Purchase (i.e. OTP Serial No., Option Grant/ Exercise Date, Purchase price, Option Fee/ Option Exercise Fee)
Buyers' particulars
Sellers' particulars
Indicate whether you have an existing loan with HDB/ Financial Institution (FI)
Declarations regarding your purchase
Any additional documents required by HDB which will be listed on the HDB resale portal
Once the resale application has been submitted, HDB will verify the information provided and notify buyers and sellers of the application status via SMS/email.
In addition, you can check the HDB resale portal for updates on the status of the application.
Once the resale application has been accepted, it will take about eight weeks or so until the completion of the resale application!
Step 6: Endorse Resale Documents & Pay Resale Fees Online
Once the resale application has been accepted, both you and the buyer will be given six days from the SMS/email notification to endorse the resale documents.
Once the documents have been endorse, the next step would be to pay the resale fees online.
Here are the resale application administration fee costs:
$40 for 1 or 2-room flats
$80 for 3-room flats and above
This amount can be paid online via credit card (Visa/MasterCard) or by scanning the QR code using any of the supporting mobile payment apps (NETSPay, DBS PayLah!, POSBANK/DBS Digibank, UOB Mighty and OCBC Pay Anyone.
In addition, you will have to pay the legal fees via CPF savings, cashier's order, or NETS
Also, if you have met the MOP, you will generally not be required to pay Seller's Stamp Duty when you sell the flat.
if required, you will need to pay stamp duties with cash.
Step 7: Wait For Approval of Resale Application From HDB
You are almost there!
After both you and the buyer have endorsed the documents, HDB will take about two weeks to approve the resale application.
Once the approval has been granted, both buyer and seller will be notified by SMS/email.
Following which, both of you will be able to view the approval letter on the HDB resale portal.
The next step will be to prepare for HDB's flat inspection which will be arranged about five working days after the application is approved.
In addition, HDB will also provide a tentative completion appointment date as well.
Step 8: Attend Resale Completion
Take heart, this is the final step.
To complete the sale, both buyer and seller will need to attend a Resale Completion Appointment at the HDB Hub in Toa Payoh.
HDB will notify both you and the buyer via SMS/email about the exact time and date of the Resale Completion Appointment once it has been scheduled.
And as always, you can check the date on the HDB resale portal.
Should you or the buyer need to change the Resale Completion Appointment date, both of you will need to write in to HDB to request for the change, pending HDB approval.
If you have engaged a private solicitor, your solicitor can attend the Resale Completion Appointment on your behalf to complete the sale.
Whereas if you appointed an HDB solicitor, you will need to attend the Resale Completion Appointment in person.
It goes without saying that you will have to move out before the date of completion so that the buyer can take possession of your flat immediately after the completion appointment.
However, If you have applied for a temporary extension of stay, you can continue staying in your flat based on the agreed on timing.
And there you have it. All that you need to know about selling an HDB flat without any agent!
Got Any Other Questions About Property?
Why not head on over to our friendly Seedly Community and ask your question over there. Our friendly and savvy community are here to help!
About Joel Koh
History student turned
writer
at Seedly. Before you ask, not a teacher. I hope to help people make better financial decisions and not let money control them.
You can contribute your thoughts like Joel Koh
here.