10 Hipster Hawker Centres In Singapore: Based On Real User Reviews
It's the long weekend! That means more time freed up for you to explore the many interesting food places in Singapore. Well, even if you were the most unadventurous person out there, you would surely do at least these two things: Eat and sleep, and this article's all about eating!
Fancy English cafes with those Eggs Benedict have had their glory in the foodie scene the past couple of years. But what Singaporeans define as cool nowadays seem to have something to do with originality and novelty. By this, I mean reinventing the Singaporean Hawker Culture, making original renditions of Asian street food, hip music, fusion cuisines and the occasional neon signs on walls.
We turned to our community on Facebook for some unbiased recommendations, and to our surprise, they swarmed us with some amazing Hipster Hawker food stalls we can't wait to try out. Here are 10 places they recommended!
TL;DR – 10 Hipster Hawker Centres For The Weekend
Fomo SG
District 20 Hot Melt Cold Brew
Ah Tan Wings
AlibabaR Hawker
Timbre+
The Malayan Council
Essen
Seok Seng's 1954 Bicycle Cafe
Beng Who Cooks
Silly's Western
Credits: Fomo SG
A place that fulfils all your cool needs – Visually pleasing decoration, outdoor seats with fairy lights and a myraid of cuisines. Located along the streets of Jalan Sultan, this hip-styled food court holds stores such as Mr Wholly (Seafood), Maki Masho (Poke and Sushi), Chops Grill and Sides (Western), The Don (Pizza and Pasta), Kakak Kentang (Malay Cuisine), Kane Mochi (Japanese Mochi Desserts) and more! Prices range from $6 to $20++.
Address: 38 Sultan Gate, Singapore 198486
Opening Hours:
Fri & Sat: 10am to 1am
Sun to Thurs: 10am to 12am
Credits: District 20 Hot Melt Cold Brew
Another Featuring stalls that sell food from all over the world, from Tzi Char, Seafood and Mussels, Beef Patties, and Japanese Fusion food, this place really offers you the whole experience. The bright side is the price range is rather wide here. You can get food for below $10 or splurge on dishes above $15 on a good day.
Address: 38 Jalan Pemimpin, Singapore 577178. Alight at Marymount Station (CC16) & take Exit B
Opening Hours:
Everyday, 7am – 11pm
Tel: 9337 8600
Credits: Ah Tan Wings
One of our community members chanced upon an article from the Vulcan Post about Ah Tan Wings.
So, we did some research and realised that this places had gotten itself quite a reputation amongst Singaporean foodies as well as famous food bloggers.
What's attractive about this place? Other than the young handsome owner who will serve up your wings, the Har Cheong Kai is served not as your typical plate at tzi char stalls but with a sunny side up and fragrant rice. You can get these sets at $4.90 or $5.90. Wings may sell out early!
Address: #01-40 Yishun Park Hawker Centre, Blk 51 Yishun Avenue 11, Singapore 768867
Opening Hours:
Closed on Mon
Tues to Sun: 11am – 3pm, 4pm – 9pm
Credits: Alibabar 
As the picture says "Kopitiam by Day, Hawker Bar by Night", you can get a cup of Kopi Siew Dai there in the morning and see a crowd having drinks there at night. Alibabar is a smaller hipster kopitiam that has been around for awhile, and it has about 5 stalls selling kebabs, hokkien mee, thai tom yum soup and more.
Address: 125 East Coast Rd, Singapore 428810 (Opposite I12 Katong)
Opening Hours: 
Mon to Thurs: 9am – 11.30pm
Fri: 9am – 1.30am
Sat: 8.30am – 1.30am
Sun: 8.30am – 11.30pm
Tel: 6440 6147
5. Timbre+
Credits: Chua Hong Yin / TODAY Online
Another hipster food centre that offers a huge variety of interesting dishes, from Wong Kee's Wanton Mee to Udders Ice Cream, French food and Dancing Crab. What's getting the queues are usually the Wanton Mee stall and Ban Mian during lunch time. Most of these local delights close around 3pm, but bak kut teh, french and the drinks bar etc will still be open!
Adding to the new-age vibe, Timbre+ has a few things unique to it: A tray return system that returns you $1 and a QR code payment app that gives you a 10% discount.
P.S The live band that performs at night is amazing.
Address: 73A Ayer Rajah Cresent, JTC LaunchPad @ one-north, Singapore 139957
Opening Hours:
Mon to Thurs: 6am – 12am
Fri: – Sat: 6am – 1am
Sun: 11am – 10pm
Credits: The Malayan Council
A cool place but with a heavier price tag on each dish in the $20s. The Malayan Council has been around since 2015, serving up halal malay-fusion cuisine. Expect fancy local cakes, Chili Lobster, Roti Jala (beef), Smoked Duck Chili Padi Pasta and so on! Cafe-style with a local twist, I would say.
Address: 22 Dunlop Street & 71 Bussorah Street
Opening Hours: 11.30am to 11pm daily
7. Essen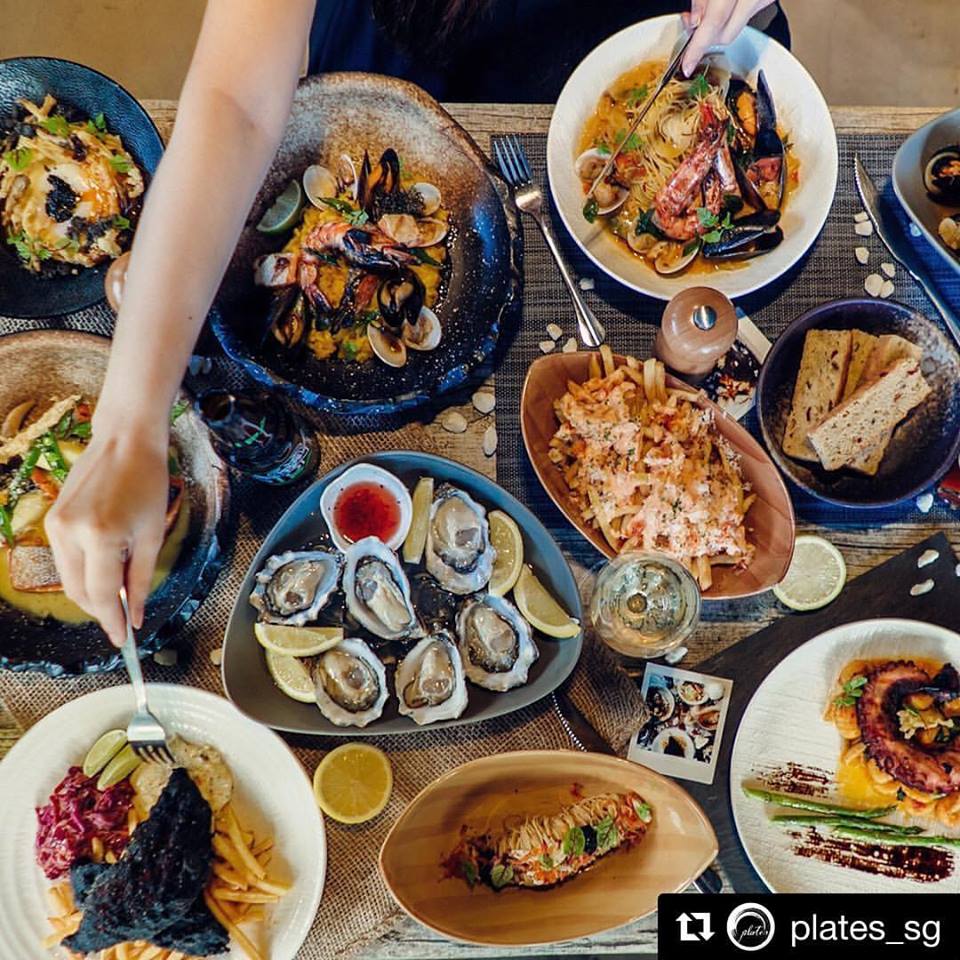 Credits: Plates SG
I guess we could call this your high SES hawker centre. Located at Pinnacle, this air-condition food centre serves burgers, Mediterranean food, white clam pasta, pork belly, pizzas and so on. For quality food, the price tag is still rather acceptable in the high $10s and mostly below $20.
Address: 1 Cantonment Road, Unit 01-01, Singapore 080001
Opening Hours: 10.30am to 11pm daily
8. Seok Seng 1954 Bicycle Cafe
Credits: Seok Seng 1954
A place less heard of, but definitely just as popular. Seok Seng 1954 is a cafe opened by a vintage bicycle collector. Located away from the city area, you can even watch planes take off from Seletar while having a cup of coffee. Plus, its interior is thoughtfully decorated with all the owner's vintage collectibles and paintings.
Prices are fairly affordable. You can get Katsu Don for $7.80 and Sirloin Steak for $15!
Address: 80 #01-01 MAJ Aviation Building, Seletar Aerospace View, 797563
Opening Hours:
Closed on Mondays
Tues to Sun: 10am – 10pm
9. The Beng Who Cooks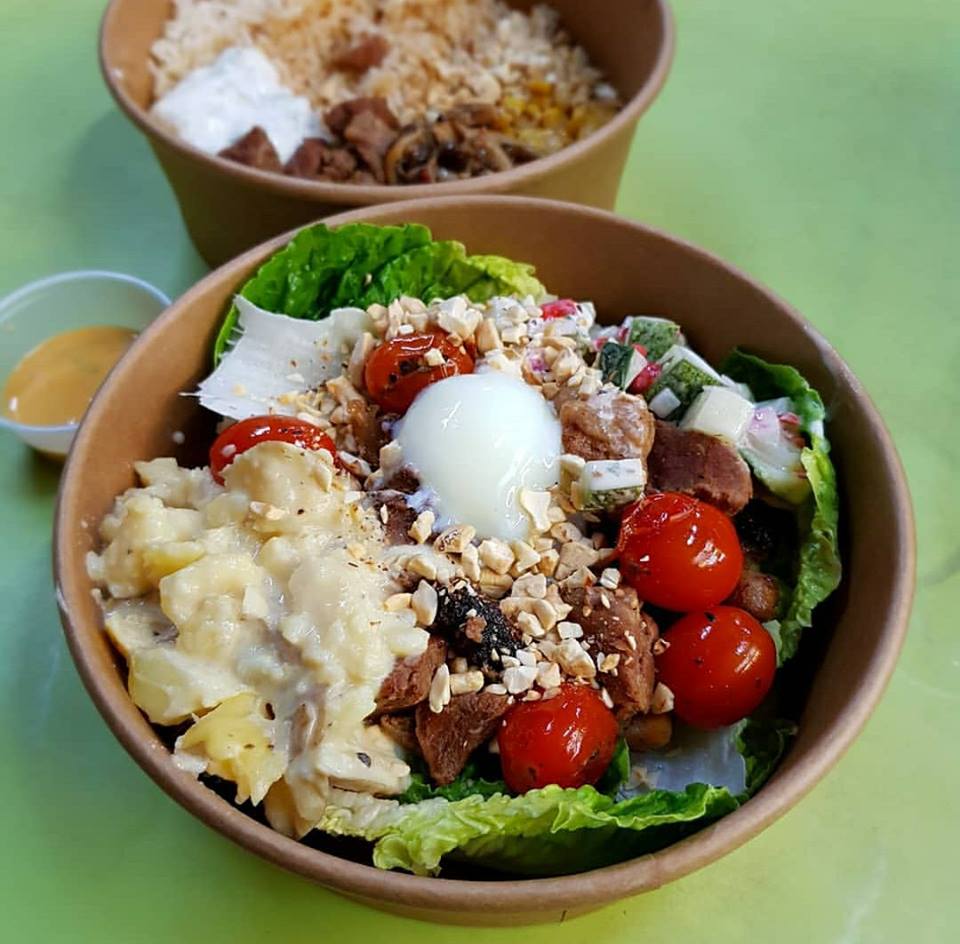 Credits: The Beng Who Cooks
Opened by Millennial Jason Chua, The Beng Who Cooks serves up Western Economical Rice in a modern meal prep style. Some examples of what you can order there are:
Hawker bowl ($6) consists of 1 Carb + 1 protein + 2 side kicks + 1 Add-on + 1 sauce
Towkay Bowl ($9) consists of 1 Carb + 2 proteins + 4 side kicks + 1 Add-on + 1 sauce
Address: Hong Lim food complex, #01-44
Opening Hours:
Mon to Fri: 10am to 7.30pm
Sat: 10am to 3pm
10. Silly's Western
Credits: Silly's Western
One of our community members recommended Silly's western as a relatively new place that serves up Western dishes with interesting side dishes. They pride themselves on their Silly Chicken Wings and Honey Paprika Chicken, so I reckon you have to try those!
Note: They deliver with FoodPanda!
Address: 335 Smith St, Singapore 050335
Opening Hours:
Closed on Wed
Thurs to Tues: 12pm – 10pm
About Junel Seet
Most of my expenditure is on sustenance. Yes, I meant food.
You can contribute your thoughts like Junel Seet
here.