Li Chun Starts on 4 February 2020
Known as "the Beginning of Spring", Li Chun 2020 falls on 4 February this year.
In Singapore, we have a culture of queueing to deposit money on Li Chun, which is perfectly in-line with Singaporeans' favourite hobby of queuing.
It is believed that for every Zodiac, by depositing money during a certain auspicious hour assigned to you, you will get to enjoy good fortune for the rest of the year.
Here's the best time to deposit money this year!
---
TL;DR: The Best Time to Deposit Money for Each Zodiac This Li Chun 2020
There is a super auspicious time period to deposit money on 5 February 2020, from 9am to 11am. This is for all the zodiacs, except Rat, Dragon, Snake and Monkey.
Li Chun stretches from 4 February 2020, 5pm to 5 February 2020, 3pm. Hence, if you need the notes deposit machine for other needs other than for luck, do avoid this timing.
Breaking Down the Li Chun Timing
For strong believers of Li Chun, who does not have that strong a physical fitness to be queueing for hours just to deposit money, we got your back!
Upon researching the auspicious hours for all the Zodiacs, we managed to recognise some of the peak hours where we believe most people will want to be depositing their money.
Do take into account that there is usually a spike in number for babies born in the year of Dragon. Other Zodiac might wish to avoid timings that coincide with the "Huat" timings of those born in the year of Dragon.
Time
"Huat" timing for which Zodiac?
Total number of Zodiacs in this timing
5pm - 7pm
(4 February 2020)
Ox, Dragon and Snake
3
(includes Dragon)
7pm - 9pm
(4 February 2020)
Tiger, Rabbit and Horse
3
9pm - 11pm
(4 February 2020)
Tiger, Rabbit and Goat
3
11pm - 1am
(5 February 2020)
Ox, Dragon and Monkey
3
(includes Dragon)
1am - 3am
(5 February 2020)
Rat, Snake and Rooster
3
3am - 5am
(5 February 2020)
Horse, Dog and Pig
3
5am - 7am
(5 February 2020)
Goat, Dog and Pig
3
7am - 9am
(5 February 2020)
Rat, Monkey and Rooster
3
9am - 11am
(5 February 2020)
Ox, Tiger, Rabbit, Horse, Goat, Rooster, Dog and Pig
8
1pm - 3pm
(5 February 2020)
Rabbit, Horse and Pig
3
We noticed that the most peak hour will be on 5 February 2020 from 9am to 11am.
Since 5 February 2020 is a Wednesday and most Singaporeans should be working, depositing money at cash deposit machines away from town will be your best bet.
---
How Much Is an Hour of Your Time Worth?
It is a common sight to see Singaporeans queuing at the cash deposit machines hoping to make it in time to deposit some cash during their auspicious hours.
My personal experience in the past involves up to one and a half hours of queuing.
Note: I'm not really the most superstitious guy around, but it was during office hours with my colleagues. Hence, I'm cool with it. Anything to shave a few hours off work!
Taking a step back, it will be good to pay extra attention to how much is one hour of our time worth to see if it makes sense to queue for the annual Li Chun Cash Deposit Movement.
Assuming an individual:
Work 9 hours a day from 9am to 6pm.
Sleeps 7 hours a day (a healthy amount of sleep according to science)

Willing to queue behind 15 people, with an estimated queue time of 1 hour 4 mins for a $100 gift certificate.

Willing to pay up to $50 to sort out this mess of arranging these screws into their respecting category.

Willing to pay $50 for cab fare to prevent waiting for a bus that is arriving in 2 hours.
Earns the median Singaporean salary of about $3,861
Willing to work through Chinese New Year with 100% overtime pay.
With the above, your one hour of spare time will be worth $55.
Which means that for every hour you spend queuing, the opportunity cost is $55.
---
Hacks to Avoid the Queue This LI Chun
Given the advancement in technology, there are definitely ways we can hack around the process and make us queue lesser.
Improving the Current LI Chun Process With E-Wallets
Our current procedure involves:
Queuing at the ATM
Taking money out of our physical wallet
Depositing it into the bank account
This process, however, results in long queues at the cash deposit machines and time wastage while queuing:
With the advancement in technology, and without compromising on the actual mechanism on how money travels:
Transfer some money into your E-wallet, eg. PayLah
Transfer money from E-wallet back to your bank account
All in the comfort of your home.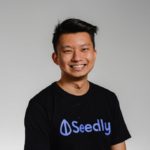 About Ming Feng
A stint in
Bloomberg
gifted me with a beer belly, which only grew larger when I moved on to become a Professional Trader. Now I turn caffeine into digestible finance-related content.
You can contribute your thoughts like Ming Feng
here.