No Dining In at F&B Establishments
From 16 May 2021 to 13 June 2021, tighter COVID-19 safe management measures were tightened due to the increase in community cases.
Singaporeans are not allowed to dine in at food and beverage (F&B) establishments, leaving many Singapore foodies stranded.
Personally, it is going to feel like an eternity even though it was only for 4 weeks and for the betterment of the nation. Without travel, hopping around 'makan' places to hunt for good food became my weekend getaway.
As we move to rely on food deliveries and the internet to satisfy our daily meals, there is a great disadvantage for hawkers that are run by the older generation. These elderly hawkers are digitally less savvy and have little idea on how they can make use of technology to boost their sales or to make their stall more discoverable online.
Ask anyone about the most important part of Singapore's heritage and chances are, the answer would be our local food such as Nasi Lemak, Chicken Rice, Bak Chor Mee etc.
Our love for local hawker food is ultimately built on the recipes, experiences and hard work of our elderly hawkers where they preserve with them the unique taste of what makes us Singaporeans.
If we do not support them, I fear that some of these stalls will be forced into retirement.
---

Help our Hawkers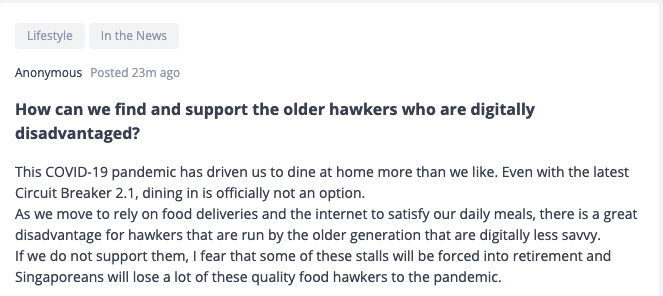 The older generation hawkers definitely need our help. We did some research and here's how we can support them.
Google Maps Layer to Find and Support Digitally Disadvantaged Hawkers Near You
We chanced upon this on
reddit
.
Someone created a map of digitally disadvantaged hawkers where you can link to your Google map.
You can also contribute new stalls.
Here's how you access it:
It is so good that the map even includes a description of the stall, address, opening hours and what is their best dish! Check it out!
There is a Facebook Group for almost everything! Ever since Circuit Breaker, many of these Facebook Groups are created in support of promoting some of the community's favourite stall.
You can help to list your favourite stall in the groups too!
Pasar United – Dabao 2020 is a Facebook Group with 45.7K members.
The Facebook Group invites sellers, including home-based businesses, to post their Facebook Live sales of any food products to their community. Definitely a good initiative and an affordable way to advertise to more than forty-five thousand members.
5.2K members strong, Dabao Makan 2020 is a Facebook group for sharing delivery and takeaway promos in Singapore.
Restaurant listings will be tagged by their store location, or tagged island-wide delivery if available.
A group that was started to share information on cheap and good food locally.
It has now garnered more than 15.8K members in the community.
Another relatively active group when it comes to food.
Singapore Hawkers United Facebook Group is now 11.3K members strong with constant updates on the food you can order to deliver!
---
Instagram Accounts
An Instagram page created to spread awareness of elderly hawkers who have no digital presence.
You can also send in the hawkers you wish to be featured!
@Wheretodapao look to help elderly hawkers get more business during these tough times.
Their story highlights are sorted out into various location of hawkers so you can easily select based on wherever is convenient for you!
---
Tough times don't last.
As Singapore takes all the precautionary measures to recover from this COVID-19 pandemic, let us all unit as one and get through it together as one Singapore.
About Ming Feng
A stint in
Bloomberg
gifted me with a beer belly, which only grew larger when I moved on to become a Professional Trader. Now I turn caffeine into digestible finance-related content.
You can contribute your thoughts like Ming Feng
here.