Ever Wondered How Different Generation Invests $10,000
Why are we always talking about investing with $10,000?
What do you invest in, if you have S$10,000 in your bank account right now?
Most personal finance content uses $10,000 as a quick guideline mainly because:
The amount is sufficient enough to build a reasonable portfolio
Having $10,000 worth of savings is usually the first target most people aim for when they start working
Plus, $10,000 is a 5-digit worth of savings, which is quite a milestone
We went on a journey to look for the best place to invest $10,000 and have written guides and interview financial bloggers on this topic.
While these guides may be useful for a start, each generation actually has different risk preference and different approach to money and investing.
---
How differently will each generation of Singaporeans invest $10,000
Based on a survey done in America, different generations having different priorities and approaches to money.
Assuming that the general mindset for different generations in the population of America exhibits a close similarity to that of Singapore, here are some of the interesting findings:
source: How Different Generations Would Invest $10,000
What do they invest in?
Millennials
(18 - 34 Years Old)
Generation X
(35 - 54 Years Old)
Baby Boomers
(More than 55 Years Old)
Real Estate
15.1%
14.6%
11.2%
Pay Down Debt
22.4%
25.3%
33.1%
Education
9.9%
1.1%
0.3%
Children's Education
6.3%
11.3%
2.8%
Stocks
6.6%
8.1%
6.7%
High-Yielding Saving Account
7.7%
10.8%
17.1%
Virtual Currency
9.2%
4.0%
3.1%
401K
(CPF for Singaporeans)
8.5%
9.4%
11.5%
Own Business
6.3%
6.7%
5.6%
Others
( Not sure what to do with it)
8.1%
8.6%
8.7%
Across all age group, paying off debt seems to be of the highest priority. With student loan debt, credit card debt, mortgages being some of the top concern.
When it comes to investing in stocks, a majority of Americans are using a human financial advisor to do so.
With Singapore topping Asia-Pacific region in financial literacy index, we believe that a higher percentage of the population might be on standard brokerage account or robo-advisors.
Should the survey be carried out in Singapore, more people would have voted to invest in Real Estate too.
0.2% of the 1,000 people who took the survey would invest in peer-to-peer loans 
---
Further Reading: There is no one-size fits all portfolio
Each generation comes with very different mindsets and concepts of money and investment due to different times we were brought up in.
Also, at various stages in life, priorities changes.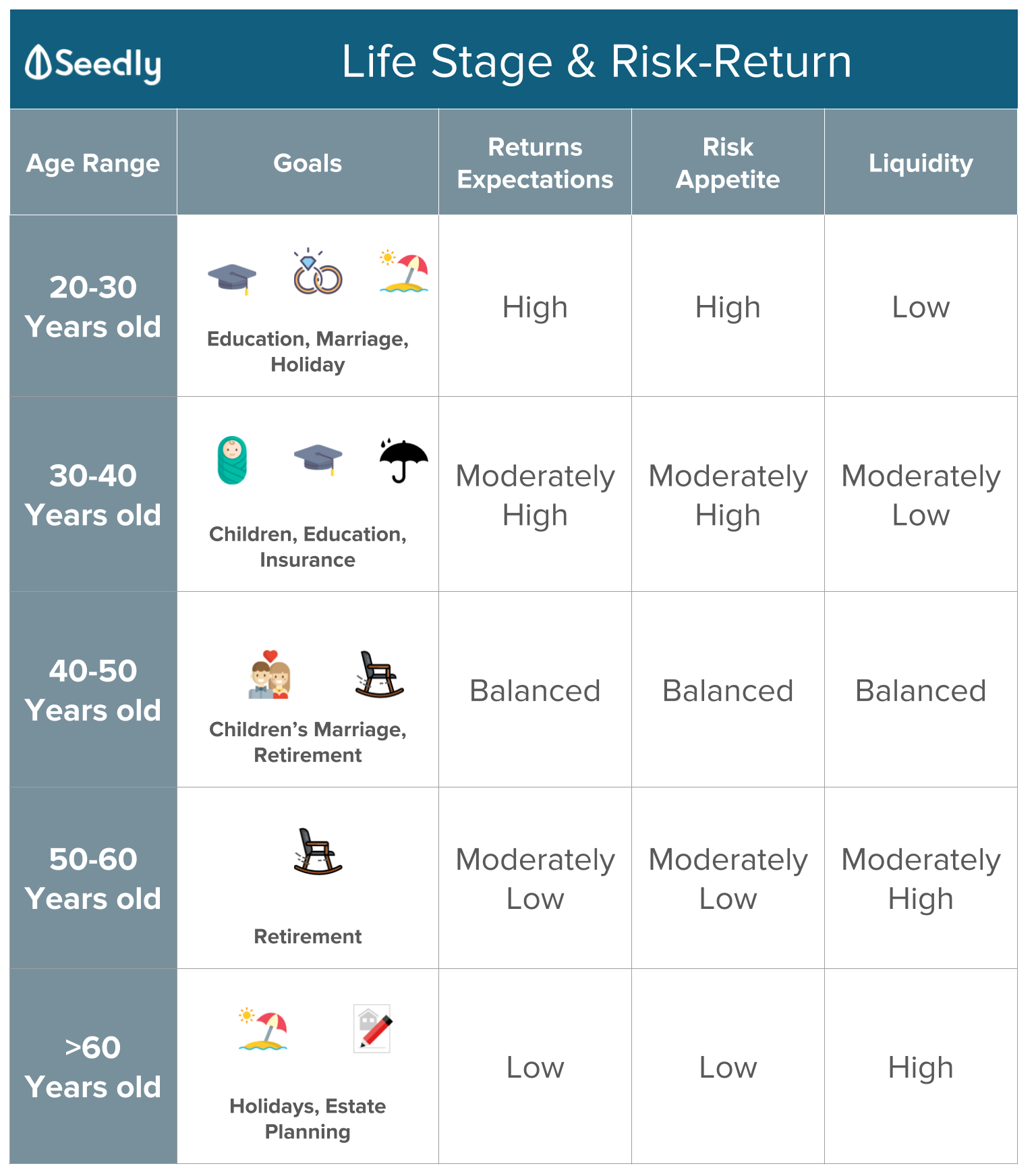 source: Age vs Risk Profile: What Investments Should You Hold At Your Age
This is why a higher percentage of millennials investing in virtual currency is more than twice that of the other two generations.
In fact, more millennials will invest their $10,000 in virtual currency instead of stocks. Comparing to their Generation X and Baby Boomers counterpart where stocks investing is a preferred choice.
Millennials also see the need to spend that $10,000 on education whereas Generation X and baby boomers will probably feel little need to do so.
Debt – A constant worry across all 3 generations
Clearing of debt is probably the biggest concern for all 3 generations, with more than 20% of them looking to allocate their "$10,000 cheque" into clearing it.
The percentage of which increases with age, with 33.1% of Baby Boomers (the older generation) having the highest percentage.
While we can allocate various debt clearing method, one thing seems certain. The cost of living will only get worse and it is important that personal finance starts early.
About Ming Feng
A stint in
Bloomberg
gifted me with a beer belly, which only grew larger when I moved on to become a Professional Trader. Now I turn caffeine into digestible finance-related content.
You can contribute your thoughts like Ming Feng
here.