Here's How I Saved $970 On My $1,468 Phone With This Life Hack
I've always loved "hacking" things.
From learning the best strategies to beat a video game to downloading a non-premium YouTube app without ads (iykyk), having the cheat sheet made me feel powerful.
When it came time to put my faithful Samsung Galaxy S9+ companion to rest, I knew that I was due for my next smartphone purchase.
And with flagship phones now retailing in the thousands, I just had to find the best way to get the most bang for my buck (Yes, I did consider budget phones but they didn't hit the mark for me).
So here's how I saved a total of $970 on my new $1,468 Samsung Galaxy S22+ and how you can do the same too to maximise your spending!
Disclaimer: This is a non-sponsored article. The information provided by Seedly serves as an educational piece and is not intended to be personalised investment advice. ​Readers should always do their own due diligence and consider their financial goals before signing up for any products.
---
Maximising Your Spending With Credit Card Rewards
Before we dive in, let me clarify a couple things. This hack involves signing up for credit cards to enjoy rewards.
Thus, you'll need to be new to the credit cards that you sign up for and have a minimum annual income of $30,000, which is a standard requirement for entry-level credit cards.
During the signup process, you'll also need to provide proof of income for the last three months at a minimum.
In other words, you'll need to be employed for the last three months.
If you're new to credit cards, be sure to read our ultimate guide to credit cards to understand the fees and risks associated with credit cards before you sign up!
If you don't qualify for credit cards, don't worry as there are other ways to save on your spending!
Read more
Here's How I Saved $970 on My $1,468 Phone
With the prerequisites out of the way, here's exactly how I did it!
Credit Card Rewards
For the uninitiated, there are multiple sign-up promotions with credit card comparison sites such as Singsaver. These sites give out rewards on top of any credit card welcome rewards.
Moreover, I also knew that it is possible to split bill payments between credit cards (at physical stores).
So while I was researching which phone to buy, I went ahead to scour the internet for the best credit card sign-up rewards.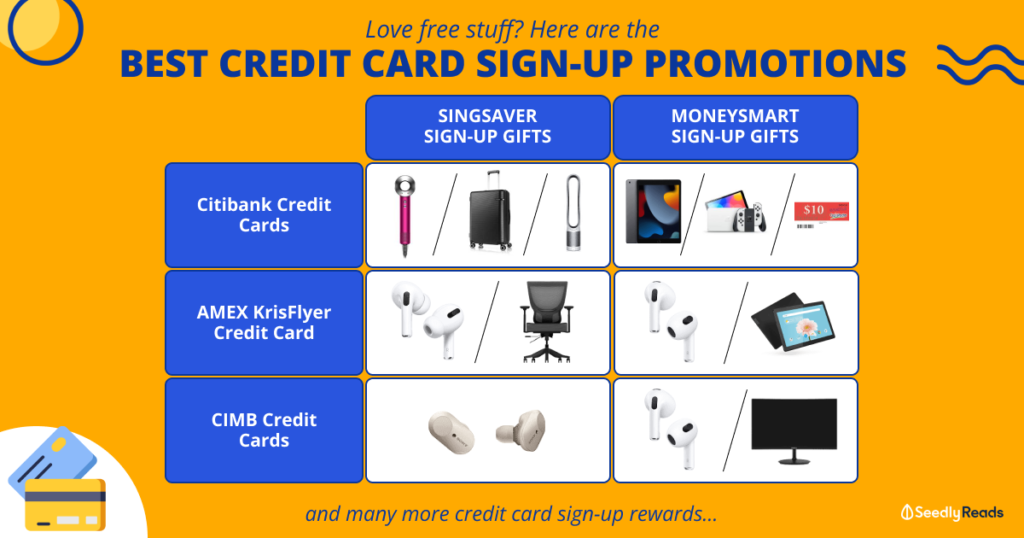 For context, I bought my phone in July 2022 and the article above details the sign-up promotions available at the time. I decided to go with SingSaver as they were offering great rewards for Citibank and Standard Chartered Credit Cards.
SingSaver x Citibank Credit Card Promotion
At the time, both SingSaver and Moneysmart were running a promotion with Citibank credit cards.
SingSaver was offering a reward with the highest resale value; a Dyson Supersonic Hairdryer which could be sold for about $500 on Carousell.
I had to make a minimum spend of $500 within 30 days of card approval to qualify for the rewards.
After thoroughly reading through the T&Cs, I went ahead to sign up for a Citibank credit card through SingSaver's website and completed the rewards form.
SingSaver x Standard Chartered Credit Card Promotion
With a bit more room to play with, I considered the Standard Chartered Smart credit card promotion with SingSaver.
For this promotion, they were offering a Dyson AM07 with a minimum spend of $350 within 30 days of card approval.
The resale value on Carousell was around $350 on the lower end.
Likewise, I read through the T&Cs before signing up for this credit card.
Finding The Best Deal
As I waited for my cards to be approved, the next step was to find the best deal I could at a physical store so that I could split my bill payments and qualify for the minimum spending of the two promotions.
I took a walk in my local mall and compared the prices and promotions available. In the end, Best Denki had the best promotion as they were having $100 off the retail price. As a bonus, Best Denki was giving customers a gift pack that contained a power bank which I could sell for about $10 on Carousell.
During that period, Shopee was also selling the S22+ for about $1,368, but it did not allow me to split my bill.
Spending And Saving Big
The day soon came when I had my cards ready and the best deal I could find. All that was left was to make my purchase and ask the cashier to split my bill into two with the larger amount deducted from the card that gave better cashback/miles.
I paid $350 with the Standard Chartered credit card and the remaining $1,018 with the Citibank credit card to hit both minimum spends.
While I was walking around the mall the other day, I came across an ad that gave a $10 gift voucher at any Frasers Mall by charging $100 to a Citibank card. Thus, after I got my receipt, I went to the information counter to claim that $10 cashback.
In total, here's the breakdown of how much I saved!
| Details | Amount |
| --- | --- |
| Samsung S22+ retail price | $1,468 |
| Best Denki promotion | -$100 |
| SingSaver x CitiBank credit card promotion (Sale of Dyson Supersonic) | -$500 |
| SingSaver x Standard Chartered credit card promotion (Sale of Dyson AM07) | -$350 |
| Sale of power bank gift from Best Denki gift pack | -$10 |
| Fraser malls x Citibank promotion (gift voucher) | -$10 |
| Total cost of phone purchase including cashback/sale of rewards | $498 |
| Total savings | $970 |
Do note that this does not include cashback or miles earned from the credit cards themselves. Also, as the credit card gifts will take a while to arrive, I've technically not gotten my $850 just yet. But once I do, I would have saved a total of $970 and possibly more!
---
Afterthoughts
Of course, I could have further split the bill into three to qualify for the AMEX x SingSaver promotion and save another $180 with MoneySmart's promotion. However, I decided to make use of the two promotions as the cards fit my credit card strategy and I didn't want to have too many credit cards or deal with an overwhelming number of annual fees.
If you're about to make a big purchase, you too can make use of bill splitting and credit card promotions to maximise your spending!
That said, remember to understand the financial product that you are signing up for and don't go signing up for everything just for rewards. Also, remember to monitor your cash flow to avoid credit card debt! Before I purchased my phone, I made sure that I had more than enough in my bank to cover the upfront cost of the phone ($1,368).
Have a life hack to share? Head over to the Seedly community and share your tips!
Share your tips with the Seedly community
---
Related Articles
About Justin Oh
Your average Zillennial who is obsessed with anime, games, movies and of course, personal finance. Join me as I break down personal finance into easily digestible and fun bits!
You can contribute your thoughts like Justin Oh
here.