McDonald's Singapore Returns with Contactless McDelivery, Drive-Thru and Takeaway
Remember the good ol' days where we could get a $0.50 Vanilla Cone from the neighbourhood McDonald's?
I do.
Man… those were some golden times.
I also recall when my brother and I used to tear out McDonald's coupons that came in the mail, stashing them away in our wallets just in case we needed a quick $2 Filet-O-Fish fix after school.
However, $2 isn't the kind of price we can get at McDonald's these days.
And what astonishes me how much McDonald's prices have increased over the years.
Especially the new range of burgers and 'premium' offerings on the menu.
By this, I mean the new Buttermilk Crispy Chicken Extra Value Meals which cost $9.65 (without an upsize!).
And how about the $9++ Prosperity Feast during Chinese New Year?
Breaking the tens in prices really makes a statement: McDonald's has moved past its $1 Cheeseburger days from the nineties.
Today, let's reminisce about visiting the OG McDonald's in East Coast Park (since we're all stuck at home, ugh).
And have a look at how much our favourite McDonald's items have increased in price over the years, shall we?
---
TL;DR: McDonald's Singapore To Slowly Resume Operations on 11 May 2020
Following McDonald's Singapore's decision to suspend takeaway service on 18 April 2020.
The fast-food giant has suspended ALL restaurant operations and even decided to extend their closure beyond 4 May 2020 "for the safety and well-being of [their] employees and customers".
Much to the dismay of fans.
.
.
.
However… they're back!
From 11 May 2020, you can order your favourite McDonald's meal through contactless McDelivery, Drive-Thru, and takeaway.
However, not every outlet will be open.
Those which are open will only operate from 7am to 9pm (read: no 24-hour service for now)
To be in line with the enhanced Circuit Breaker Measures, Dessert Kiosks and McCafe counters will remain closed.
---
McDonald's Singapore Menu Prices 2020
You know how people say that fast-food is a cheap and tasty option?
Well…
McDonald's sure is tasty.
But the prices are anything but cheap.
In fact, there are options on the menu that are nearing the $10-mark.
McDonald's Classics
Price
Hamburger
$2.60
Cheeseburger
$3.20
McChicken Extra Value Meal (M Fries)
$5.95
Filet-O-Fish Extra Value Meal (M Fries)
$6.55
McSpicy Extra Value Meal (M Fries)
$7.90
Big Mac Extra Value Meal (M Fries)
$8.65
Chicken McNuggets (6pc) Extra Value Meal (M Fries)
$6.85
Chicken McNuggets (9pc) Extra Value Meal (M Fries)
$8.70
Chicken McNuggets Ala Carte (20pc)
$13.60
Doubles
Double Cheeseburger Extra Value Meal (M Fries)
$6.95
Double Filet-O-Fish Extra Value Meal (M Fries)
$8.30
Double McSpicy® Extra Value Meal (M Fries)
$9.70
Recent Additions
Grilled Chicken McWrap Extra Value Meal (M Fries)
$8.25
The Original Angus Cheeseburger Extra Value Meal (M Fries)
$8.75
Angus BLT Extra Value Meal (M Fries)
$9.80
Buttermilk Crispy Chicken Extra Value Meal (M Fries)
$9.65
McWings 2pc
$2.75
McWings 4pc Extra Value Meal (M Fries)
$6.95
Source: McDelivery App
Oh btw, instead of just forking your hard-earned cash over, remember to use the correct credit card to pay for your McDonald's meal to score a little discount!
It doesn't have to be anything fancy.
Just a simple cashback credit card will allow you to collect cash rebates and cash back!
Difference In McDonald's Price Today vs The Past
With the limited amount of info we managed to scrounge up — through websites, old photos, screenshots, REALLY old receipts, and etc).
We managed to obtain a couple of prices of McDonald's items from yesteryear.
Note: I tried getting the 2020 ala carte prices today but the McDonald site and McDelivery app are both down (probably due to the overwhelming traffic) so, here're the 2019 ala carte prices instead
Here's the percentage increase in prices for some of our McDonald's favourites:
McDonalds Favourites
Price In The Past
Price
(2019)
Percentage Increase
Hamburger Ala Carte
$0.80
(Year 1979)
$2.50
213%
Cheeseburger Ala Carte
$1.10
(Year 1979)
$2.80
154%
Big Mac Ala Carte
$2.50
(Year 1980)
$6.00
140%
McChicken Ala Carte
$2
(Year 2000)
$3.95
98%
McSpicy Ala Carte
$3
(Year 2012)
$5.80
93%
Chicken McNuggets (6pc) Ala Carte
$2
(Year 2012)
$3.00
50%
Double Fillet O Fish Ala Carte
$5.75
(Year 2015)
$6.35
11%
---
History of McDonald's in Singapore
While we wait patiently for the Golden Arches to be back.
Let's take a trip down memory lane, McDonald's fans.
.
.
.
McDonald's first set foot in Singapore in the late 1970s, introducing to us the magical world of greasy potato sticks and round angmoh sandwiches.
In the year 1979, the first McDonald's shop made its mark at Liat Towers, Orchard Road.
When it first opened, 'Hamburgers', otherwise known as Cheeseburgers without cheese, were sold at $0.80 and Cheeseburgers were sold at $1.10.
Note, these were the days when chicken rice was still sold at $1.20 at hawker centres.
And feeder bus prices were a mere $0.15 (read: McDonald's was High-SES food).
The prices at McDonald's aren't cheap, but they attracted customers because of its novelty and ambience.
Later in the 1980s, prices increased to about $1.30 for a Cheeseburger.
If you wanted an upgrade, you could order a Big Mac which would set you back by about $2.50.
Speaking of Big Macs, if you were already a McDonald's fan since the 80s, then you might remember this:
"Two All-Beef Patties Special Sauce Lettuce Cheese Pickles Onion on a Sesame Seed Bun"
Fun fact, this was also the time when KFC was still served on plates with metal utensils.
Fast forward to the 2000s, the more basic burger choices like the McChicken were priced at $2.
And getting your weekend McDonald's breakfast fix at East Coast Park would cost you $2 for a Sausage McMuffin, with refillable coffee or tea.
It was pretty smart of them to make the hashbrowns ($1.65) an option in order to keep the breakfast offering at a (perceivably) more affordable price than if they sold it as a complete meal.
Generally, prices are slowly increasing but they were still relatively comfortable as standards of living in Singapore were rising and there were always lots of promotions to be had.
In the 2010s, however, the price hikes became slightly more obvious with the introduction of a new range of burgers and burger 'upgrades' such as the Double Filet-O-Fish (FOF).
The Double FOF in 2015 was $5.75 (a la carte), more than double the price of a $2 Single Filet at that time.
Note: McDonald's was popular for having odd meal pricing, leveraging on the fact that people think meals are generally cheaper. Getting 1 single Filet-O-Fish meal and an extra single Filet-O-Fish on the side would actually be cheaper than a single $7.10 Double Filet-O-Fish Meal.
When the Samurai Burger first made its appearance in Singapore in 2012, it was priced at a whopping $7.65 for a meal!
But customers still lapped up the tender, juicy beef burger drenched in teriyaki sauce.
At that time, spending almost $8 for a McDonald's meal was definitely an expensive move when you could still get the larger McSpicy burger at only $3.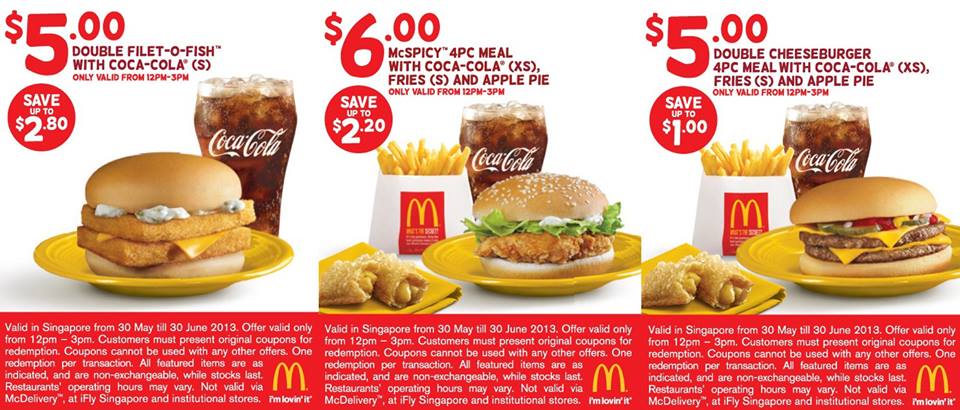 ---
Why The High Prices?
Well…
There're a myriad of factors.
But the price increases can be mainly attributed to rising standards of living and food price inflation.
Back in 2018, food price inflation came in at 1.4 percent year-on-year in Singapore.
This is still somewhat acceptable if compared with countries like Hong Kong where food inflation was at about 3.9 and Malaysia at 3.0.
In America, the increase in the minimum wage in certain areas and the increase in commodity prices have inevitably led to an increase in overall prices in McDonald's around the world too.
It doesn't help that McDonald's has extended operating hours around the world (read: more manhours means they have to pay their staff more) and are usually located in some of the most prime locations in the world to get the most traffic.
But have all of this stopped people from eating at McDonald's?
Unlikely.
And we'll probably still go back to having McDonald's when they open their doors again on 5 May 2020.
For now, at least, let's all just stay home and make use of food delivery promos to order in.
Or even these hawker food delivery and promos if you wish to switch it up a bit.
And pray that they don't close KFC, Pizza Hut, and the other fast food joints around Singapore…
About Junel Seet
Most of my expenditure is on sustenance. Yes, I meant food.
You can contribute your thoughts like Junel Seet
here.