Beginner's Guide to Earning Bitcoin in Singapore With Your Windows PC & GPU
Joel Koh
●
Are you interested to create a passive income source?
Not sure about investing in Cryptocurrencies as you as still wary about their risk and high volatility?
Well if you answered yes to the above questions, you can consider getting into Bitcoin mining.
All you need is your Windows personal computer (PC) and a powerful graphics card/Graphics Processing Unit (GPU).
After all, you can earn up to about S$315 a month doing this.
But is there all to it?
Here is what you need to carefully consider.
Disclaimer: The information provided by Seedly serves as an educational piece and is not intended to be personalised investment advice. ​Readers should always do their own due diligence and consider their financial goals before investing in any investment product.
Also, this article is not sponsored by NiceHash or any company. We simply think that this is something beneficial that needs to be shared. Do check out our Seedly Code of Ethics for more information. Information accurate as of 10 June 2021.
---
TL;DR: How to Mine Bitcoins in Singapore
| Graphic Cards | Past 1 Day's Profit (BTC/SGD) | Past Month's Profit (worth of BTC) |
| --- | --- | --- |
| AMD Radeon VII | ~S$6.67 | ~S$294.94 |
| AMD RX 6900 XT 16GB | ~S$4.34 | ~S$196.86 |
| AMD Radeon RX 5700 XT 8GB | ~S$4.00 | ~S$177.09 |
| AMD RX 6700 XT 12GB | ~S$3.14 | ~S$143.06 |
| Nvidia RTX 3080 | ~S$7.17 | ~S$315.07 |
| Nvidia RTX 3070 | ~S$4.63 | ~S$202.13 |
| Nvidia RTX 3060 | ~S$3.64 | ~S$160.37 |
| Nvidia RTX 2080 | ~S$3.45 | ~S$144.18 |
Do note that one day = 24 hours of consecutive mining. Also, these profits take into account electricity costs and are not fixed as they are derived from past data and are not indicative of future returns.
---
What is Bitcoin Mining?
To understand Bitcoin mining you need to understand Proof of Work (PoW) which is the original consensus algorithm in a blockchain network.
In terms of functionality, it is a mechanism that decides who gets to update the ledger amongst a group of strangers who have no reason to cooperate with each other.
The most well-known example of this is Bitcoin mining.
Put simply, mining will help improve the Bitcoin network's security by combating fraud and securing cryptocurrency transactions.
I may be simplifying it a bit but, mining is like a contest where computers compete to provide a solution for a complex mathematical problem (i.e. hash challenges). The computer that discovers the solution first will win the chance to write the next block into the ledger.
In exchange for giving up your computing power to Bitcoin's network for mining, you will be rewarded with newly created Bitcoins.
In other words, the PoW process functions as a consensus mechanism that decides who gets to update the ledger amongst a group of unrelated strangers who have no reaston to cooperate with each other.
Although the PoW process is great for managing a decentralised ledger, it is not without its faults.
The mining process takes a toll on the environment as in order to mine cryptocurrency effectively today, you will need purpose-built hardware known as Application Specific Integrated Circuits (ASIC).
On top of requiring vast amounts of electricity to run, these ASICs have to be regularly replaced for better and more efficient models to keep up with the cryptocurrency mining arms race.
The majority of the old ASIC units gets thrown away as ASICs cannot be recycled easily. It is estimated that about 11,500 tonnes of hazardous electronic waste are generated each year from Bitcoin mining.
Not to mention that the ASIC devices are really expensive. A Whatsminer M32-70 device for example retails for US$6714 (~S$8892)!
What if I told you there was an easier and more accessible way to earn Bitcoins.
Mining Bitcoin With Your Gaming PC
Enter Slovenian cryptocurrency platform NiceHash which has a 3.9⭐  rating on TrustPilot.
The company is offering software that let you indirectly mine Bitcoin with your existing Windows or Linux Personal Computer (PC) with your Central Processing Unit (CPU) or Graphics Processing Unit (GPU).
You simply have to download their software, install it onto your computer and you can start 'mining.'
No complicated coding or convoluted configuration is needed.
NiceHash even has a built-in NiceHash cryptocurrency wallet for you to store the Bitcoin you earned.
Additionally, the so puts the 'mining' on 'autopilot', allowing you to 'mine' while your computer is idle making it more convenient for its users.
What You Need to Know Before Using NiceHash
Here are some important things you need to know.
1. NiceHash Mining And Fees
First and foremost, an important thing for you to know is that you are not actually using your PC's hardware to directly mine cryptocurrency like Bitcoin, or Altcoins like Ethereum or Litecoin.
Rather, you are actually loaning out your computer's hashing computational power to actual cryptocurrency miners and essentially adding to the mining pool's combined computational power.
In return, you are being paid in BTC for loaning out your hash power.
In return, you are rewarded with Bitcoin through NiceHash regularly (four times a day if your unpaid balance is at least 1000 Satoshis (0.00001 BTC) to your NiceHash wallet.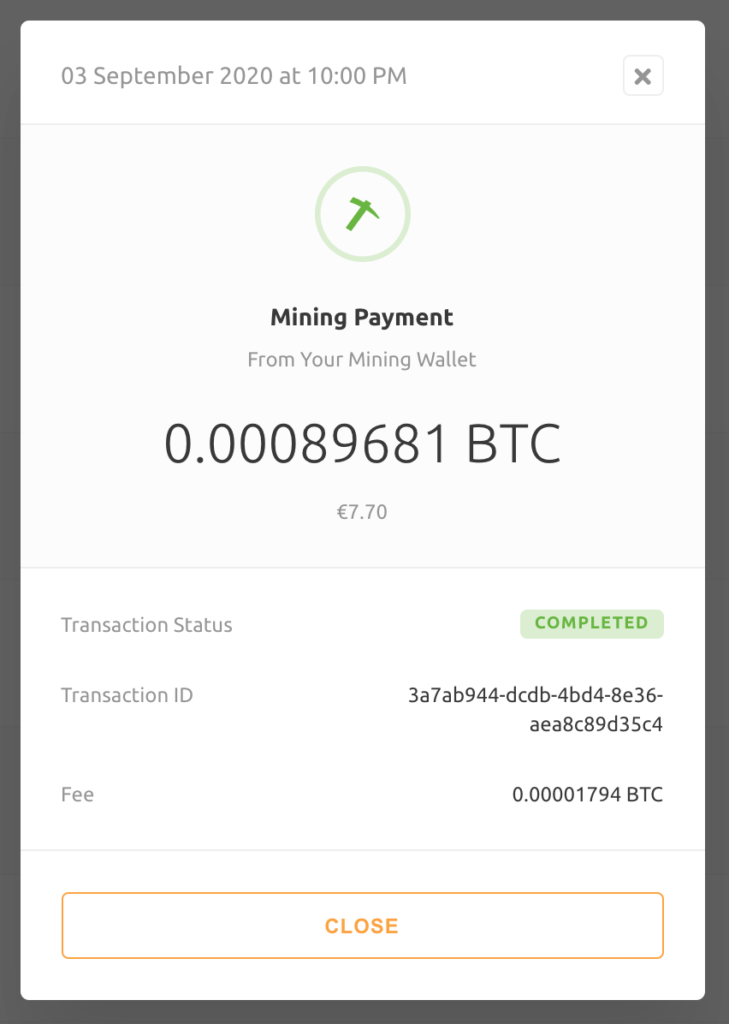 However, do note that NiceHash charges a 2% fee on any amount paid out to the NiceHash Wallet.
After accumulating Bitcoins on your NiceHash Wallet, you can simply transfer it out to a cryptocurrency exchange to buy other cryptocurrencies or withdraw it to your bank.
NiceHash Withdrawal Fee
Also, withdrawals from the NiceHash wallet are subjected to the withdrawal fee, which depends on the withdrawn amount and withdrawal option.
| | Bitcoin (BTC) | Bitcoin (BTC) using Lightning Network* | Coinbase*** | Payeer |
| --- | --- | --- | --- | --- |
| Minimum Withdrawal Amount | From 0.001 BTC | From 0.001 BTC | From 0.0005 BTC | From 0.001 BTC |
| Fees | 0.1% or more based on Blockchain conditions* | Free** | Free*** | 0.5% (taken by Payeer) |
*Dynamic adjustment based on current blockchain conditions and network fees.
**If you establish a direct connection to the NiceHash Lightning Network node, you will not pay any fees for Bitcoin (BTC) transactions! If routing will be necessary to complete your transaction, you may pay some fees (usually up to a few satoshis).
***Minimum Coinbase withdrawal limit is adjusted dynamically according to the API overload.
2. Everything is Auto Optimised by NiceHash
Another benefit of using NiceHash is that everything is auto optimised with algorithms to maximise profit.
Your hash rate or the rate at which your GPU mines cryptocurrencies will always be used to mine the most profitable cryptocurrency (like what you can find on (WhatToMine.com).
In other words, using NiceHash is really hands-off which means you do not have to waste time researching, speculating or tweaking your rig.
But, do note that you will have to pay them a fee (2%) for this service.
3. You Can Get Better Rates if You Do it Yourself
If you want to keep things simple by just installing some software and turning it on to earn cryptocurrency, NiceHash is a good solution.
But, if you want to take this cryptocurrency mining thing more seriously, you can get better returns if you do it yourself.
4. NiceHash Hack (December 2017)
Unfortunately, on 6 December 2017 NiceHash was hacked and about USD$64 million (S$87.3 million) worth of Bitcoin (at that time) was stolen from the company's customers.
But according to CoinDesk, as of 16 December 2020, NiceHash has returned all of the customer's funds that were stolen during the hack.
5. Mining With Your PC's Hardware Does Not Degrade Your Hardware Faster
Contrary to popular belief, mining cryptocurrency with your PC's hardware does not degrade it faster than running a graphically intensive AAA game.
This is because mining cryptocurrency carries out the same computing tasks.
If you remain unconvinced check out this video from tech YouTubers UFD Tech who carried out an experiment comparing two identical model GPUs that were used differently.
The first GPU was used to mine cryptocurrencies for two years straight while the other was used for some occasional gaming within the same time period.
What they found was that there was little separating the two GPUs when it came to performance after two years.
In addition, they pointed out that the main factor that affects GPU longevity is how long the card is in use.
But even then, using the card 24 hours a day and seven days a week will not affect the card's performance as much.
6. Not Your Keys Not Your Coin
Also, one more risk you have to consider.
There is a saying in the world of cryptocurrencies: 'Not your keys, not your coin.'
In other words, when you are mining Bitcoin on NiceHash, you are handing over the private keys for your cryptocurrencies and entrusting them to a third party.
Ultimately, the one who is holding the private keys to the cryptocurrencies decides how it's spent.
This is why we would recommend you to regularly withdraw your mined Bitcoin from the NiceHash wallet onto your own cold wallet as it grants you complete control over your Bitcoin.
Plus, it provides better security as well.
Is This Profitable in Singapore?
With that out of the way, here is how much profit you can possibly earn using your GPU to passively 'mine' Bitcoin in the background.
The data below is derived from the NiceHash Profitability Calculator using:
Current Singapore Power (SP) regulated tariff electricity cost of

S$0.2413/kWh (inclusive of Goods & Service Tax). 
Current value of Bitcoin/USD, where 1 BTC = US$36,819.85 (S$48,774) as of 10 June 2021, 3pm (CoinMarketCap).
Also, the estimated profit is inclusive of the cost of the electricity but does not take into account NiceHash's 2% fee.
Notice that I used the standard SP regulated tariff rate. But, you can actually earn more if you switch to an open electricity market retailer.
Potentially, your profits will increase as the value of Bitcoin rises. But on the flip side, your profits will decrease if Bitcoin's value drops as well.
Also here is some important information about how the NiceHash profitability calculator was derived (emphasis is mine):
All the hardware, listed in the Profitability calculator has been tested in our labs. During our tests, we are using only quality products from recognized manufacturers. We also apply some basic tweaks to achieve the best performance and efficiency for any given hardware. If your hardware achieves different results (higher/lower) you should try to tune your hardware and software to reach maximum performance and efficiency. Various resources such as forums and social media can be a good place to search for optimization information.

Please note that the profitability, listed in the Profitability calculator, is calculated and shown based on past profitability and cannot be directly used as a prediction for future profitability. Also please note that you cannot simply multiply one-day profitability with, for example, 30, to get the profitability for 30 days – it does not work that way. Profitability often changes and this is also why past one day, past seven days and past 30 days, profitability can vary a lot and is based on actual past profitability, not simply calculated from one-day profitability.

Last but not least – all Hashing power rig earnings estimates and profitability calculations on the NiceHash Website are only for informational purposes and were made based on the Hashing power rigs, set up in the test environments. NiceHash does not warrant that your Hashing power rigs would achieve the same profitability or earnings as calculated on the NiceHash website. The actual profitability can only be seen when your rig is connected to our system and monitored through our website.
NiceHash Nvidia GeForce Graphics Cards Profits
Here are the estimated profits for select Nividia GeForce GPUs tested by NiceHash:
| Graphic Cards | 1 Day Profit (Past Earnings) | Monthly Profit (Past Earnings) |
| --- | --- | --- |
| Nvidia RTX 3080 | S$7.17 | S$315.07 |
| Nvidia RTX 3070 | S$4.63 | S$202.13 |
| Nvidia RTX 3060 | S$3.64 | S$160.37 |
| Nvidia RTX 2080 | S$3.45 | S$144.18 |
| Nvidia RTX 2070 | S$3.70 | S$138.20 |
| Nvidia RTX 2060 | S$2.38 | S$103.51 |
| Nvidia GTX 1080 | S$2.45 | S$112.41 |
| Nvidia GTX 1070 | S$1.94 | S$90.03 |
| Nvidia GTX 1060 (6GB) | S$1.57 | S$72.44 |
NiceHash AMD Radeon Graphics Cards Profits
Alternatively, here are the estimated profits for selected AMD GPUs tested by NiceHash:
| Graphic Cards | 1 Day Profit (Past Earnings) | Monthly Profit (Past Earnings) |
| --- | --- | --- |
| AMD RX 6900 XT 16GB | S$4.34 | S$196.86 |
| AMD RX 6700 XT 12GB | S$3.14 | S$143.06 |
| AMD Radeon RX 5600 XT 6GB | S$2.64 | S$118.66 |
| AMD Radeon RX 5700 XT 8GB | S$4.00 | S$177.09 |
| AMD Radeon VII | S$6.67 | S$294.94 |
| AMD Radeon Vega 64 | S$2.85 | S$134.09 |
| AMD Radeon Vega 56 | S$2.14 | S$103.97 |
| Radeon RX 590 8GB | S$1.94 | S$90.51 |
| Radeon RX 570 8GB | S$1.91 | S$89.27 |
Do note that the list is not exhaustive. You can simply use the NiceHash profitability calculator to check if it is worth it for you to mine Bitcoin on NiceHash with the GPU that you have.
What About CPUs?
We have excluded CPUs from this guide as we found that it was less functional and not as cost-efficient.
Although you can use more premium CPUs to mine Bitcoin (NiceHash will mine Monero and convert it to BTC), you will not be able to use your PC when mining.
Also, apart from the newer CPUs, most of the daily profits for CPUs are too low (S$0.70 a day) and not worth the trouble.
Closing Thoughts
Do note that these profits are just an estimation and will also fluctuate as you will probably use your PC for other purposes instead of using it to mine 24/7.
These profits are also determined on past data and are not indicative of future returns.
Also, you need to be aware of the two upcoming upgrades to the Ethereum blockchain.
First, we have the Ethereum Improvement Proposal (EIP) 1559 that will likely be implemented this July with the London hard fork if it is passed.
This upgrade will pose a challenge for Ehtereum miners as EIP 1559 completely changes how an average blockchain transaction is made to fix the issues that users are facing when using Ethereum.
Currently, users pay a gas fee to miners as payment for letting them include their transaction on a block that will be written on the blockchain.
But after the upgrade, this gas fee will be sent to the blockchain network and burned to reduce the supply of ETH. This is called a base fee and will be set by an algorithm that takes into account the market conditions.
Although users can still send some ETH to miners as a tip, this tip is strictly optional.
Second, we have the upcoming Ethereum 2.0 upgrade that will be happening sometime in 2021.
This upgrade will see the Ethereum blockchain transitioning from a Proof of Work (Pow) or mining consensus mechanism to a Proof of Stake PoS consensus mechanism.
After this transition to PoS, the transaction fees that are typically given to miners will be given to validators instead.
These upgrades could greatly reduce the rewards that miners get from mining ETH.
So it is something to consider if you are looking to invest in graphics cards to do this.
But, if you have an old GPU that is collecting dust, you can consider installing it if you have a motherboard that can support two GPUs and get NiceHash to use the older GPU instead of the GPU dedicated for gaming.
Related Articles
About Joel Koh
History student turned
writer
at Seedly. Before you ask, not a teacher. I hope to help people make better financial decisions and not let money control them.
You can contribute your thoughts like Joel Koh
here.