Important Things I Had To Do To Save $100,000 Before 30 In Singapore
The Woke Salaryman X Seedly
Here at Seedly, we're all about creating and curating meaningful, well-researched, and unbiased content that is relatable to Singaporeans in their quest for financial independence and freedom.
So when our personal friends, He Ruiming (a talented writer) and Goh Wei Choon (a brilliant illustrator) started The Woke Salaryman, we knew that we found like-minded individuals who share our goal in educating and spreading the importance of personal finance.
Through their witty comics and the sharing of their personal experiences, they seek to help regular salarypeople – like us – who're tired of working a day job and aim to retire early.
We hope you enjoy their work as much as we do!
---
Important Things I Had To Do To Save $100,000 Before I Turned 30 In Singapore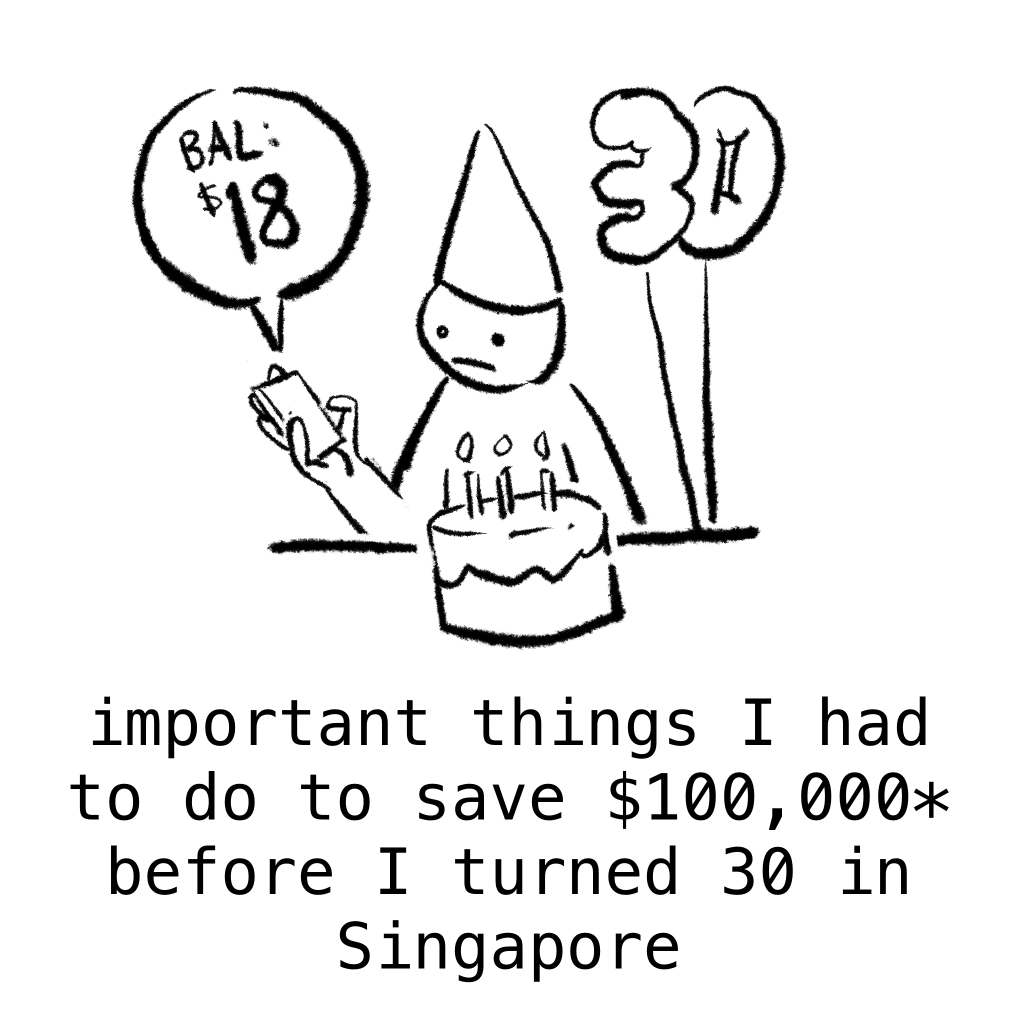 It's common knowledge. "Money saved in your 20s is worth more than money saved in your 30s," says every financial website out there.
It's important to start saving in your 20s because you have the advantage of compound interest on your side. And just in case you're wondering how long it will take to double your money.
It takes about 24 years to double your money at a 3% interest rate. cue screams
How Did I Kick Start My $100,000 Savings Journey
Here's a simple 12-step guide which anyone can follow.
Step 1: Cut Sh*t Out Of Your Life
Here are some examples of things that are holding you back financially.
Step 2: Get A Side Hustle
Step 3: Learn Skills That Can Get You A Pay Raise Or Better Job Opportunities
Step 4: Find A Job With More Opportunities
Step 5: Ask For A Pay Raise
Step 6: Learn To Save Money On Holidays
Step 7: Read Up And Invest!
The above is a mini checklist. How many of these can you check off your list?
Step 8: Get A High-Interest Bank Account
Step 9: Get Insurance
You don't have to spend a fortune on insurance, just focus on a few key policies like:
Critical Illness
Death
Disability
Hospitalisation and Surgery
Step 10: Do Not Get Into Debt. Especially Credit Card Debt.
Step 11: Give Back To Charity
Go the extra mile, do some good, and help someone out!
It doesn't hurt that you'll get tax relief too!
Step 12: Don't Give Up!
Especially when the going gets tough.
What Happens If You Are 30 And Have $0 In The Bank?
---
This article first appeared on The Woke Salaryman and is part of a content syndication agreement between The Woke Salaryman and Seedly.
For this series of comics that are related to all things personal finance, the Seedly team worked closely with The Woke Salaryman to bring you useful sh*t which you can apply to your everyday life.
The Woke Salaryman is the brainchild of a Singapore-based duo that aims to help people reach financial independence early. It is the quintessential page for people living in Singapore who earn the median salary and didn't inherit their fortunes from their parents.
If you have any questions with regard to personal finance and retiring early, feel free to discuss them with the friendly Seedly Community!