The Ultimate Singaporean's Guide: How to Survive a Recession
For those who remember, Singapore went into a recession back in 2008.
As a 9-year-old kid then, I have completely no recollection of what happened.
And have no idea what we did as a nation to recover from it.
Now, at the age of 21, I'm feeling the full effects of an impending recession because as an undergraduate, now is the time to look for summer internships.
And for my friends who are fresh graduates, it's time for them to find and embark on their first jobs.
But with a recession looming on the horizon, many companies are culling jobs and have even stopped hiring.
Leaving everyone to scramble for whatever is left and feeling flustered.
Honestly speaking, I too, am low-key freaking out.
Since the onset of COVID-19, much of the world has plunged into panic and chaos.
With flights being cancelled and quarantine measures put in place, many industries and sectors have felt the brunt of the COVID-19 pandemic.
It didn't help that this induced market instability and was probably one of the many factors contributing to the global stock market meltdown (aka Black Monday 2020).
Even Prime Minister Lee Hsien Loong has stepped up to address the impact which COVID-19 has had on our economy.
Basically, it all feels like a "World War" which nobody prepared for and we're all fighting for our lives.
How to Survive a Recession
In my opinion, a recession is not a matter of if, but a matter of when. 
But most importantly, we all have to be prepared to face it when it comes.
The recent developments around the world (and in Singapore) have sparked many interesting discussions on the Seedly Community.
And there are many constructive insights, some of which I felt is pretty useful.
So for all the lost people out there who are unsure of what to do or how to prepare for a recession, I've taken the best of the insights I've found and created this 6-step survival guide for you!
P.S. I ran out of colour because the company is cutting budget. :')
While a recession might be unavoidable, we'll be able to better handle this impending "World War 3" if we know how to brace for it.
1. Clear Your High-Interest Debt First
In order to create some breathing room in your budget, you need to pay down any outstanding debts as soon as you can.
Especially high-interest debts.
If you're a fresh graduate, you'll want to clear your student loans as soon as possible before you take on other liabilities like a car loan or a mortgage.
And if you have outstanding credit card debt, you will want to clear those ASAP too because the interest rates on those can be more than 20%!
So if you don't clear these high-interest debts fast…
The interest will compound and come back to hit you like an artillery barrage or an airstrike!
Pro-Tip: Time to start bugging all those people who say "You pay first, I pay you later" but end up not paying you at all.
Provided you still remember who owes you how much…
2. Build Up Your Emergency Funds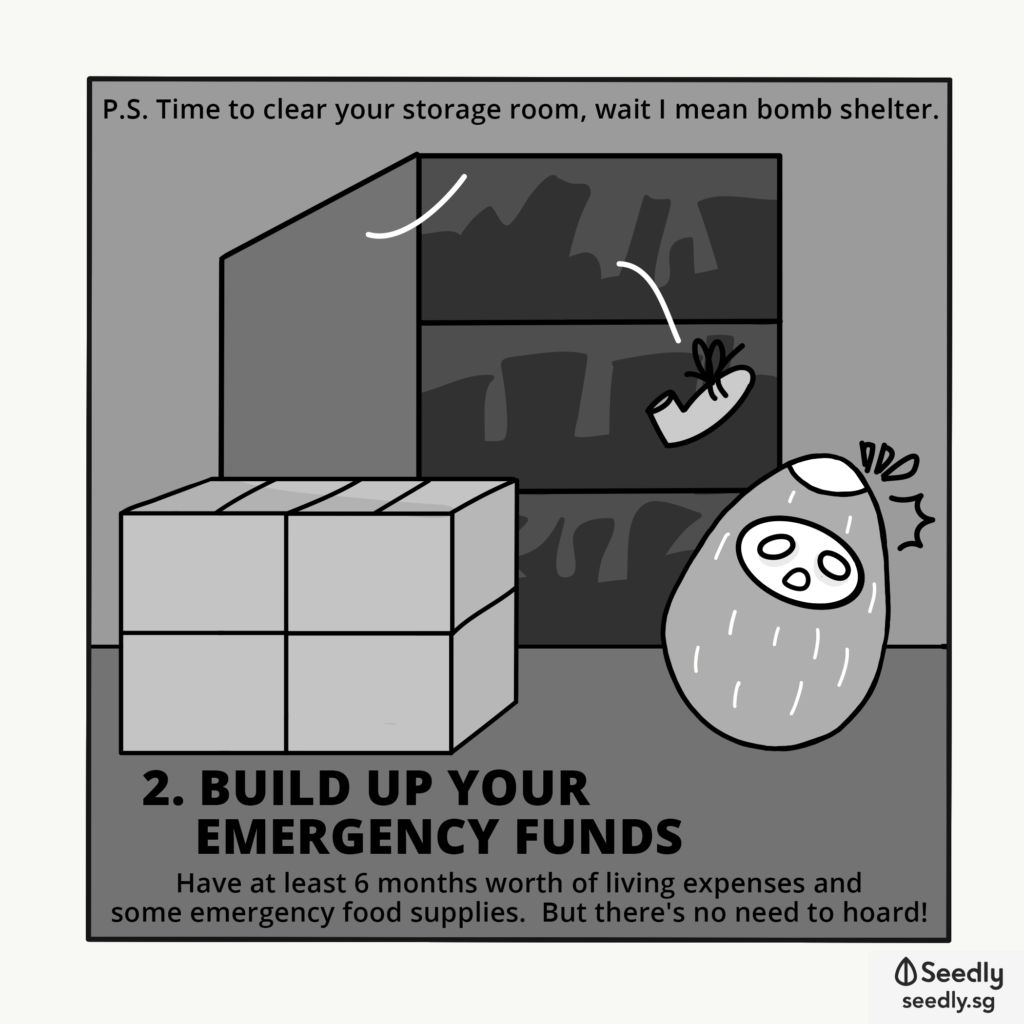 Like all economic downturns, we have to prepare for the worst.
In this case: the possibility of retrenchment.
As a rule of thumb, it's recommended that you have at least 6 months worth of living expenses saved up for a rainy day.
Note: you'll want to adjust the amount according to your personal requirements
This will give you enough time to search for a new job to replace your primary source of income.
And while you're at it, the world is pretty unstable right now and we don't know what might happen.
So it doesn't hurt to have some emergency food supplies on hand… BUT there's no need to hoard!
3. Identify Ways to Cut Back on Your Spending
Even if you have put aside up to 6 months' worth of living expenses.
The key to lasting this 'war' is to ration your resources and minimise spending.
If not, all your efforts will be futile.
Go through your monthly expenses and identify items that are necessities as well as stuff which are discretionary.
Baically, you'll want to differentiate between your wants and needs.
Discretionary items like gym memberships or holidays are nice to have.
But these are things which you can do without until things are more stable.
4. Live Within Your Means
Whether we're facing a recession or not.
It's always good to live and spend within your means.
If you can keep your expenses as low as possible, this allows you to have more to save and invest for your future!
Generally, if you have to choose between a high SES or a low SES option, it's wiser to go for the one that you can afford comfortably.
So when you're in a pinch and have to cut back, you won't feel that you need to make a drastic change in your lifestyle.
While we can treat ourselves once in a while, we have to remember that desperate times call for desperate measures.
So it's important to not splurge frivolously during this period and always live within your means!
5. Focus on the Long-Term
With the current economic and market instability, most investors are in an extreme dilemma.
The major market indexes are in the red and many companies have lost a significant amount of value on the stock market.
As a result, many aren't sure if they should sell or hold onto their investments.
If you're a long-term investor and are investing to build your retirement fund, then you should always look at the bigger picture.
Dips and drops in the markets happen all the time.
If your investment decisions are sound, then this economic downturn is a blessing in disguise as you'll be able to pick up stocks and counters for a good price NOW.
That being said, understand your risk tolerance and make sure you do your own research before investing!
6. Continue Learning and Upgrading Your Skills
As evident through initiatives like SkillsFuture, the Singapore government has always been advocating life-long learning.
To recession-proof your life, you need to continue to learn skills and upgrade yourself to stay relevant.
By becoming more valuable, you increase your chance of employment and reduce your chances of retrenchment.
This way, you always have options!
Is Singapore Headed Towards a Possible Recession?
Given the climate we're in, as well as what the government have shared and financial experts have analysed…
It's very possible that Singapore and even the world might be looking at a recession sooner than later.
And we all need to be prepared to brace for and survive this "World War" together.
Stay strong.
Stay safe.
Take care of your finances.
And take care of your loved ones.
Singapore has survived a recession before and I believe that we can get through it together again!
About Dion Lim
Busy
undergrad
by day, an aspiring entrepreneur by night. Fuelled by floorball and doodling, I chomp on bite-size pieces of finance to prep for an adventure that won't make me yawn.
You can contribute your thoughts like Dion Lim
here.