The Truth Behind Why Whatsapp Is Free To Use And Why You Should Care
Joel Koh
●
Here's a fun fact.
According to the latest We Are Social Digital 2020 Singapore Report, Facebook-owned WhatsApp is the most popular messaging app in Singapore as it has the most monthly active users throughout 2019.
You might have also heard the news that WhatsApp has issued an ultimatum to users outside Europe and the UK: either agree to share your data with Facebook Inc (NASDAQ: FB) as detailed in their new terms of service or risk losing access to WhatsApp.
The messaging app has been sending a pop-up notice to its users, warning that they will "need to accept these updates to continue using WhatsApp" by 8 Feb 2021 – or delete their accounts.
This move by WhatsApp has raised a series of concerns about user privacy, what Facebook plans to do with the data from WhatsApp and how it may benefit Facebook financially or otherwise.
Should you be concerned about these developments?
Here is all you need to know!
---
TL;DR: WhatsApp Privacy Concerns And Why You Should Care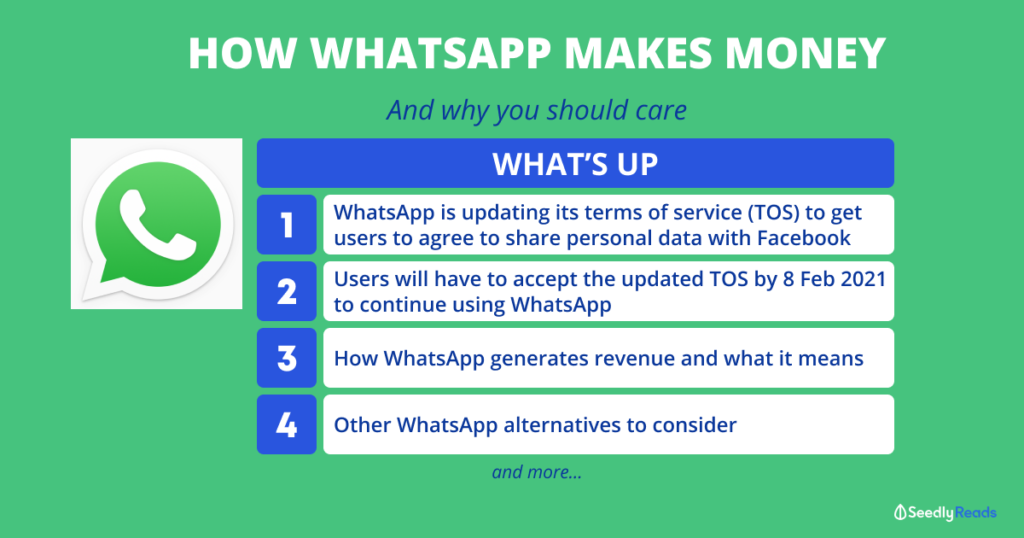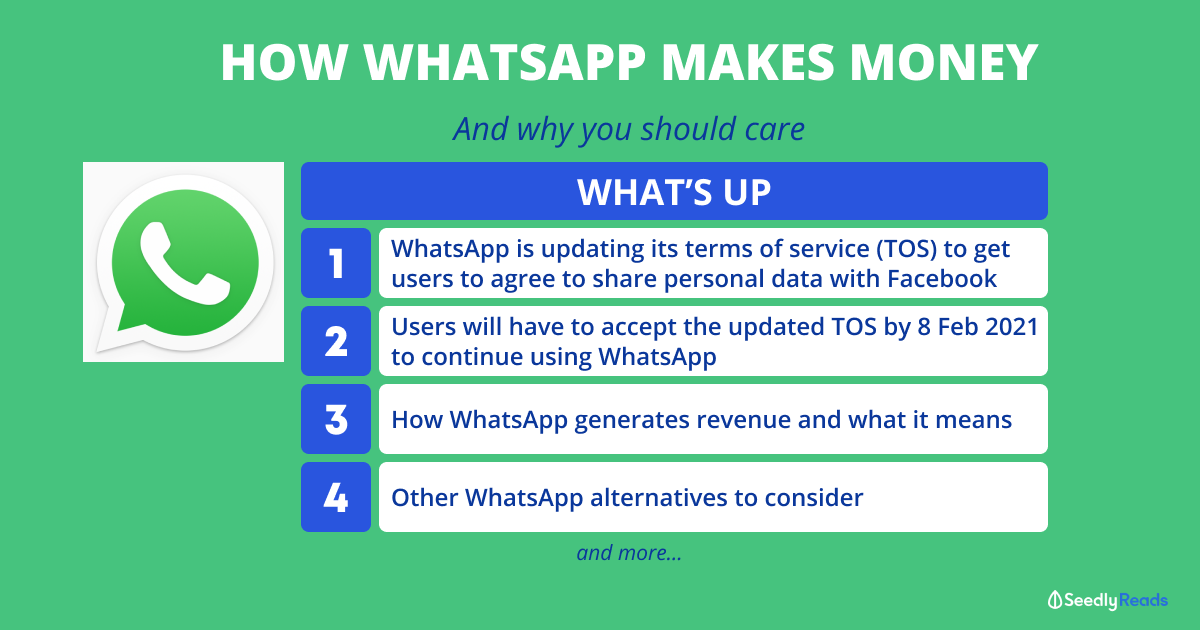 Facebook-owned WhatsApp is updating its terms of service to force users to share personal data with its parent company to continue using the app after 8 Feb 2021
Currently, WhatsApp earns most of its revenue from the services it offers to businesses (WhatsApp Business) and its digital payments service in India and Brazil.
Comparison of what personal data WhatsApp, Facebook Messenger, Signal and Telegram collects from its users
Other WhatsApp Alternatives to consider.
---
WhatsApp New 2021 Terms of Service
The new 2021 WhatsApp terms of service and privacy policy update builds upon the changes that the company announced on 20 July 2020.
However, there is one massive difference.
For last year's update, the company gave its users the choice to opt-out and "not have your WhatsApp account information shared with Facebook."
This means that if chose to opt-out, your WhatsApp account data is currently NOT being shared with Facebook.
But come 8 Feb 2021, you have to accept the new terms of service and privacy policy changes if you want to continue using WhatsApp.
But what data is being shared you might ask?
Well according to the company's FAQ page, here is the extent of the user information WhatsApp shares with other Facebook companies:
This includes information like:
Account registration information (Includes data like your phone number or name)
Your mobile device information (Includes data about your mobile phone's model and telco
Your IP address (This can be used to trace your geographical location)
Data of the payments and financial transactions made over WhatsApp.
In addition, the company has stated that it has the authority to share any data identified by its privacy policy. This includes information like your:
Contacts
Status updates
The duration that you use WhatsApp
And even unique identifying numbers for users' phones.
However, Will Cathcart, head of Whatsapp, has shared his thoughts on the matter via Twitter.
On a superficial level, this should not be too concerning as the sacred cow of the content of user conversations remains untouched due to the company's commitment to end to end encryption (E2EE) in the app.
In other words, no one, including WhatsApp, knows what users are saying to each other, nor can they easily find out.
Based on the above information, you should not be too worried about using WhatsApp for now.
But for the longer term, the answer is more complex and has to be understood by how WhatsApp makes its money.
How Does WhatsApp Make Money?
In the early 2010s, WhatsApp experimented with a subscription model.
For some countries, you would have to pay a dollar to download the app. In some other countries, you get to use WhatsApp free for the first year but will have to pay a dollar yearly for each successive year.
At its peak In 2015, WhatsApp had an estimated 700 million active users. This means that potentially, WhatsApp had a revenue of about $700 million yearly at that point in time.
However, this experiment was short-lived as WhatsApp announced on Jan 2016 that it will no longer charge subscription fees for WhatsApp; citing that this strategy might not 'generate meaningful revenue in the long term.'
In 2017, WhatsApp Business was launched in the UK, Indonesia, Italy, Mexico, and the US.
The following year, WhatsApp launched the WhatsApp Business API. The service operates on a freemium model that allows companies to contact its customers, provided the customer contacts the business first.
If a company replies within 24 hours from the last message, they will not be charged. But, if they reply after that they will be charged at a fixed rate per message.
The company also launched the catalogue function for WhatsApp Businesses as well as WhatsApp Pay in India and Brazil in 2020.
As Facebook does not reveal revenue breakdowns by company, WhatsApp's financials are not public.
However, Forbes speculates that potential revenue would range from $5 billion to $15 billion in the years ahead, with average revenue per user (ARPU) ranging from $4 to $12.
Also, WhatsApp announced in mid-February 2020 in a blog post that the messaging app is now actively used by over 2 billion people worldwide.
You do the math.
How Does WhatsApp Plan to Make More Money?
Apparently, this is nowhere near enough revenue for Facebook and its broader goal to integrate the backends of WhatsApp, Messenger, and Instagram.
As such, WhatsApp seems to be stepping up its efforts to better monetise its users.
Even though your messages are secure (at a level of encryption is allowed by governments worldwide) for now, your data is up for grabs.
To improve the revenue of its commercial offerings, the company might be tempted to further monetise your data.
Thus, this move could be constructed as the company using your data and engagement with WhatsApp to enable shopping and other business services to create a platform where WhatsApp can charge businesses to contact you and sell to you.
Apple And WhatsApp Privacy Labels
On top of the concerns about the data WhatsApp is and will share with other Facebook companies, you need to know about the staggering amount of data that WhatsApp and other Facebook companies collect about you.
This all came to light when Apple Inc (NASDAQ: AAPL) launched new App Store privacy labels in December last year.
These labels tell you how iOS apps use your data and is classified under three categories:
Data used to track you
Data linked to you
Data not linked to you.
I would like to highlight the 'data linked to you' category which refers to any data collected that can be used to identify you.
This is data collected from using the app, having an account with the service or platform, and/or any data extracted from your device that could potentially be used to create a personalised advertising profile.
Even though WhatsApp does not share most of this data with other Facebook companies, its privacy label is cause for concern.
Here is a comparison of WhatsApp's privacy label's 'data linked to you' category with Facebook messenger and other privacy-focused messaging apps like Telegram or Signal.
Facebook Messenger
WhatsApp
Telegram
Signal
Data Linked to You Collected
Purchase History
Device ID
Contact Info
N.A.
Other Financial Info
User ID
Contacts
Precise Location
Advertising Data
User ID
Coarse Location
Purchase History
-
Physical Address
Coarse Location
Email Address
Phone Number
Name
Email Address
Phone Number
Contacts
Other User Contact Info
Product Interaction
Contacts
Crash Data
Photos or Videos
Performance Data
Gameplay Content
Other Diagnostic Data
Other User Content
Payment Info
Search History
Customer Support
Browsing History
Product Interaction
User ID
Other User Content.
Device ID
-
Product Interaction
Advertising Data
Other Usage Data
Crash Data
Performance Data
Other Diagnostic Data
Other Data Types
Browsing History
Health
Fitness
Payment Info
Photos or Videos
Audio Data
Gameplay Content
Customer Support
Other User Content
Search History
Sensitive Info
iMessage
Email address
Phone number Search history
Device ID
Source: Apple App Store Privacy Labels
*Do note that the only personal data that Signal collects is your phone number and it does not link that to your identity.
No matter your views on the upcoming change to WhatsApp, it will be likely that further changes will be made in the future
I am reminded of this quote:
if you are not paying for the product you are the product.
And since users of WhatsApp are not paying customers, I would think that Facebook and WhatsApp's priority will be to monetise the app and make use of all avenues (including user data) to generate revenue.
But, if you would like to move away from WhatsApp, here are some alternatives.
WhatsApp Alternatives
Here is a quick comparison of WhatsApp, Signal and Telegram from the Indian Express:
Telegram Security
Although Telegram is privacy-focused as seen with its privacy label, its security is not as airtight as WhatsApp or Signal as it uses server-client encryption instead of E2EE for its normal chats.
Generally, E2EE is better for privacy and security as, during the message sending process, the server which sends the encrypted data between one "end" and the other "end" in the conversation is unable to decrypt and read the data it transfers.
As such, even the server companies cannot read the data as the information about the conversation is not stored on the servers. Only those message sender and recipient have the cryptographic keys at both ends to decrypt the data and read the information.
For telegram chat, its server-client encryption which means that the data is encrypted by the server then sent out to the party based on their cypher unique to their id.
In response to this encryption issue, Telegram CEO Pavel Durov stated that:
"We rely on our own distributed cross-jurisdictional encrypted cloud storage which we believe is much more protected, compared to say Apple or Google."
But, if you want E2EE, you will need to create a Secret Chat on Telegram. This Secret Chat is also designed for privacy as it is not stored on Telegram's services and will disappear after a period of time.
Telegram Cross-Platform Support
The app is available on Android, iOS, Mac and Windows.
As the app runs its own cloud backup, all your chat data is retained even if you set up the app on a different device.
FYI: We have a telegram channel. Follow us on Telegram, to keep up with the fun on Personal Finance!
How Telegram Plans to Monetise
In Dec 2020, Telegram co-founder Pavel Durov announced the company's plan to monetise on his telegram channel.
The plan has two main parts:
First, Telegram will launch new premium features for its enterprise and power users.
But, all current features of Telegram will be free to use.
This means that the paid features will be optional.
Second, the company will launch ads within the app's public channels.
Basically, Telegram channels are huge group chats run by users to communicate important messages within a community.
These channels will start displaying ads via the company's ad network and will be visually different from regular posts.
Signal
Signal is a simple free app that is available on all major platforms, counting Tesla CEO Elon Musk as one of its supporters.
Security Features
The app has E2EE for all chats built by American cryptographer, security researcher and the co-founder and CEO of Signal, Moxie Marlinspike.
This E2EE ensures that no third-party or even Signal can read your messages.
But unlike WhatsApp and Telegram, Signal uses open-source encryption, which means security developers can test it for flaws and find bugs.
Although it does not have as many features as WhatsApp and Telegram, Singal is arguably the most secure and collects the least data.
Also, the app does not support third-party backups which means your data is secured and stored locally on your device. But, if you lose your device, your previous chat history will be lost too.
Singal Cross-Platform
Yes, the private messaging app can be used across platforms from Android, iOS, iPad, Mac, Windows and Linux as well.
How Signal Plans to Monetise
This reassuring thing about Signal is that the company behind it the Singal Foundation: a non-profit founded in Feb 2018 by Moxie Marlinspike and WhatsApp co-founder Brian Acton
The foundation was started with an initial US$50 million loan from Acton after he left Facebook in Sep 2017.
Towards the end of 2018, the loan amount had increased to about US$105 million.
But, this unsecured loan is only due on 28 Feb 2068 with an interest rate of 0 per cent.
About Joel Koh
History student turned
writer
at Seedly. Before you ask, not a teacher. I hope to help people make better financial decisions and not let money control them.
You can contribute your thoughts like Joel Koh
here.